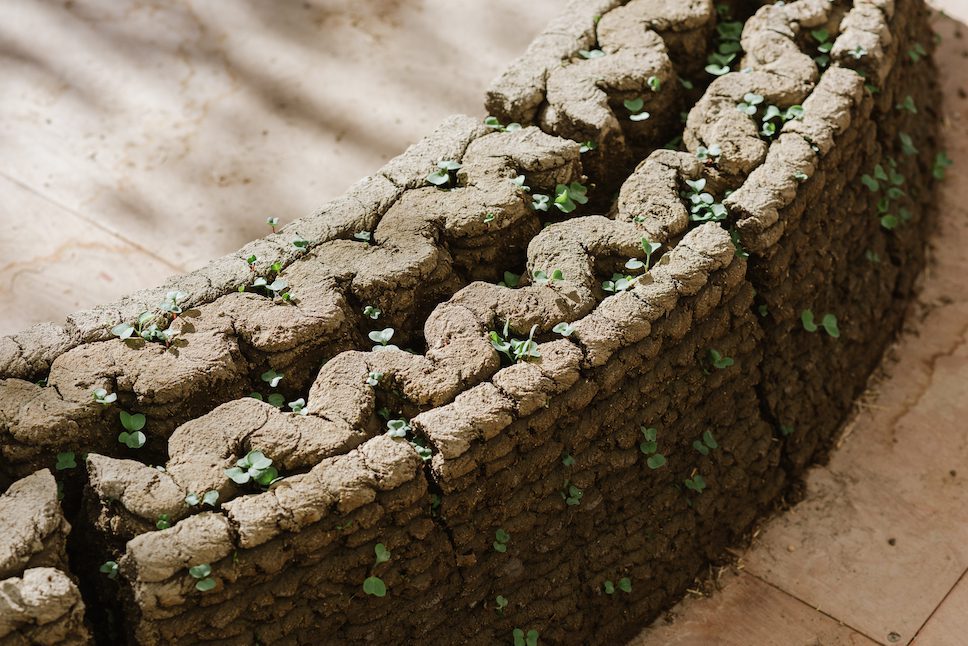 A pioneering project titled To Grow a Building was presented at Jerusalem Design Week 2022, demonstrating how organic materials can be used to 3D-print buildings.
The 11th edition of Israel's foremost design event invited creatives to address the theme 'For Now', and the design of ephemerality. It was through an outdoor performative lab setup that the design team debuted their project known as To Grow a Building, imagining a world in which buildings are 3D-printed from organic materials.
Instead of buildings made of concrete and steel, the project proposes a way to use local soil and roots as structural elements for organic architecture.
The idea is that through digital workflow, 3D-printing layers of organic material on top of one another, the structures will create a life of their own. Seeds will sprout from the soil walls, covering the exterior in green vegetation, while the roots take hold with the walls and form a durable building material.
"To grow a building allows us to re-think architecture, one that is totally local, organic, and natural", explains designer Nof Nathansohn, who initiated the project.
"It's not only that buildings can be made out of organic materials, but they can also grow their materials themselves. When the roots grow inside the soil, they reinforce it, make it stronger and denser. The future holds the possibility that building will contain living materials. Building may grow and bloom, and change over time," he adds.
The designers produced a custom-made robotic arm which is programmed by a computer to methodically build small, green structures out of a raw and natural mix of soil and seeds.
It's an intuitive and intelligent process that was first seen within the outdoor performative lab space at Jerusalem Design Week 2022, and looks set to be only the beginning for an idea that could change the way buildings on our planet are made. Looking to a future that involves alternative resources and more sustainable options can only be a positive step forwards.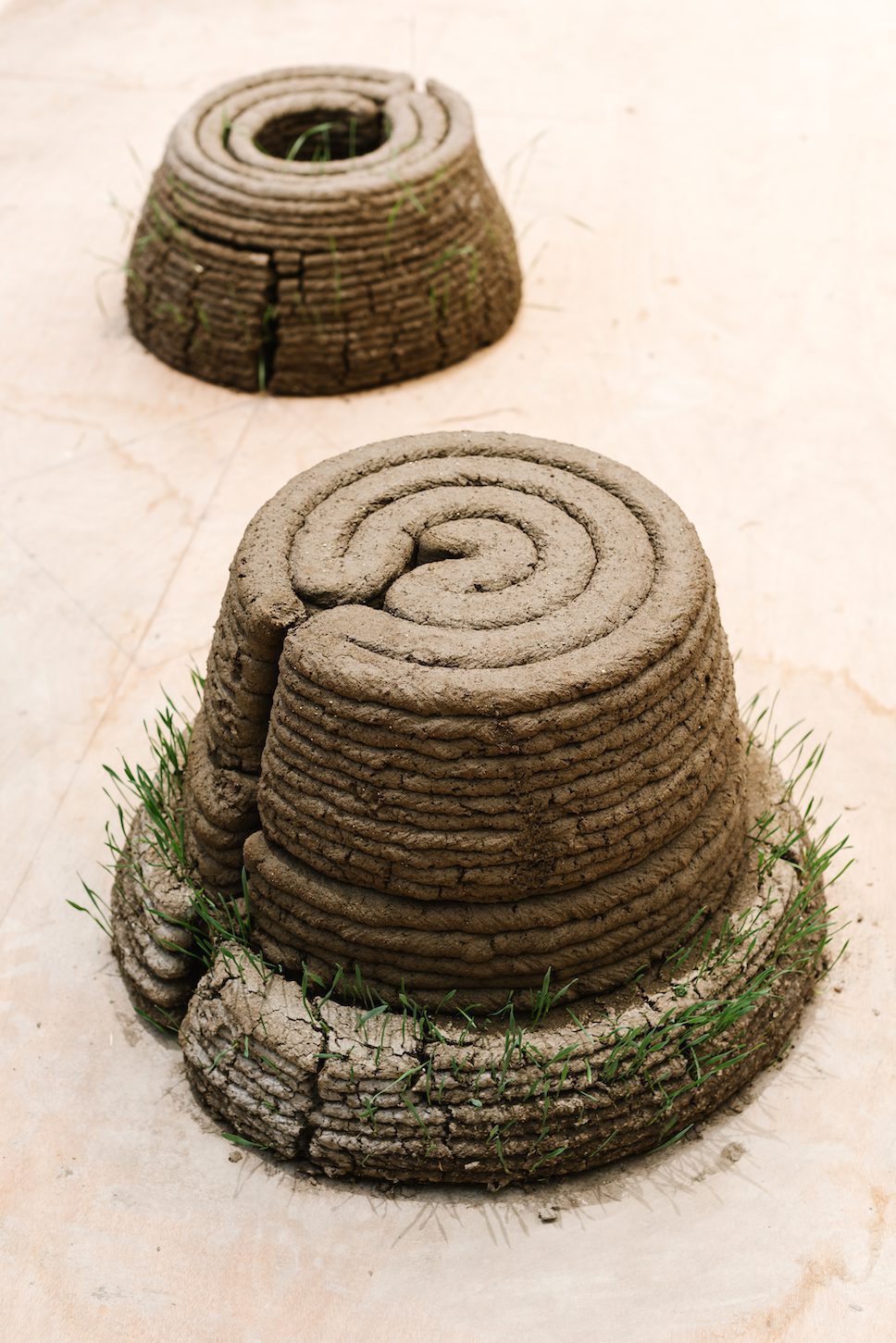 Project details:
Project title: To Grow a Building
Design team: Nof Nathansohn, Elisheva Gillis, Or Naim, Gitit Linker, Danny Freedman, Noa Zermati, Adi Segal, and Rebeca Partook.
Photography: Dor Kedmi (project imagery), and the design team (sprouting imagery)
The project was supported by Rogovin, a company that promotes ecological innovation in the field of real estate.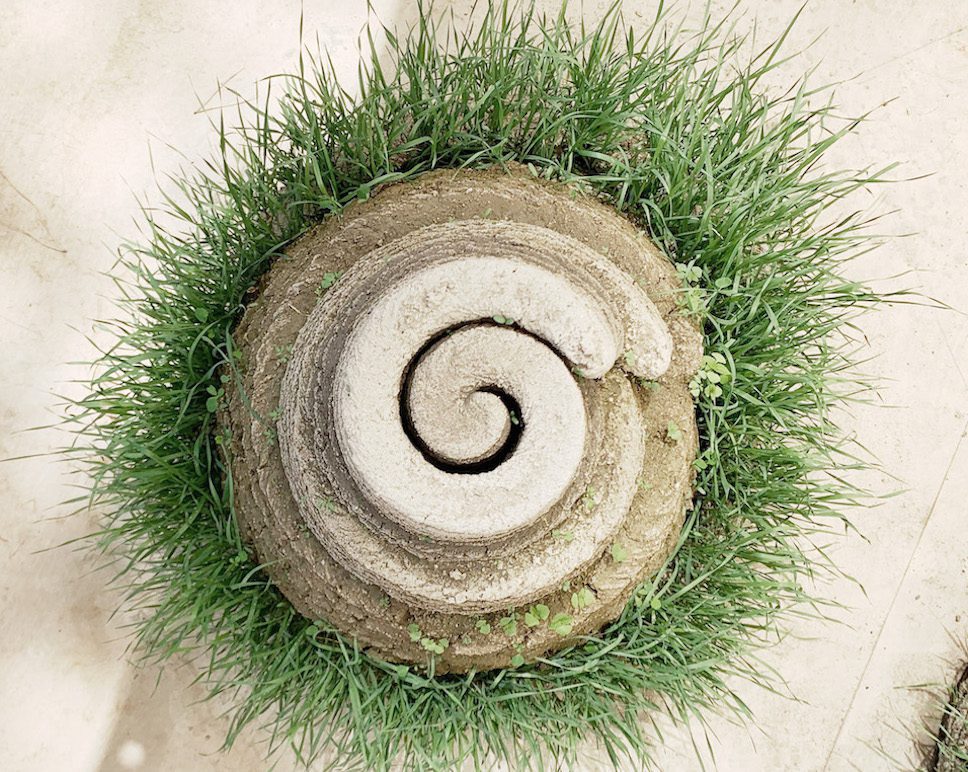 Discover more about all the exhibitors at Jerusalem Design Week 2022 and its theme 'For Now'.
Read more of the latest sustainability news on enki, including the the full story on the Re-green Notting Hill initiative and the carbon capture initiative called One Tree Project by SCP.