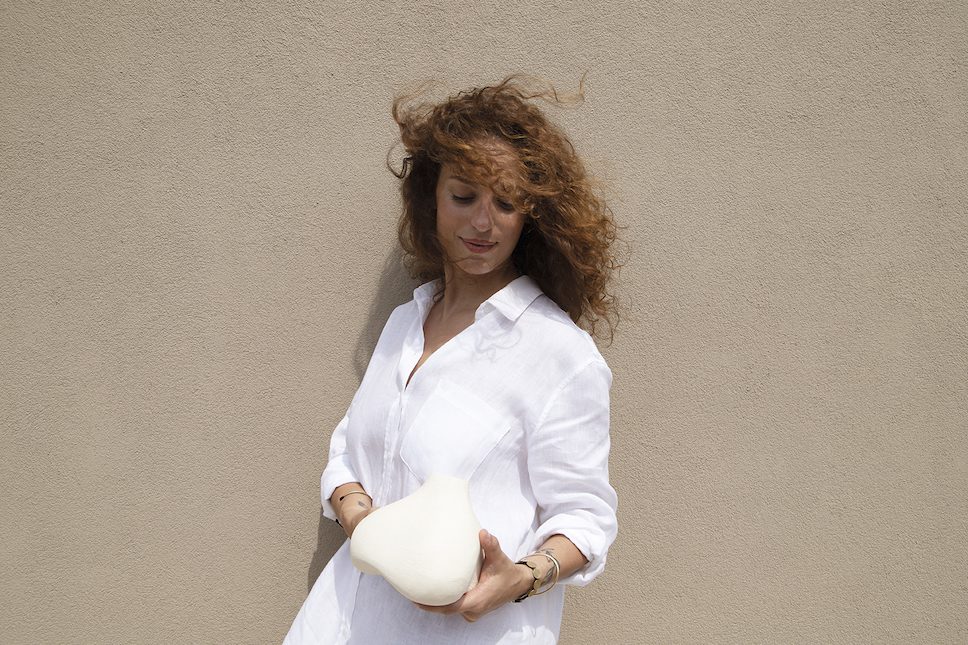 "I want each piece to feel like something you can pick up from your walk down the beach; found inside a cave or next to the water, as if they were shaped by the natural elements." Evgenia Douka, ceramicist and designer, Studio Duka.
Evgenia Douka, founder of Studio Duka, draws on the diverse landscapes in her home country of Greece to inspire her sculptural clay-based work.
For her creative and playful designs, she explains that she was immediately drawn to the coiling method in an effort to create something close to earth and nature. Each handmade piece has its own unique imperfections, with natural imprints on the textured surfaces, granting each piece its alluring "flaws".
We had the pleasure of talking to Evgenia about the creative and ever-evolving process of pottery, where she finds inspiration, and what gives meaning to her work…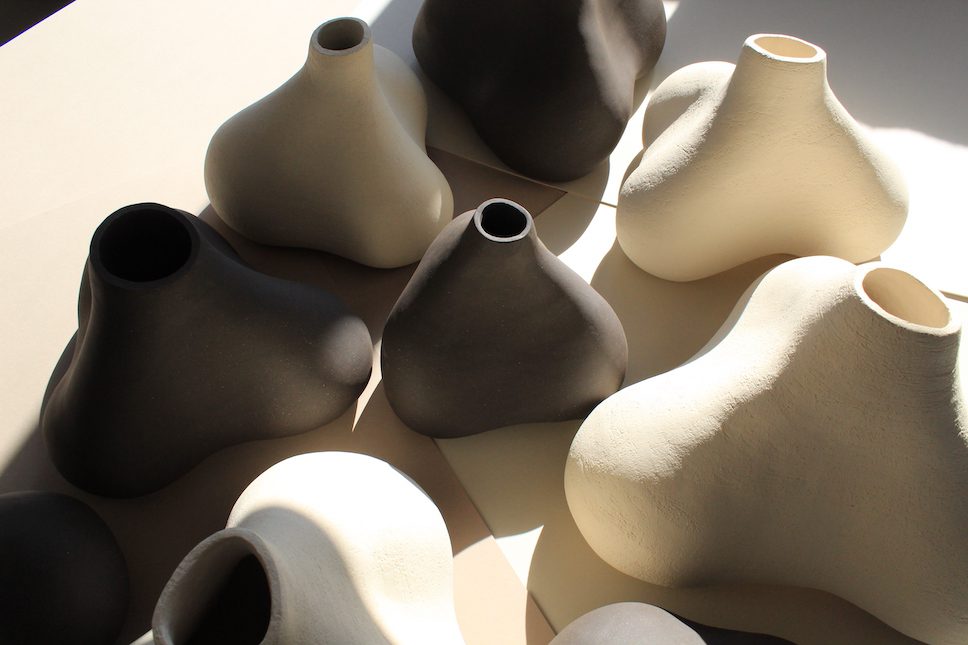 Can you tell us a little bit about yourself and what inspired you to set up Studio Duka?
I was born and raised in Greece and 12 years ago I moved to London to study Interior Architecture. After I graduated from University of the Arts London with a Masters in Interior and Spatial design, I started working for a number of architectural practices based in London. Art and design have been an integral part of my life for as long as I can remember. While working in various creative projects, my love for objects became evident, therefore I started working for a big Swedish furniture company. I wanted to be directly involved in the creation process, so I took a pottery course and since then I have been working with clay as my primary material.
Two years ago, when the whole world around us slowed down, clay offered me a creative outlet. I set up my Instagram account mainly as a visual journal of my work and the making process, and following the positive feedback I received, I introduced an online shop. Orders were coming through, shelves were getting empty, and I started making more of what I love.
Where did the name Studio Duka come from?
I never really thought I would have an online shop or that I would have to brand my creations. So, when the moment came to do so I was very confused. Various archaic words came to mind that at the time I felt suited my work's profile, but since I have a very experimental vision and approach towards my work, I believed it would be wiser to stay away from a name that would identify my work in a very specific way and eventually all I was left with was myself, the only constant in this whole process and so Duka came from my last name.
Studio is a word that every person working with clay is familiar with. Whether it's a private or a shared studio, it is still the most important space in a potter's making process. In an abstract way, a studio is not just a physical place but it is everything you carry in your head, all the ideas, the decision making, the step-by-step process you go through again and again. Ι may leave the studio but the studio never leaves me, therefore it had to be part of the name.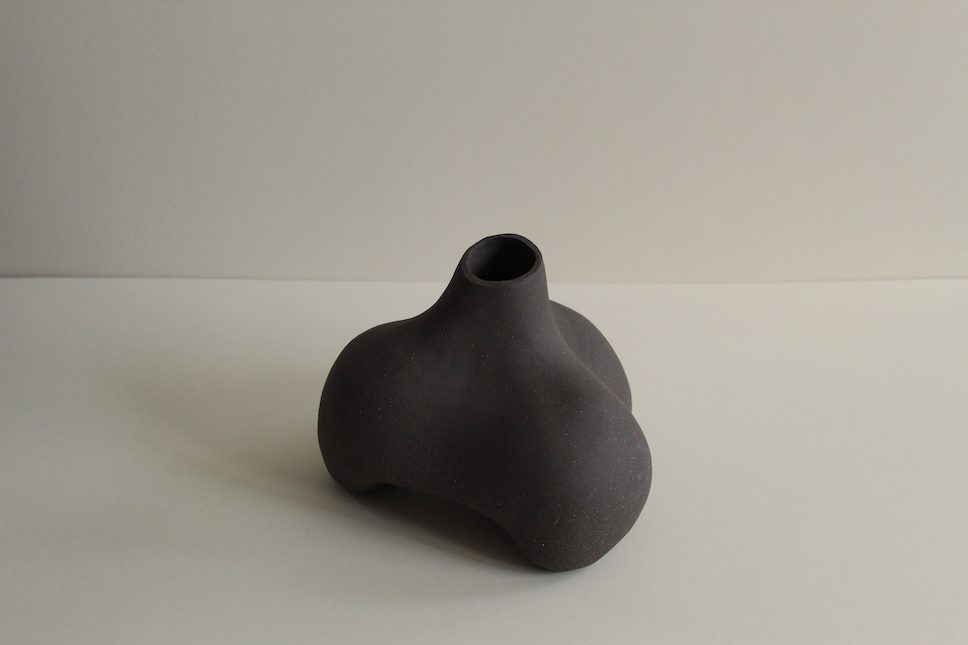 Can you describe your aesthetic and who or what inspires you?
Growing up in a Mediterranean culture has had an inevitable effect on my design language. I'm a keen enthusiast of warm minimalism when it comes to aesthetics. Places and objects that combine the best of the Nordic style with Japanese aesthetics and the Mediterranean feel. I prefer to keep my work unglazed and textured by hand, carrying a fluidity and a simplicity. I want each piece to feel like something you can pick up from your walk down the beach, found inside a cave or next to the water as if they were shaped by the natural elements.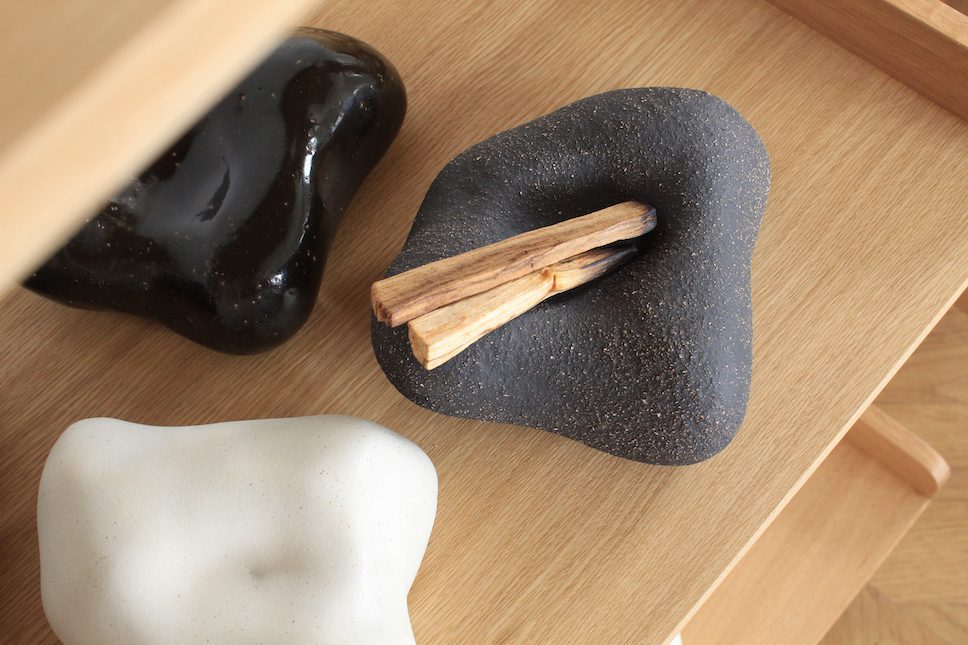 In what ways has your Greek background informed your work?
Greece has a very rich history; ancient ruins can be found all around the country. In my hometown, in Thessaloniki, you can see them everywhere, just by walking down the street. Ancient ruins are there to remind you of a past civilisation that existed and thrived long before you did. I remember being fascinated by the fact that pottery is an art that hasn't really changed since the prehistoric times.
However, it is the diversity of landscapes throughout my country that pushes my creativity. The intense natural light, the calming sea, the smooth round pebbles, the rocky paths of the Aegean islands, the simplicity of life and feelings of nostalgia I carry are all present in my work. I often pick up objects I find sculpturally interesting whenever I'm on the beach, and then later I'll add some of their textures or forms into my work. For example, my Nisos collection is inspired by the shape of a stone I collected on a Greek island, hence the name Nisos that means 'island' in the Greek language.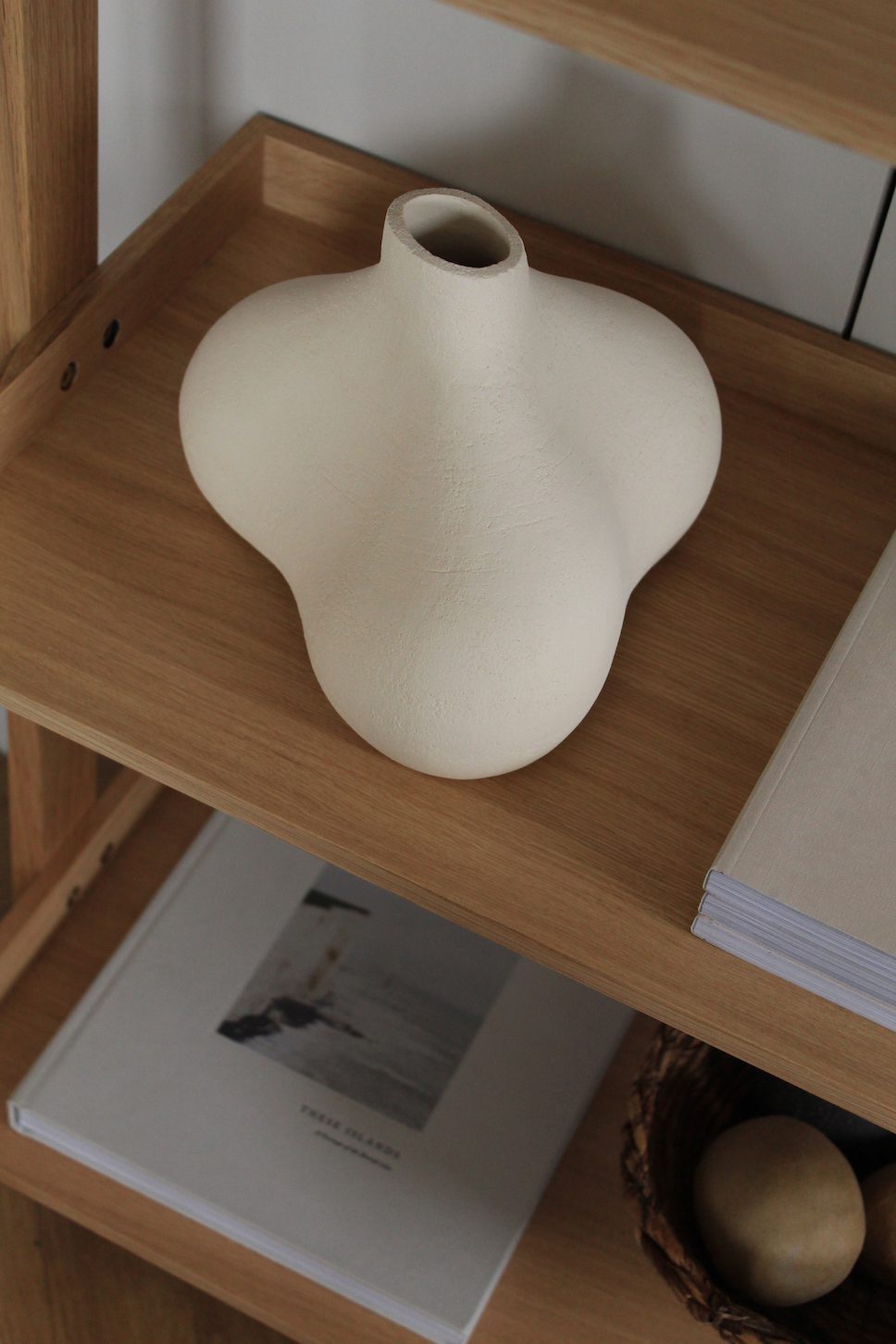 What is it like working at the Turning Earth Studios?
For makers like myself that are still at an early stage in their creative path, Turning Earth is a great starting point. It's an open-access studio for pottery enthusiasts where you get a lot of professional help if needed and most importantly you get to work alongside other like-minded people. I'm working from their Leyton studio, a massive warehouse that feels very cosy despite its size and we have this super cute patio/balcony where during the summer months I get to work on my ceramics in the sunshine while sipping amazing coffee from Lighthaus Café, and believe me it doesn't get any better than that.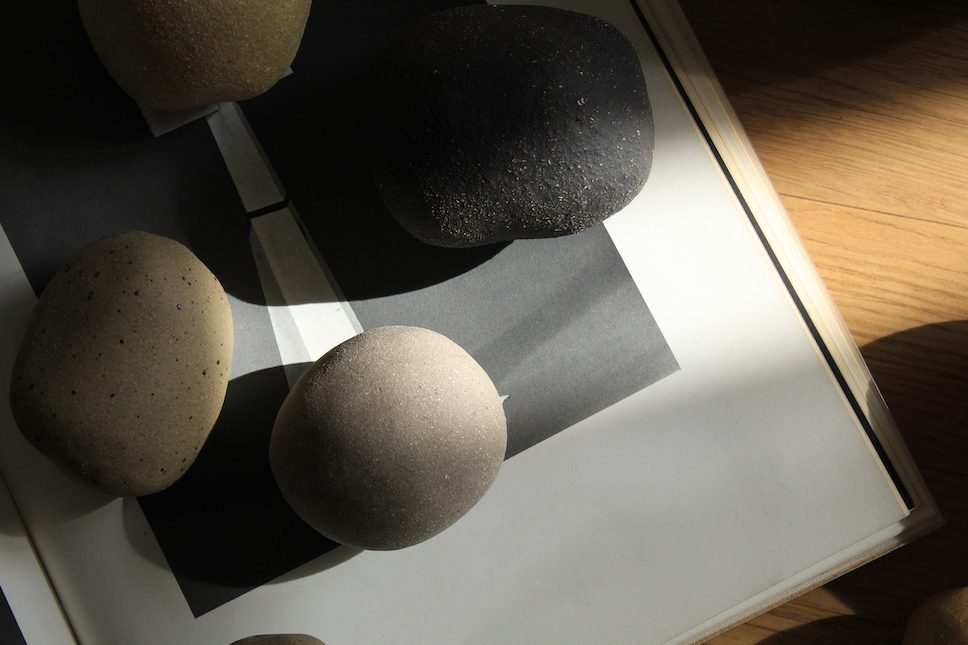 What do you love about clay and are there any other materials that you are keen to work with?
Pottery is an ever-evolving process. You constantly learn of things you should or shouldn't do. It is unpredictable – you might have worked on a shape a thousand times and yet you can never be sure how it'll come out of the kiln. But the process of transforming a material, into something and then further changing it by firing and glazing it, is nevertheless therapeutic. It's a completely personal experience from beginning to end and the finished result gives you something to hold on to that you made with your own hands. It's tangible and real.
I always liked painting but it wasn't until I started doing ceramics that I started sketching and drawing on a smaller scale and in a more carefree abstract way. When you draw something you get an instant gratification of what you made, unlike pottery where you must wait for weeks to see the final result. I often start making a sculptural object based on some first sketches, but I would like to follow the reverse process and use it as a study case for future experimentation.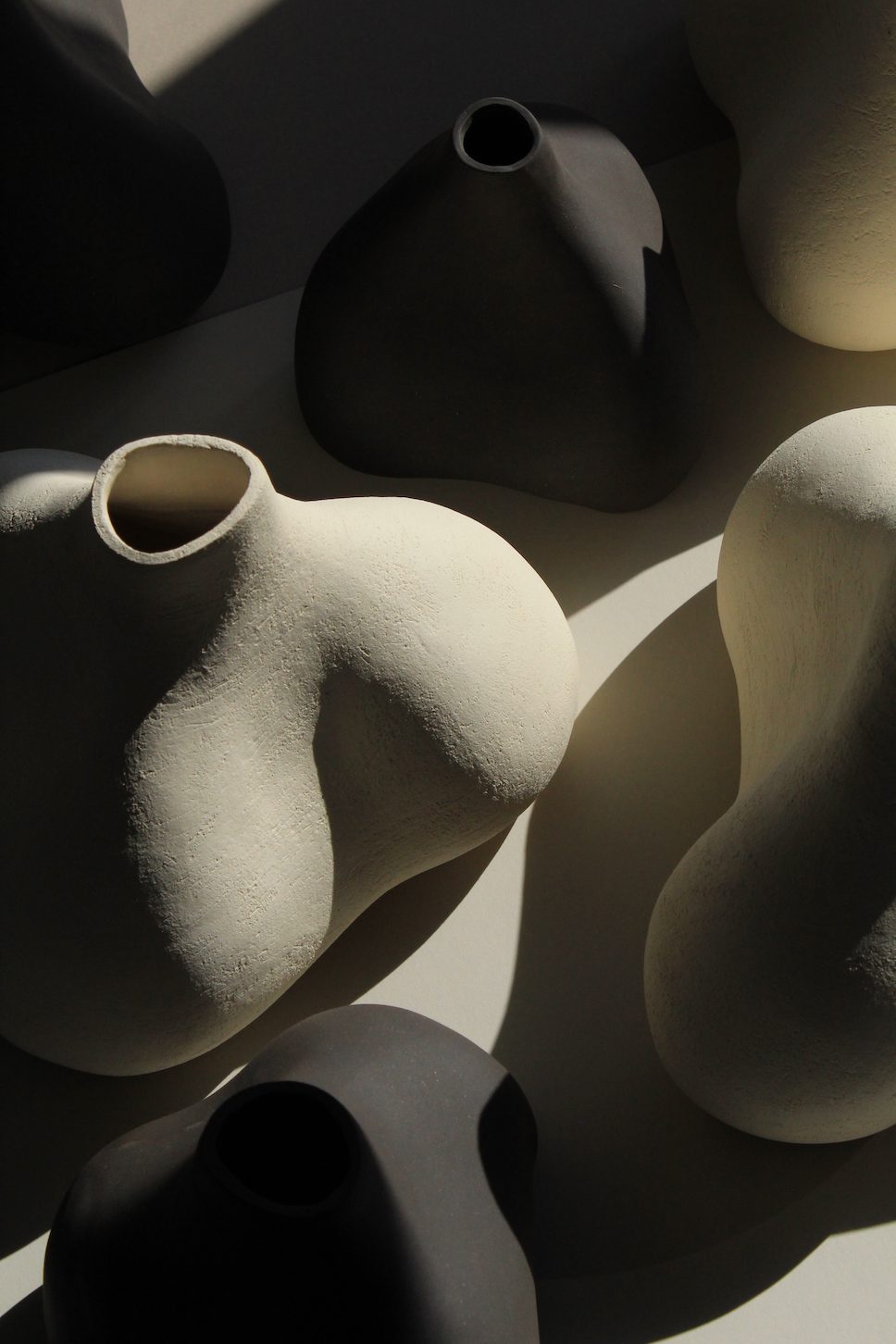 Is there another brand or maker you dream of collaborating with and why?
There are so many brands and creative makers out there worth keeping an eye on. I will not dare to use the word collaboration, but will say I admire what they do. Hermine Bourding is a sculptress based in Paris who makes these amazing sculptures inspired by the female body. I also admire the work of Stephanie Petit whose work reminds me of the simplicity of Cycladic art. Both artists have a minimal approach focusing on natural textures. The Home of Sustainable Things (HOST) is a great concept, addressing unnecessary waste and how materials can be upcycled, used in creative ways, and transformed into products.
What are your hopes for the future – is there anything we should look out for?
I'm currently working on a new body of work, producing some new functional pieces such as candle holders that will launch later this year on my website. In this body of work Ι'm experimenting with new clays, colours, and bolder curves. I feel I'm in a good place production wise to maybe have some small, independent boutiques stocking my products as well as small galleries in order to showcase my work to a bigger audience.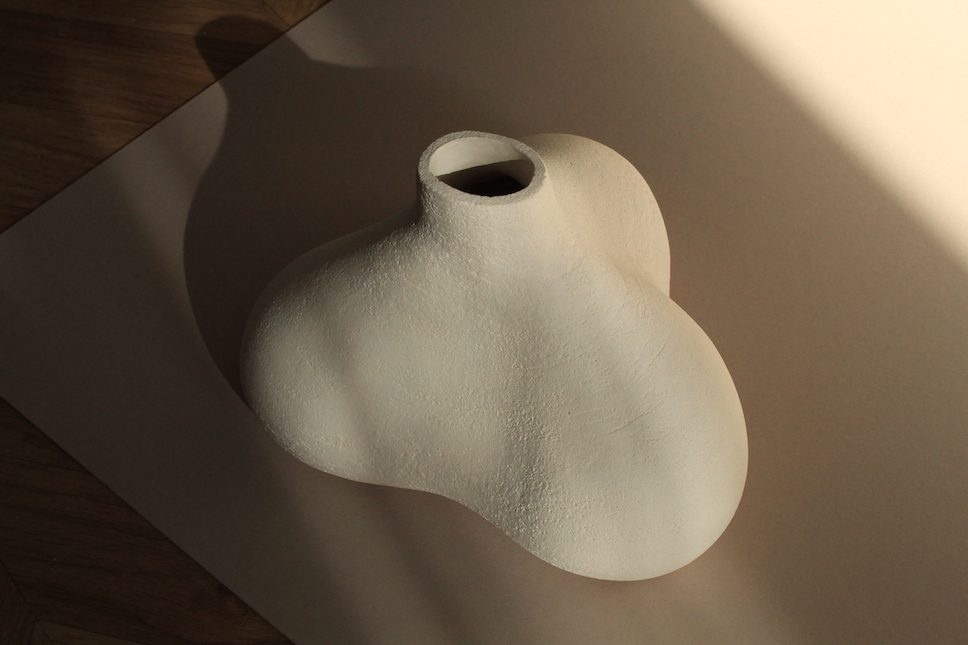 Photography courtesy of Studio Duka.
Take a look at the full collection of handmade, sculptural ceramics available from Studio Duka.
Discover more designers and creatives in our Meet the Maker series on enki.