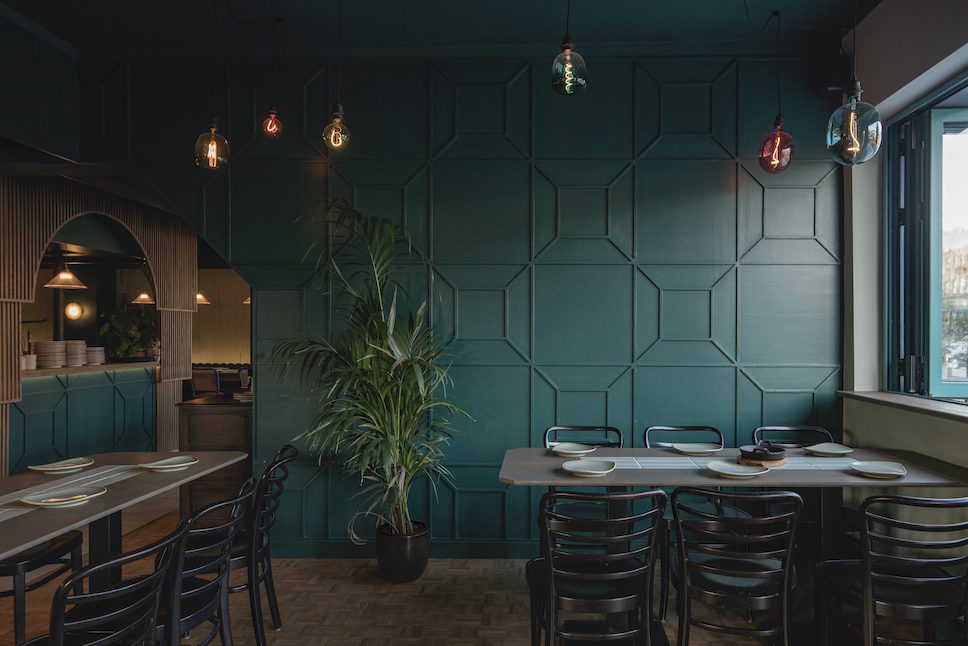 Permeating Turkish cuisine and culture into the much-loved TAŞ restaurant in South London, Iungo Studio has unified two spaces with Arabic design detailing.
The restaurant owners, who are passionate about using authentic ingredients and developing their own recipes, wanted an open kitchen and more defined dining areas where visitors can enjoy the dining experience. The extension involved converting the adjoining grocers and merging it with the existing space, and to tie the space together Iungo studio incorporated a central volume in the form of a counter featuring geometric detailing.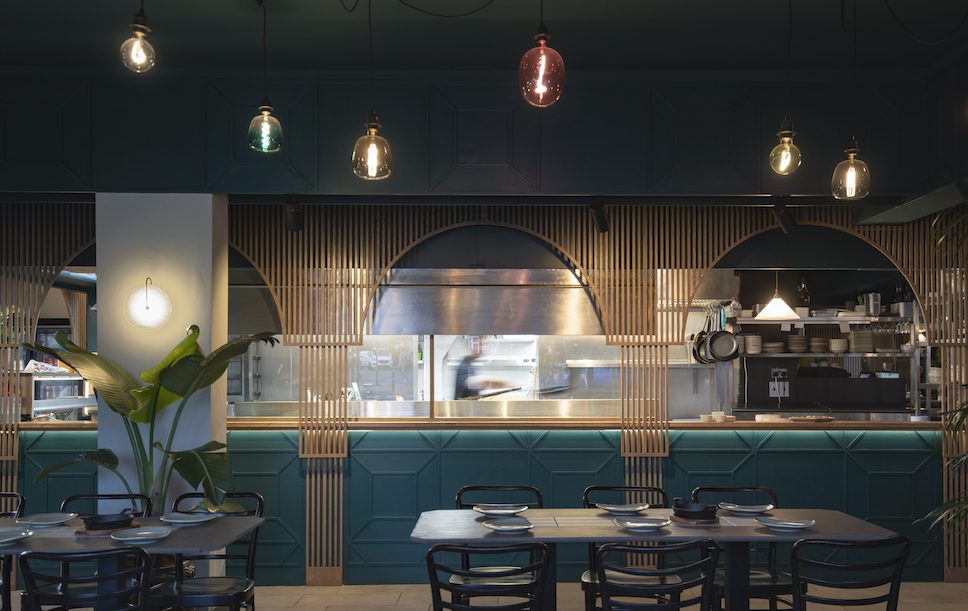 "The volume is wrapped in a series of striped arches – resembling both the arched stone oven and the restaurant's former graphic signs which are embedded in the community's memory. This achieves a visual filter from the restaurant while maintaining a dialogue between the two spaces; the piping hot skewers right from the grill and cocktails served on the bar side establish the counter as a vibrant interaction point," explains Alex Cheregi, architect and co-founder of Iungo Studio.
Colourful hanging pendant lights dress the front-of-house area, for a striking first impression. They are an interpretation of Turkish mosaic glass lamps that tell a story through their intricate craftsmanship, and here they effectively and visually draw attention into the restaurant.
Decorative clay plaster, composed entirely of natural raw compounds mixed with clay from Cornwall, is just one of the detailed natural materials to have been used to add texture and warmth to the space. If you turn your attention to the floor, you will notice the parquet composed of oak offcuts put together in square assemblies.
Bifold windows fully open up the front of the restaurant, allowing the parapet to be used as a bar for drinks or light bites. Architecturally this works to expand the dining space into a more informal area, whilst also bringing in more light. Contrastingly, towards the far end of the restaurant there's a mix of intimate spaces are aggregated around a central skylight, well-suited and more accommodating for larger groups.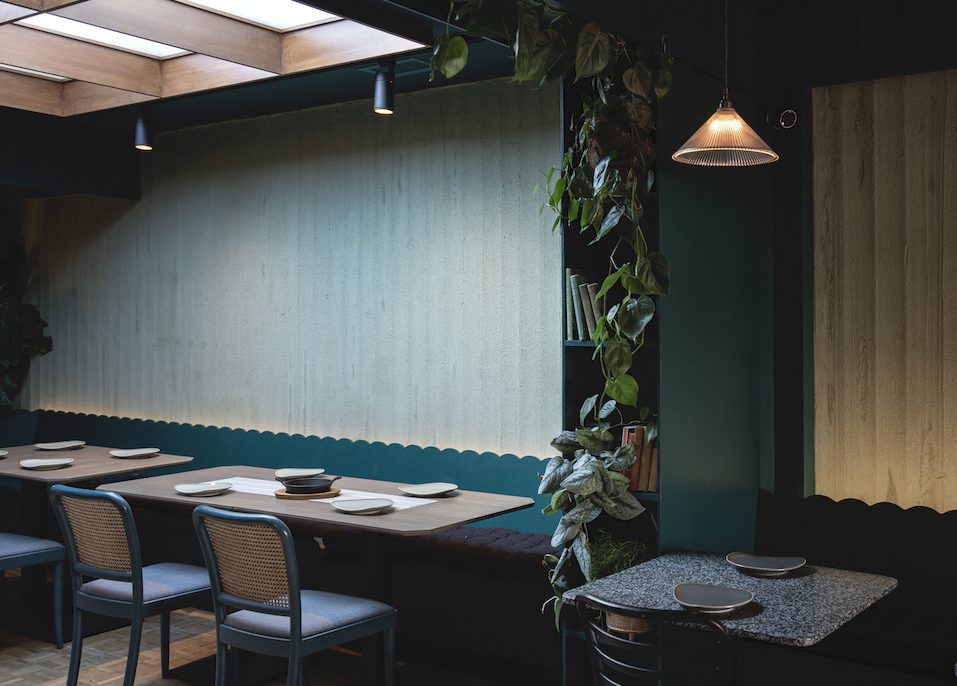 Warm and embracing, the design visually draws you in with its rich, deep teal colour palette that inspires an intimate setting for dining. Shades of turquoise are synonymous with Turkish design and architecture so this gives a nod to culture and history, whilst also complementing the warm wood tones used throughout the restaurant. The teal hue is balanced by lighter and textured greens, deep-brown oak, and black accents.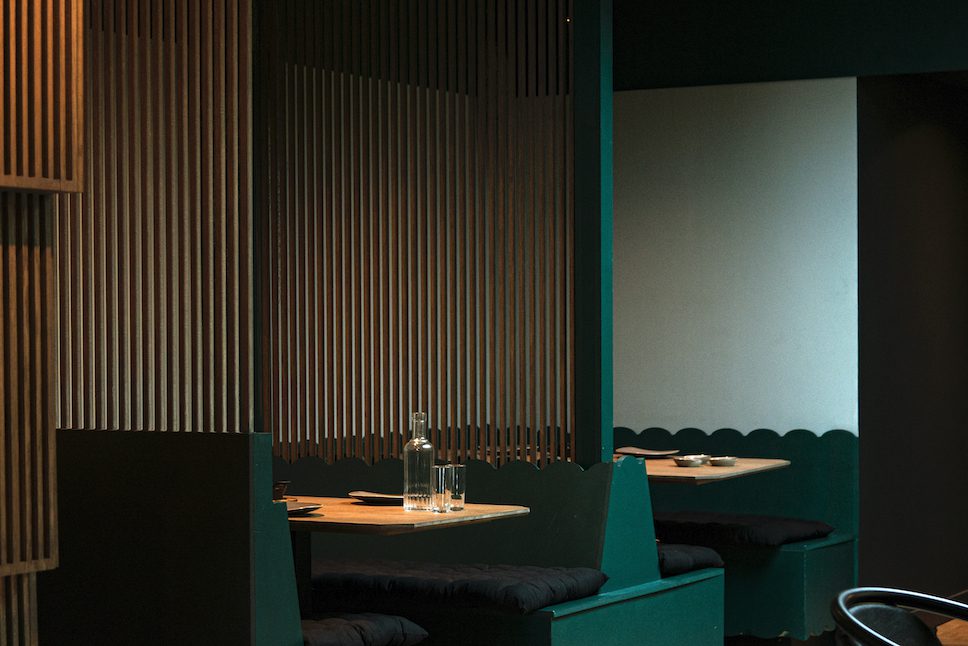 Photography by Alex Cheregi, Tolga Yilmaz, and Iungo Studio.
Discover more architecture and interiors projects by Iungo Studio.
Read other design stories on enki.