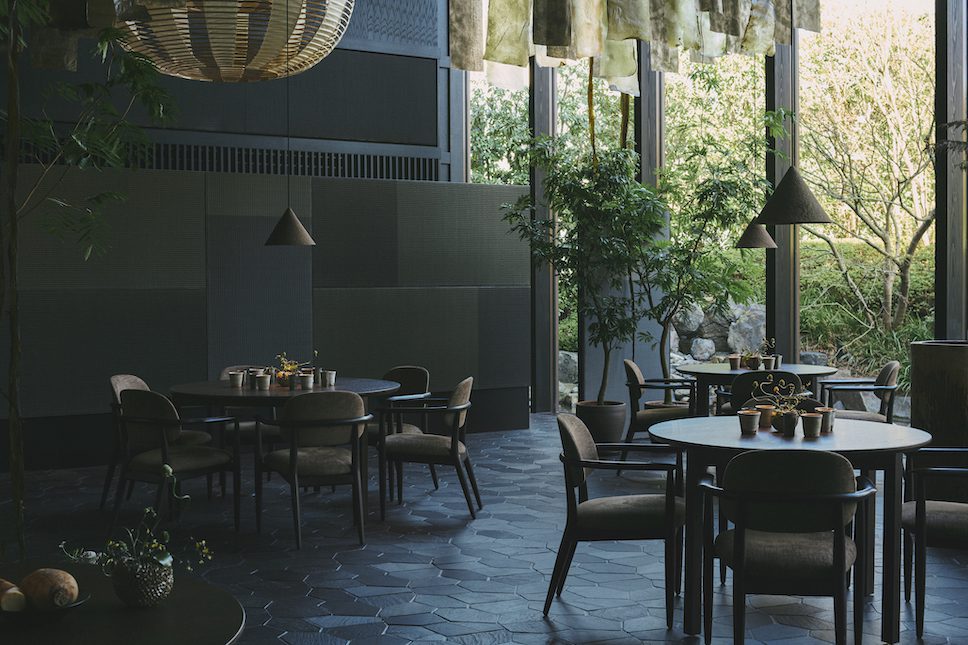 This spring, Noma chef and owner René Redzepi has opened Noma Kyoto, a pop-up version of his Michellin-starred Copenhagen restaurant, in Japan for a 10-week residency.
Open until 20th May 2023, the Noma Kyoto dining experience coincides with Japan's much-loved cherry blossom season. It's located inside a 250 square-metre existing restaurant space within Ace Hotel Kyoto, embracing its high-ceiling dining area and views overlooking a garden oasis.
The dark and moody yet beautifully simplistic interiors are inspired by an infusion of design traditions unique to Japan and Kyoto and mixed with a dash of Nordic culture. This expertly crafted vision was created by Copenhagen-based practice OEO Studio, as they transformed an impressive main dining area, a secondary dining space, and two private rooms.
Warmth and tactility fill the interior and dimmed lighting, welcoming acoustics, and a rich and earthy colour palette bring the pop-up space to life. OEO Studio was inspired by Kyoto's rich history for crafts and the designers harnessed this by working with some of the best local craftspeople. In collaboration, they've taken materials and surfaces such as ceramics, tatami, bamboo, and wood, and used them creatively and in unexpected ways.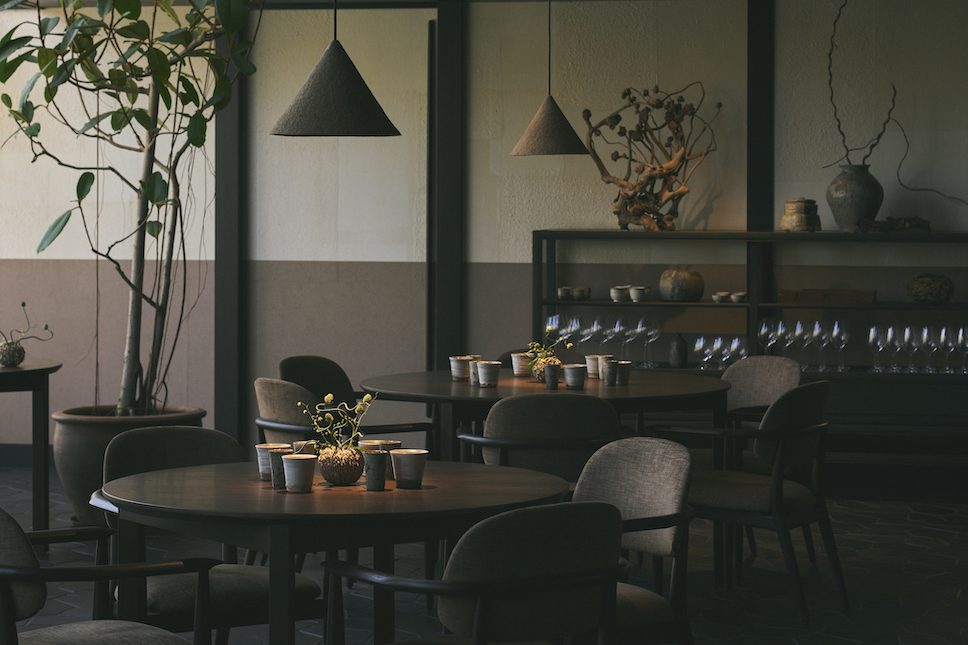 Setting the scene for the one-of-a-kind dining experience involved a careful selection of natural materials and furnishings. The considered design complements Noma's signature culinary style, working with local ingredients and fresh produce, and immerses guests in a unique and welcoming space.
A surprising element is how the colourful tatami mats by master artisan Yokoyama Tatami are used as acoustic wall screens and room dividers. Adding further intrigue, architectural bamboo structures are hung from the ceiling to subtly assist with the zoning of the opening dining space. For this, OEO Studio worked closely with a Tenugui maker and Copenhagen-based Natural Material Studio to create the illusion of an underwater kelp forest in the main dining room.
"It takes about two years to plan a Noma pop-up. Everything needs to be thoroughly considered, from the choice of produce and producers to what the restaurant should look like," explains René Redzepi.
"Here, we had no doubt at all that OEO Studio were the right people for the project. With all their experience and expertise in design and craftsmanship in Japan, it has been a perfect match. OEO Studio has managed to create a space for Noma Kyoto that is based on our identity yet also shows great respect for local design and craftsmanship," Redzepi adds.
Attention to detail in the craftsmanship and the encompassing subdued Kyoto palette, work together to create this otherworldly-like space. Set against the backdrop are furniture and lighting pieces including dark brown oak tables from a bespoke Stellar Works AYA Collection by OEO Studio; Kvadrat-upholstered onyx oak seating; Time & Style cabinets, and wall lamps by Santa & Cole.
Ceramics are a subtle finishing touch, with table tops and interiors interspersed with intricate Japanese pottery and Danish artisan pieces. This pop-up is something but a feast for the eyes – and the belly!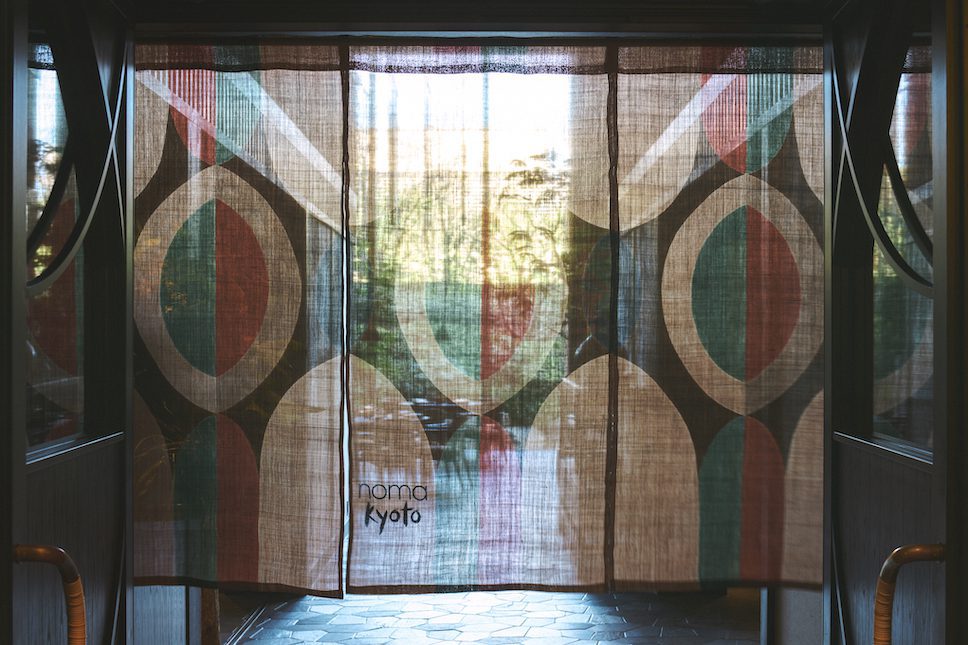 Photography by Kōtarō Tanaka.
The Noma Kyoto pop-up at Ace Hotel Kyoto is running until 20th May 2023.
Discover more about OEO Studio….
Read lots more design news on enki, and check out more impressive restaurant interiors including the tranquil Spring Feast restaurant in China and see more about the newly opened sustainable vegan eatery called Edit in London, which is featured in our first-ever Eco Edit.