Ahead of Surface Design Show 2022 (8th-10th February), trend forecaster and curator of the show's Surface Spotlight Live feature Sally Angharad reveals the design directions that the latest innovative materials are following.
She highlights trends from Soft Lines, Pattern Inlays, and Translucent Layers, to Bio Magic and Dappled Colour, and explains that we can expect to be impressed by "new surfaces that blur the boundaries of material properties and celebrate original characteristics" at this year's show.
"With greater focus on offering multiple solutions in one, we see solid materials interact with light and mixed material designs. It is particularly exciting to see biodegradable and recycled ingredients driving aesthetics, with a move towards unique colourways and textures. Once again the Surface Design Show will set the scene for the next year in terms of design ideas." Read on to find out more…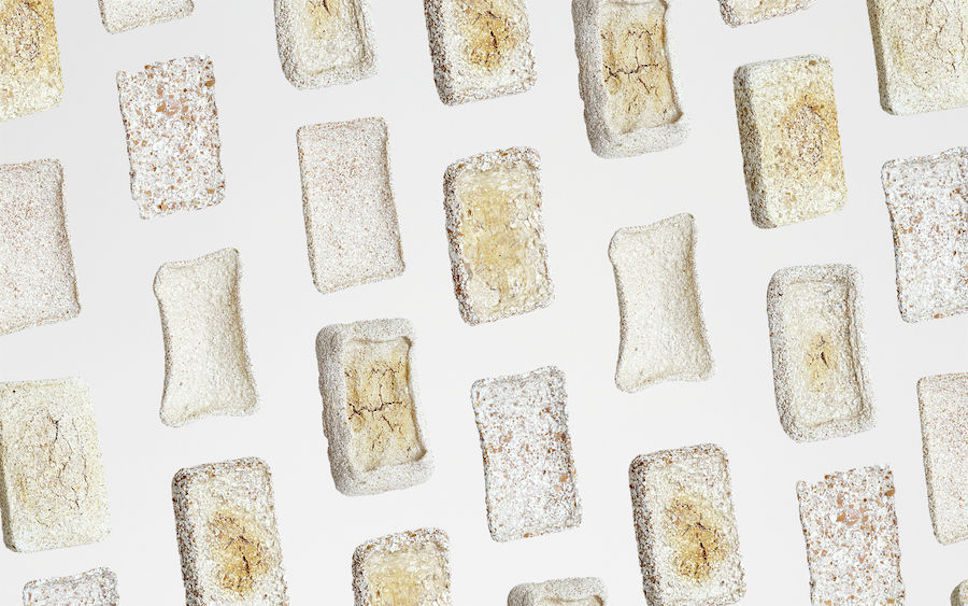 Bio Magic
Biomaterials, materials derived from living organisms such as plants, animals, fungi, are becoming increasingly popular among designers and architects due to their environmental properties and performance. According to Sally Angharad, one to watch is "Johnson Tan, one of 32 'New Talents' at Surface Design Show 2022, who has created surfaces using food shell waste (pictured above) including eggshells and coffee, which creates a delicate, subtle, and translucent material."
Also not to be missed in the New Talent section is Biotic by Studio Lionne Van Deursen, an ongoing research project and material archive. "Microbes are used to grow a biological material which is made of bacterial cellulose. This is made using yeast and bacteria in a fermentation process. During this process bacteria spin nano fibres of cellulose and produce a layer on the surface. When this layer has dried, it becomes a solid material that has comparable properties to leather."
Soft Lines
There is a spotlight on organic and smooth shapes, curves, and subtle detailing. The show will highlight gentle relief surfaces that evoke a sense of calm and serenity, with tonal shifts and subtle line work offering a pared-back aesthetic. "Tattoo by Italian wallpaper designer and manufacturer Zambaiti Parati is an embossed wallpaper (pictured above right) with beautiful soft tactile lines that echo natural stone."
In glazed porcelain, the Yuki tiles (pictured above left) by Japanese tile specialist Raven are made by master ceramicists, INAX of Japan. "The YU-KI name is from YU meaning glaze and KI meaning seasons. The standard white colour represents winter snow, the red represents summer sun and the black represents the night sky of a mid-autumn day. The gentle curved Yuki border form is naturally created by using split bamboo, one of the most familiar materials for Japanese people."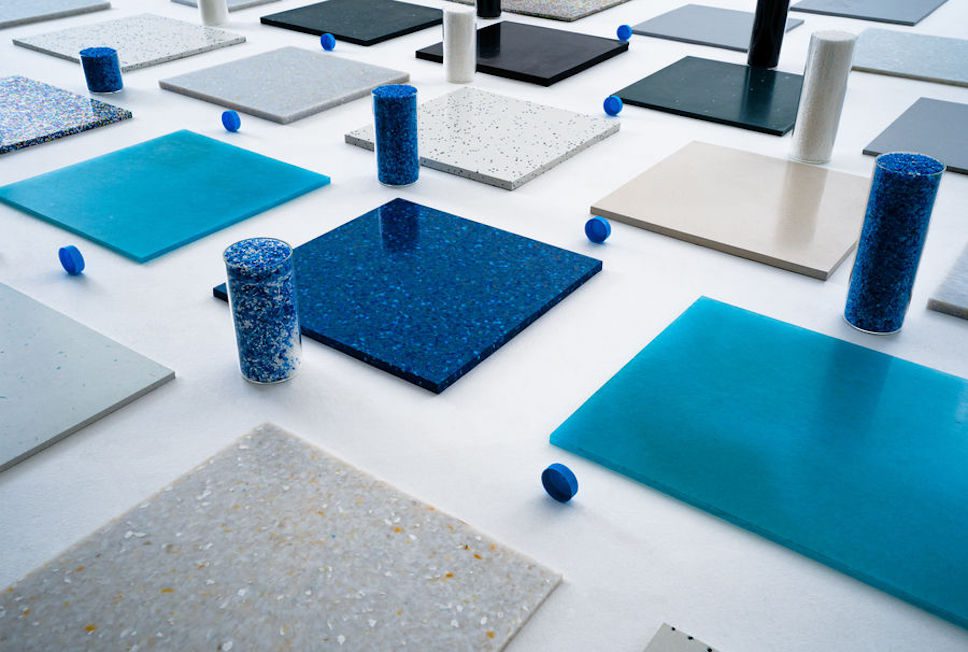 Dappled Colour
"A rise in recycled materials sees more one-off design aesthetics emerge where repurposed materials define the colour palette, embracing dappled patterns and flecks of contrast instead of solid colour," details Sally. So, what should we be looking out for at the Show?
"The Good Plastic Company produces sustainable panels from 100% recycled plastic(pictured above). Each panel is made from a single type of plastic so it can easily be recycled, extending the economic life of the material. There is a huge choice of colours and styles with many having a striking dappled colour effect."
Additionally, WasBottle from Benecore is one to keep your eyes out for. "It is a 100% recycled HDPL panel designed to produce tabletops, shelves and partition elements and claddings for interiors. Each panel is unique thanks to the randomness of the recycled material showing variations in colour which creates a vibrant dappled texture."
Register to get your ticket for the Surface Design Show 2022 at the Business Design Centre, London.
Keep up to date with all the latest sustainability and design news on enki.