In a creative reimagining of a Devon cottage, the architects at Studio Weave have formed a modern artist's retreat from a double-storey timber extension.
With a brief to design flexible guest accommodation and creative workspace for the family and visiting artists, Studio Weave set out to revive this holiday home whilst sensitively considering its secluded, rural surroundings. The project was named Made of Sand to give a nod to the site's historic origins as a local sandpit and to reflect its connection with its landscape.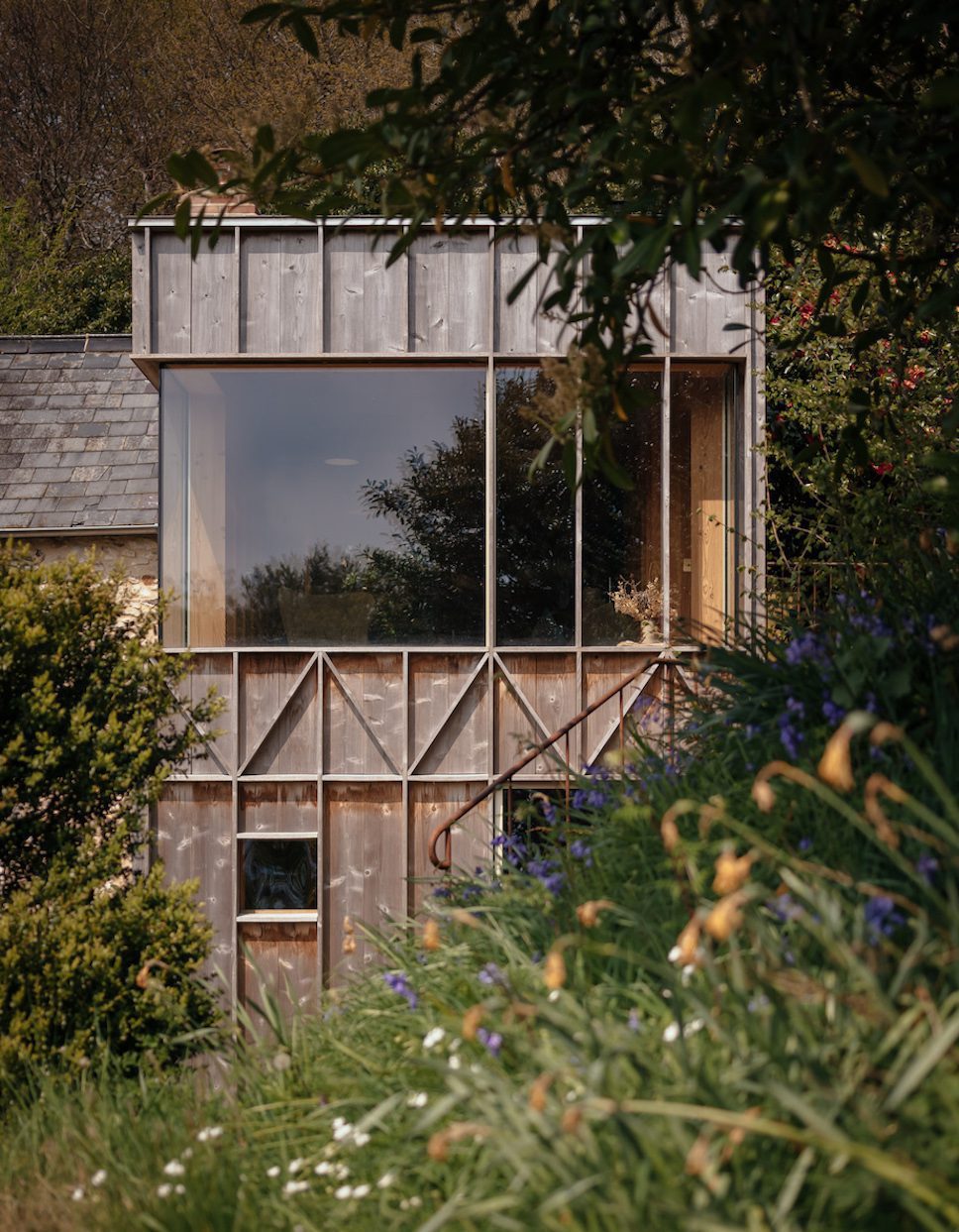 The two-storey cubic extension wraps around the existing cottage and can be accessed and inhabited separately, offering a sense of privacy and also a flexibility in its use. It replaces an old garage and workshop building that has fallen into disrepair, and is striking yet unassuming in its appearance with a geometric timber façade and large glazed apertures.
"Made of Sand balances our signature technical precision in an organic, natural setting," said Studio Weave's director Je Ahn, as he continues explaining the technical design challenges that they faced. "Firstly, the building is located against a sandy, porous hill, creating a semi-basement condition for the ground floor. Due to the porosity of the hill, and therefore high water volume in the ground, significant care was required to create detailing which avoids any future water ingress."
"Secondly, creating the large uninterrupted glazing which framed the view was important. The challenge was to create wide spans, but with minimal material. In order to achieve this while also providing the maximum floor to ceiling heights (within the planning height restrictions), we optimised the exposed timber elements to work structurally in tandem with the main structural frame. This meant we could reduce the structural timber sizes."
The façades are clad in red western cedar that will weather and silver over time to mirror the surrounding woodland, whilst the interior design combines complementing natural materials such as clay, terracotta, and brass. The timber extension is also highly insulated and soundproofed to allow artists and children plenty of creative freedom during retreats and family holidays.
The beauty of the project's structure really shines through in the detail and contrast between the old and new architecture, working within its historic setting. Inside, the floor plan accommodates two tessellating L-shaped zones that connect the main cottage and contemporary retreat internally. The Douglas fir ceiling soffits are echoed throughout in timber battening, window seating, and wall storage.
In terms of sustainability, material use and wastage were reduced by keeping the structure of the extension on display. "The exposed stone walls meant the cottage was poorly insulated," architect Je Ahn explained. However, he adds: "Creating the extension that wraps around the existing cottage, increases the insulation to the existing building fabric significantly – the extension works like a jacket!"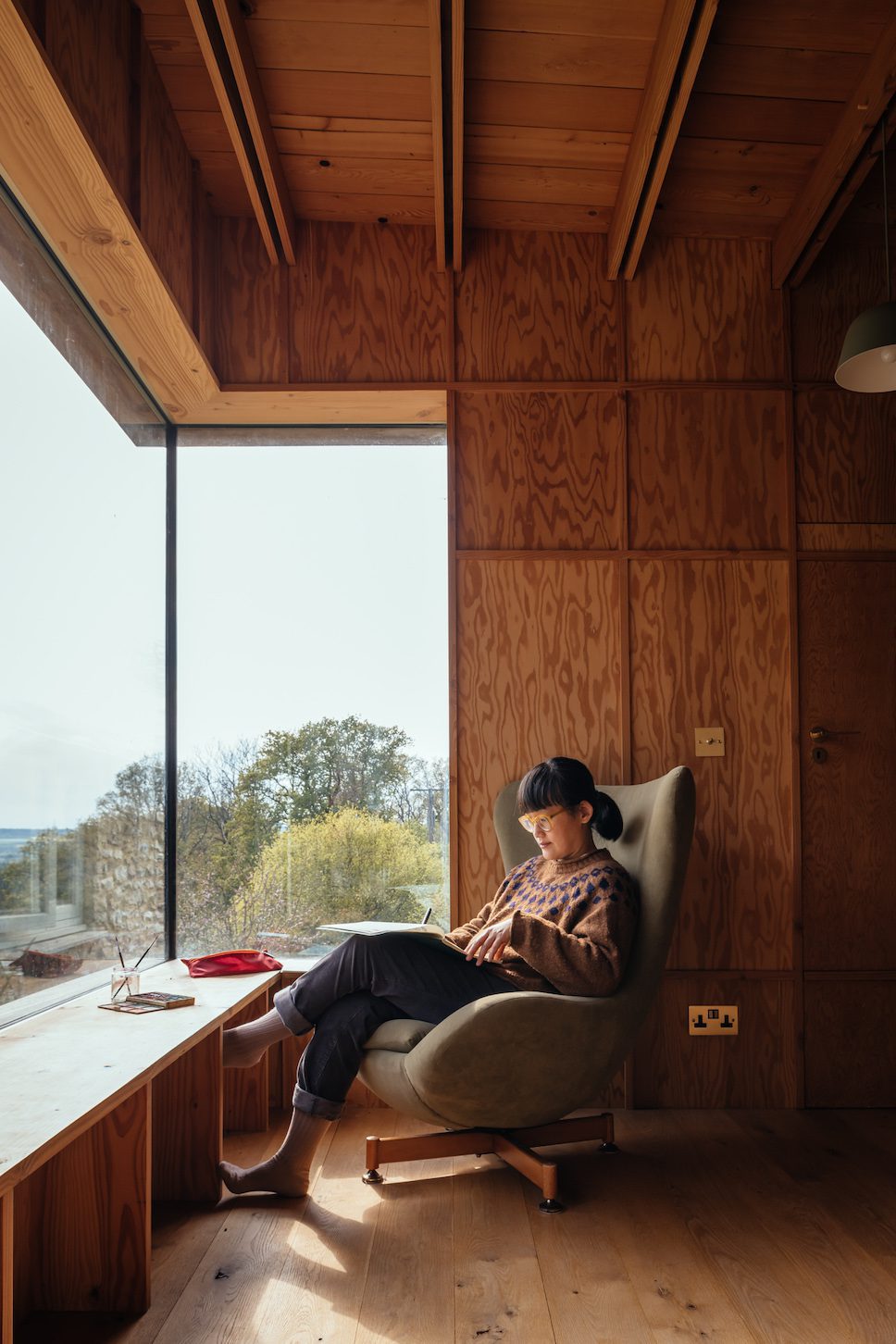 Project details:
Location: Blackdown Hills, Devon, UK
Project size: 85 sq. m
Architect: Studio Weave
Interiors: Studio Weave and Natalie Silk (client)
Design team: JJO Associates (structure)
Contractor: David Joyce Cob and Lime
Joiners: Farid Adhamy, Harry Bailey
Products: Western red cedar and iroko (exterior timber); Norfolk Pamments (floor tiles); Simon Connett Blacksmith (metalwork); Hand & Eye Studio, Zangra, and Muuto (lighting); Lusso Stone (sanitaryware)
Photography: Jim Stephenson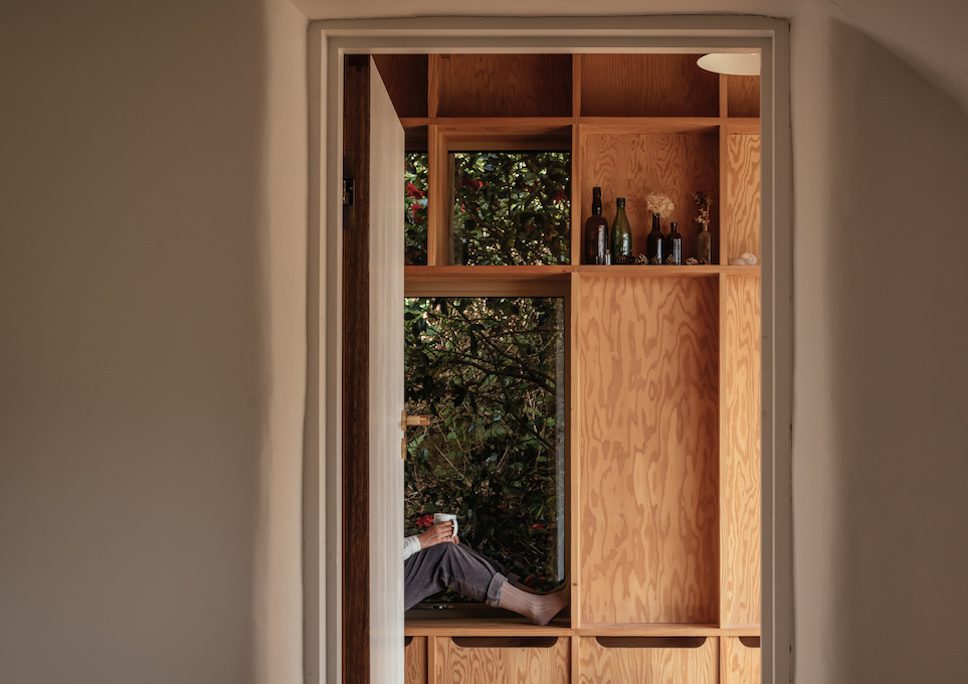 Discover more carefully crafted projects by London-based architecture practice Studio Weave.
Take a look around more residential architecture projects here on enki, including Rise Design Studio's impressive Victorian extension that uses solar architecture.