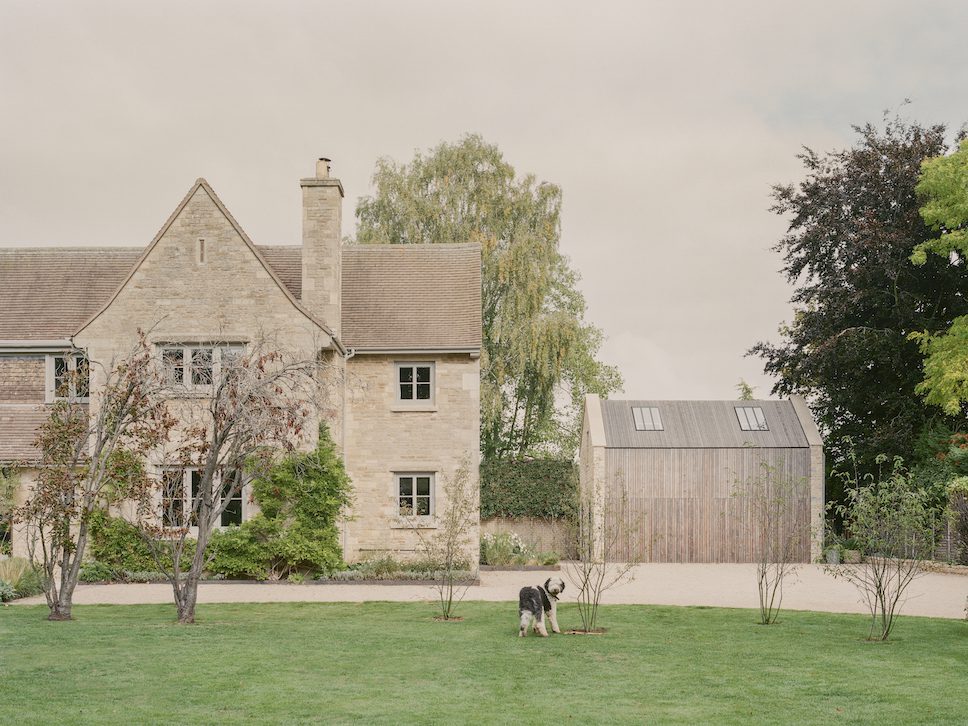 Three contemporary gable extensions of varying scales have been built by Studio McW, completing the first phase of a multi-stage renovation of Follyfield, a large 18th century traditional stone house in Cambridgeshire.
This sensitive restoration and revival arose from a brief set out by a young family, who had made the move from the bustling city of London to the countryside, requesting a touch of cosmopolitan sensibility to be brought into their home.
The modern update has involved creating a more functional kitchen-living area, a space to work from home, and an open outdoor entertaining area. Family and other guests can also now stay independently in their own self-contained suite in the garage space, complete with a kitchen and bathroom.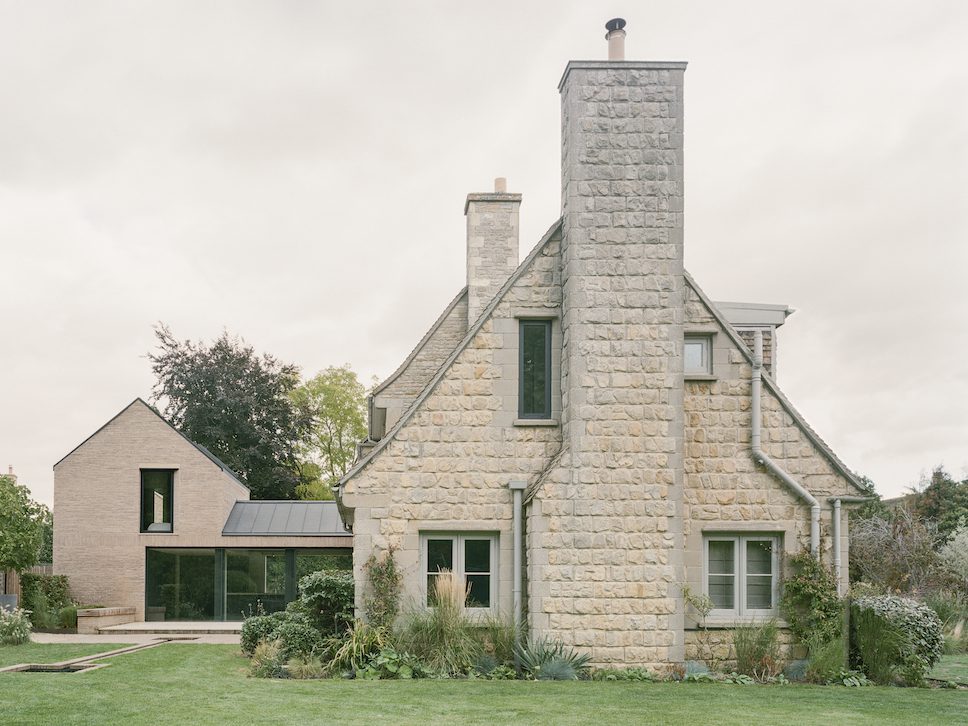 Connection was key to the success of this project in many ways, with Studio McW blending the new contemporary architecture with the hamlet's rural vernacular to create an aesthetically pleasing harmony.
The largest extension is built from clay bricks to complement the existing stone of the property, and is connected to the main house by a zinc-clad gabled kitchen and living space. The third addition is a new garage built from reclaimed stone and pale timber.
"The three gabled extensions draw on the existing roof scape of the house, borrowing pitched angles from neighbouring homes in the hamlet," David McGahon and Greg Walton, the founders of Studio McW, explain.
"We used a slim format brick to create a gentle contrast against the traditional stonework, marrying the old and new with zinc roof connections. The garage features timber battens to reference local agricultural buildings and create a subservient relationship to the main house."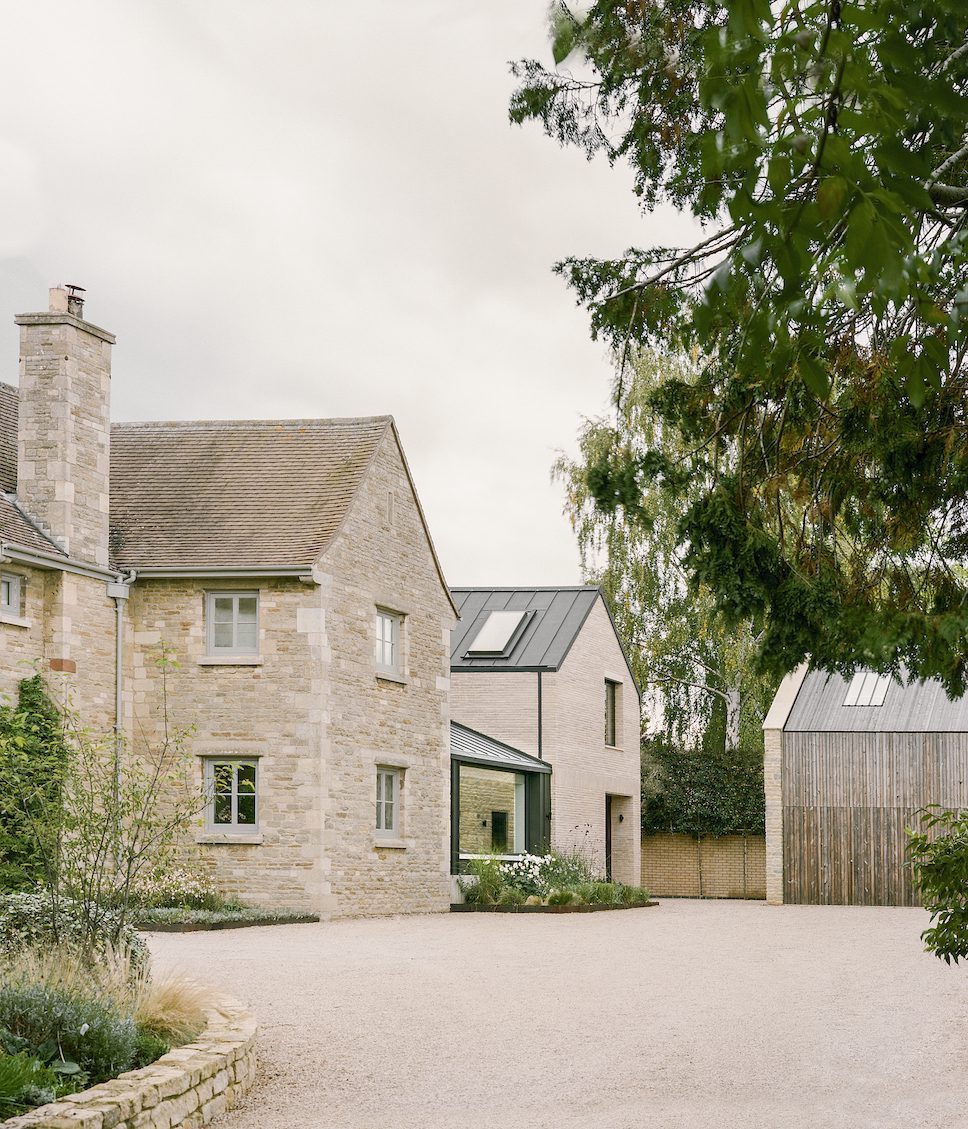 Follyfield features spaces of generous volume, including five bedrooms, four en suites, a family bathroom, a living room, two utility rooms, a playroom, kitchen with a snug area, reception room, boot room, and a double garage. With so much space to organise, Studio McW chose to refocus the heart of the home in the new 30 square-metre extension.
This generously extended space redefines the floor plan of the house as an L-shape, improving the spatial flow and connection to the vast gardens. So, where Follyfield once felt marooned within the expansive site, enclosed by border planting, there's now a closer intimacy between the indoor and outdoor spaces and a welcoming sense of flow.
Designed by Claire Greener Landscapes, the gardens recreate the private feel of a London terrace garden with the addition of a new brick patio and a water feature. This area is complemented by an outdoor entertaining space, which allows for larger gatherings and flows directly into the kitchen through glass sliding doors.
Not only was the floor plan an important consideration, but so was the materiality of the project and attention to the smaller, felt details. For example, flush thresholds are designed with chamfered wall detailing to direct views and add unexpected, minimalist delight to the façade of the new extension.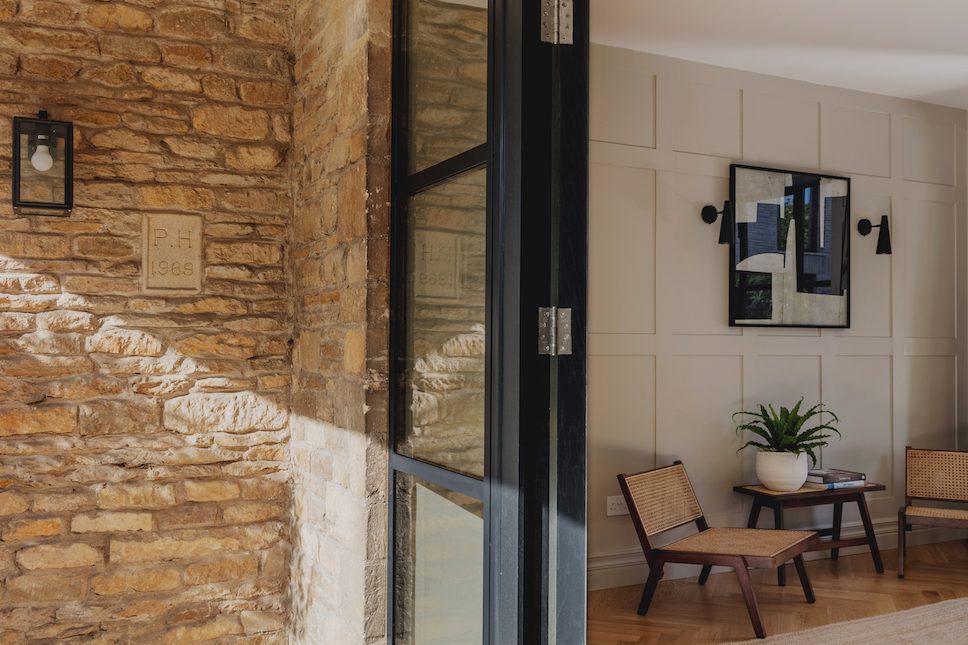 Sustainability was also at the forefront, as David McGahon and Greg Walton add: "We used natural and local materials where possible, including zinc which has a 97% recyclable content. We reused existing stone and worked with local timber to reduce material waste, and oriented windows north to reduce overheating or need for excess energy."
There has been a careful balancing act between the architectural and decorative ambitions, with new generous interior spaces created with a modern interpretation. "All decorative choices were about celebrating the volume, in the dining room and the guest bedroom as well as in the annex. All have large floor-to-ceiling heights, so furniture, wall fittings and curtains etc were selected to highlight this as much as possible, whilst still trying to stay cosy and inviting," the architects describe.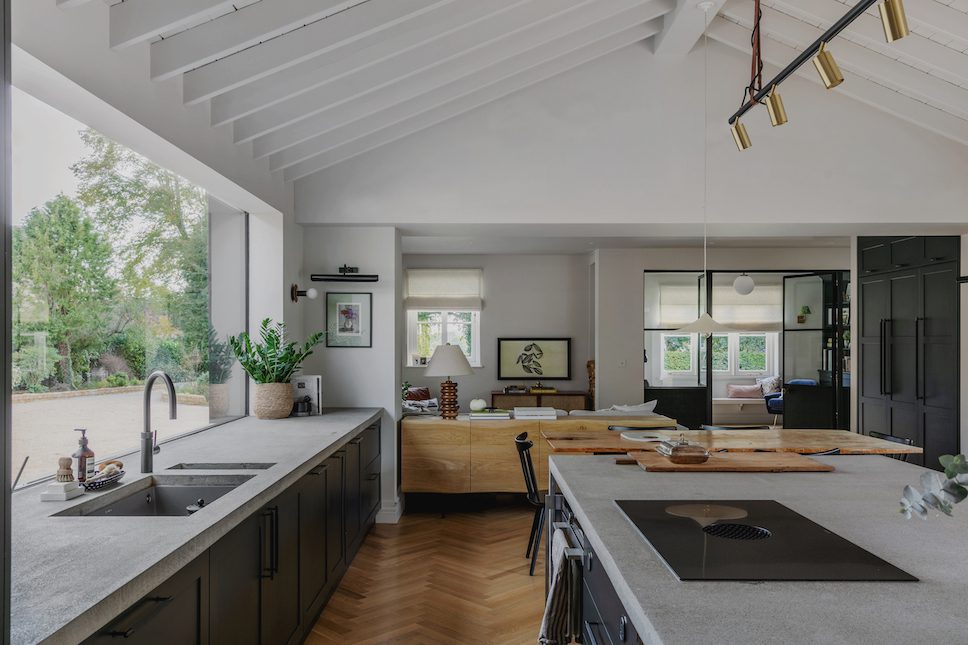 In the light and bright open-plan kitchen, living, and dining area, a large concrete kitchen island cast in-situ is offset by black cabinetry for a statement yet minimalist look. A herringbone oak parquet flooring adds warmth underfoot and gives a nod to a more traditional style, with the vaulted ceiling of white-painted exposed rafters creating a sense of height and space.
Beautiful and functional all at once, this new space has features that delight and surprise. For instance, a utility room is concealed behind full-height matte black timber doors, and a staircase leads up from this space into a new guest suite.
The next phase of Follyfield's development will encompass a second dining space and will involve a first floor and loft extension to create a larger master suite and two childrens' bedrooms.
Project details:
Location: Cambridgeshire, UK
Architect: Studio McW
Extension size: 90 sq. m; Garage size: 55 sq. m; Property GIA: 475 sq. m
Interior design: Studio Fortnum
Landscape design: Claire Greener Landscape Design
Contractor and joiner: Horizon BC
Key products and materials: Havwoods (flooring); Crittal and Design Plus (glazing); Cantifix (sliding doors); The Rooflight Company (rooflights); Puccini Kitchens (kitchen); Petersen Tegl (brickwork)
Photography: Mariell Lind Hansen and Lorenzo Zandri
Take a look at more architecture projects by Studio McW online and, in case you missed it: check out enki's Kitchen Special (Volume 49, October 2022) to see Studio McW's revitalisation of a converted warehouse in East London for climate activists and documentary filmmakers, Jack Harries and Alice Aedy.
Also, read all about Jack Harries' documentary series 'Seat At The Table', in which he explores the actions we can take to challenge and combat climate anxiety.
Delve into more residential case studies on enki.