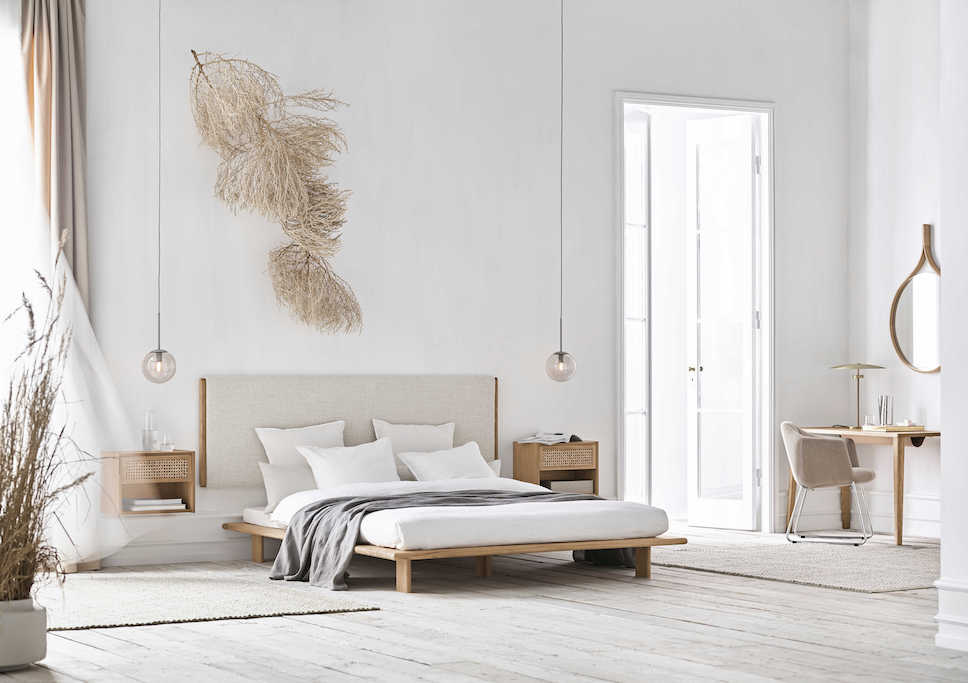 For the first time, design brand Bolia has set its sights firmly on the bedroom and uncovered three new beautiful designs called Haven, Cana, and Soft. Each collection delivers in its Scandinavian simplicity, and the soft textures and natural shades are warm and inviting.
The Bedroom by Bolia encompasses all that we dream of for our sleeping spaces, from a sense of calm and quiet to an alluring soft and luxurious touch. A minimalist bed frame made of solid, FSC™-certified oak, headboard, and mirror complete the Haven Series. The wide and low shape of the bed draws on the style of Japanese furniture which is typically fuss-free and honest in its form, and it thoughtfully incorporates functionality with a place to rest your morning coffee or a book by your side.
The Cana series is defined by its airy wicker-fronted design and the new additions include a bedside table and chest of drawers, both by Danish design duo Thomas Steffensen & Pia Würtz. Their ethos is to create authentic furniture that eases everyday stress and brings a touch of personality to a room. For these elegant new pieces they took inspiration from the characteristic tranquility that can be found in Danish seaside hotels.
No bedroom would be complete without sumptuous textures to create an enticing place to rest your head. This is the role of the Soft Collection in The Bedroom by Bolia, featuring a carefully curated series of throws and organic linen bedding. Looking to Nordic nature for its aesthetic and quality, the collection offers indulgence of the highest, sustainable quality. The fabrics are dyed with colours that are 100% free of hazardous chemicals.
There's an ethereal quality about the Soft Collection curtains, made from linen and cotton, as they allow for privacy whilst letting in gentle natural light. The lightweight fabric creates delicate movement as fresh air flows through into the room.
Take a look at The Bedroom by Bolia in more detail.
Discover more design stories by enki.