Environment-centred design store The Home of Sustainable Things (HOST) has introduced Myceen, a range of carbon-negative, compostable, and regenerative mushroom mycelium-made products to its collection.
The Myceen range, comprising the B-Wise pendant lamp, Lo Blox and Hi Blox side tables, and acoustic panels in two sizes, is a unique interior collection which is manufactured by methods developed from naturally occurring processes.
Estonian-based biotechnology studio Myceen, naturally grows each design from their lab in a few weeks using mushroom mycelium, the vegetative part of the fungus, to create compostable materials that can replace plastics.
Championing the material, Petko Tashev, owner of HOST, says: "Mycelium is a 100% natural, biodegradable, and regenerative material that grows by digesting excess and plant-based by-products from the timber industry, sequestering carbon in the process, providing natural, carbon-negative interior solutions."
"The award-winning Myceen range is capable of revolutionising the perception of sustainable and natural living environments."
"It combines the philosophies of the circular economy and contemporary design resulting in a highly distinctive and unique interior collection, manufactured by methods developed from naturally-occurring processes, evident in nature for thousands of years," Tashev adds.
As each piece is naturally grown, it has a protective skin which develops and reveals a spectrum of texture and colour that is completely unique. The beauty of the Myceen range is not only in its aesthetic but also in its sustainable qualities, with all products designed to be cold-composted or fed back into production to make new pieces.
Mycelium is naturally water repellent and due to the materials' structure, it is also breathable. Also, once the growth of mycelium is interrupted by drying the material, no further fruiting or spores are formed, therefore making the products safe for use in human and building environments.
Prices start at £830 for the B-Wise pendant lamp, £650 for the Lo Blox, and £85 for the acoustic panels (small size), and all are available to buy via the online HOST store.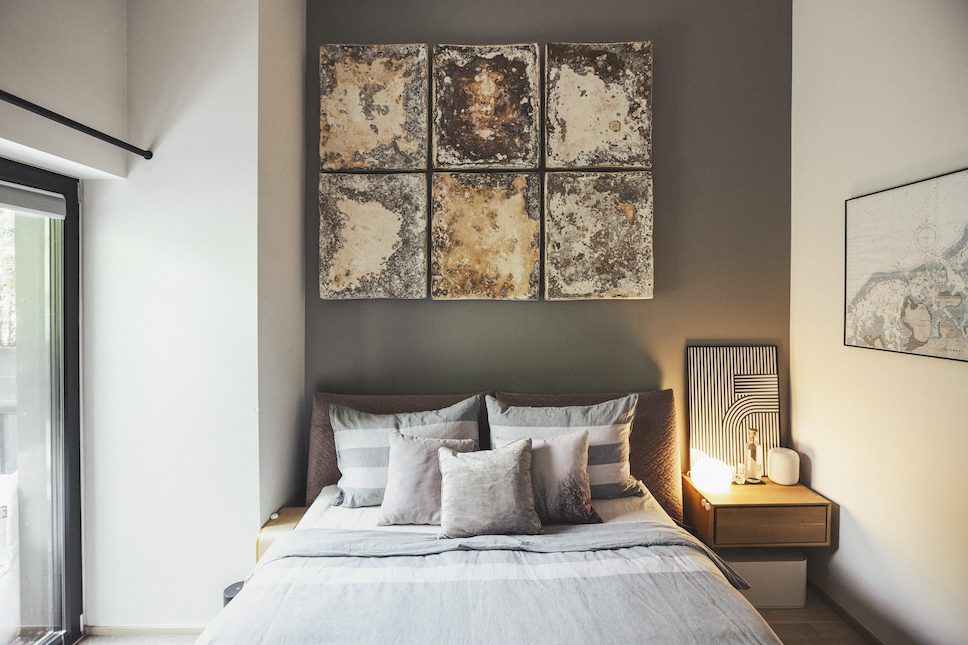 Photography by Kristjan Mõru.
Find out more about the Myceen myceliated interior collection by HOST, and read all about the zero waste homewares collection available.
Dip into lots more of the latest sustainability news on enki.