Off the coast of Norway, Snøhetta has installed a series of stepping stones to form the disappearing walkway of the new Traelvikosen Scenic Route.
Part of the Norwegian Scenic Routes initiative, led by the country's Public Roads Administration, the site offers travellers the opportunity to walk into nature. The horizontal path of 55 stones disappears and emerges with the changing tide, allowing visitors to slow down and appreciate the transient beauty of nature.
This installation is one of 11 newly completed architectural experiences, located in Helgelandskysten, with views across the famous Torghatten mountain. Fully visible at low tide and disappearing at high tide, the Traelvikosen Scenic Route "invites for a deeper understanding of time itself" as the architecture and design studio Snøhetta has described.
The Norwegian Scenic Routes initiative targets some of Norway's most dramatic and enticing landscapes, and has made a wide range of lesser-known areas more available to the public. What makes Snøhetta's design at Trælvikosen stand out from the rest is the way its design ignites new reflections of nature, immersing visitors in nature and bringing their attention close to the details that are otherwise missed.
"If we truly want to take better care of our nature, we also need more people to see and learn more about it," explained Snøhetta's landscape architect Thea Hartmann Kvamme.
"At Trælvikosen, we wanted to intentionally design the site to ensure visitors were enticed to stay longer than normal. To truly experience the details, the time and nature itself, and hence also understand it better, as it offers an opportunity to observe the ever-changing rhythms of our nature."
Focused on creating as little disturbance to the immediate environment as possible, the granite stone for the steps was locally sourced and transported by boat. Spaces are measured between each slab so that visitors can look down into the water whilst safely walking across them.
"The sandy bottom of Trælvikosen contains beautiful natural elements, when we take the time to take them in," added Thea Hartmann Kvamme.
"The small pyramids of the lugworm, traces of snails moving through the ground, flounders, round stones in unique formats, and the river meandering in an ever-changing trajectory. These natural details are all exposed, but the picture changes throughout the day, and the same goes for the experience of the surroundings. It all happens quickly, but as the tide rises, inch by inch, time seems to stop."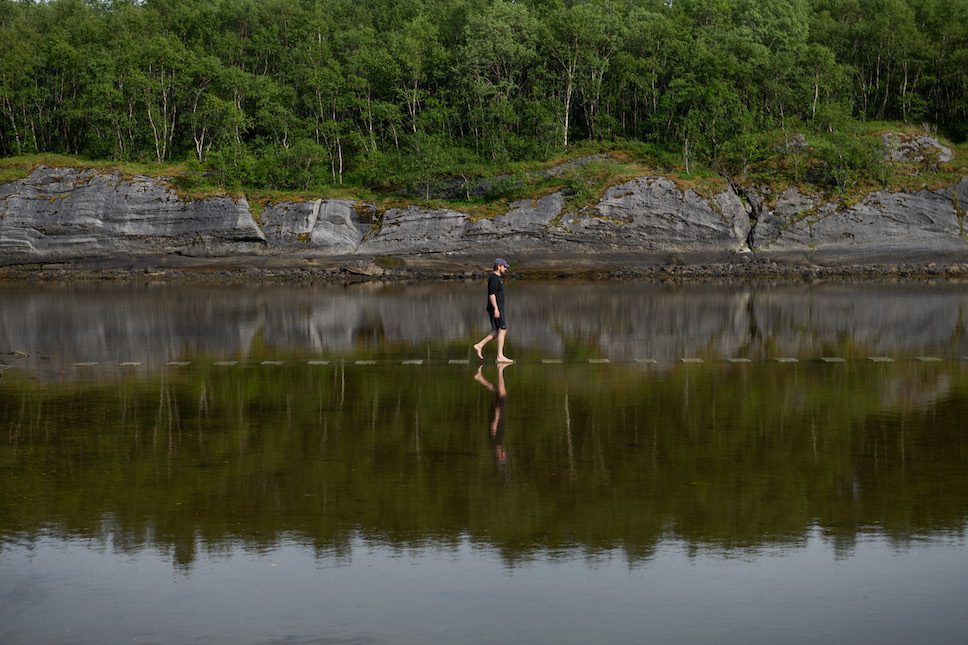 Photography and time lapse by Ivar Kvaal, courtesy of Snøhetta.
Take a look at more sustainable-led projects by Snøhetta, including the impressive Oslo Science City.
Discover more architecture news on enki.