Kingston University's Town House by Grafton Architects has been named the winner of the 25th RIBA Stirling Prize.
Town House was one of six structures on this year's RIBA Stirling Prize shortlist, winning the highest accolade in architecture for its focus on the future. As jury member, Lord Norman Foster explains it is "a theatre for life – a warehouse of ideas", bringing together student and town communities. Set back from the street, the project extends into the public realm and invites everyone in to explore the creative and social spaces within.
The concrete-framed building is a progressive new model for the design of higher education buildings, encompassing a sense of home and belonging throughout its six stories. An open, public forum leads to an amphitheatre space on the ground floor, with dance studios, a library, theatre, and café arranged over the upper levels.
"This building is about people, interaction, light, possibilities. It is about connecting to the community, the passer-by, an invitation to cross the threshold; a three-dimensional framework with layers of silence and layers of sound. Space, volume and light are the organisers," Grafton Architects summarise.
The RIBA Stirling Prize jury were impressed by the University's sustainability commitments. Achieving BREEAM Excellent in design, Town House is highly adaptable and built to stand the test of time. The 200-metre colonnade provides solar shading, cooling the building a reducing energy consumption, and the thermally active concrete frame helps to regulate indoor temperatures.
Generous volumes allow people, light and air to flow naturally through the building, creating a flow and dynamic feel that welcomes in students, residents, and visitors. There is a constant interplay between open, social courtyard and terrace areas and the quiet study spaces. The floor-to-ceiling glass panes reveal views of creative activities taking place within to people passing on the streets below.
"In this highly original work of architecture, quiet reading, loud performance, research and learning, can delightfully co-exist," Lord Norman Foster adds. By challenging the idea that these spaces need to be compartmentalised, Grafton Architects have skilfully designed the rooms with expertly controlled acoustics so that these different functional rooms can sit "symbiotically side by side" as the jury note.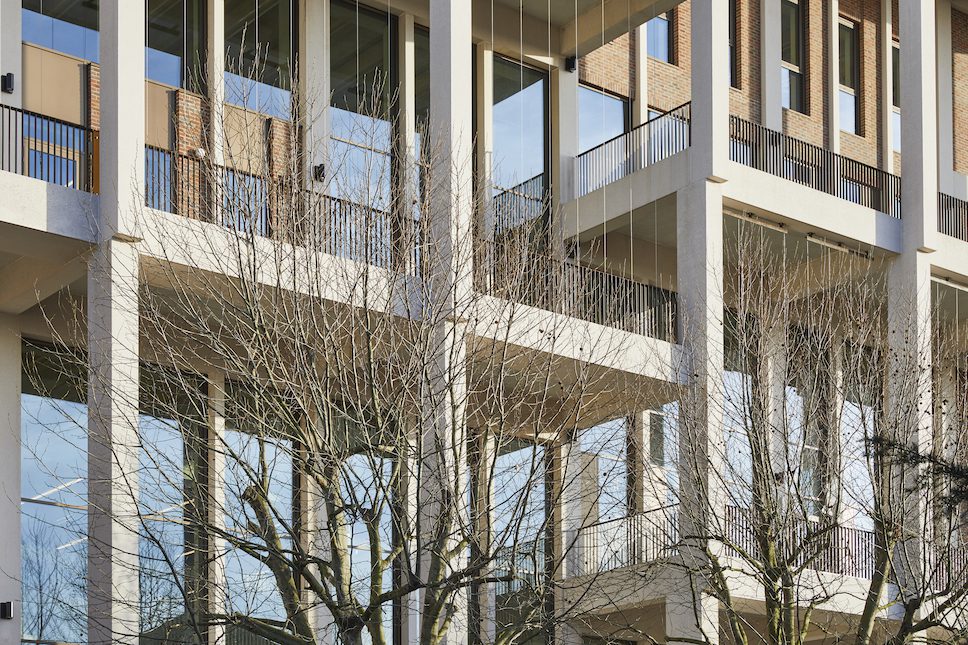 The 2021 RIBA Stirling Prize ceremony took place on 14th October 2021 at Coventry Cathedral as part of the UK City of Culture 2021 celebrations.
Town House by Grafton Architects was on the shortlist alongside five other projects including 15 Clerkenwell Close in London, Cambridge Central Mosque, the University of Cambridge's Eddington key worker housing development, Tintagel Castle Footbridge in Cornwall and Cumbria's Windermere Jetty Museum.
Discover more about Grafton Architects and see more projects.
Read more of the latest architecture stories on enki.