A recent addition to courtyard area at Collective, the centre for contemporary art in Edinburgh, the Calton Hill Play Shelter follows circular economy principles with its flexible modular timber system.
The fully demountable structureby O'DonnellBrownsits atop Edinburgh's renowned Calton Hill, and provides a fully accessible and sheltered outdoor play space for local children and families to enjoy. The design idea has evolved from the architecture studio's Community Classroom, aprototype that was first developed as a self-initiated project in partnership with RIAS and Saint-Gobain and built with Barnardo's Works. The play shelter adopts this strong focus on building a resource for schools and community organisations to facilitate inclusive learning and mental wellbeing.
With the vision that it will stay in place for at least three years, the architects have designed the play shelter with circular economy in mind. By using light modular timber components and a polycarbonate roof, it ensures the structure is fully demountable, and concealed steel footings allow it to be positioned with minimal impact to the flagstone courtyard.
"Like the Community Classroom, Collective's play shelter utilises a flexible modular timber system, employing a functional, rhythmic geometry and design, and a kit of parts which can be easily erected and demounted. The rhythm and proportion of the surrounding 19th century classical architecture determined the spacing of the columns and height of the roof so that the structure sits contextually within Collective's mix of historic and contemporary architecture. Its trabeated columned form enables easy access for a range of users," explain the architects at O'DonnellBrown.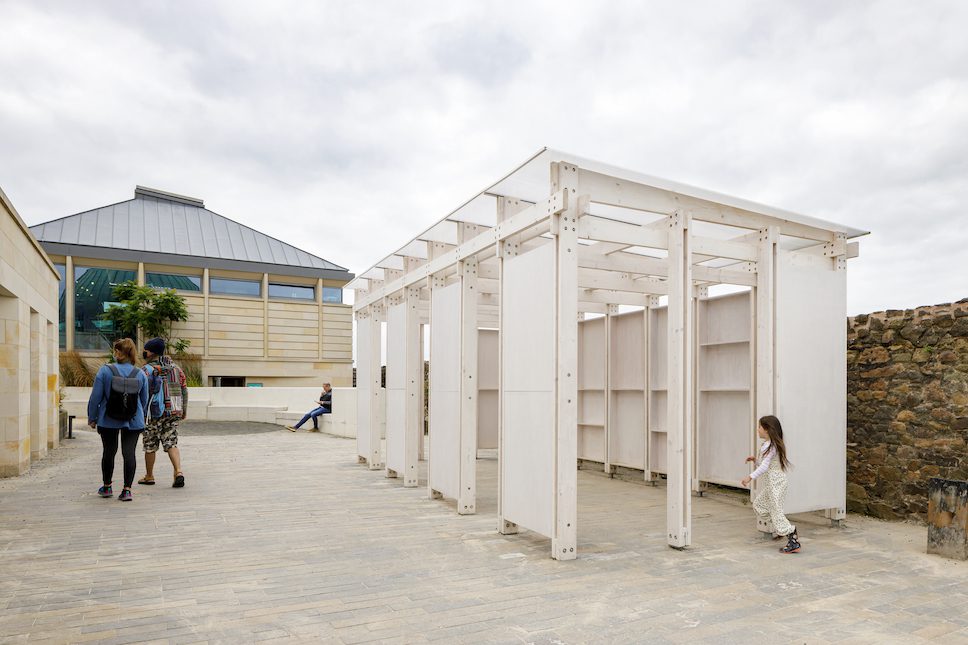 The Calton Hill Play Shelter is now at home in its surroundings, alongside a contemporary purpose-built exhibition space and the restored City Observatory, on the site which Collective opened in November 2018.
Photography by Ross Campbell.
Take a look at other community-led projects and more by O'DonnellBrown.
Read plenty of other architecture stories on enki and take a look at the Yogapoint Pavilion for another inspiring design for public spaces.