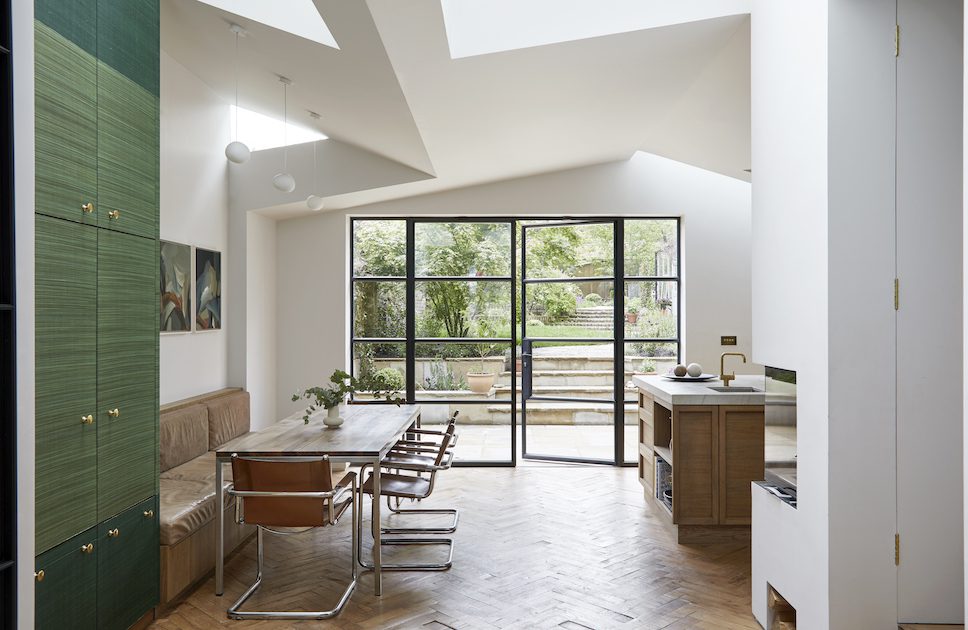 Through traditional materiality and a mirroring of geometric features, Finkernagel Ross has updated a Victorian semi-detached home with a new rear extension and garden house.
By playing with the original architectural form, the architecture practice have juxtaposed the old with the new in
a complementary way. Whilst the front of the house retains its traditional Victorian charm, the rear façade is transformed with the new rear extension and its playful geometry. From the entrance hallway, where there's an original oak staircase with decorative carvings, views draw the eye towards the back of the house where glazing frames a view through the kitchen and out to the garden.
"The pitch of the roof of the original outrigger has been translated onto the gabled, copper roof of the new kitchen and living space below, by continuing the line of the pitch on one side of the ridge and mirroring it on the other," explain the architects. "An additional storey on top of the original outrigger is articulated by a recessed shadow gap joint, which marks the contrast between the existing, weathered London stock bricks and the cleaned ones that have been used for the extension above."
From within the kitchen-living space, the geometry of the ceiling folds back up again to create height and a more airy feel . The ceiling has an origami-style structure which is punctuated with roof lights, producing an interplay between light and shadow.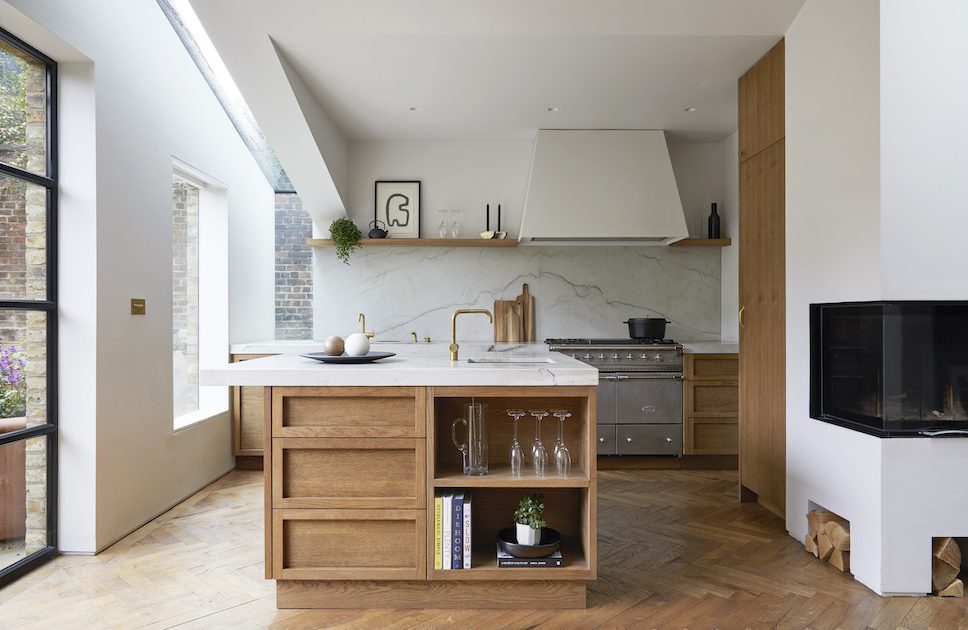 Dedicated to a luxurious master bedroom, the first floor takes on a more sophisticated style, with a lavish en suite featuring a freestanding bath and refined material palette of reeded glass, brass and marble. The top floor, the architects say, has been carefully designed to maximise space and light.
"Each of the three children's bedrooms has a playful mezzanine loft bed that cleverly sits above the shower room between them, which itself draws in a shaft of light alongside the party wall from a roof light above. A corner section of the roof has been cut away to make way for a bespoke roof light, which allows light to travel down onto the staircase below, the glass joining following the hip line of the roof," explains Finkernagel Ross.
Positioned at the top of the modestly landscaped garden, the new garden room provide a place of refuge for the owners and their guests. The sloping roof reflects the geometric style of the main building to ensure it works harmoniously in its setting. Four roof lights are nestled into the green roof in order to bring plenty of natural light into the building that acts as a home office, cinema room, and guest suite.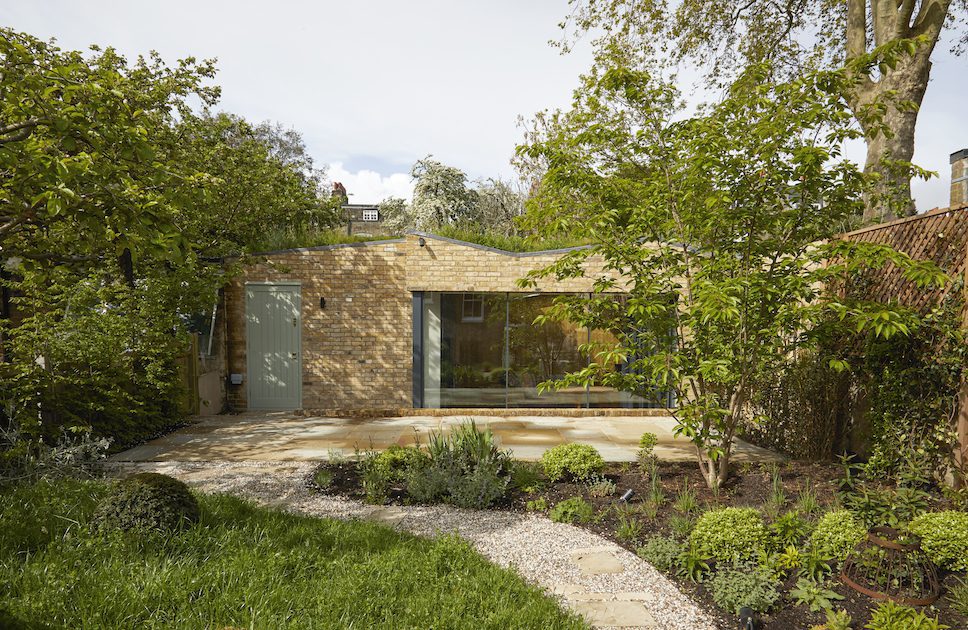 Project details:
Location: Dartmouth Park, London
Architect: Finkernagel Ross
Size 3000 sq. ft (300 sq. m.)
Contractor: MH Costa Construction Limited
Structural Engineer: Structured Environment
Kitchen cabinetry: Designed by Max Ratjen
Kitchen flooring: Solid oak herringbone by Walking on Wood
Photography: Anna Stathaki
Take a look at other residential architecture projects on enki.