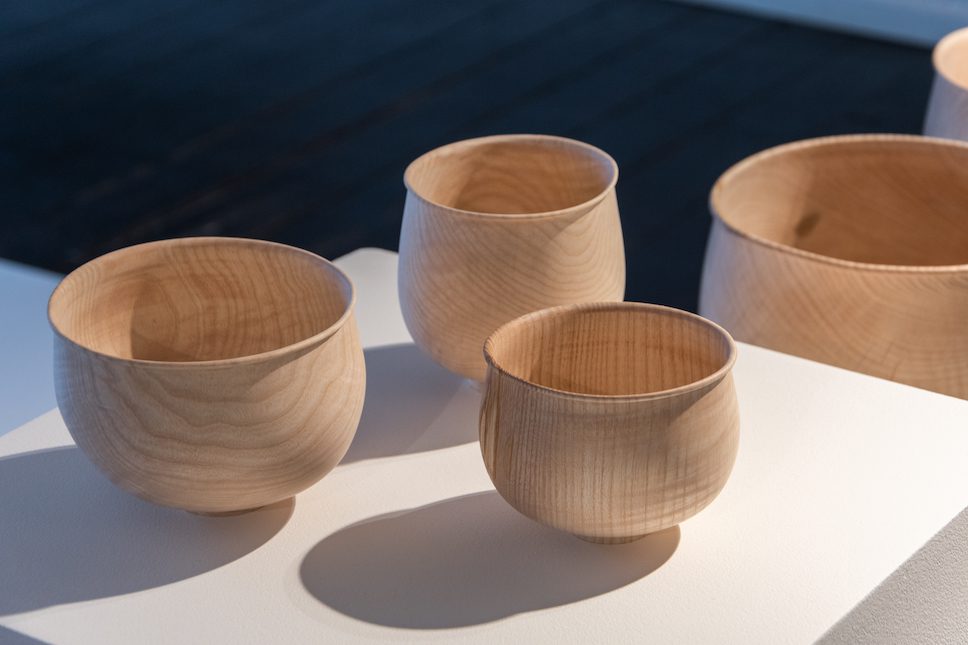 As part of its Almost Instinct exhibition, SCP has presented the One Tree project featuring crafted objects made by 10 designers using the wood from a felled ash tree.
The group of British designers, including Sebastian Cox, Matthew Hilton, and Faye Toogood, were enlisted by SCP to create one-off furniture and design pieces from the wood of a tree infected with ash dieback disease. The tree, from SCP founder Sheridan Coakley's Hampshire garden, was felled in April 2022 and all the participants spent a day on location, helping to select and remove the pieces of wood. This became an exciting opportunity to champion sustainable wooden furniture and encourage carbon capture.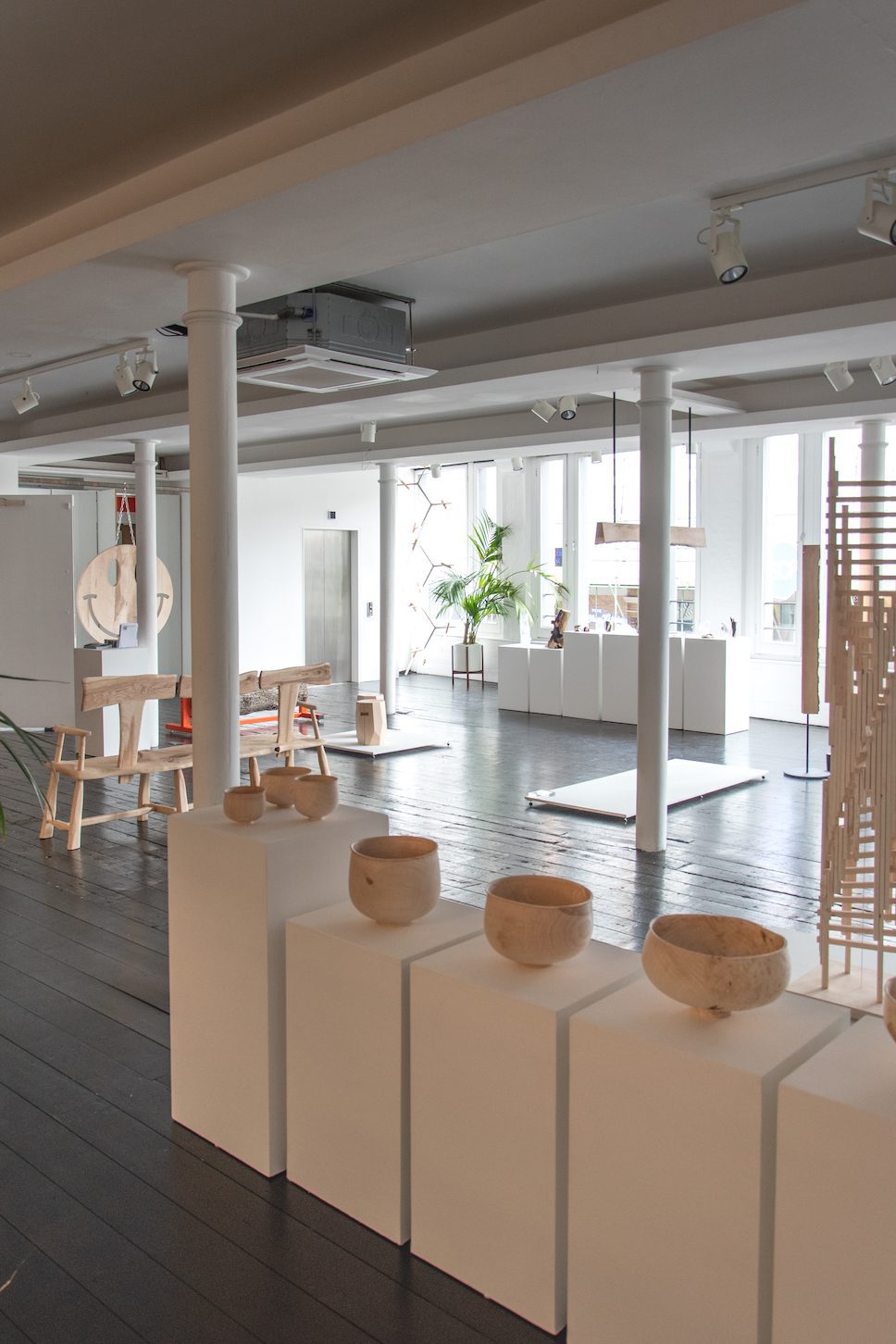 "The aim of this project is to create things that people will enjoy and never get rid of. Then the carbon that has been absorbed by the tree over its life is retained and not released," explained Coakley. "Hopefully it will be an interesting show that also gets the message across that wood is good. It's the perfect material, it always has been, we just need to grow it more."
Coakley's tree was just one of thousands that unfortunately need to be felled in the UK every year due to ash dieback, a disease which threatens many species which rely on ash. It's also suggested that the disease is becoming more common amid climate change.
"While ash's necessary felling feels mournful, it's important to not be too apologetic for harvesting timber," Coakley continues. "When a tree grows, it captures carbon. If we harvest that tree, dry the wood, and prevent it from rotting, we preserve that carbon in solid form. This could be in furniture or perhaps a mass-timber building."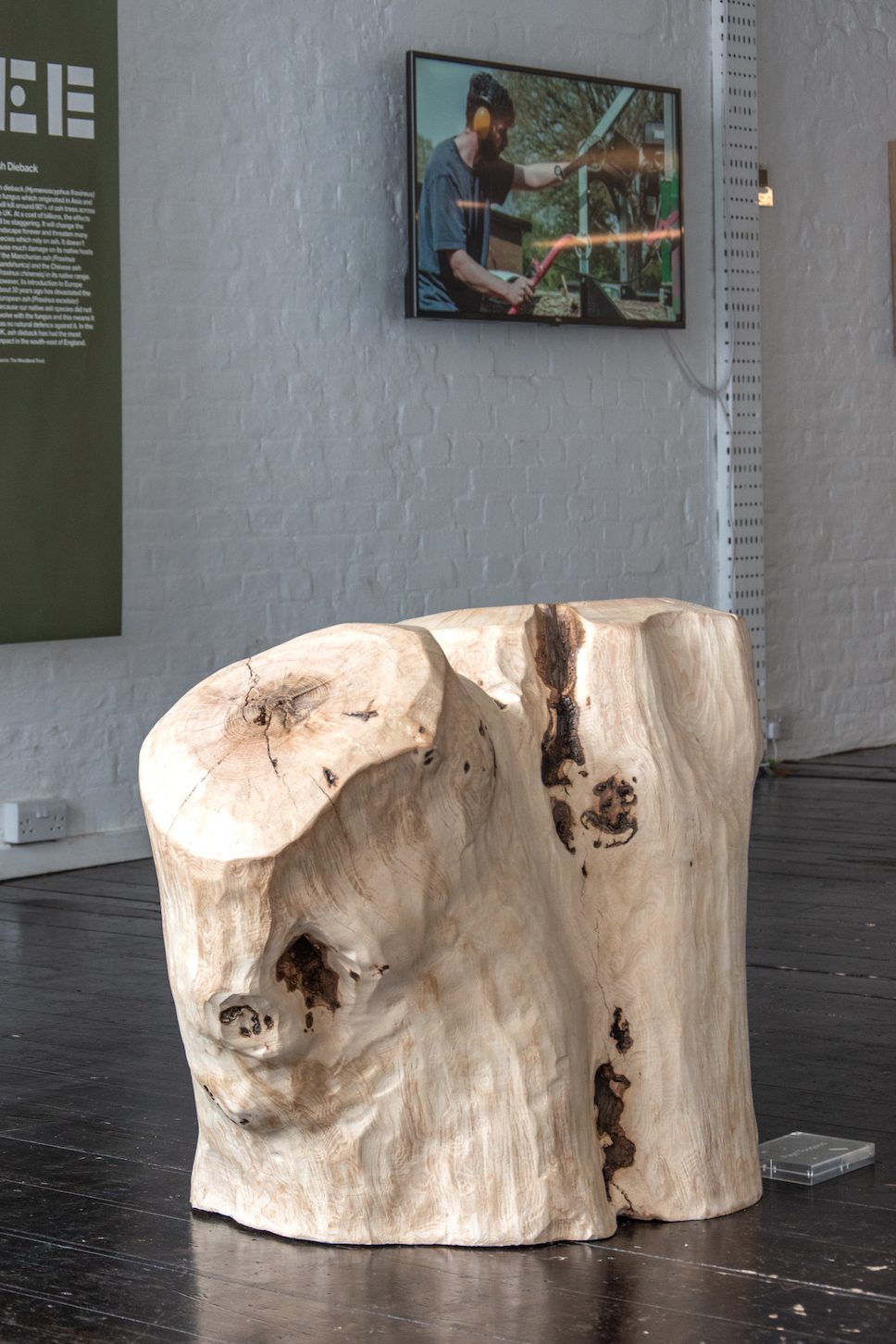 With a shared love of making the designers and creatives set about crafting pieces that would be made to last a lifetime. The finished products range from furniture and lighting to decorative objects, and each piece captures not only the beauty of wood craftsmanship but also celebrates the unique nature of the ash tree.
Alongside Sebastian Cox, Matthew Hilton, and Faye Toogood, designer-makers for the project included Max Bainbridge, Poppy Booth, Sarah Kay, design duo Wilkinson & Rivera, Moe Redish, and Coakley's son Oscar.
Faye Toogood's sturdy love seat and Wilkinson & Rivera's characteristic bench amplify the beauty of the tree's imperfections and irregularities. The wood grain forms a unique decoration, just as it does on Sarah Kay's side tables. She chose to bisect a log and carve smooth geometric facets to shape her design.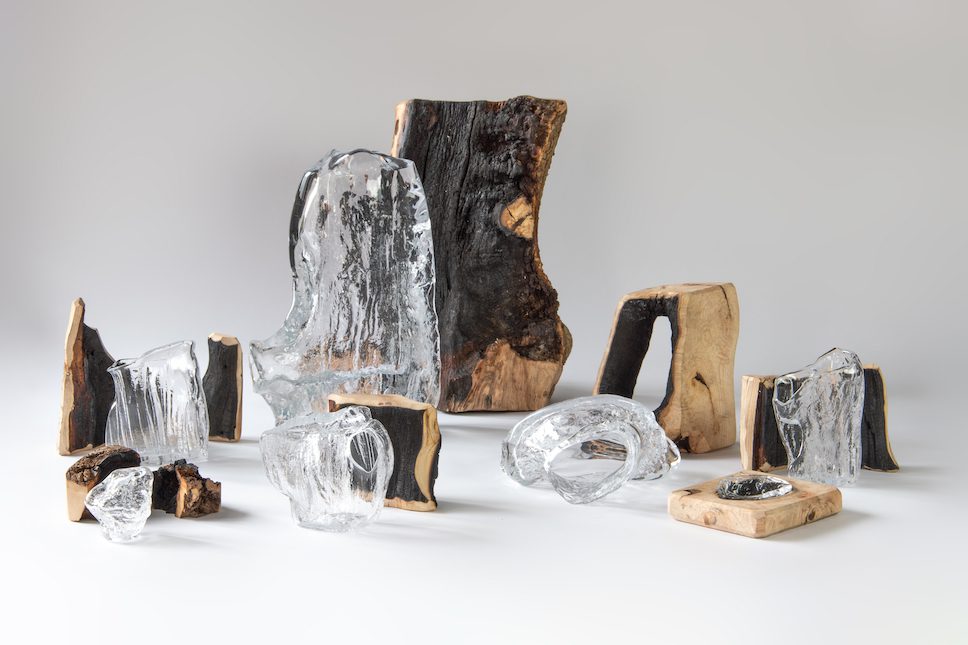 In a different approach, Matthew Hilton has created an abstract sculpture that is helix-like in shape. This is a reinterpretation of the tall tree, with reference to its structure and character. In the same way that this design offers intrigue from different angles, so does East London designer Moe Redish's collection of glass objects and vases. He used disease-rotted bits of the tree, and deliberately chose pieces with voids naturally created by damage, to use as moulds to blow glass and create textured vessels.
Similarly, artist and craftsman Max Bainbridge chose to work with pieces of the tree that had apparent fissures, raw edges and splits, and crafted them into a series of organically shaped bowls, along with a bench and a wall piece titled Portrait of Ash.
As a statement piece, Oscar Coakley has made a bold, 90's style happy-face, designed to be hung from the ceiling.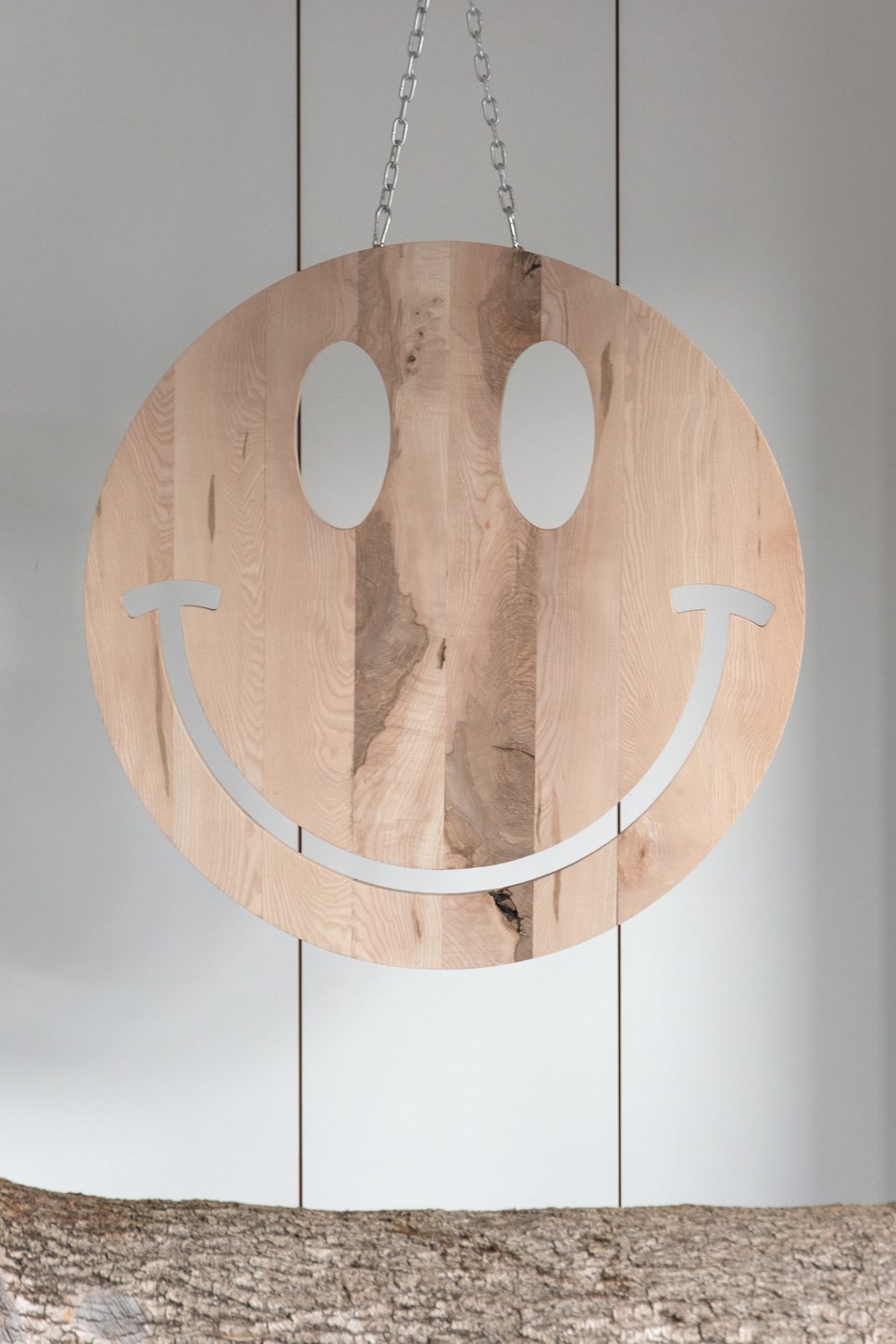 Crafsman and environmentalist Sebastian Cox, who took charge of cutting up the ash tree using his portable sawmill and dried all the wood for the exhibition in his South London studio, used his skills and expertise to create two lights. These striking pieces were made using the branches that were left behind after the other designers had made their selections.
The pair of dimmable lights, one ceiling hung and the other floorstanding, were produced using thinly sliced sheets of wood and finished with raw-edge slivers which are beautifully accentuated when the light is turned on.
So, what's next? "I think this is a project that might continue," said Sheridan Coakley. "There are other trees that have got to come down, why not make something of them."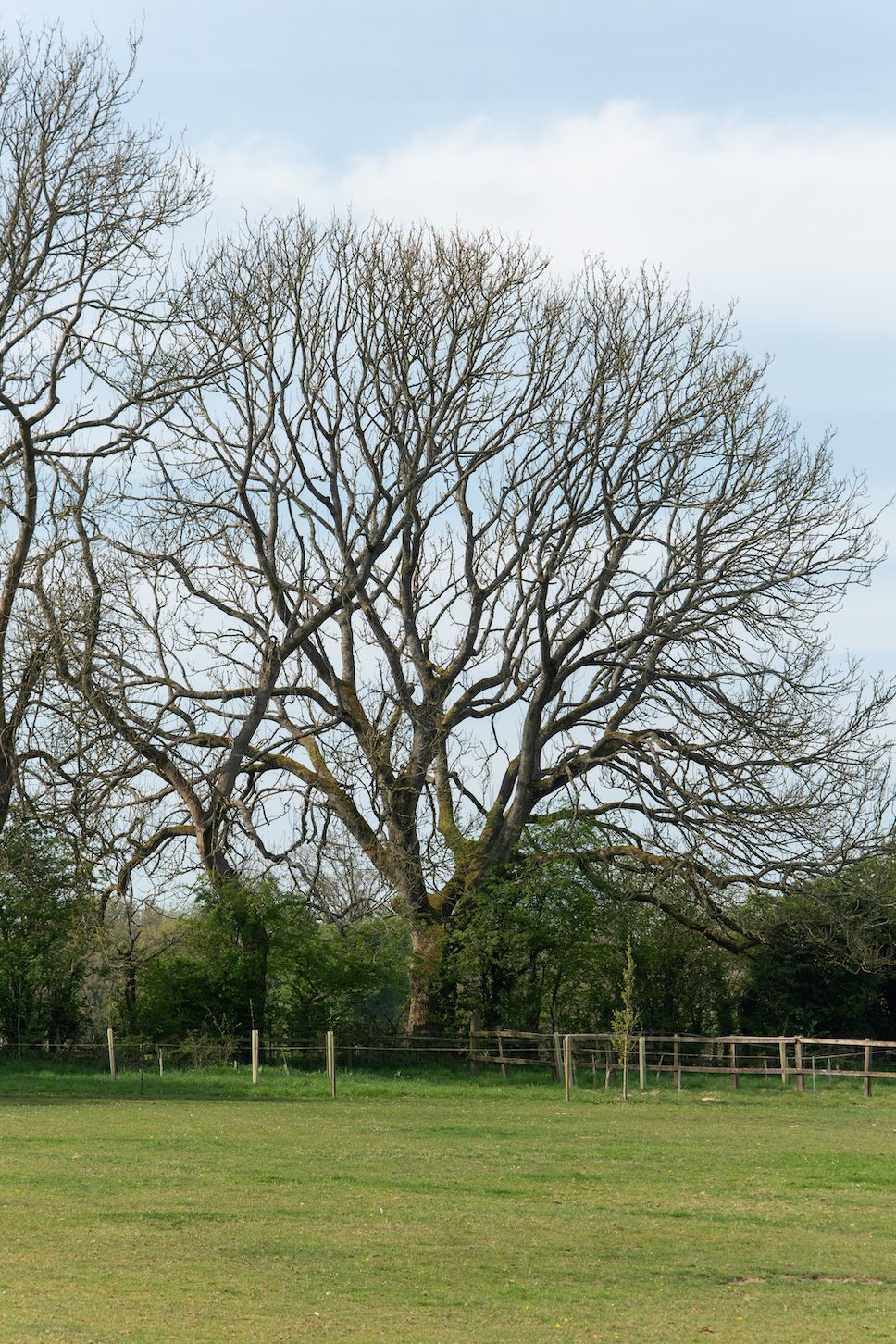 Take a look at all the designs from the One Tree project which are available to buy now at SCP.
Read more about the story behind the One Tree project and discover more of the latest sustainability news, from the rammed earth yoga studio at The Newt in Somerset hotel to Oceanix Busan, the world's first floating city in South Korea.
Also, why not subscribe to enki and get your dose of architecture and design inspiration delivered straight to your door?