The reflective façade of Kamin Lertchaiprasert and Suriya Umpansiriratana (Walllasia Ltd.) 's No Sunrise No Sunset temporary pavilion rises up from a hidden cliff location near ao nang beach, Krabi on Southern Thailand's west coast for Thailand Biennale.
The running thread of inspiration behind Kamin Lertchaiprasert's work and artistic practise continually loops over the seams of life and truth. Forever exploring the relationships between these two concepts, Lertchaiprasert's practise has evolved further, concentrating on the 'interest of the self to the relationship with others.' Naming his projects as 'Life-specific' rather than 'site-specific' art, his aim is to 'convert the site-specificity into what can be seen as a condition of universality.'
No Sunrise No Sunset was born from – not only Lertchaiprasert and Umpansiriratana's collaboration – but influenced by the prehistoric conditions during a research trip to caves in the Ao Luek district, Krabi. Having created cave-like architecture via No Sunrise No Sunset's interior (mirroring and highlighting prehistoric human conditions), hidden within the structure is a sculpture of Yai Sa, 'an elderly lady who has been waiting for her partner who left home to find ultimate truth', and for Lertchaiprasert 'she is the symbol of love and waiting.'
Contrastingly, the exterior of the installation (which lies hidden from the bustle of the resort town nearby and therefore acts as a peaceful refuge for tourists and locals) is extremely contemporary and minimal in style, blending uniquely in with its surrounding environment. Alongside this, the reflective nature of the art piece reinforces the artists' belief that "we see the world as the way we want so the world is like the way we are. Since we see the world as the way it is, we will see beauty and virtue of its nature," and the fact that "the sun doesn't move, but the world is spinning by itself". There is No Sunrise No Sunset…
"This project is a life-specific represents the parallel world between the ultimate truth world and illusional world. It is also create the awareness of the condition of timeless moment and non self attached. That is a connection between inner and outer space (subjective and objective), you and me." Artist, Kamin Lertchaiprasert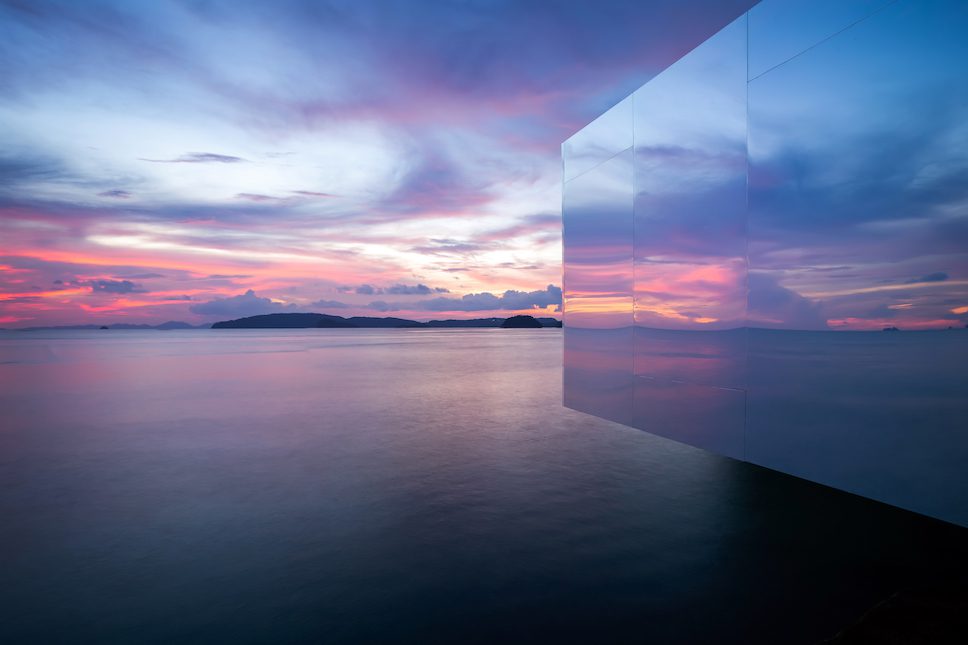 Discover more projects from Walllasia here.
For more architectural features click here.
---
PROJECT NOTES:
Project name: NO SUNRISE NO SUNSET PAVILION
THAILAND BIENNALE, KRABI 2018
EDGE OF THE WONDERLAND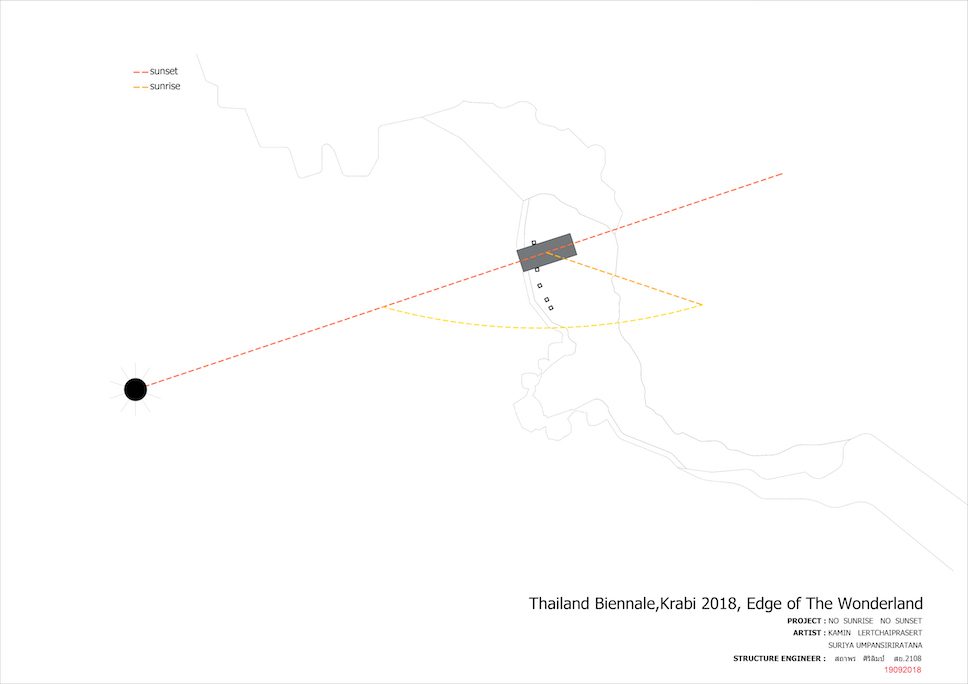 ---
Lead Architects:
Kamin Lertchaiprasert (Artist)
Suriya Umpansiriratana (Architect)
Architecture Firm: Walllasia Ltd.
Contact email: walllasia@gmail.com
Completion Year: 2018
Gross Built Area: 50 msq
Project location: Ao Nang Beach, Krabi Province, Thailand
---
Media Provider
Photo credits: Spaceshift Studio/ Pirak Anurakyawachon
Photographer's Instagram: Spaceshiftstudio
Co-Ordinator : Krit Jiwanantaprawat at ZEA.ARCHITECT
Supporter : Office of Contemporary Art and Culture, Ministry of Culture
Structure Engineer : Sathaporn Sirilim
Manufacturers : 3Kor Architect and Construction by Korawit Srisuksomwong project
Photographer : Spaceshift Studio / Pirak Anurakyawachon
Clients: The office of contemporary art and culture, The ministry of culture of Thailand