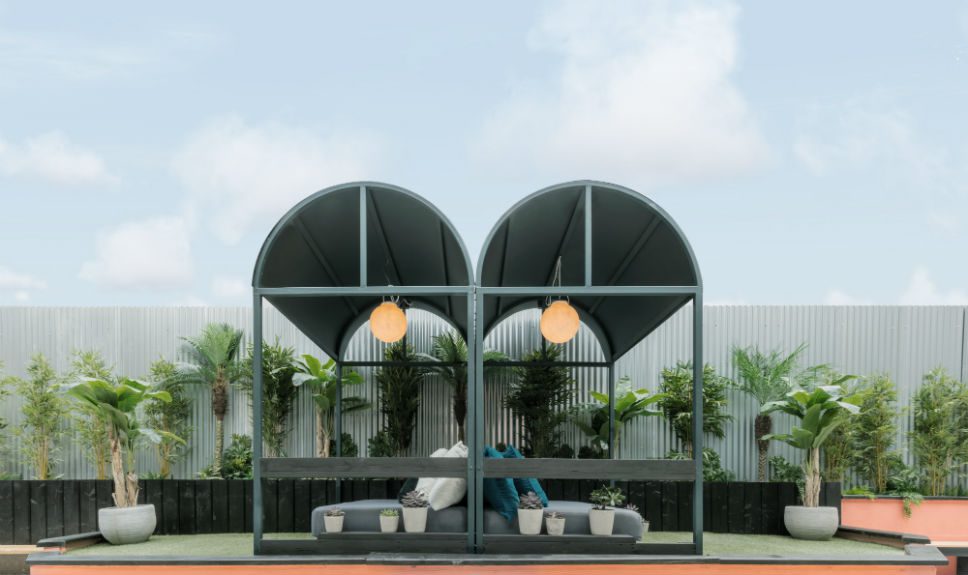 Night Tales bar has shed its temporary pop-up status, and is now a semi-permanent, year-round space under the railway arches of Hackney Central.
Designed by conceptual spaces and design solutions studio, Sella Concept – which is made up of Tatiana von Stein and Gayle Noonan – the new Night Tales bar space breathes cool with its blushing peach and pink colour palette, neon 1990s-style lights and Japanese-inspired organics.
Situated across two arches in Bohemia Place and spilling out across a beautifully manicured garden terrace, Night Tales bar's new space is its biggest venue to date. Weave your way around the space and discover a mezcal cocktail bar (Agave), Asahi Super Dry Bar, an incredible izakaya-style Japanese grill (Fat Baby) and a delicious pizza parlour (Night Tales stalwarts Sons of Slice). Connecting these separate elements into one coherent and smoothly running space – as well as addressing the constraints put forward by the railway arches – was design studio Sella Concept, who having worked with the bar previously, already understood the brand's eclectic style and cool vibe.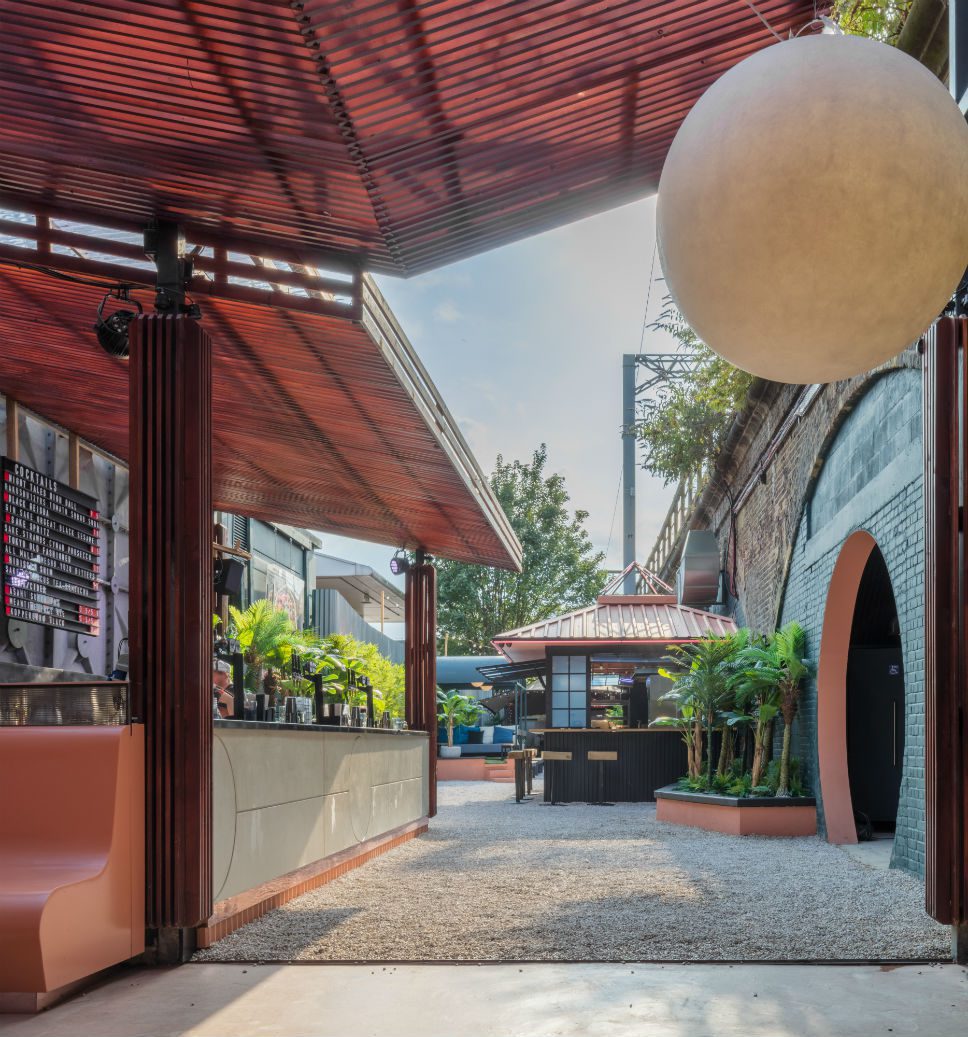 We managed to steal a few minutes of Sella Concept's time to discover more about the design studio and their work for Night Tales…
Q. What was your brief from the owners of Night Tales?
"Our brief was to design a space which would bring together many elements under one roof to create a unique experience. The rest is history…"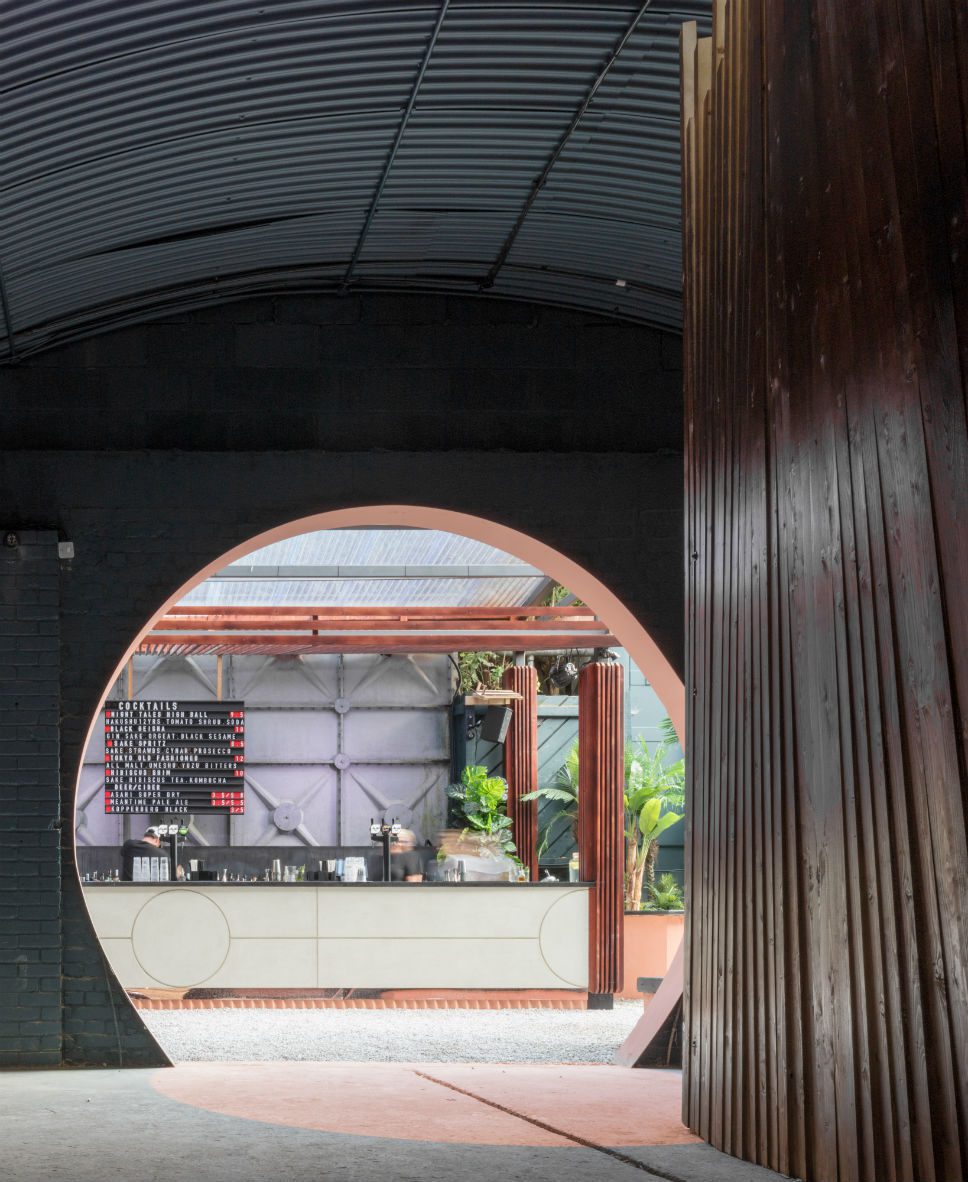 Q. How does this differ from your previous venture with Night Tales last year?
"Last years project was more of a refresh of their existing terrace but it opened our communication on what the brand is and what it could become, so it was a fantastic start to a peach palette and sea of palm trees!"
Q. Can you talk about your inspiration behind fusing 1990s with Japanese influences in the design?
"We love the idea of challenging the senses in order to create a unique story. The aim was to nod to traditional forms, playing with new materials and finishes to create a new brand and experience in East London. The electronic scene has a heavy 90s influence that we wanted to relate to in this new music establishment… plus it was a personal, long-awaited wish to be allowed to indulge in an aesthetic that celebrates pushing the boundaries a little with a little kitch."
Q. How did the location and railway arches influence specific design decisions?
"We created a continuation of the arched structure through a series of circular motions and shapes such a punched circle entrance and more detailed designs on the bar frontage for example… we equally looked to retain some of the more industrial raw materials alongside the more daring materials and colours."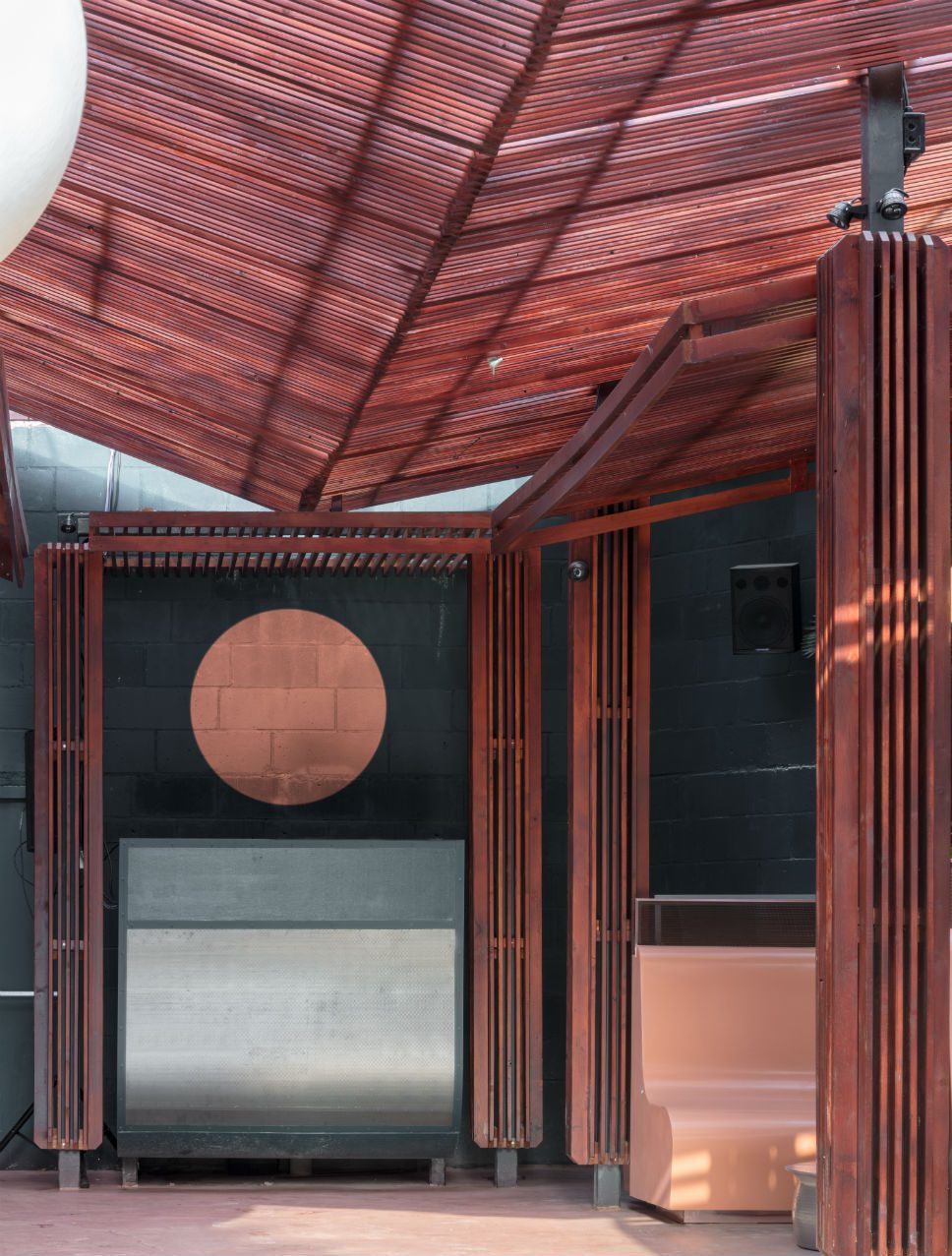 Q. What inspired the colour palette?
"We started working with this palette at the Night Tales roof terrace roof bar at Netil House and thought that glossy peach resin booths would certainly push the barriers of what you would expect from a more traditional industrial space!"
Q. Can you talk about the use of raw materials, what affect do these have on the design?
"The raw materials mostly talk about the nature of the building but also reinforce the dance music scene which reflects a certain rawness also."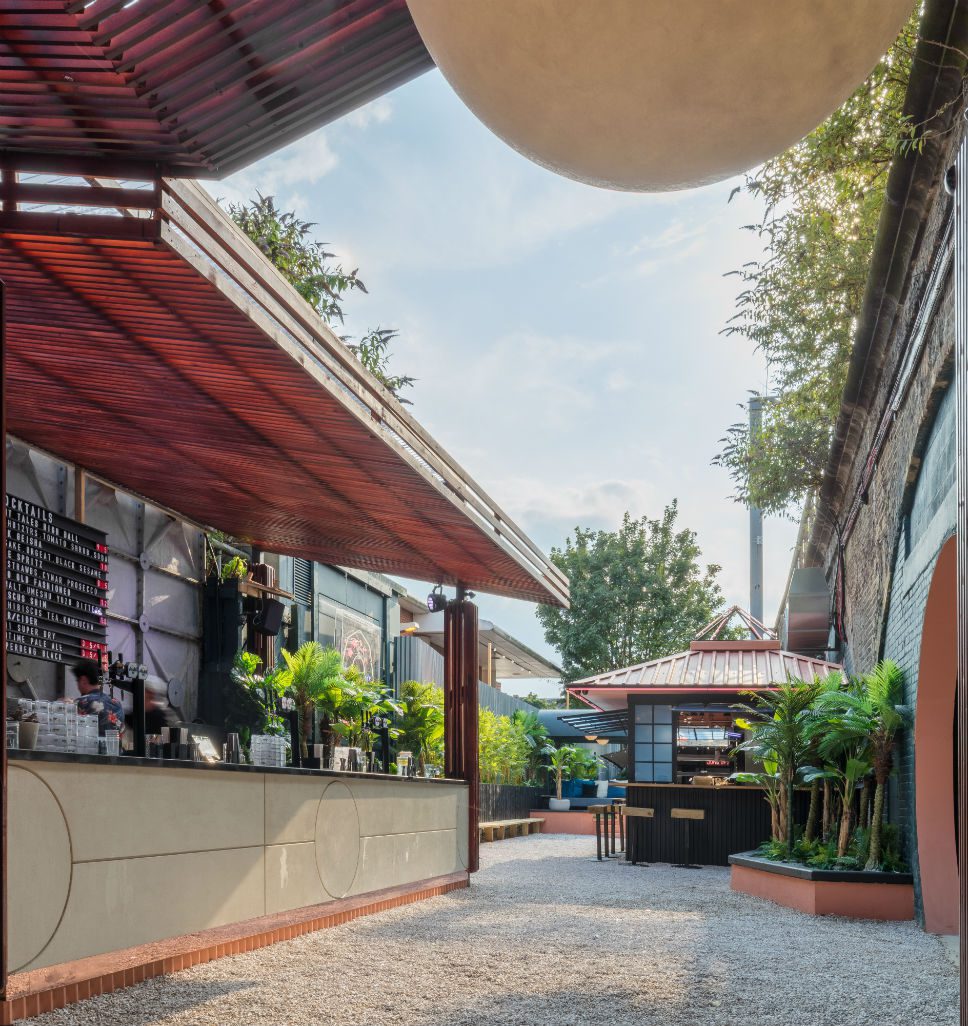 Q. Where can we see Japanese influences in the design?
"Mostly in the Fat Baby structure and the use of black burnt wood. The restaurant was initially self standing with sunken booths but sadly we had to say good bye to this concept due to restrictions."
Q. What is the atmosphere in Night Tales like?
"I think people are transported by the overpowering scale and forms on entering. I've seen it first hand have an almost immediate affect and results in a playful use and approach of the space."
Q. What is your favourite part of this project?
"The use of materials in news ways, like the resin booths or the neon roof cone!"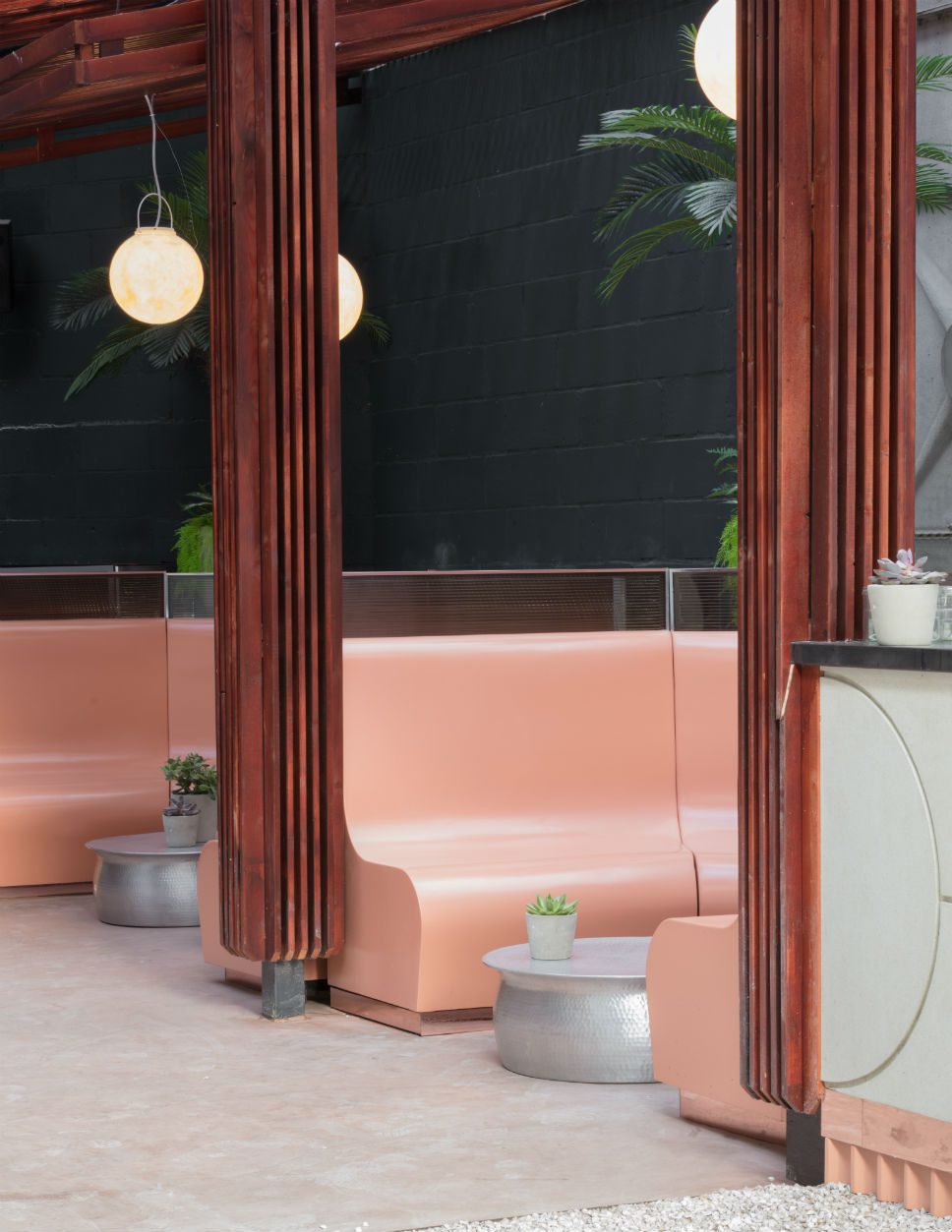 Q. How does designing for a restaurant/bar differ from your other projects?
"We are used to designing restaurant spaces in very fine details, so we had to really focus on creating a vibe for this outdoor bar through more 'hero moments', allowing people to move smoothly from one atmosphere to another within the same space. Although we couldn't move away too much from detail e.g the bar front surface graphic."
Want to discover more about Night Tales? Click here.
Discover more from Sella Concept by clicking here.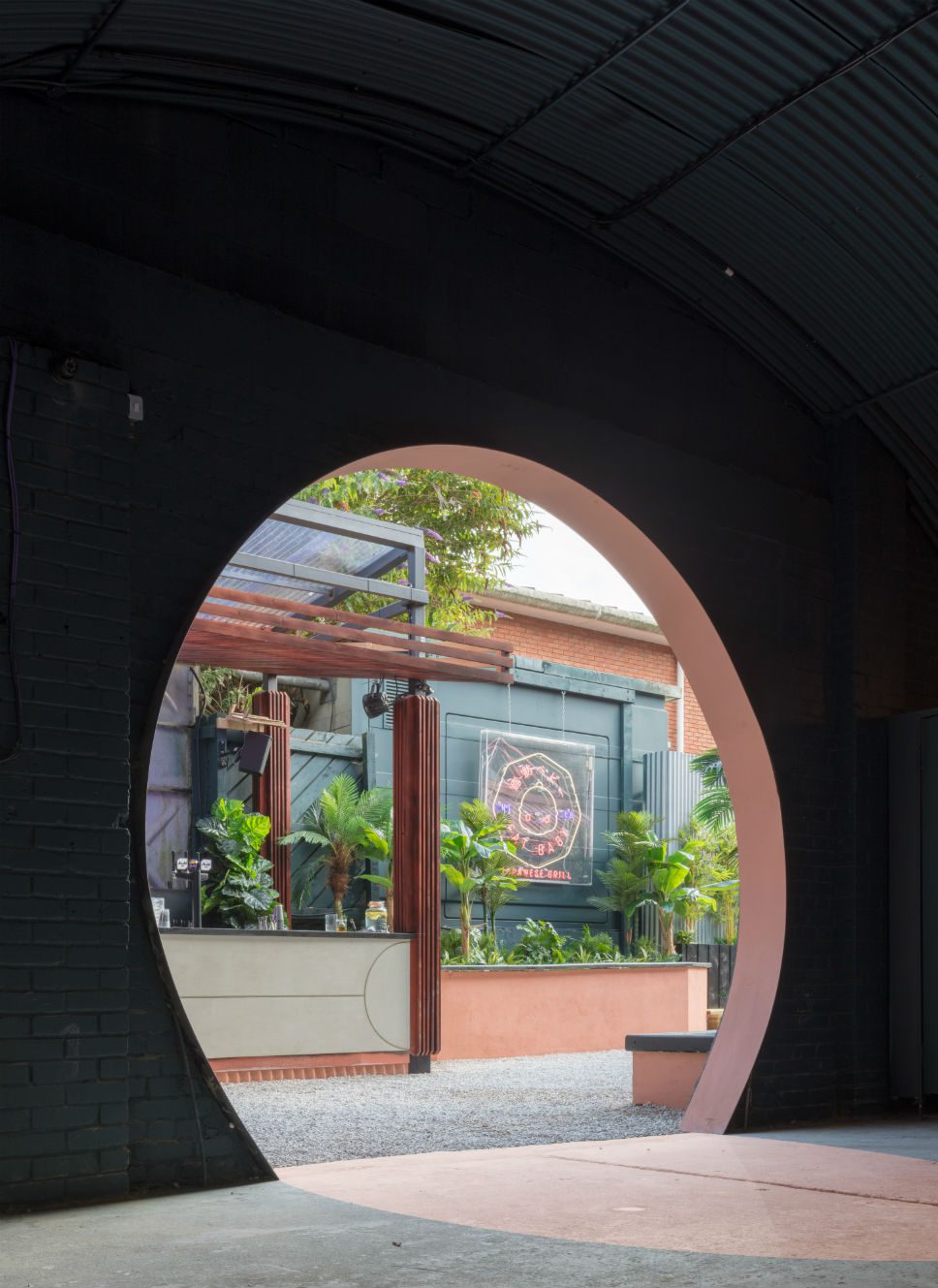 Project Notes
Architects: Sella Concept
Photographs by Nicholas Worley