British-Chinese textile designer Elaine Yan Ling Ng has created a sustainable composite made from discarded eggshells for Nature Squared.
This new composite has shaped the CArrelé handmade collection of speckled wall tiles, made from eggshell fragments which are a by-product of bakeries. Elaine Yan Ling Ng has carried out extensive research into sustainable materials, and her interest in eggshells and their potential has led to this recyclable solution that cuts down on landfill waste.
Skilled craftspeople select and clean the best organic white eggshells at Nature Squared's production facilities in the Philippines. Then the eggshells are crushed into different sizes, from sand to 3mm fragments, and natural dyes are added to achieve natural tones prior to the composite being toasted.
"The eggshell creates a natural habitable environment for an embryo, providing a robust shelter for growing chicks. Although we tend to associate it with fragility, it is actually very strong and naturally UV-resistant, and the ethereal chalk white colour that we have sourced absorbs natural colours sustainably in fascinating ways, making it a wonderful building material," Ng says.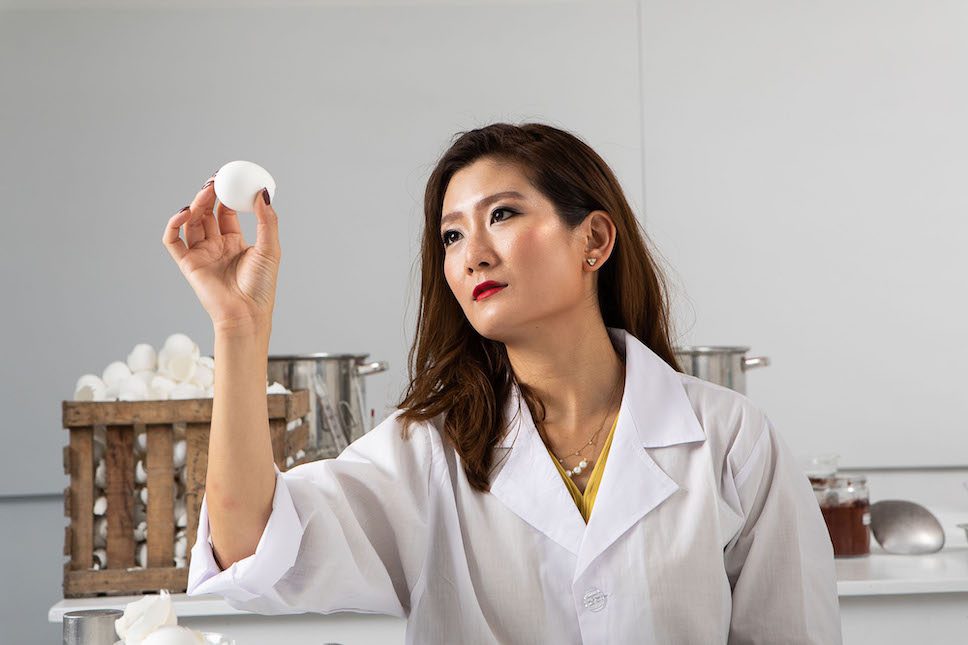 The collection's name combines CA which is the chemical symbol for calcium, referencing the calcium carbonate form of the eggshell, and the French word "carreler" which means "to tile". The beauty of the composite formed from the eggshell fragments is that it can be used on most surfaces, including curves.
The chalk-white eggshell material absorbs natural colours in different ways according to the fragment size, so each one has a versatile and bespoke aesthetic. Available in five-millimetre slabs, and in lightweight square, rectangular and triangular shapes, the designs highlight the way innovation and craft come together.
"Toasted's earthy tones range from cream to dark toast brown, while the colours of Natural Dye are achieved with indigo, chlorophyllin and madder. Hybrid's hues come from a combination of natural dying and toasting, and there is also a 3D hand-moulded tile," explain the experts at Nature Squared.
To further demonstrate the versatility and durability of CArrelé's eco-friendly surface, Elaine Yan Ling Ng has also designed a series of minimalist stools and accessories including tea light holders and bookends using eggshells. There is also potential for the collection to extend and include flooring.
Take a look at more natural materials reinvented by ethical design brand Nature Squared.
Discover more news on sustainable material research on enki including Mari Koppanen's Fomes collection and check out these compostable beanbags.