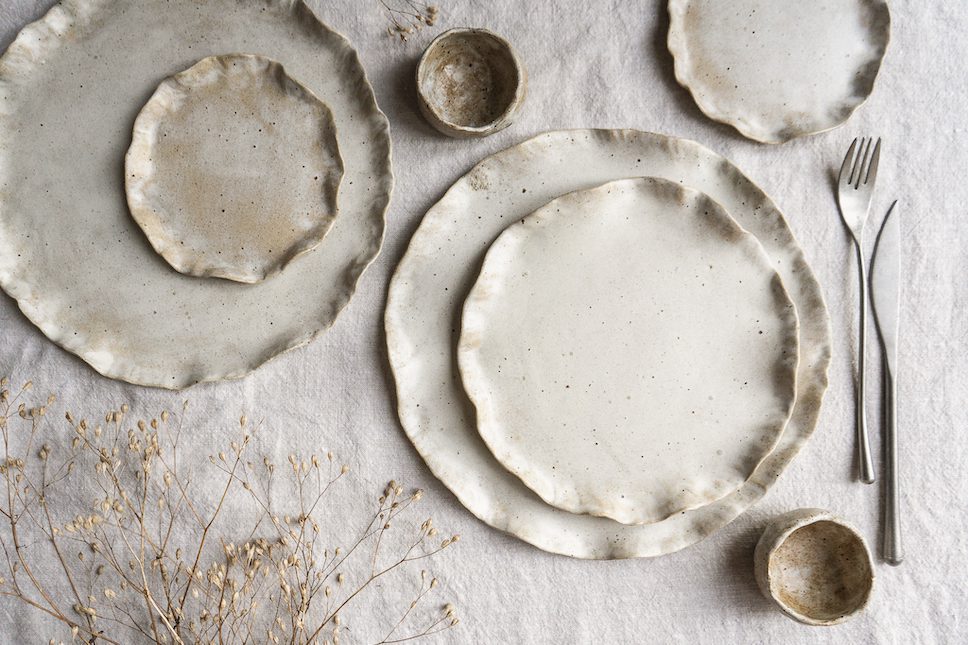 "We collect found objects to use, such as foliage, shells, grains and beautifully textured tree bark. There are so many unique patterns that can be made by pressing into the clay and using glazes, stains, and oxides to enhance them further." Abby and Hannah, founders of Every Story.
Making modern ceramics with an aesthetically pleasing charm, sister duo Abby and Hannah Livesley started their company Every Story to create thoughtful pieces for the home.
Inside their studio, nestled in the beautiful countryside of rural Nottinghamshire, they creatively experiment with clay and use a carefully curated handmade palette of glazes to finish each of their pieces. With this care and attention, each design tells its own story and no two pieces are the same.
We sat down with Abby and Hannah to talk to them about what inspired them to go into business together, how they experiment with form and texture, and how they support conscious shopping and minimal waste. They also reveal what Christmas means to them, why their ceramics make beautiful gifts, and lots more…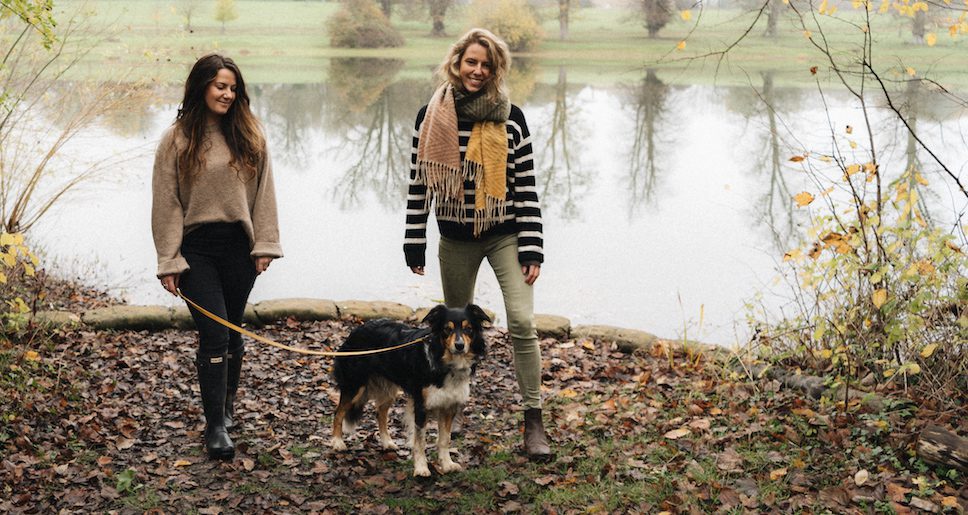 As sisters, what inspired you to set up your business together?
Abby: It all happened quite gradually, we initially just wanted to explore different creative outlets in our free time and spend quality time together.
We were both working in the interiors industry: Hannah was making the most beautiful ceramics for a kitchen company, and I was working in marketing for a luxury fabric and wallcovering company as a graphic designer. It was such a big decision for us both to leave our industries, but with Hannah's skills in ceramics and mine in design, we realised that by taking the leap we'd both have our dream jobs!
Hannah: We're lucky that we've grown up around creativity. We'd practice watercolour painting with our grandmother at the weekends; our mum did pottery at art school before becoming a teacher, and our dad is an architect, which really brought that sense of functionality to our creative outlets. Being an architect means you consider how people use and flow through a space, and this consideration really sticks with us when it comes to designing our own products.
How do your creative styles complement each other?
Hannah: Our style is very similar, for instance we both love to use a neutral colour palette in our glazes and create tactile surfaces, allowing the natural characteristics of the clay to become part of the design. We're always bouncing ideas off each other and it's great to work together to refine a piece.
Abby: Some of our designs are more graphical with clean lines, which is my influence, but we both love organic shapes. We will sometimes design on paper, but when we come to make it from clay the shape often changes, it's lovely to see pieces evolve throughout the creative journey.
What inspired the name 'Every Story'?
Abby: We were so stuck on a name, I was flicking through a magazine for inspiration and I saw the two words 'every story' at the end of a sentence (hence the full stop in our logo). It felt like the perfect description of how we wanted our brand to feel. We love that our name reflects an emotion or a journey rather than a person or a place. Our pieces are not made for any one narrative, they might be used as part of a special occasion or given to someone as a thoughtful gift.
Hannah: We love that each piece we make tells a story; there are so many processes involved with ceramics which take weeks from start to finish, so it's quite a journey. We also quite liked how it nods to there being two sides to every story, or in our case, two sisters!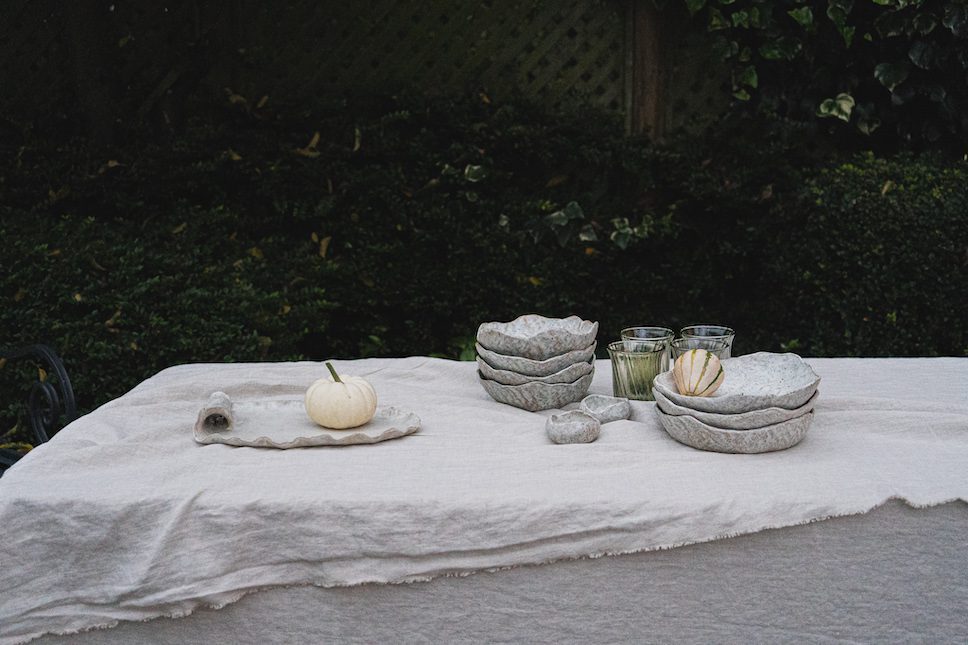 How do you experiment with form and texture?
Abby: We take inspiration from our travels and from exploring the Vale of Belvoir countryside which surrounds our studio. For example, our Chestnut vase is inspired by the bark of a majestic chestnut tree, which sits nestled just off the path in the local woodlands.
We collect found objects to use such as foliage, shells, grains, and beautifully textured tree bark. There are so many unique patterns that can be made by pressing into the clay and using glazes, stains, and oxides to enhance them further.
Hannah: Throughout the years, we've developed and learned new ways of forming the clay we use.
This varies from the smooth porcelain clay used to make our Porcelain Frill plates (pictured below),
with its beautifully delicate edge and refined glazed surface with the softest iridescence, to the grogged clays which contain sand and make the surface more coarse and tactile.
What does Christmas look like in your house?
Abby: Christmas is such a special time! We all gather at our parent's house. It's usually a merry flurry of cracker hats and mulled wine. We'll open the Sloe gin that's been brewing since autumn, made from sloe berries foraged from the Belvoir woodland nearby.
Hannah: We keep the day relaxed, exchanging our gifts in the morning, and then spend the rest of the day preparing for the afternoon feast, filling the kitchen with the sounds of Christmas music.
What childhood traditions do you welcome as part of your festive celebrations?
Abby: It was always so exciting to decorate the Christmas tree. We have a special box of decorations, and this is made up of little heirlooms passed down through the family. Some are handmade, some in memory of lost loved ones, but each one has a meaning. We've recreated this tradition by sourcing a similar style box for our own collection of ceramic baubles with little dividers for each one to sit in, they look so lovely when you open the box.
Hannah: You can see the ones we made as little kids – a favourite is a little Christmas tree Abby made when she was fours years old, it's made out of clay, daubed with vivid green acrylic paint and finished with a scattering of silver stars with her name scrawled on the back.
Are there any rituals that you put in place to have a more mindful and sustainable Christmas?
Abby: From a mindfulness point of view, the nature of ceramics requires you to slow down. It's a process which can't be rushed even during our busiest season. Living rurally means we can shop locally for a lot of our festive produce and gifts, whether from village farm shops or the farmers themselves. We'll also drop off any local Christmas orders on our way around the villages.
Hannah: We love the ritual of packaging each order and try to consider each detail to make the unboxing experience enjoyable when received. We use recyclable, reusable, or compostable packaging – even our 'bubble' wrap is made from paper and does a great job of protecting our pieces in transit. The cornstarch fill can be dissolved in water and we sourced biodegradable customs wallets for our international orders too. We hope this conveys that each piece is consciously created with our planet in mind.
As a small, independent business, how do you support conscious shopping and minimal waste?
Abby: Clay in its unfired state is infinitely recyclable. Any offcuts or trimmings of clay can be soaked and reused to make a new piece. Our ceramics are consciously made as well as consciously shopped. We make functional pieces to last and be used and enjoyed often.
Hannah: We are lucky to live near Stoke on Trent (the home of pottery), so we bulk buy our materials as infrequently as possible, but it's good to know that they don't have too far to travel.
We plan our kiln firings carefully to ensure they are utilising space in the best way. Having products in various sizes is great for filling up gaps on the kiln shelves. Also, the extra kiln heat in the studio is perfect for drying other pieces ready for the next firing.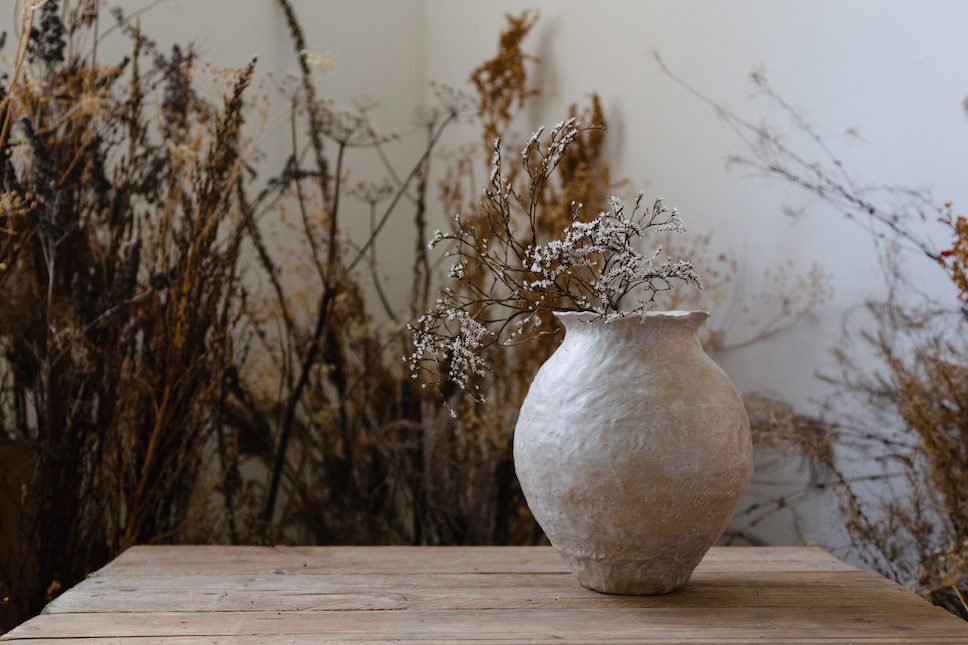 Your products make beautiful gifts, whether someone is buying for others or treating themselves. What joy do you hope people take from your designs?
Abby: We love that our ceramics will continue their story in their new home and hope that they make the recipient smile every time they are used and provide the perfect backdrop for special memories, whether it's a favourite mug for a morning cuppa, or dinnerware for festive gatherings. Our customers often share their lovely stories along with a photo even a year or so later, it is just the most heartwarming thing to receive and it really makes our day!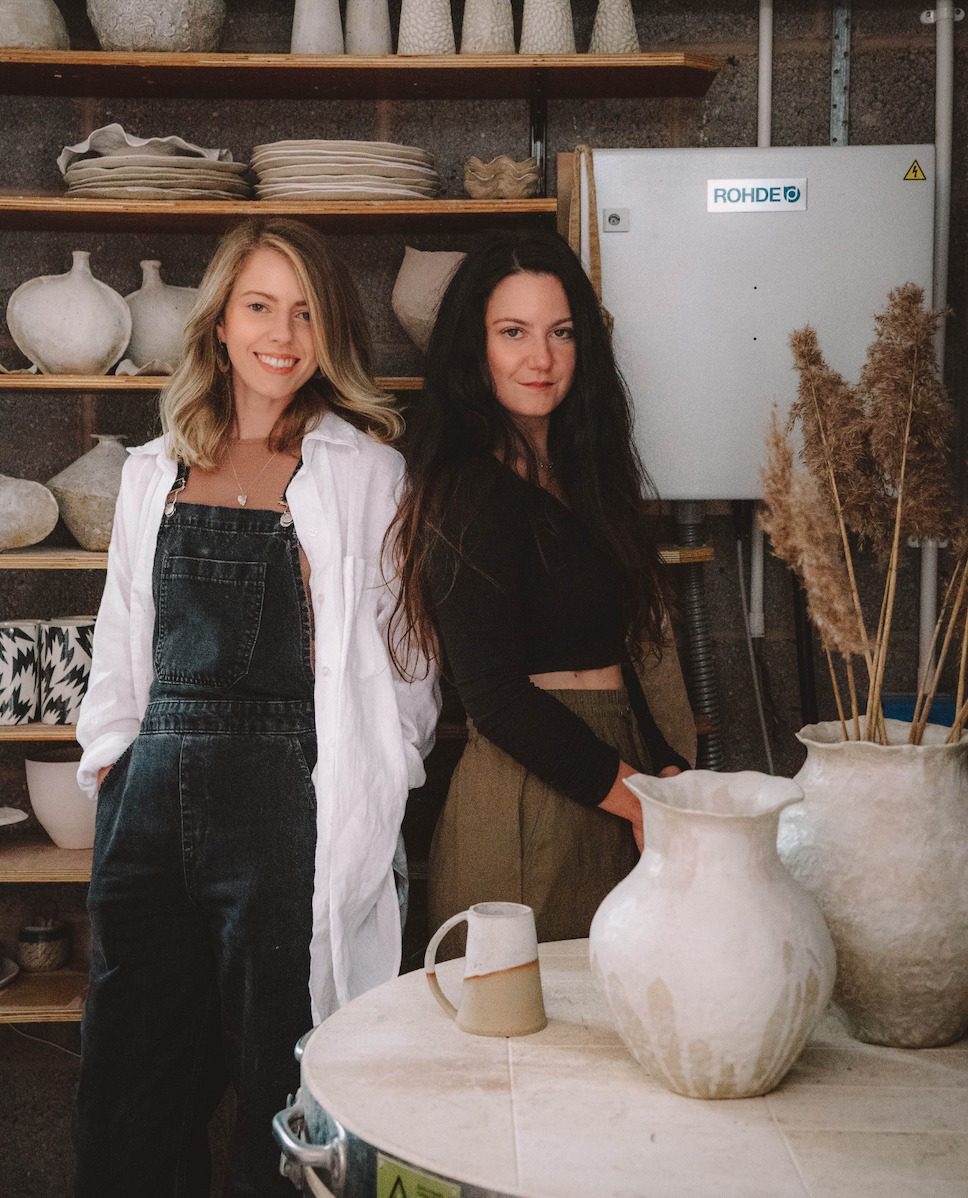 What are your hopes and plans for 2023?
Abby: We have so much planned! Some ideas have been bubbling away for a couple of years now so 2023 might be their year. We also have some lovely bespoke commissions which we're in the early stages of.
We launched our hiring service this year, which meant we've been able to visit some beautiful wedding venues across the country to deliver our ceramics. It's been incredible to work alongside other creative businesses (stylists, florists, stationers, photographers) and come together to bring the couples' visions to life! It really is amazing to see how ceramics can be part of every story.
Hannah: We're also about to take delivery of two new Rohde kilns so we can have one at each of our home studios as well our shared studio. The last few months have been busy with house moves and renovations for both of us, so it's going to be really exciting to start the year with much more capacity.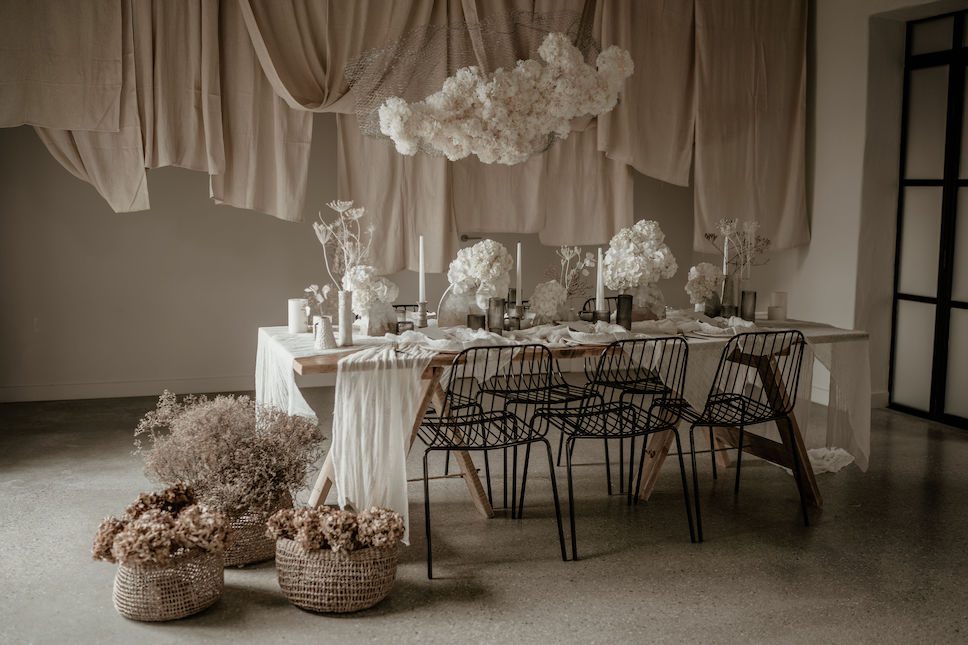 Photography courtesy of Every Story.
Discover the full collection of modern ceramics and handmade giftware by Every Story.
Read more interviews with other inspiring designers and craftspeople in enki's Meet the Maker series.
Also, if you want to make sure you never miss an issue of enki magazine, be sure to subscribe and get every issue delivered straight to your door!