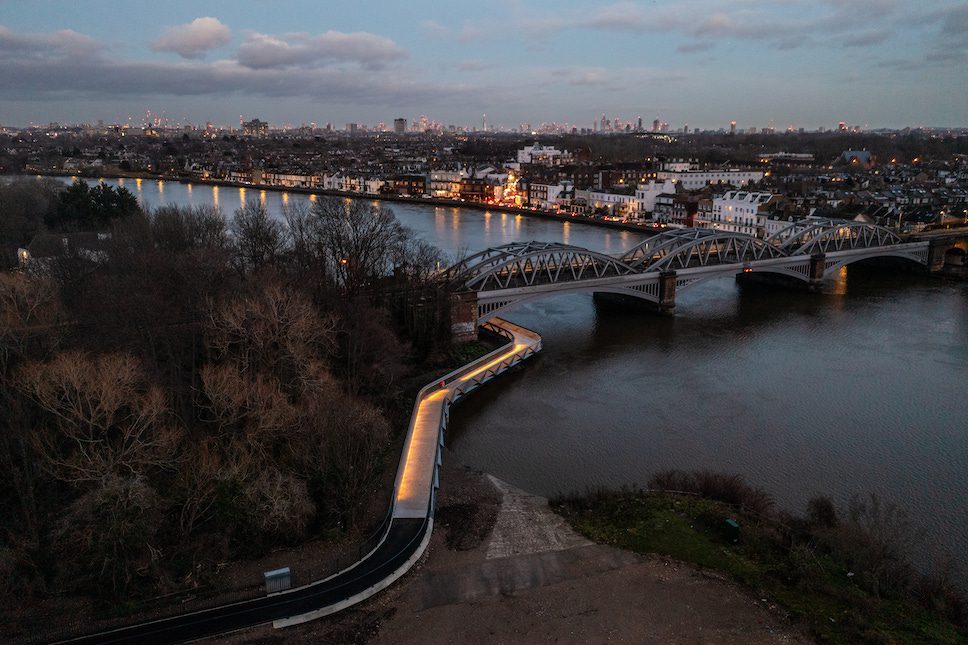 A new low-carbon footbridge at London's Dukes Meadows has been designed by Moxon Architects to rejuvenate a previously disconnected stretch of the Thames Path.
The Dukes Meadows Footbridge flows beneath the existing Grade II-listed Barnes Bridge in Chiswick, West London, and is devised to improve safety, access, and pedestrian flow through the area.
Designed by Moxon Architects together with structural engineers COWI, the bridge was constructed by Knights Brown, and solves the need for pedestrians to take a 500-metre detour to cross the railway. It's built with robust stainless steel and aluminium to anticipate future flooding and reduce maintenance required over its expected 100+ year lifetime.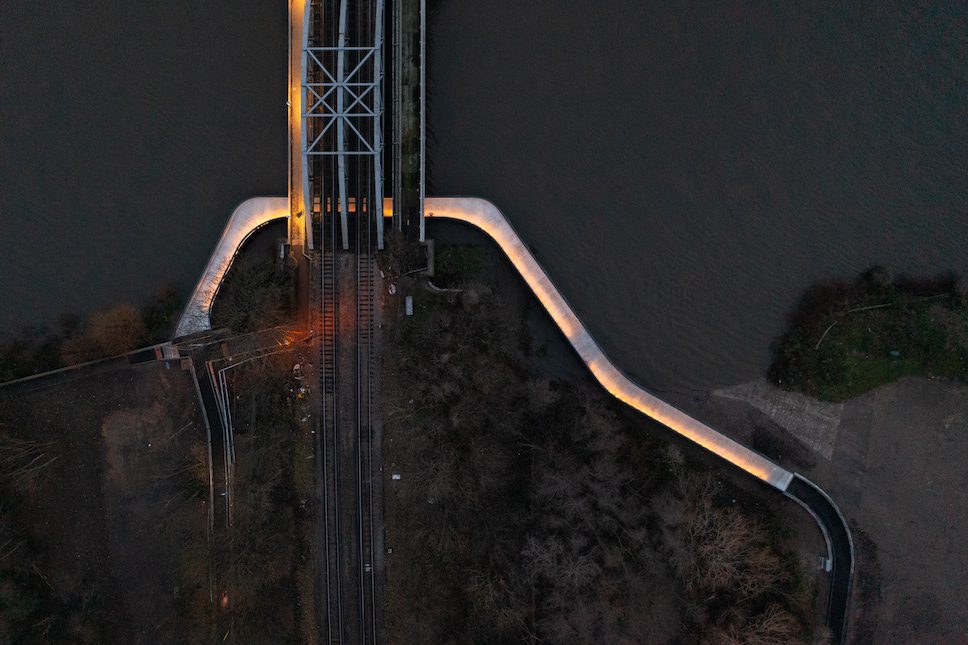 The 115 metre-long, prefabricated structure is a 'half through' truss form that's divided into four ambitiously slender spans that hug the shoreline, with touchdown points that provide a minimal footprint within the tidal zone.
"The meandering alignment encourages views up and downstream, as well as into the adjacent Dukes Hollow nature reserve, which is one of the few remaining natural tidal habitats in London," explains Ezra Groskin, director at Moxon Architects
"Estimates using the CO2e tool developed by COWI show innovation in material specification and construction technique between design and completion have enabled a 50% reduction of carbon emissions associated with the trusses, and a 30% reduction in the footbridge's overall carbon footprint," Ezra Goskin adds.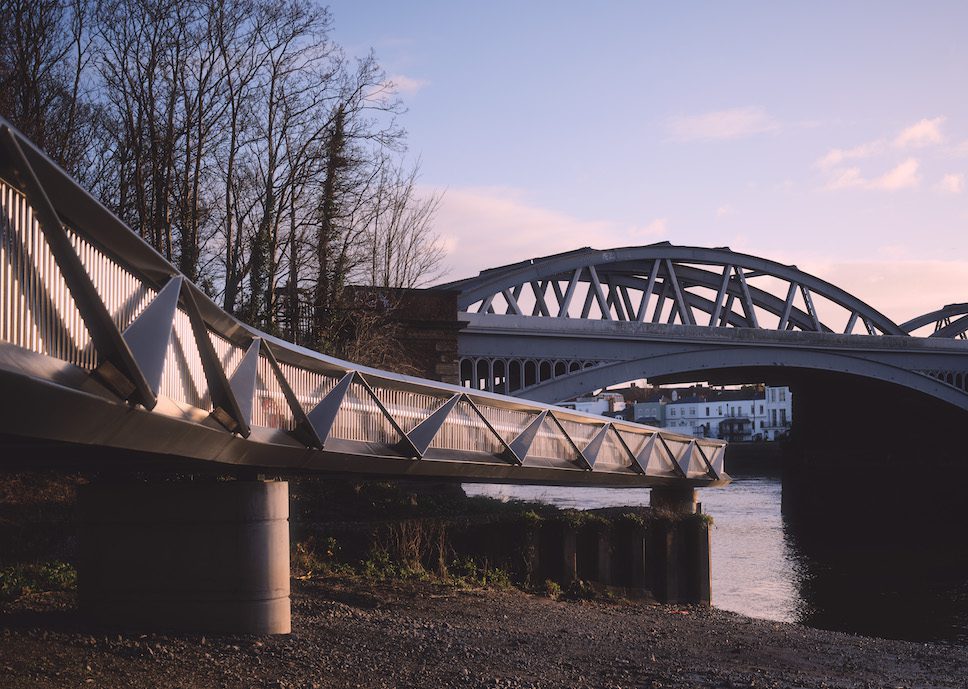 Utilising off-site prefabrication, the Dukes Meadows Footbridge has been completed with honest and efficient intentions, looking to construct a bridge that sits respectfully below the existing landmark structure. It also brings much-improved accessibility to users, with safer access to wheelchairs, mobility scooters, and those with pushchairs.
Its meandering pathway is illuminated at night by energy efficient lighting, designed to protect the fragile ecosystem within Dukes Meadows. The surrounding natural environment is also considered, with the design respecting the local ecology by carefully integrating the structure into landscaped banks on either side of the Barnes bridge.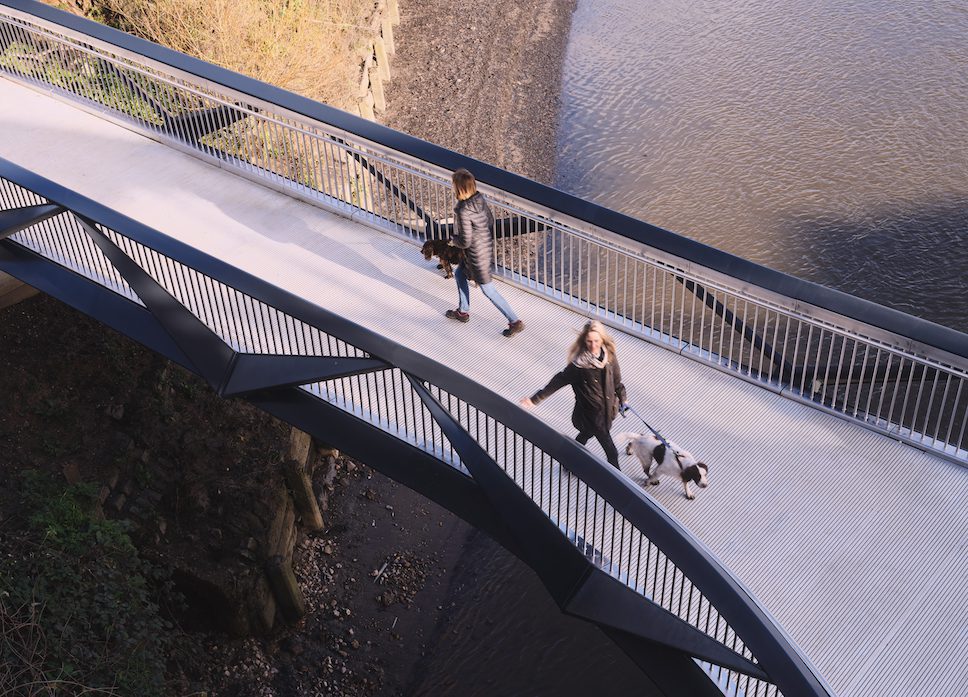 Project details:
Client: London Borough of Hounslow
Architect and lighting designer: Moxon Architects
Structural, Geotechnical, Environmental and Civil Engineering: CampbellReith (Concept Design) / COWI (Technical Design)
Principal Contractor: Knights Brown
Steel Fabricator: McNealy Brown
Marine Engineering: Marmus
Marine Transport and Logistics: Red 7 Marine
Electrical Engineering: Slender Winter Partnership
CDM Consultant: Goddard Consulting
Project Manager and Quantity Surveyor: Currie & Brown
Photography by Simon Kennedy (unless otherwise stated in the caption).
Discover more architecture and design projects by Moxon Architects.
Take a look at more architecture news stories on enki, including the UK's most sustainable hospital, set to be built in Wales.