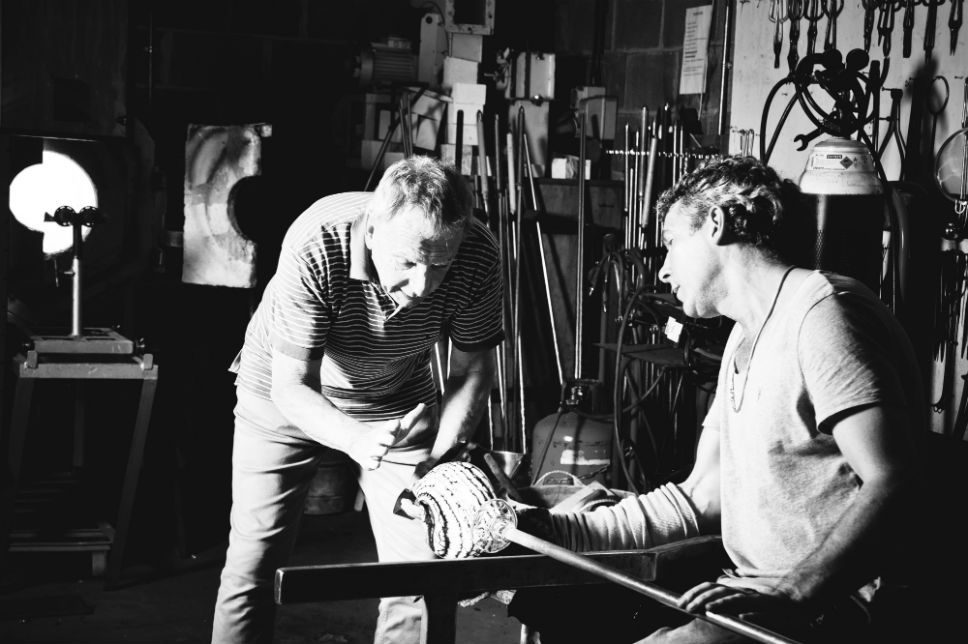 Peter Layton is a renowned name in the glassblowing industry and has been at the forefront of British studio glass since the 1970s. Not only has he brought his own beautiful creations to the table for others to indulge and delight in but he has devoted an almost equal amount of time to nurturing others in the craft as well. Over the last 40 years many aspiring and talented glassmakers have had the opportunity to learn and be inspired under his tutelage. We caught up with the man himself, to talk everything from what makes his work different to what his dream house and location would be.
(Left) Peter Layton portrait (right) Layne Rowe – White Woven Ovoids & White Woven Panicles
#1 How long have you been glassblowing and what was the starting point for your career?
"On graduating from the Central School of Art and Design, I took up a teaching position in ceramics at the University of Iowa. Harvey Littleton, a potter considered to be the father of modern studio glass, had recently set up the first university glassblowing department in Wisconsin. One of his graduates was also teaching at Iowa and I was lucky enough to participate in one of his first summer glassblowing workshops. Total novices, we built the furnace and other equipment and within a few days were attempting to blow life into misshapen 'gobs' of fiercely molten glass – how captivating and exhilarating!"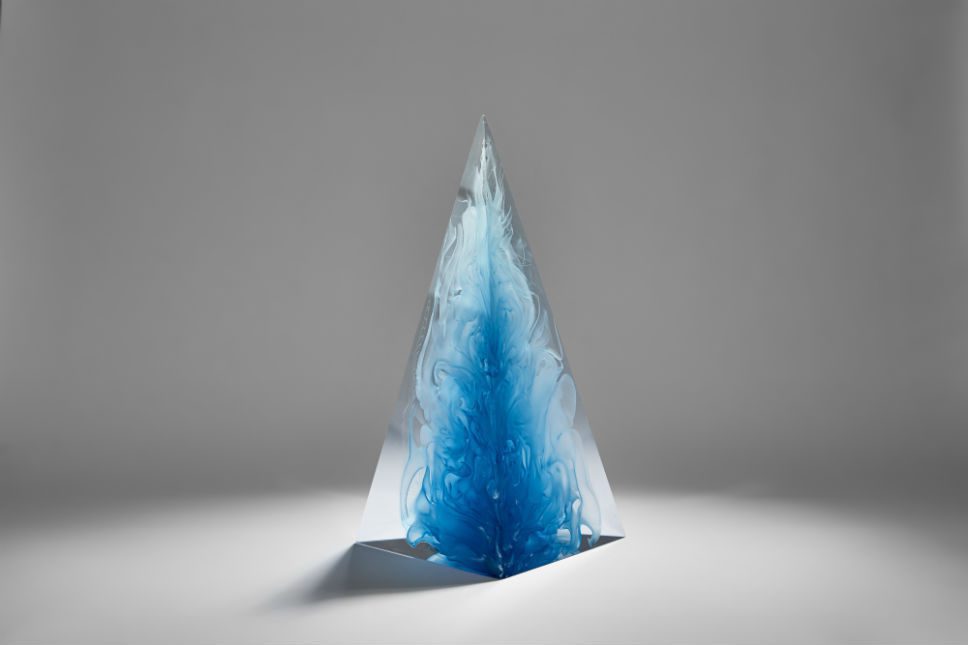 2. What part of the glassblowing process do you enjoy most?
"I particularly love the process of working with my excellent blowing team – drawing the shape I want on the floor in chalk, coaxing the shape while the piece is molten. Followed by the joy, two days later, of opening the cooling kiln and seeing what was made and learning from that! Some are absolute treasures and some are exciting material for further work!"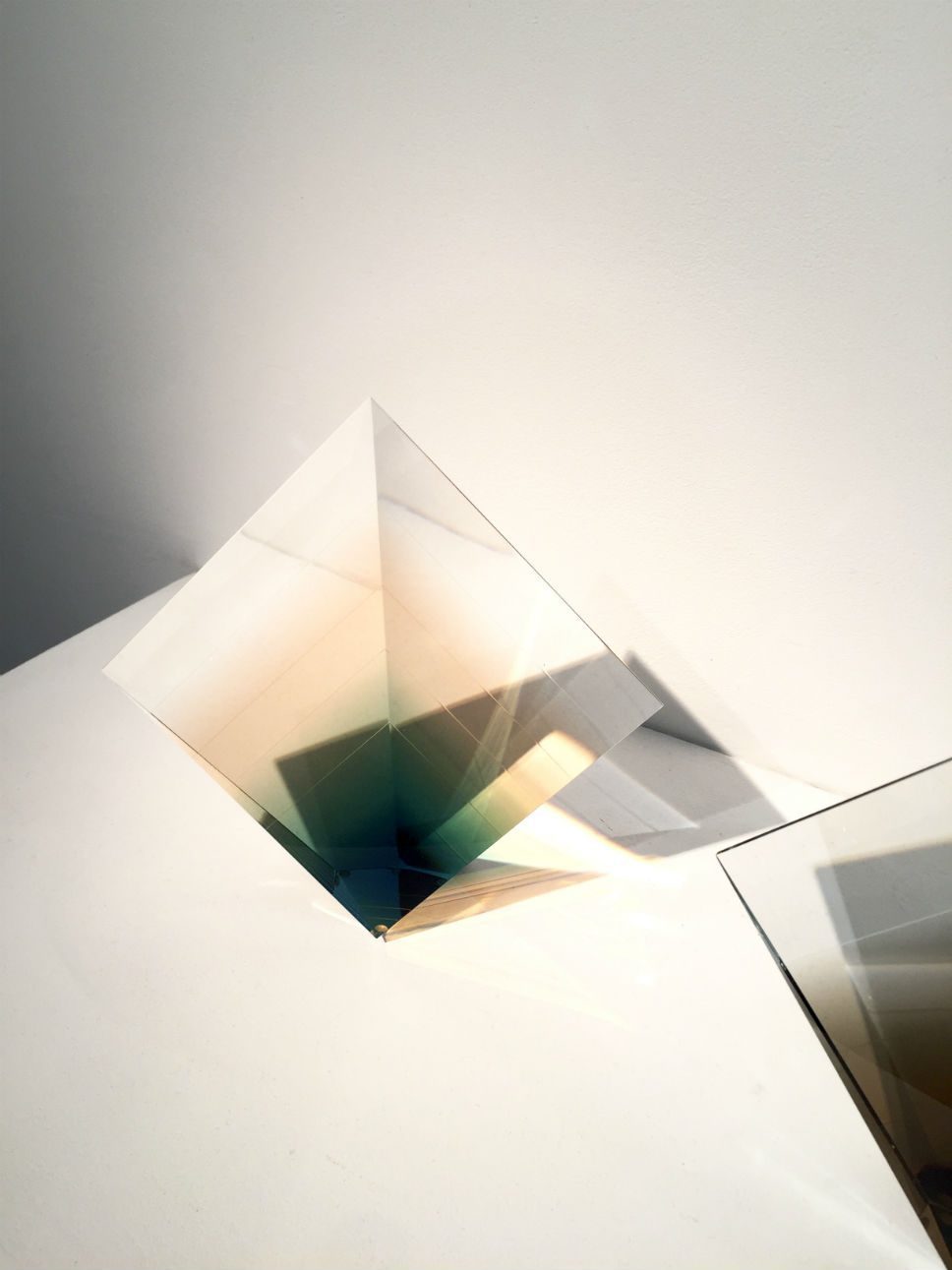 3. What makes your work different?
"I take a painterly approach to my glassmaking. I often create flattened shapes which literally become the 'canvas' for my designs. For years, my studio has been known for its use of colour – often very bright, but sometimes subtle."
4. Where do you sell your work? How would one get hold of a piece? Can visitors watch you in action?
"My own gallery in Bermondsey Street is probably the biggest retailer of my work. But there are many galleries in the UK and some abroad which also stock it. The studio is situated at the back of the gallery and many visitors spend time there watching the 'dance' that glassblowing appears to be."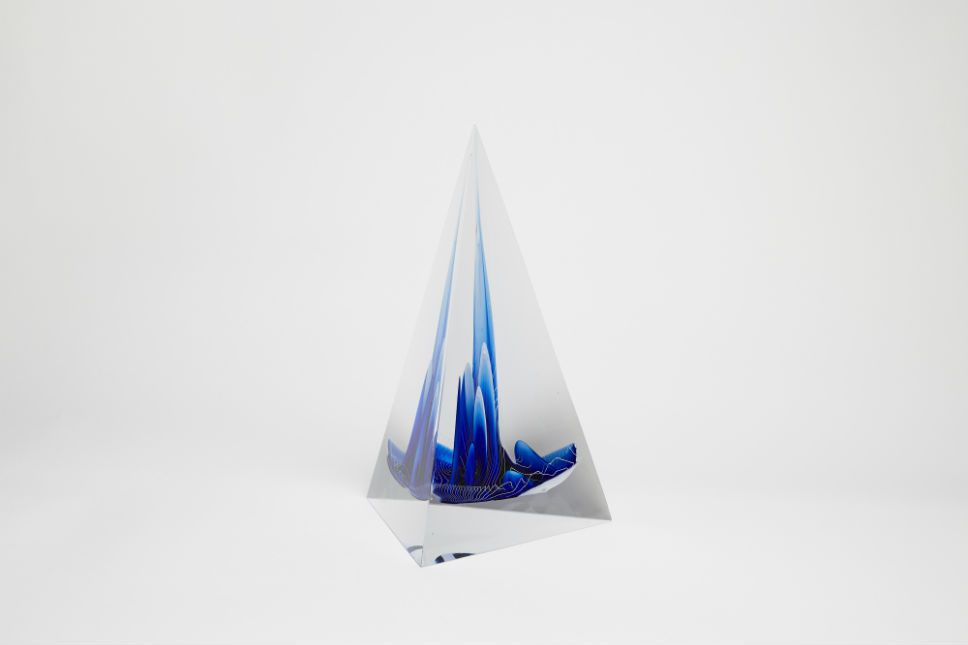 5. Talk to us about your design and creation process when it comes to creating a new piece of glassware? Where do you find inspiration?
"My inspiration is often found on my travels. The Great Barrier Reef or my visit to Petra and Sedona were big sources of inspiration. I also love the challenge of responding to the work of the great painters and I have created works which were derived from my love of artists from Van Gogh to David Hockey. I am also inspired by natural forms – geological and botanical."
6. Do you create commissioned pieces? If so, how would you work with a client on this?
"We receive many requests to do commissions and we love that challenge too! A few years ago a customer told me his favourite artist was Gustav Klimt and I happened to have already made a few attempts at the furnace in response to Klimt's work. The customer commissioned me to work further on those and we created four series of work in response to his request. We also create awards – I will meet with the client and get an idea of what they are wanting and then spend time experimenting. I call it sketching on the blowing iron – making attempts which we later use as 'sketches' for further development."
(Left) Jan-Joop Ruisch – Lotus Alexandrite | (Middle) Joseph Harrington – Canyon Falls | (right) Nick Mount – Granularro Fruit and Can : A Still Life
7. If you could collaborate with a brand or another maker, who would it be and why?
"All my work is collaborative in a way. I have the best team I could ask for and we work together on ideas."
8. What's the best thing about working with glass?
"Glass is fluid, immediate – that is what I love about it. It absolutely requires teamwork – you can't do it alone! That's also what I love. As a medium it is unbeatable. It has qualities that others don't – such as transparency and reflective/refractive qualities. The medium lends itself to an almost infinite number of techniques…and our gallery shows a lot of these! I am so lucky to have the opportunity to work/play with this wonderfully versatile and exciting medium – still relatively undiscovered and under appreciated!"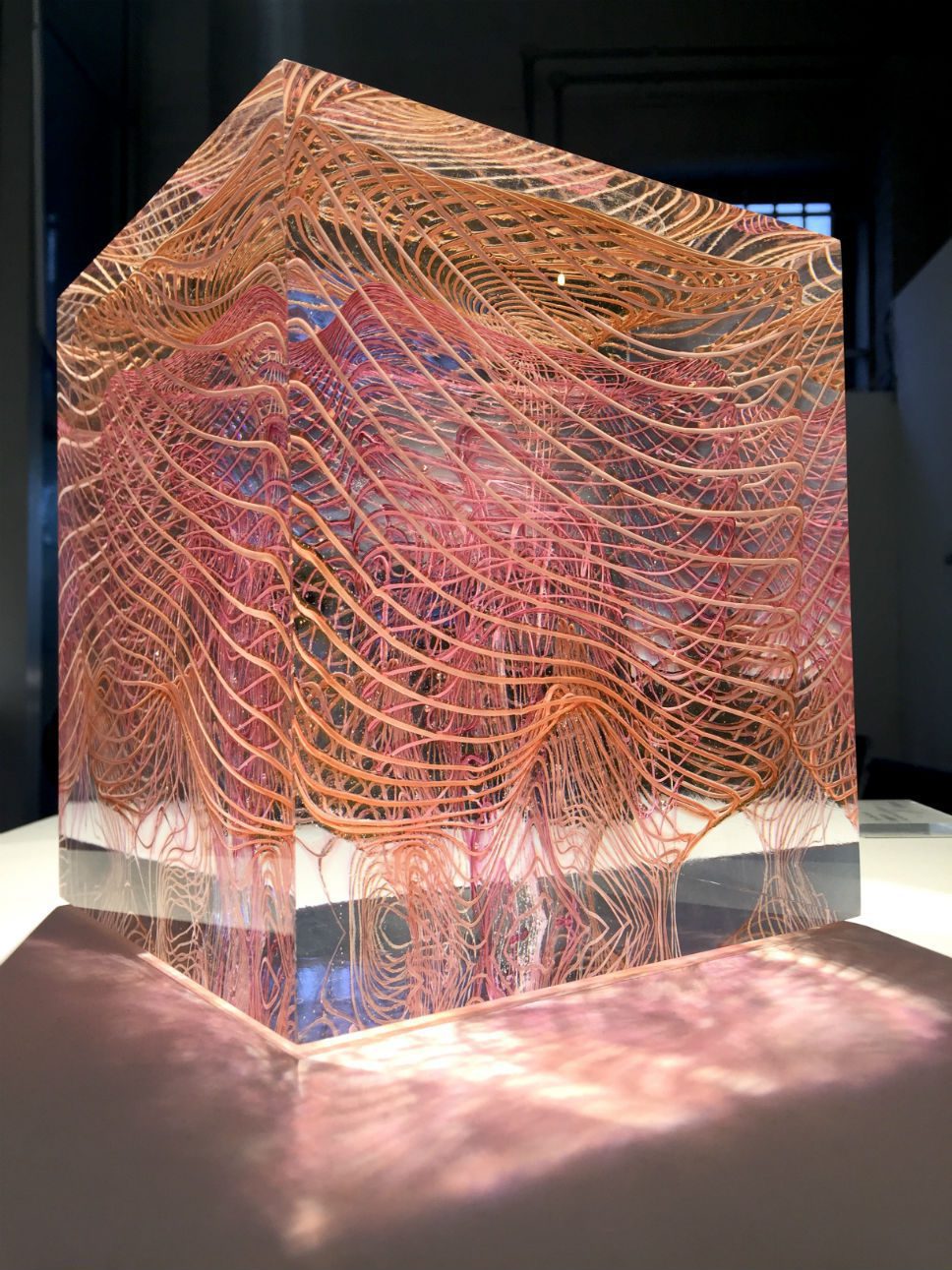 9. If you weren't working with glass, what do you think you would be doing?
"Perhaps some form of alternative therapy – nutrition perhaps."
10. We've read that you dedicate time to developing the skills of the next generation. Talk us through the importance of this.
"This is vitally important to me. I want to promote this undervalued Cinderella medium, through running my studio, which provides a means for other artists to thrive as well as helping me. We are constantly evolving and developing new ways of doing and seeing things and this helps everyone in their own work and in their own skill development."
11. Do you have a favourite or most memorable piece from your career?
"I have made work in response to ecological concerns as well as anti-war pieces. There are many things I am proud of – a two metre high Pyramid, architectural work undertaking in the nineties, Bombs, as well as some of my recent blown work."
The Quickfire Round
#1 Natural or metallic? "Natural."
#2 Vibrant colour or neutrals? "Vibrant (but I do also create subtle)."
#3 Pendant light or chandelier? "Chandelier."
#4 Tea or coffee? "Tea."
#5 Perfect getaway? "Marrakech (love the souks!)"
#6 Favourite book? "Currently A God in Ruins by Kate Atkinson, but there are many!"
#7 Favourite way to relax? "Watching TV with Ann, my wife."
#8 Favourite wine? "NZ Sauvignon."
#9 Dream house and location? "Our newly refurbished house in East Dulwich, close to family."
#10 Dream client to work with? "Anyone who says 'here's a lot of money to experiment, play, resolve, challenge!"
Discover more about Peter Layton and his work here.