Inspired by the elements and her love of the ocean, maker Laura Elizabeth Glass is known for her beautifully crafted handblown lighting designs. With a signature style that brings together varying metals in glass, we spoke to Laura about everything from her working process to her core inspiration…
#1 How long have you been working with hand-blown glass, and what was the starting point for your work?
"For over 10 years I've been working with blown glass. The starting point for my work was playing around with different materials within glass. I began by working with thick pieces of copper within the glass and on the surface. This created a tension in the glass that I wanted to explore. I began making vases and sculptural pieces when a client specified they wanted some bespoke lighting."
#2 Tell us a little more about your brand, how you create your hand-blown glass creations, and what other materials you bring into the mix.
"Initially I began by creating vases and sculptural pieces for a clients. A repeat client specified a chandelier for their space using both thick copper pieces and copper leaf. This began my transition into lighting. Now I use copper, silver and sometimes gold leaf to translate an idea into glass. By layering the different elements within the glass it creates a gorgeous effect of thick and thin glass as well as beautiful distortions."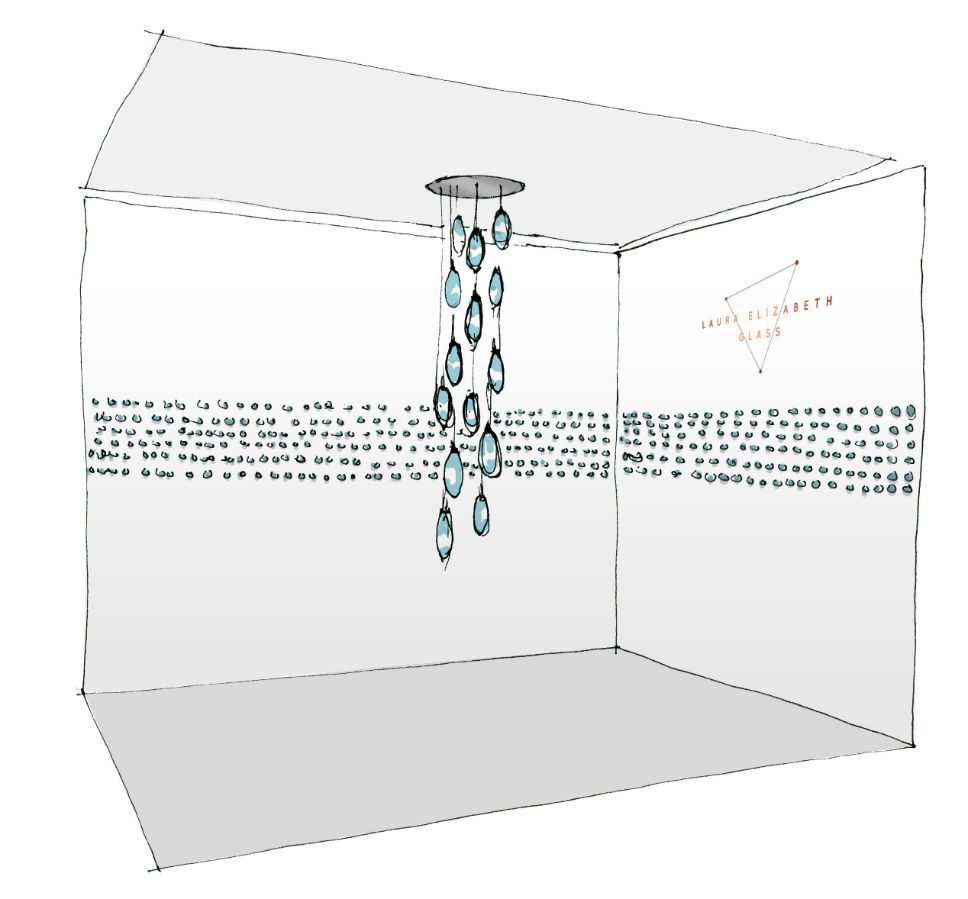 #3 What is your source of inspiration for your work? Does it change? And why is that?
"I'm continually inspired by the elements. Water is a dominant theme in my work. Older collections looked at the violent effect of storms and hurricanes. Some pieces look at the impact on man-made objects in the water such as buoys and ropes. My most recent collection Cascade, looks at the ethereal beauty of a rain shower on water. Geology and the elements are something I'm evolving for my next collection."
#4 What does a general work day involve for you?
"When blowing glass it's an early start as its important to have glass colour and the metals organised and heated. Kilns have to be turned on, getting tools ready and then I'll spend about seven hours blowing glass spending the day making one type of piece or – if it's a bespoke order – several different pieces. At some point I try and answer emails and check on orders."
#5 What is your vision for the future of your brand? What makes your work different?
"The vision for my brand is to create lighting collections that are not only beautiful, but also in that creation be conscious of giving back to the very element inspiring the pieces. This is why 5% of sales of the Cascade collection will go to The Blue Marine Foundation. I want to continue to collaborate with organisations in the future. My work is deeply personal as it tells part of my story, growing up on an island and my love of the ocean."
#6 If you could collaborate with another brand or maker who would it be?
"I'm always in awe of Eleanor Lakelin's wood sculptures which take a piece of wood and turn it into the most gorgeous piece of art."
#7 What's the best thing about working with hand-blown glass?
"It's mercurial and magical, I'm often discovering or developing new ways in the process to combine the glass with metals to express an idea or theme."
#8 If you weren't doing this, what do you think you would be doing?
"I never really think of other options, but at a push I'd still be making something, perhaps working with textiles."
The Quickfire Round
#1 Natural or metallic? "Metallic."
#2 Minimal or glam? "Glam minimalism."
#3 Pendant light or chandelier? "Chandelier."
#4 Tea or coffee? "COFFEE."
#5 Perfect getaway? "Mallorca."
#6 Favourite book? "The Handmaid's Tale."
#7 Favourite way to relax? "A manicure."
#8 All time favourite film? "The Grand Budapest Hotel."
#9 What would your ideal day of relaxation consist of? "Swimming..anywhere."
#10 Favourite maker/designer? "Polly Wales."
Discover more from Laura Elizabeth Glass here.