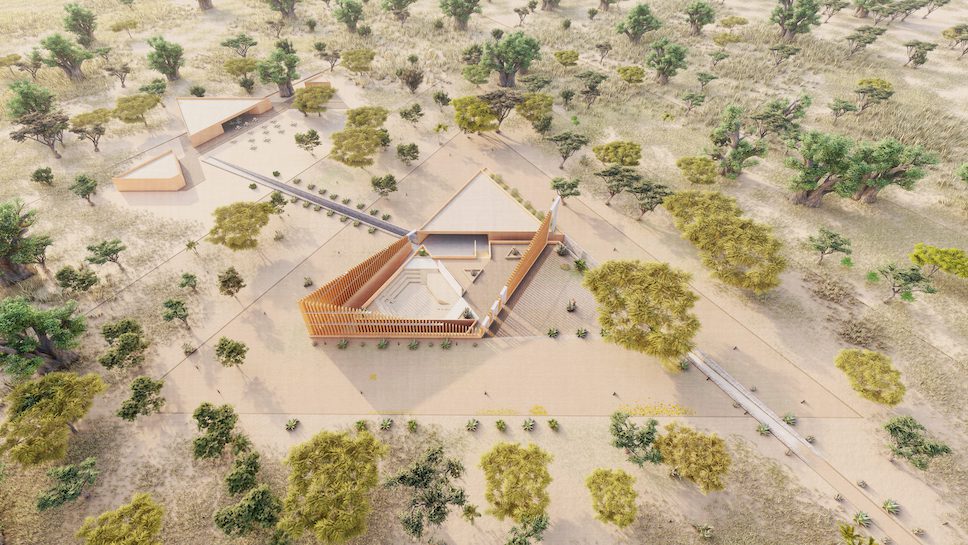 Nigerien architect Mariam Issoufou Kamara has been selected to lead the design of the new Bët-bi museum, set to open in Senegal in early 2025.
With aspirations to "push the boundaries of what defines a museum in the 21st century", the founder of practice Atelier Masōmī was chosen from a shortlist of four African architectural firms to take the reins of this project.
Sited close to the town of Kaolack in the Senegambia region of West Africa, the state-of-the-art museum and centre for culture and community will be built using sustainable and traditional methods. Atelier Masōmī plans to collaborate with local artisans on the project to bring traditional craftsmanship to the forefront, and the structure give a nod to the area's remarkable ancient stone megaliths.
"For far too long our region has been a place where cultural wealth is pillaged to profit museum collections. This project is an opportunity to design a new type of space that is inspired by the roots and spiritual legacy of the region," Mariam Issoufou Kamara commented.
Bët-bi, meaning 'the eye' in Wolof, will span 1,000 square metres and will showcase contemporary and historic African art with a focus on sub-Saharan Africa, and house an exhibition and event space, a library and community rooms. Atelier Masōmī are taking a sensitive approach to both the cultural heritage of the site and its future potential, honouring the locals' profound spiritual connection to the land, sun and water.
"We approached this project through a look back at the site's past," explained Kamara. "We looked at the history of the Saloum Kingdom very closely and have been absolutely fascinated by its origin story, as a place jointly founded by the Serer and the Mandinka people. The latter are historically also a people from the Mali empire who are known for their monumental architecture. As museums and galleries are a product of our more recent past, it is important for me that the project serves as a bold imperative to continue the recent dialogue around rethinking the typology in order to explore new spatial languages around museums."
Bët-bi will partner with institutions across Africa to showcase both modern and historic African art, and it also plans to serve as a temporary space for repatriated African objects.
Developed by non-profit organisation The Josef and Anni Albers Foundation, together with Le Korsa, the museum will welcome locally recruited curators and personnel to complete the team of staff.
Renders courtesy of Atelier Masōmī.
Discover more on the progress of Bët-bi and see more architectural projects by Atelier Masōmī.
Read all the latest architecture news on enki.