One year on from its launch, London's Design District adds to its thriving creative neighbourhood with the dazzling D2 building by Mole Architects.
Sitting on the Greenwich Peninsula, the Design District is a purpose-built ecosystem supporting a community of designers and makers with affordable workspaces. The evolving hub has recently seen the opening of D2, Mole Architects' second building, which makes a striking impression with its iridescent exterior.
Mole Architects are one of eight practices behind the development's 16 buildings, having designed two buildings: one corten-clad ziggurat and the other a dichroic rhomboid. Both buildings are highly sustainable, constructed entirely from timber, and through their design they subtly pay a visual tribute to Greenwich Peninsula's history as the home of what was once Europe's largest gasworks. D2 may be the smallest building of the 16 in the Design District masterplan, however it certainly isn't the least significant. Read on to find out more…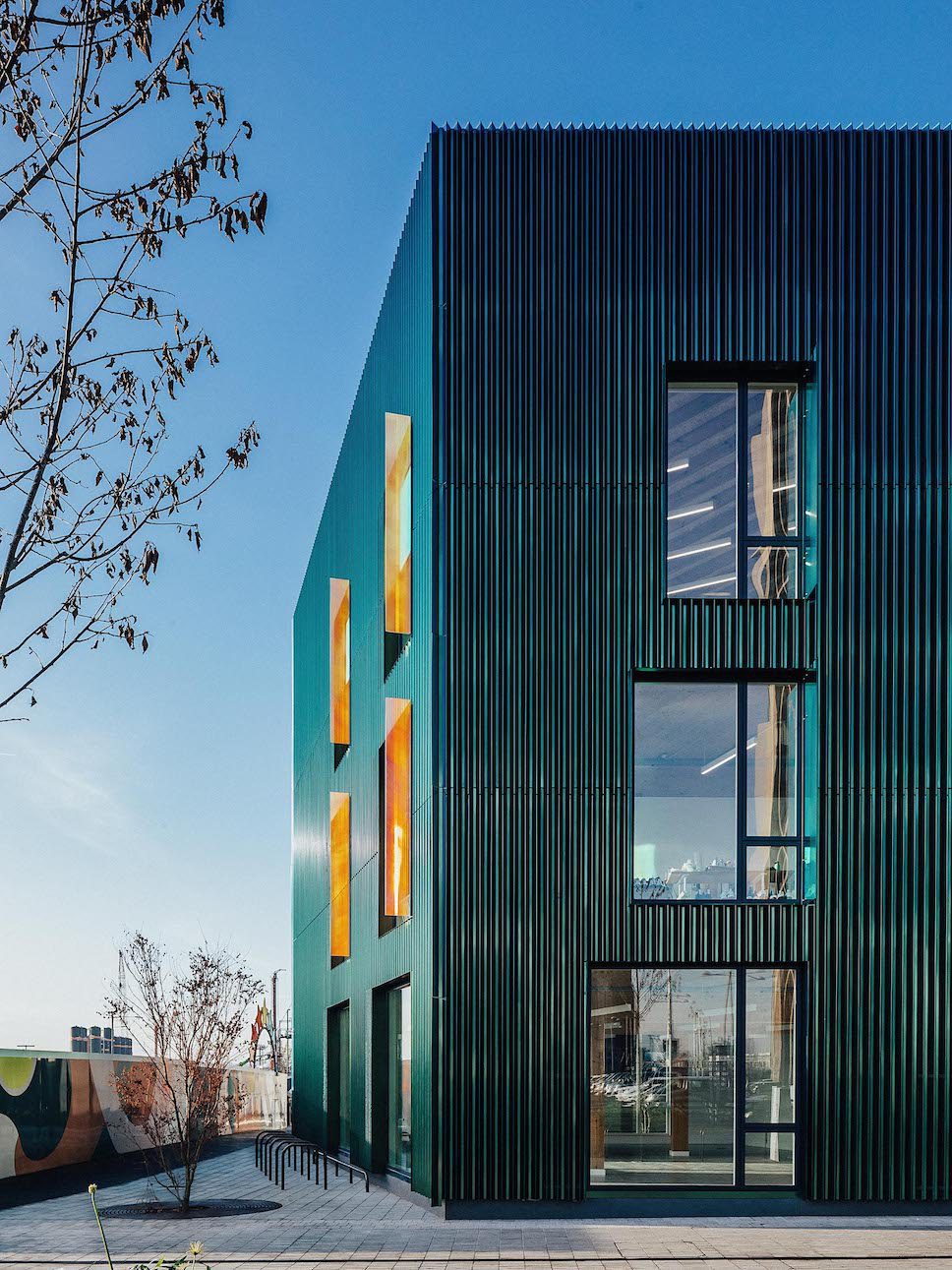 Design District D2 building by Mole Architects
Described by the Design District as "a colour-changing statement in sustainability", D2 features a shimmering cladding that is reminiscent of a flickering gas flame. The building is a 580 square metre rhomboid clad in iridescent 'dichroic fins' – or turquoise aluminium folded sheets.
It has been constructed using cross-laminated timber and Glulam, a wood-based alternative to structural steel and concrete. Not only robust and practical, CLT buildings demand approximately half the energy of concrete structures to build, and also act as carbon stores, locking CO2 into the fabric of the building. Also, with energy efficiency at its forefront, the comfortable workspace is naturally ventilated, with external blinds fitted on the windows to reduce solar gain.
Meredith Bowles, director at Mole Architects, tells us more about the inspiration behind the building and the role of sustainable timber architecture in this context…
What inspired you to work on this project for the Design District?
The brief was to make a building that would inspire creative people, and be a great place to work. In a sense we were invited to imagine a place we'd love to be in ourselves, so of course we were keen to be a part of it.
How did you plan D2 as a contemporary workspace for the ever-evolving work/office landscape?
All the spaces at Design District can be used flexibly; there are variously sized spaces for rent. As a place, Design District makes it easy to be flexible – with co-working spaces, meeting rooms for hire, and the possibility of 'trading up' as a business grows.
What inspired the iridescent rhomboid structure of D2?
We designed the two buildings (C2 and D2) as a pair, inspired by a photograph of two scientists from the 1950s Fuel Research Station which used to be near the site and was one of Europe's largest gas works. Whilst C2 is a tough corten building, reminiscent of expanding gas holders, D2 has an ever-changing facade, with colours like a gas flame.
D2 is the smallest of the 16 buildings within Design District, but what are its biggest qualities and how does it compare to C2?
The smallest, but not the least noticeable! D2 at the moment is visible on the south of the District, but when complete it will be sandwiched between two larger buildings. We wanted the little building to have a big presence, and do so in a way that is surprising and beautiful. C2 is given space and status by addressing the yard opposite Selgas Cano's canteen. It has a symmetrical façade, and a solidity that is in contrast to the mutability of D2.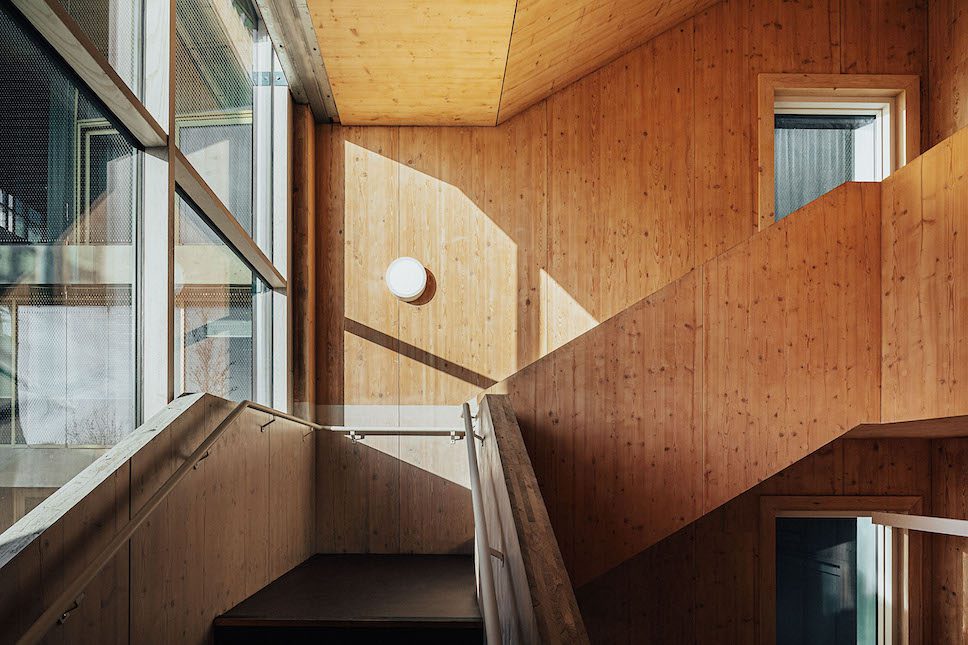 What role does sustainable timber architecture play within the Design District development?
Making timber buildings is a gift to those that live or work in them; it seems that humans have a natural affinity with timber and the warmth that it conveys. We've left quite a lot of timber exposed, as well as each space having fantastic large openings to the best views. The reflected light from the dichroic fins into the interiors was actually an unintended surprise, but we love it!
In your opinion, what do a dynamic and creative ecosystems such as Design District represent for the future of the design industry and our collective efforts towards sustainability?
The creative industry accounts for nearly 6 per cent of the economy, about the same as pharmaceuticals, and nearly 10 times bigger than the motor industry. Design District is like a campus for creative businesses. We treat this as normal for the tech or pharmaceutical world, but is almost unheard of for the creative industries – it treats the industry with respect and can only assist in growth. As for sustainability, we all need to do much, much more, and grow our green economy.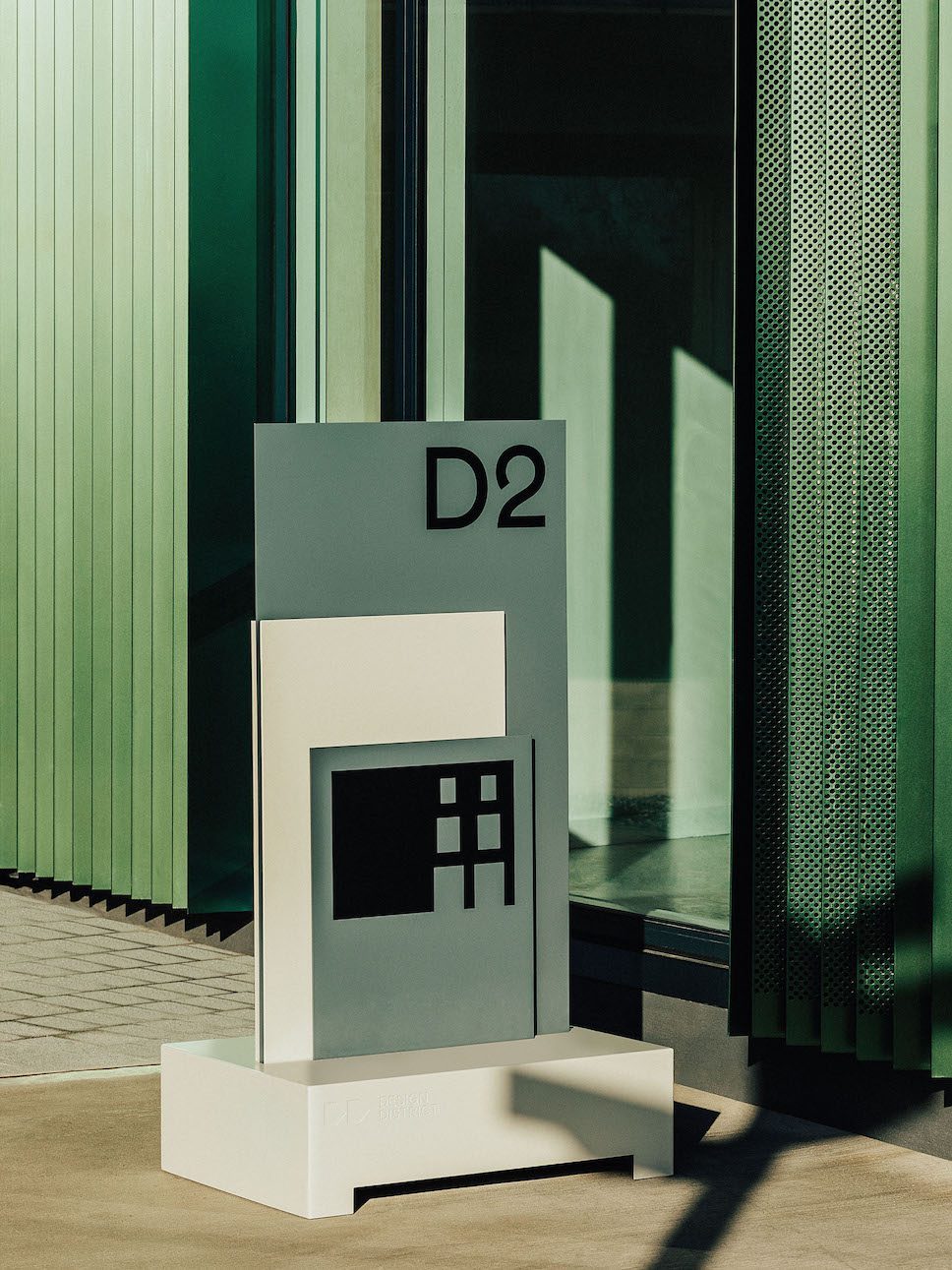 Photography by Taran Wilkhu.
Discover more about the Design District ever-evolving design community (which currently has two larger-scale spaces still available), and see more inspiring projects by Mole Architects.
In case you missed it, we featured an interview with Design District director Helen Arvanitakis in our January/February 2022 issue – it's well worth a read!
Stay right here on enki to read more of the latest architecture news.