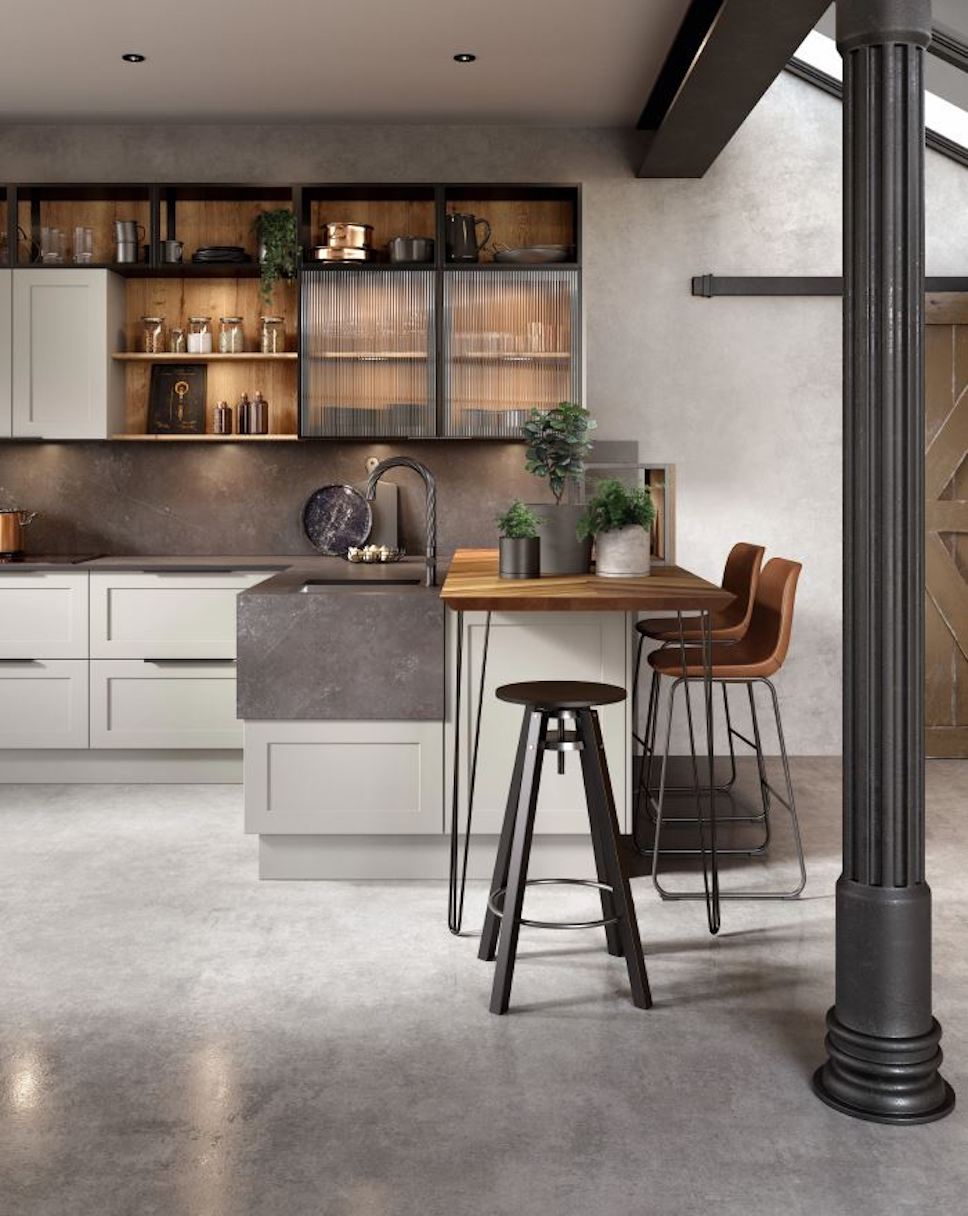 "Here at Life, we create kitchens to be lived in." Life Kitchens
Celebrated British company, Life Kitchens is recognised throughout the industry for their easy, down-to-earth approach, meticulous attention to detail and truly astounding craftsmanship. With the view to "plan your kitchen around your life, and the way you live it," the customer, in their view, is very much at the beating heart of each of their designs. Every Life kitchen is custom designed and to entice you in further, Life has recently unveiled six new designs to help inspire life in your kitchen. Ranging from the more traditional to seamlessly contemporary styles, the brand has catered for pretty much everyone. Read on to discover the new arrivals in more detail.
"Whatever you do, in or out of your home, your kitchen's at the heart of it."
Make it Homely
Starting at the more traditional end of the scale, Life Kitchen's Make it Homely style showcases all the hallmarks of a classic English kitchen. Elegantly fusing a framed Shaker design with delicate Ovolo beading and texture timber graining, Homely proffers, what the brand calls, "a delicate heritage aesthetic with all the amenities of a working kitchen." Available in an array of timeless colours, the collection not only boasts flexible storage options, but a hint to the more modern world too, in the form of a Miele stainless-steel range oven, Abode kitchen taps, in-built LED strip lighting and the latest in waste management solutions.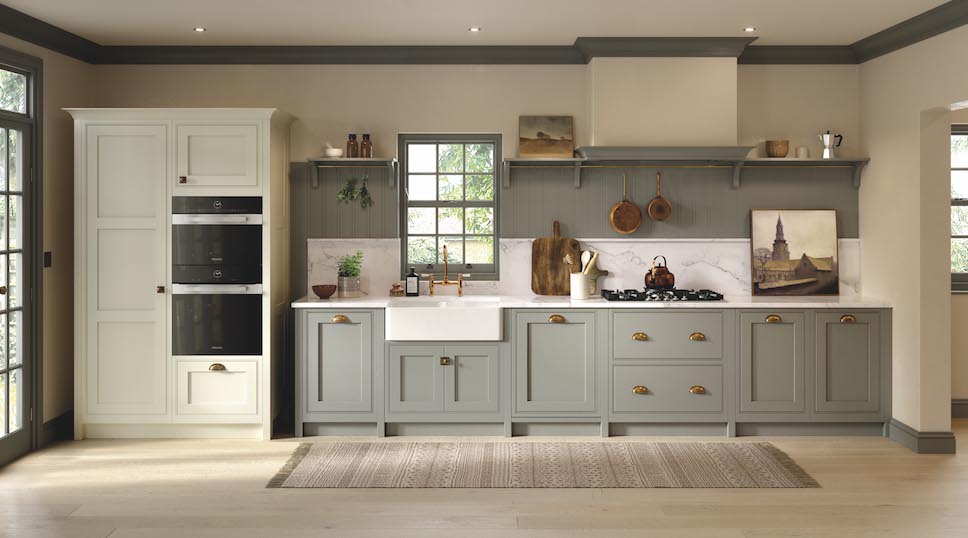 Make it Luxe
The Make it Luxe Life Kitchens style is built on a decisively "rough-luxe scheme". Cast your eye over an abundance of unique textures and finishes, and industrial touches that shine against the liquid dark marble of the worktops. Dramatic in its colour palette and metallic highlights, this unique kitchen exudes sophistication, and yet, is extremely functional too. Pocket doors slide away to reveal kitchen essentials, including a bank of Miele appliances, while a sculptural island creates extra storage and surface use.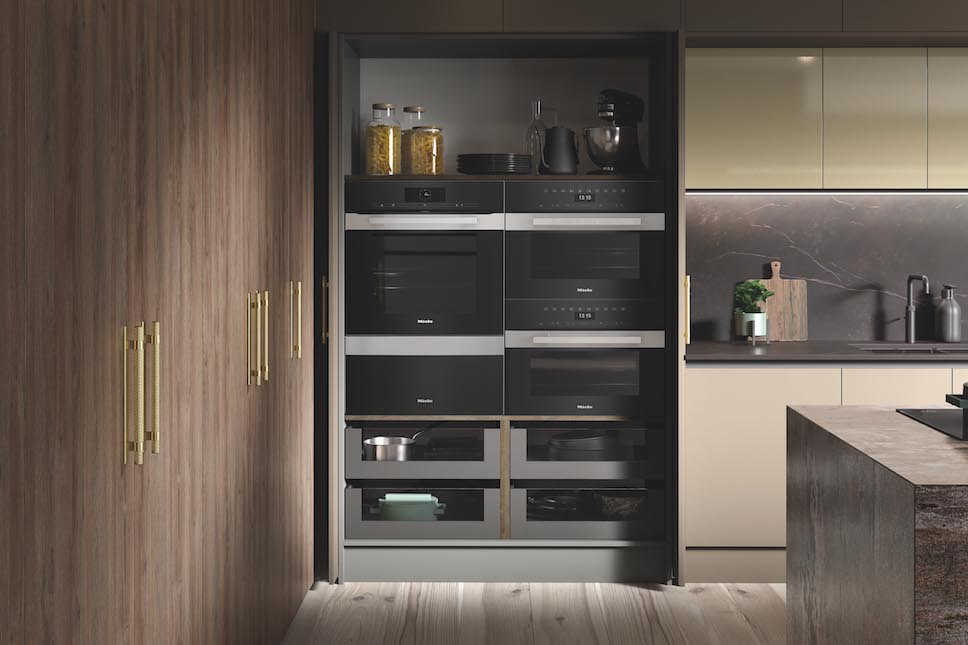 Make it Relaxed
Dubbed as their "fresh take on the classic Shaker", the brand's Make it Relaxed arrival is as warm and inviting as it is modern and simplistic. Breathing minimal lines throughout – but softened with the addition of herringbone timber – this unique kitchen style offers eye-catching details, including the beautifully crafted Stanton cabinetry in Hartforth Blue and Porcelain, metallic knurled handles, and a spacious hidden pantry with a multitude of storage possibilities.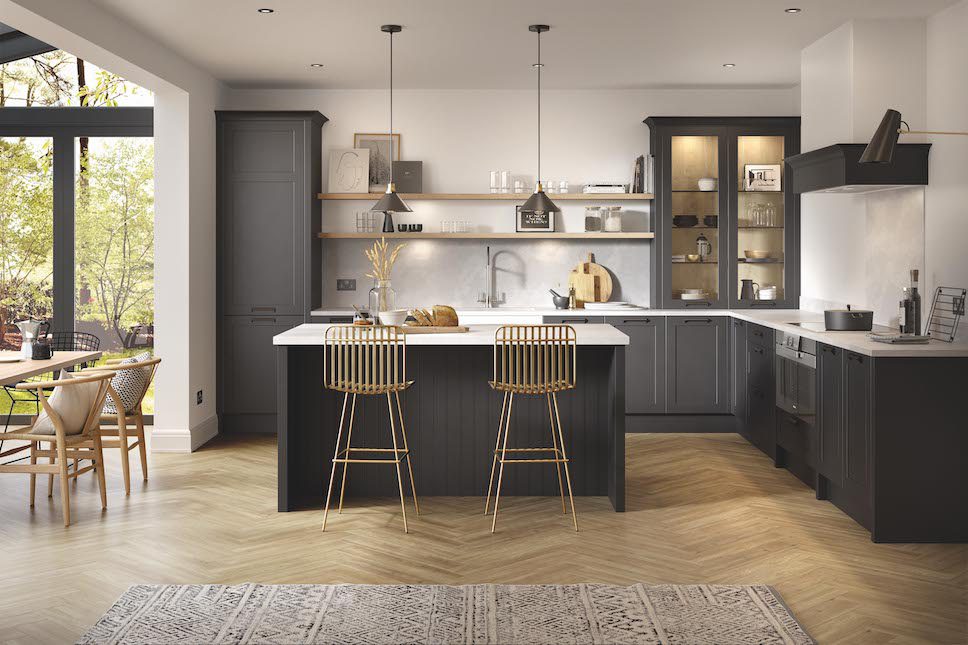 Make it Seamless
Open plan living lies at the heart of this kitchen design. Characterised by compelling sleek, modern lines and smooth Capita handless cabinetry, spaces feel delightfully open and light-filled with the Seamless collection. The design beckons social interaction too – illustrating further the ability of the kitchen to be the hub of the home – with statement islands, barista-style bars, wall-mounted shelving and hidden storage which allows you to keep surfaces clean and spacious. Effortlessly teaming an industrial feel with highlights of refined glamour (including knurled handles and antique mirrored splash-backs), there is also the option to choose your desired colour from a palette of tastefully muted tones.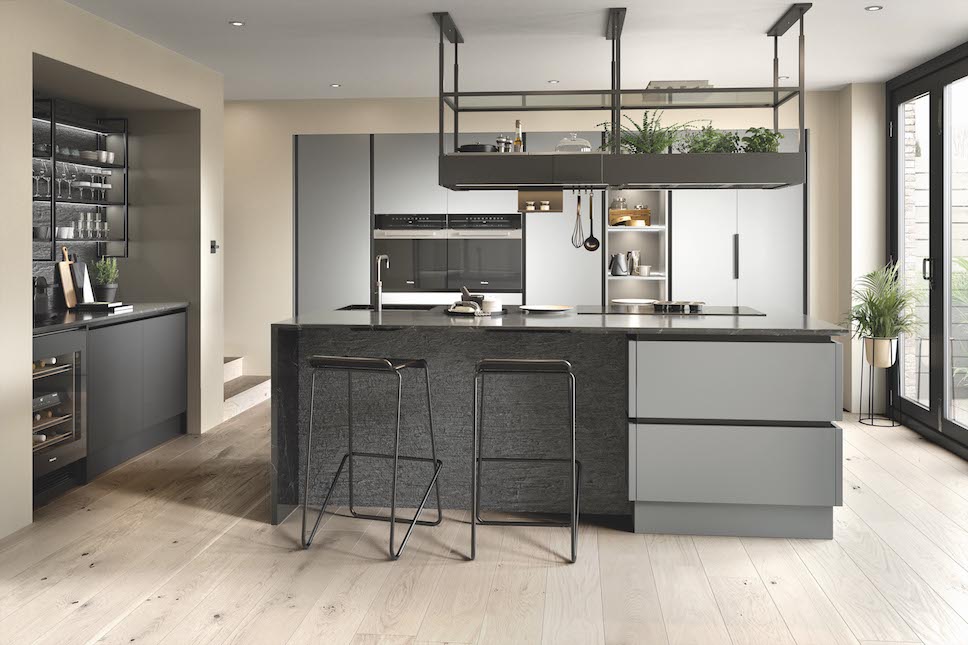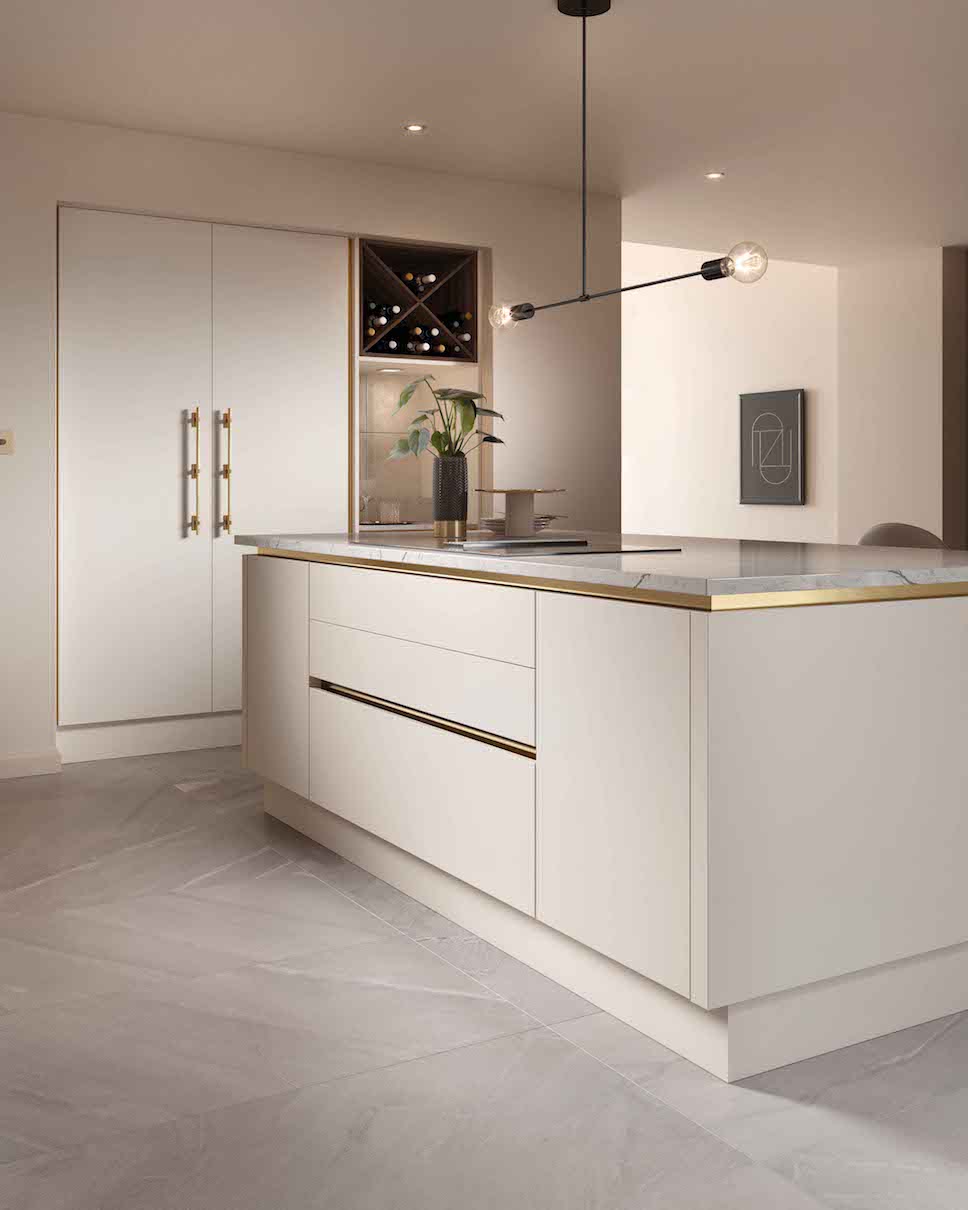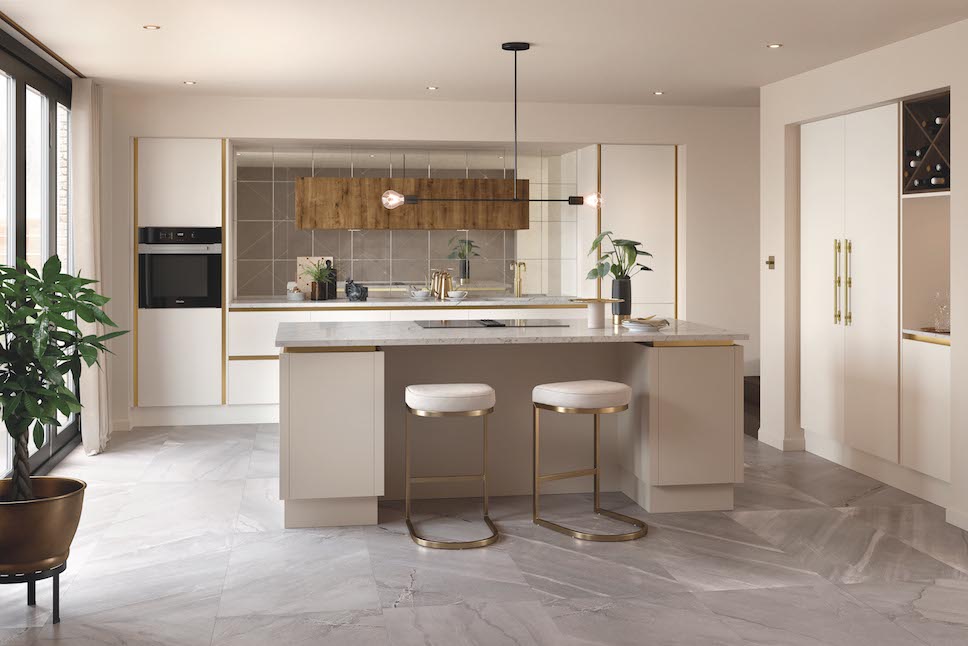 Make it Structured
If you're torn between a more industrial design and the benefits of more traditional cabinetry, Life Kitchens' Make it Structured collection blends these two opposing themes into a truly unique kitchen offering. Showcasing a more modern take on a Shaker design, the brand have carefully curated compact Stanton cabinetry in Putty to stand beautifully alongside dark-toned Fossil worktops, resulting in an unusual – but aesthetically pleasing – outcome. You'll want to revel in the details this design offers too. Discover the Le Mans corner solution for the ever-temperamental pots and pans cupboard, not to mention the timber herringbone breakfast bar, open and fluted glazed shelving and modular shelving.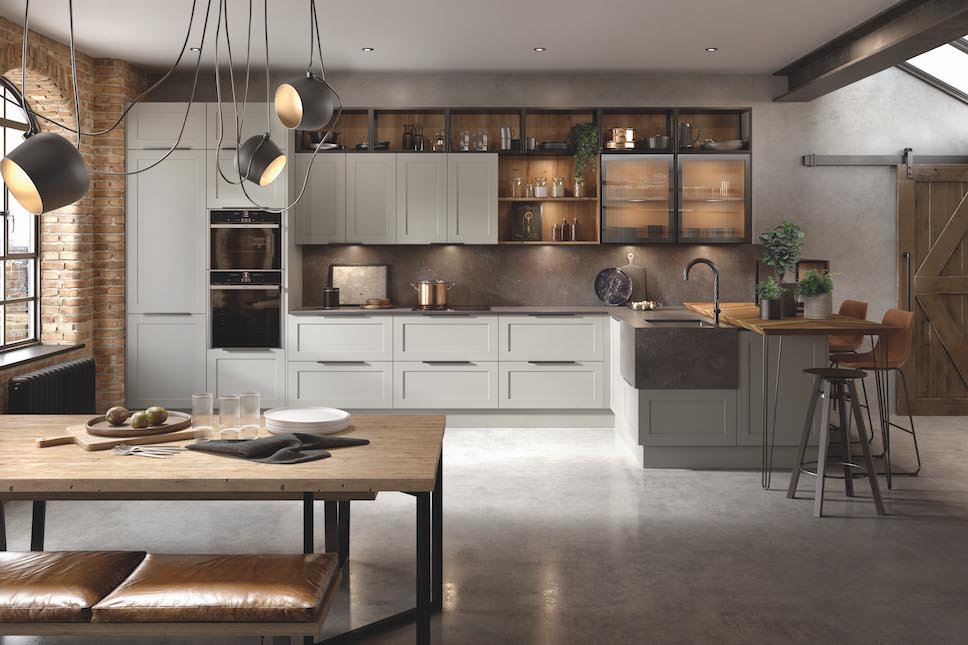 Make it Vivid
Inject a little colour into your new collection with Life Kitchens' Make it Vivid line. "Reminiscent of Mid-Century with subtle hints of retro," the brand have crafted a linear aesthetic by fusing a mix of materials with a palette of pleasing colours. Combining Capita cabinetry – in new Regiment green – with Mid-Oak textured panelling and decadent brass highlights, they have created a kitchen that will warm and immediately appeal to the senses. Mirroring the feel of an island, the design's U-shaped structure is the best of both worlds, allowing for extra counter space and a sociable feel. The open, geometric frame of the modern kitchen dresser will also appeal, injecting warmth as well as extra storage solutions into the layout.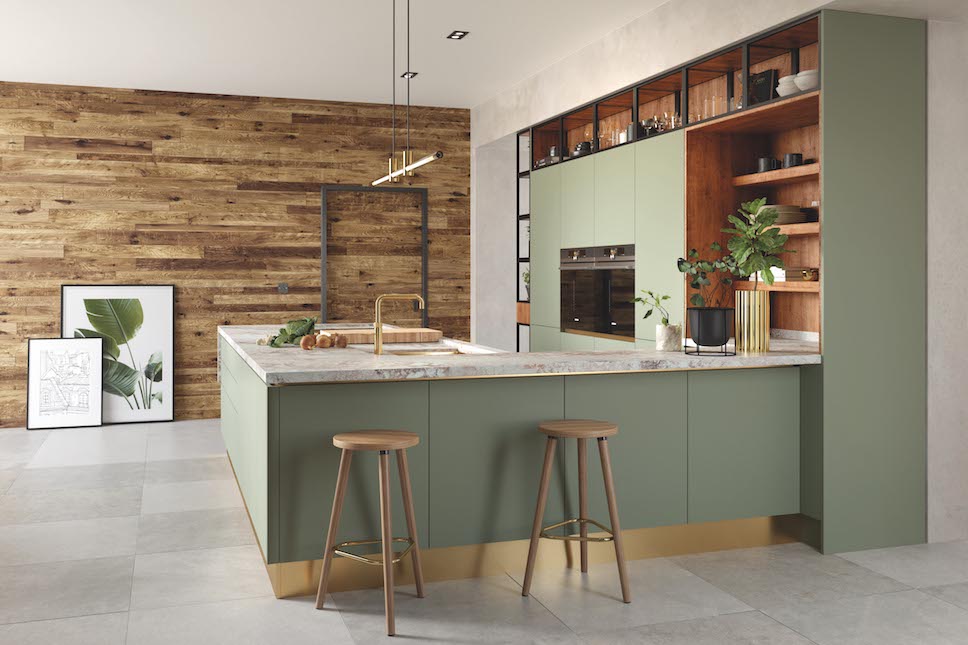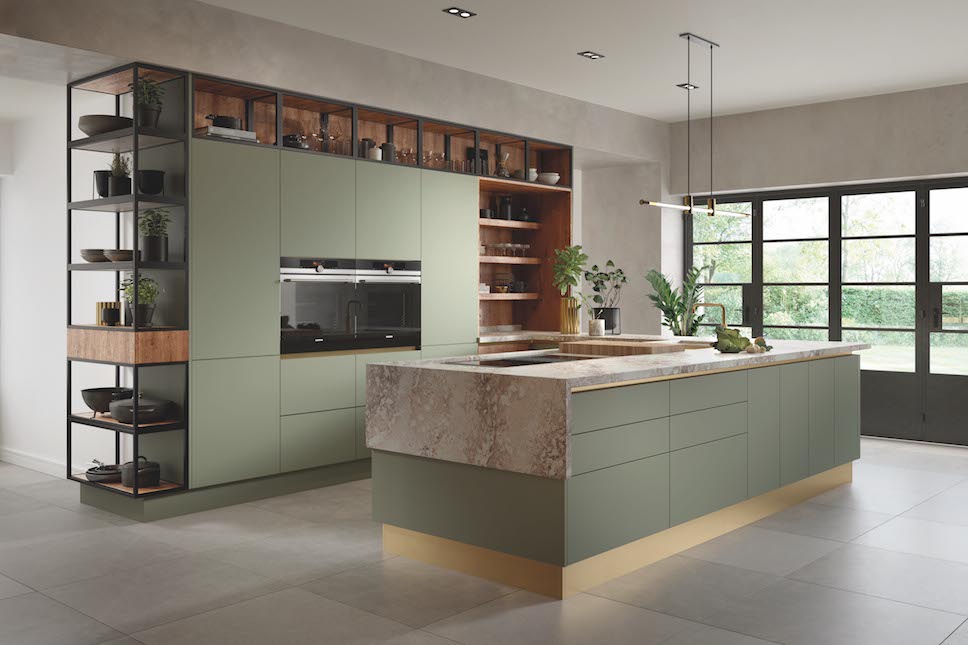 All kitchens start from £25,000.
To discover more from Life Kitchens, click here.
For more design stories on enki, click here.