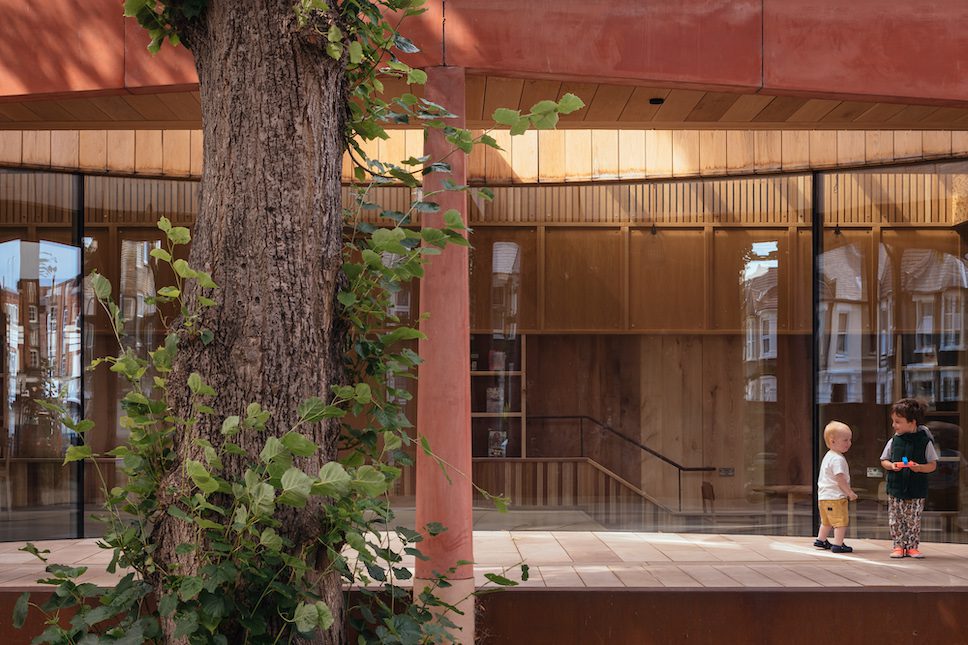 Studio Weave has sustainably extended the Grade II-listed Lea Bridge Library in East London to accommodate a new café and an adaptable community hub.
Forming a now revived heart for the Borough of Waltham Forest, the pavilion's design is the result of Studio Weave's exploration into the changing role of the library in modern civic infrastructure. The new 250 square-metre wing, which sits behind the existing Edwardian red brick library along the west boundary wall, enhances the library's connection to its gardens and offers places for visitors to work, learn, and socialise.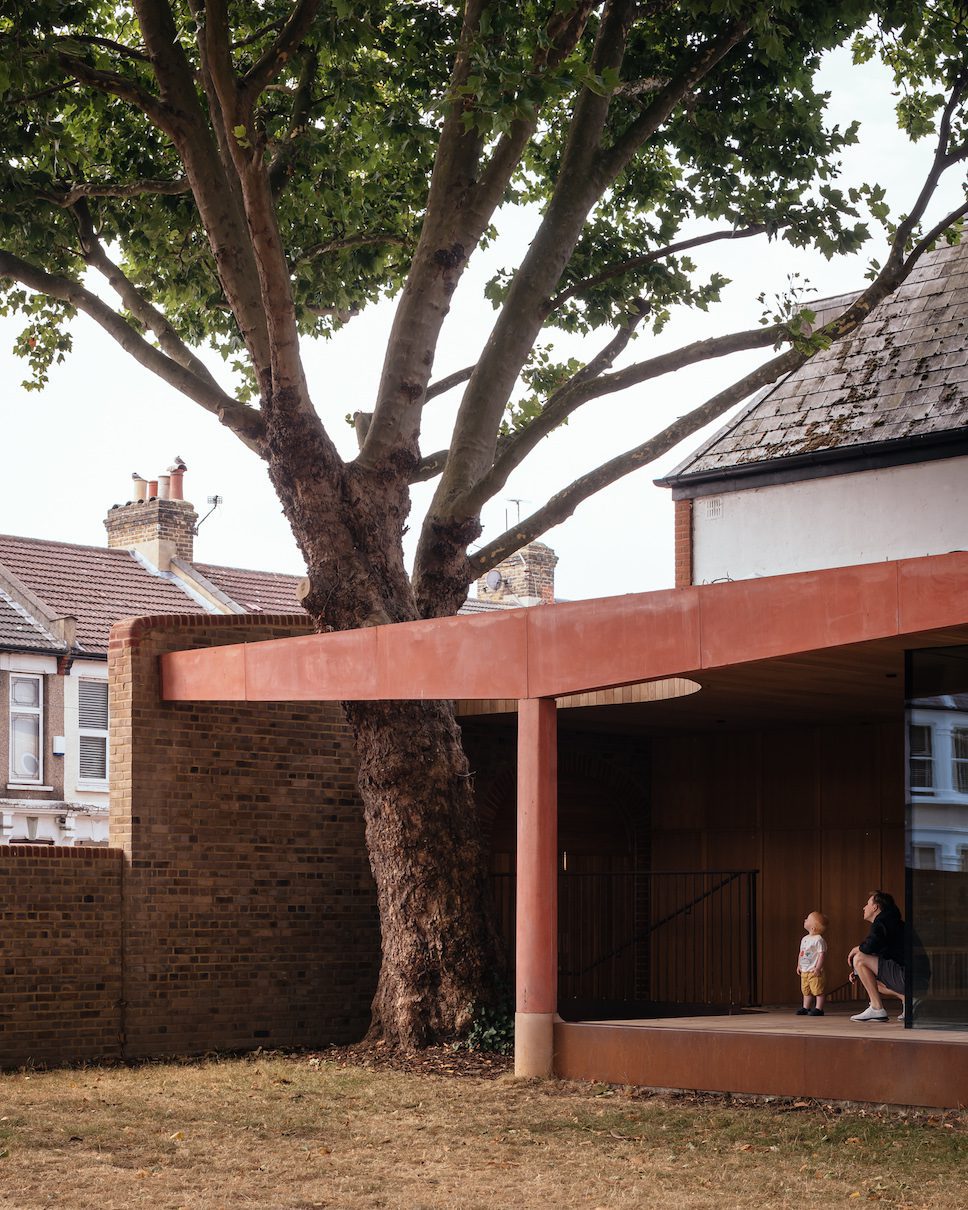 "We envisaged the Lea Bridge Library extension as a hybridised public space; a new town hall with wider opportunities for citizens to participate more fully in public life," explained Je Ahn, Director at Studio Weave. "Hybridised public spaces combine and maximise collective resources, and are unexpected engine rooms for community connection."
The old and new work in harmony here as the architects used the existing western garden wall as a structural spine, allowing it to anchor the structure and bulk of the building to one side, and open up the connection to the mature green space. High-strength, cantilevered timber beams support a stretch of overhead glazing and a floating ceiling of timber battens, forming a sheltered area and social outdoor space.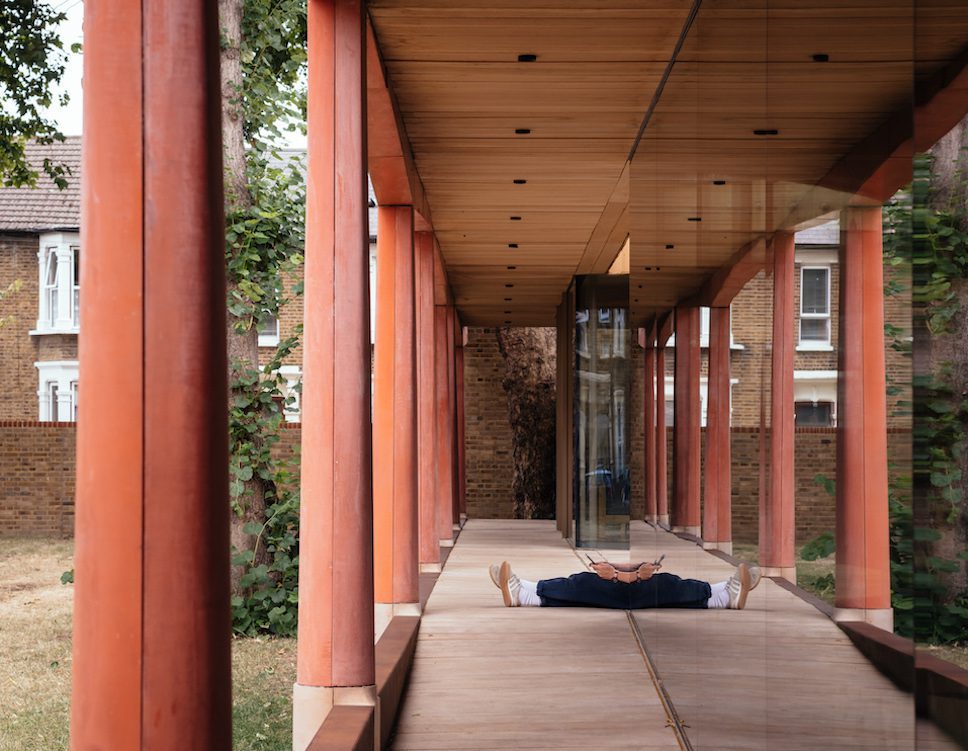 Adaptive reuse and sustainability were key in the revival of the library, which is characterised by its rectangular floor plan punctuated by a striking semi-circular glass cut out. Over 25 cubic metres of salvaged timber of felled trees from local parks has been used to craft all the internal joinery and furniture timber, and natural cross ventilation and passive cooling were considered when planning the glass wall and positioning of the ceiling.
"The pavilion curves in and steps up at a central pinch point to protect the root system of a close-neighbouring mature Common Lime tree. We used this momentary squeeze in the plan, created by the sweeping concave glass, as an opportunity to divide the pavilion," adds Je Ahn.
Considering accessibility and the flow of the floor plan, the architects have created an open-plan layout which can be adapted for a multitude of cultural, recreational and community activities. There are two new access points, drawing visitors in through the gardens at the side and rear of the site, and importantly bypassing the quiet zone of the library.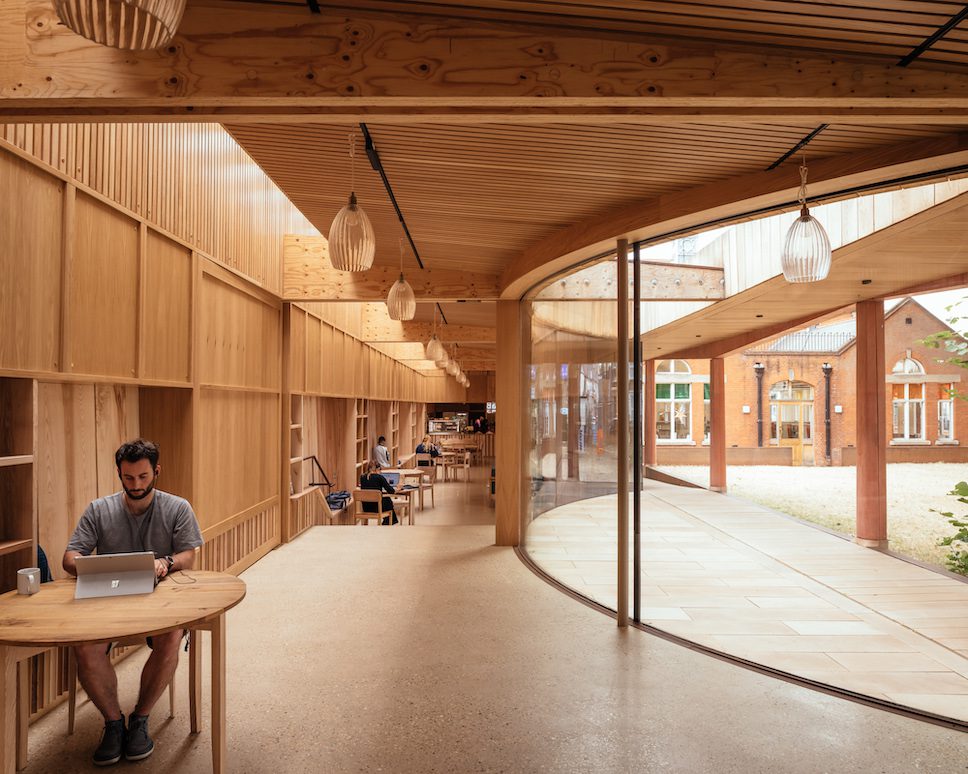 A full-length wall of fluted timber joinery connects bookshelves with built-in banquette seating, forming interspersed open reading 'rooms'. Whilst this area functions as a communal reading and work space, there are also 'hidden' areas that accommodate private events: a pivoting timber door hangs flush with wall joinery when closed, and swings open to reveal the events space. This addition will be not only a valuable community asset but it will bring in a further revenue stream for the library going forward.
The strong connection between the architecture and the community is forged through its considered materiality and is felt throughout the interiors. Warm and richly grained timber, sourced from locally felled trees, has been salvaged and turned into beautiful joinery and furniture by Studio Weave in collaboration with furniture maker Sebastian Cox. A combination of Sycamore, Ash, London plane, Holm Oak, Poplar, Horse Chestnut, and more, has been used to craft custom tables, chairs, and sofas, and bring a feeling of the outdoors in.
"The Lea Bridge Library project is a terrific example of how we can repurpose publicly owned assets to better address local needs, one of the key aims of the Good Growth Fund. By revitalising and extending the existing library with such a high-quality piece of architecture, the space will offer a more diverse range of uses for the benefit of the local community whilst promoting an exemplar approach to environmental sustainability," affirmed Jules Pipe, Deputy Mayor for Planning, Regeneration, and Skills.
The project was supported by £411,000 from the Greater London Authority's Good Growth Fund, and Studio Weave is currently working on the second phase of the library's development which involves re-landscaping the garden and adding play facilities. Due to be completed by summer 2023.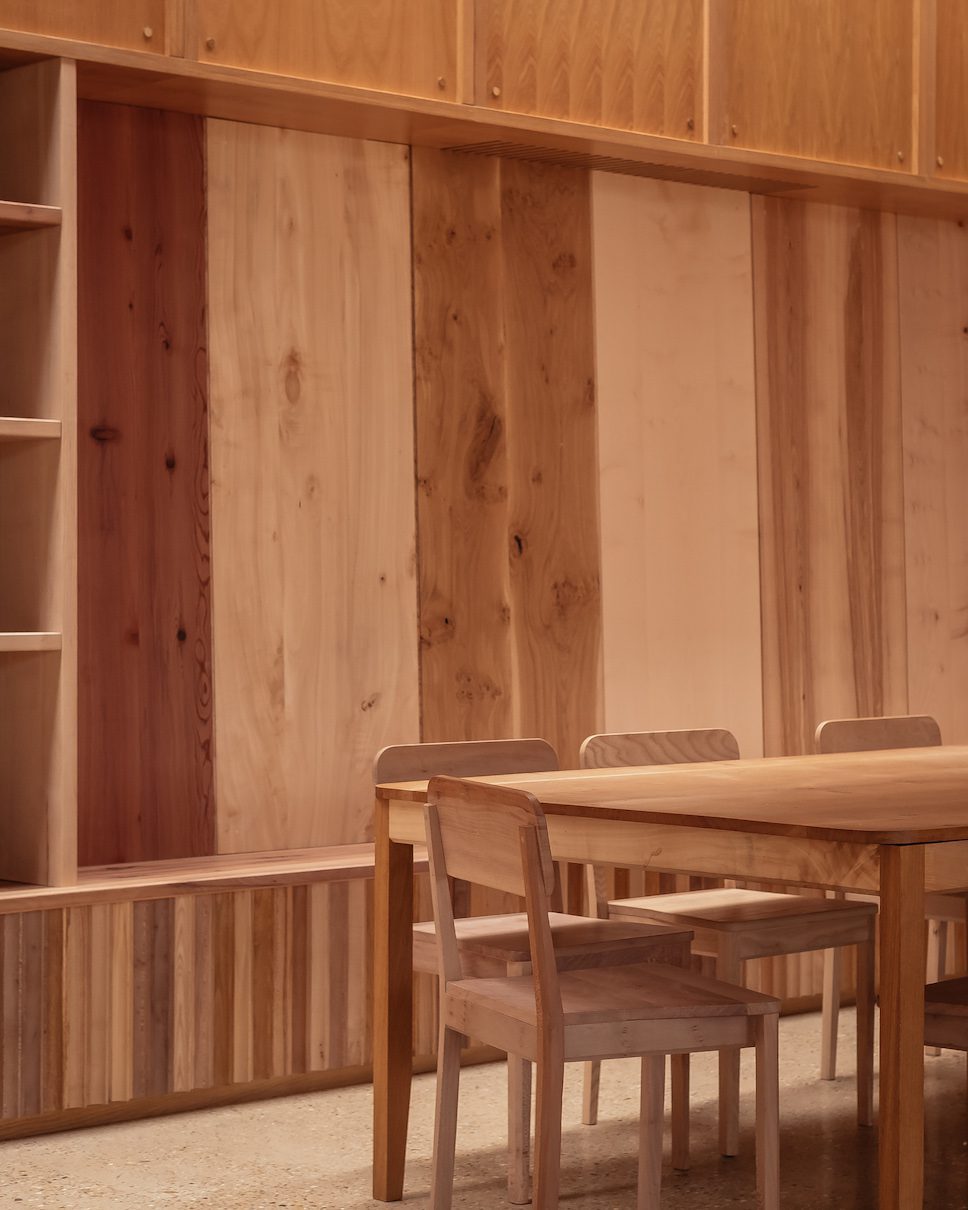 Project details:
Location: Leyton, East London
Project size: 250 square metres
Site size: 1,660 square metres
Architect: Studio Weave
Client: London Borough of Waltham Forest
Structural engineer: Timberwright
M&E consultant and Quantity surveyor: NPS London
Landscape consultant: Studio Weave
Furniture and carpentry: Sebastian Cox
Photographer: Jim Stephenson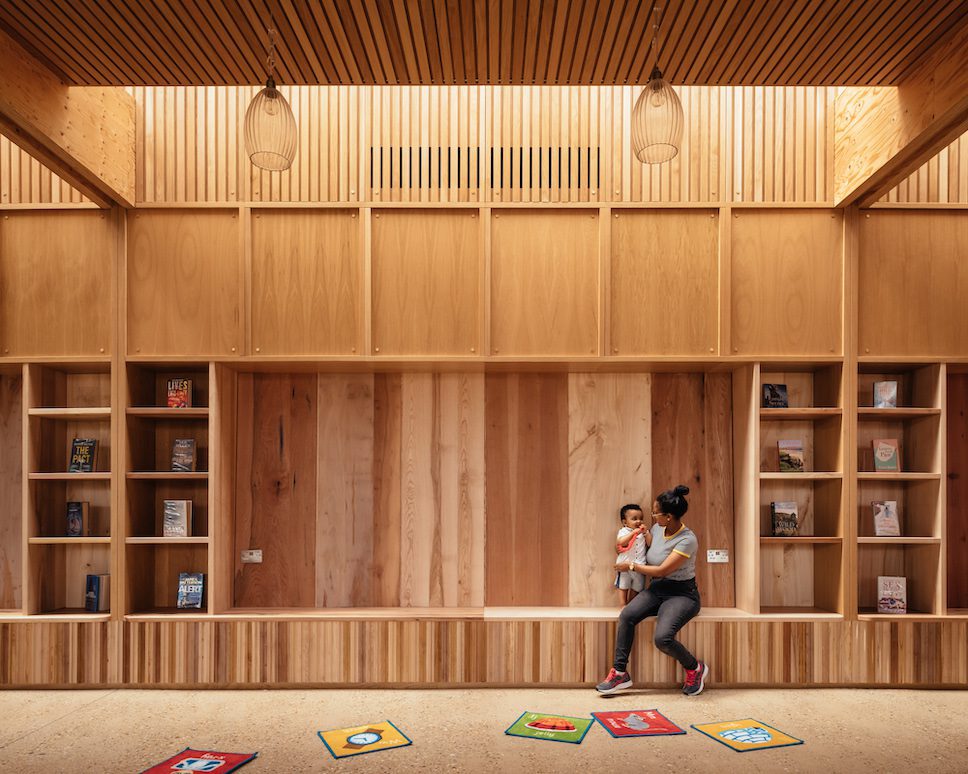 See more architectural projects by Studio Weave, including a double-storey timber extension which creative reinvents a Devon cottage which is an artist's retreat.
Discover more creative uses of timber, from the One Tree project by SCP to the New Library at Magdalene College at Cambridge University, which won the 2022 RIBA Stirling Prize.