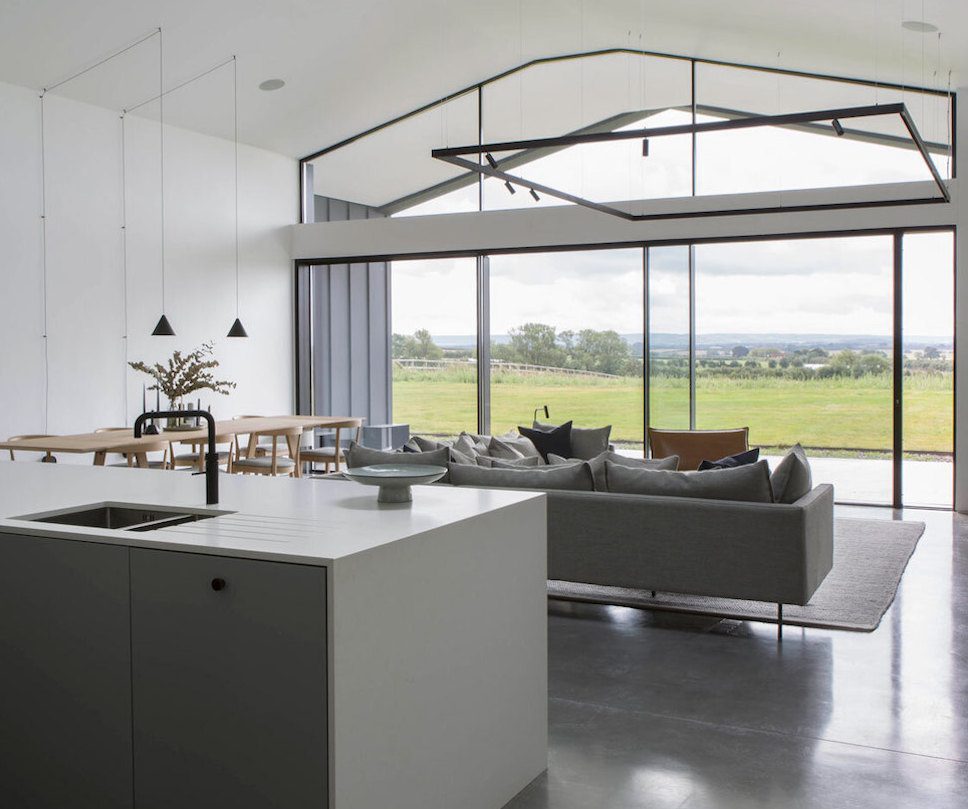 Inside a striking Dutch barn conversion, Lazenby has used sleek polished concrete to offer durability and drive the sustainable focus behind the renovation project.
From the outset, environmental considerations were at the heart of this National Low Carbon Build Project. In fact, in 100 years from now, Crinan Barn's concrete installation "can be reabsorbed into a sustainable building cycle", according to Lazenby. The agricultural barn conversion also features black aluminium and shadow gap timber cladding, amongst other features, chosen to ensure the building is as green as its lush Buckinghamshire surroundings.
The barn's original concrete base and frames were reused before Lazenby installed a single concrete ground floor slab with underfloor heating. The beauty of the polished concrete is subtly revealed, particularly when natural light floods in through the triple-glazed, floor-to-ceiling windows. For the rest of the project, it was paramount that any new materials were sourced locally in order to reduce the carbon footprint.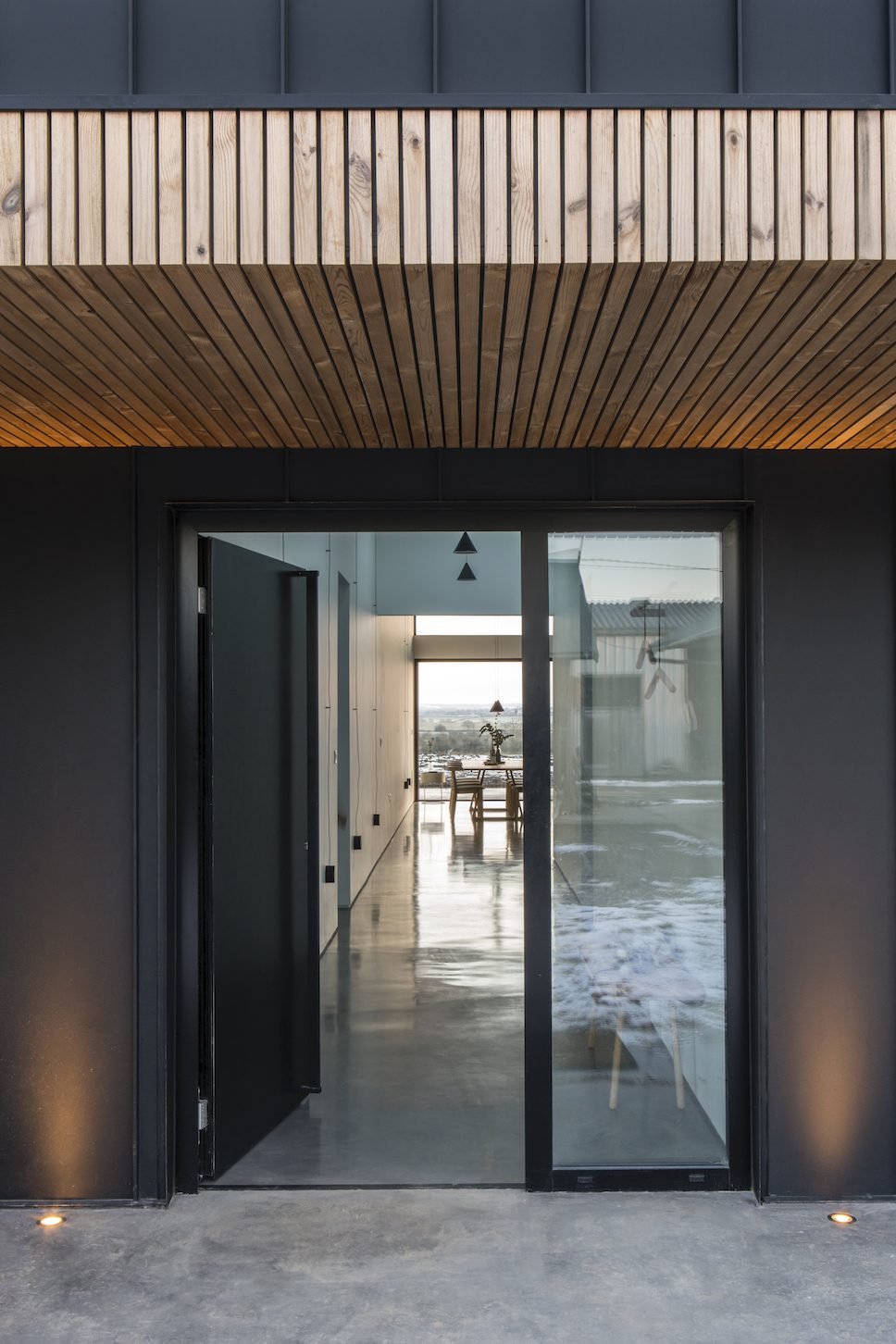 "Concrete is an exceptional thermal conductor, and it absorbs heat from direct sunlight, storing and releasing it slowly," explains Ben Young, sales manager at Lazenby.
"In the summer months, with the sun is high in the sky, the concrete floor is shielded by the barn canopy so the house stays at a comfortable temperature. The concrete absorbs cool air from natural ventilation, releasing it during the day as temperatures increases."
Of course, sustainability doesn't mean compromising on style and interior design. The Iron Grey polished concrete is perfectly paired with the minimalist Scandi-inspired interiors and contemporary architecture. For Lazenby, it is all about shifting perspectives about this raw material that lean towards the "urban jungle" image, and focus on highlighting its green credentials.
"Many projects that we have worked on have achieved the highest possible BREEAM rating, the world's longest established method of assessing a building's sustainability," adds Ben Young. Concrete is mainly comprised of abundant renewable resources and it's fully recyclable. Each installation has an average lifespan of a century and the initial carbon output is outweighed by longevity, making it an appealing choice.
Project details:
Location: Long Crendon, Buckinghamshire
Architectural plans: HollandGreen
Creative design: Last Interior Design
Contractors: Barr Build
Bespoke furnishings: Barr Joinery
Kitchen and utility: Barr Kitchens
Photography: Lucy Walters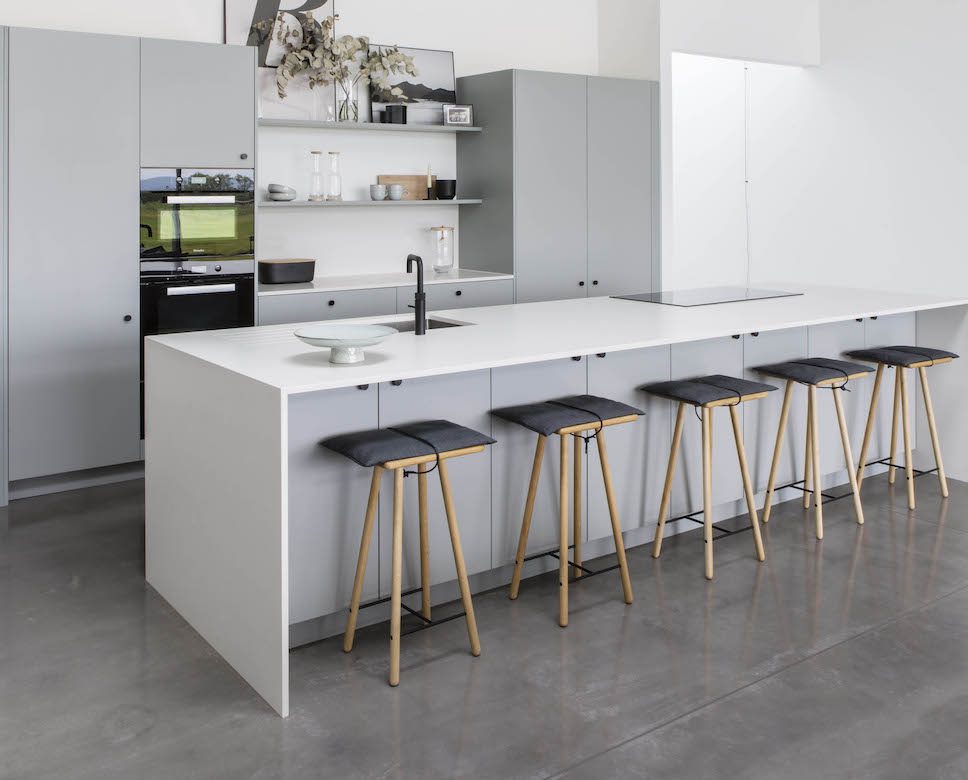 Take a look at the full range of polished concrete flooring by Lazenby and discover how style meets sustainability.
Discover more real home case studies and gather lots more architecture inspiration on enki.