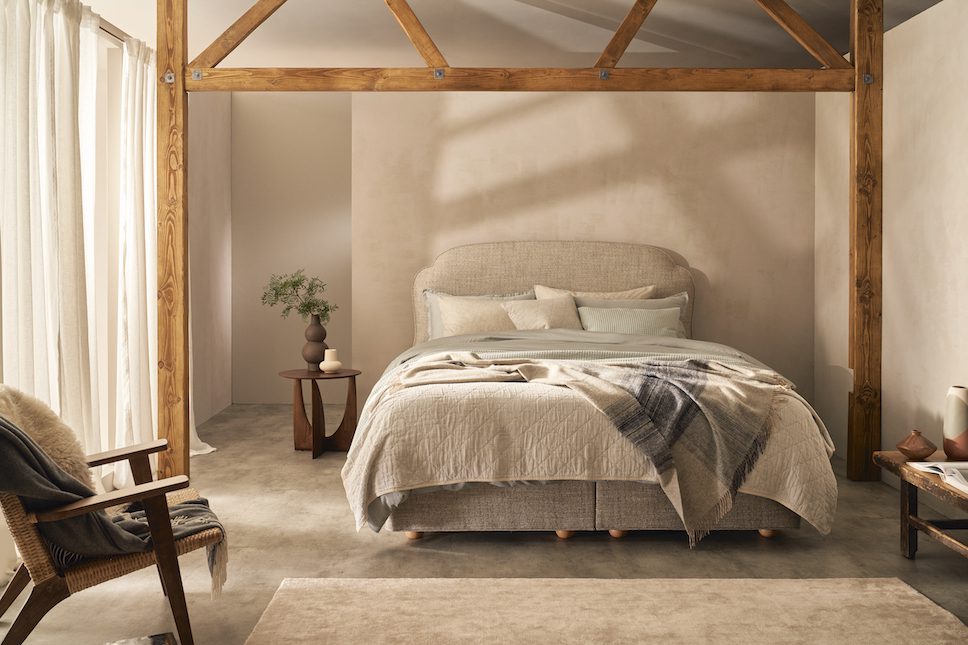 In collaboration with Exmoor wool farmers, Vispring has introduced its luxurious, limited edition Lana mattress filled with the naturally renewable wool from one of Britain's oldest native sheep breeds.
The luxury bedmakers are using the fine quality Exmoor Horn wool to highlight its benefits as a soft, springy fleece, but also to postively contribute to the continuation of the rare sheep breed. Also, for every Lana mattress made Vispring has generously committed to paying a charitable donation direct to Exmoor Horn farmers who care for the sheep on the upland areas of Devon and West Somerset. Not only do the sheep provide this sumptuous wool but they also helped create and now maintain the Exmoor landscape.
Crafted by hand, the Lana mattress is made with comfort and longevity in mind and it is also fully biodegradable. Added to the Exmoor Horm wool filling is a mix of cotton and a soft material called TENCEL™ which made from a sustainable fibre produced from tree pulp. This combination of natural and renewable materials form the key ingredients of the mattress providing its luxurious, cushioned feel.
Coinciding with The Campaign for Wool's Wool Week throughout October, this new launch celebrates the natural and renewable qualities of British wool fibre and really proves how sustainable choices can make a real difference to so many areas of life, from nature to our local communities.
The Lana mattress is available exclusively at And So To Bed. Prices start from £1,970.
See more handmade beds and mattresses from Vispring.
Find more design news stories on enki.