Escape the whirlwind of shoppers with Rockland Centre's new culinary experience, La Cuisine in Montréal.
Behind the renovation of the food court, was a collaboration between architect firms, Humà Design + Architecture and Architecture49. The firms worked together with the client to redefine and relaunch the culinary experience for the centre, feeding off the commercial centre's vibrant history.
The Rockland Centre's original concept was devised by architect, Victor Prus who designed a centre that breathed luxury with its open walkways and polished events. Respecting his work, the firms were inspired by the idea of a large skylight and the concept of offering visitors a moment of calm and quiet luxury. The only aspect kept from the food court's original design, was the diversity of eaterys on offer.

The inspirational thread of the skylight is sewn throughout the firms' design plans with a large opening towards Acadie Boulevard allowing for lots of natural light to flood through the space (which previously, was only artificially lit). We particularly like the way in which the architects' have brought the outside in with the integration of vegetal interior inserts. This idea of sub-spaces is pushed further across the project, by allowing for the various food offerings and atmospheres from each brand to feed across La Cuisine seamlessly. Featuring comfortable alcoves kitted out with copper and greenery, visitors will instantly delight in the material palette used by Humà Design + Architecture and Architecture49. Carefully curated wood, copper and leather sit calmly next to clean marble, allowing for the space's custom-designed lighting to take centre stage.
At the heart of La Cuisine lies a central island, which was created with a dining-room spirit in mind. Elsewhere The Chef's Kitchen brings a sense of activity and knowledge sharing to the table, while Food Truck 'islands' provide temporary restaurant installations for various restaurants on a three month pop-up period allowing for the taste of street food to enter the La Cuisine arena and for foodies to return to explore news flavours. Finally, to support the concept of the garden – which flows throughout the project – a large terrace is included within the court, while an exterior outside space has been designed with fireplaces, making La Cuisine suitable for all of the Montreal seasons.
Learn more about Humà Design + Architecture here and Architecture49 here.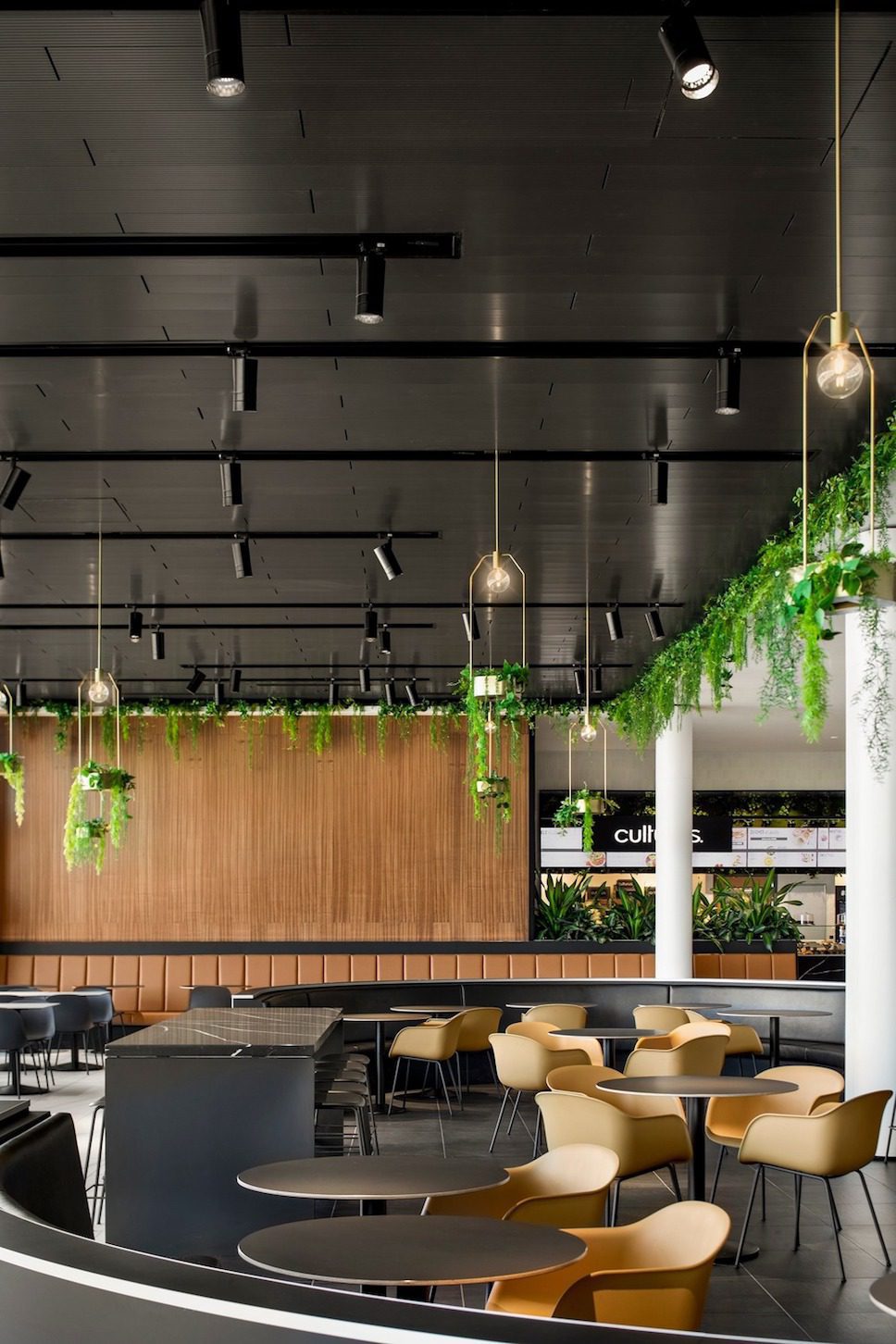 Project notes:
Project: La foire alimentaire du Centre Rockland
Place: Ville Mont-Royal, Québec, Canada
Client: Cominar
Photography: Adrien Williams
Area: 35,500 sq ft
Interior design: Humà Design + architecture
Architecture: Architecture49
Engineers: GBI
Lighting: Lightemotion (Concept by Lightemotion, Humà Design + architecture and Architecture49)
Custom-made lighting: Luminaire Authentik (design by Humà Design + architecture)
Exterior furniture: Restoration hardware
Interior furniture:
Muuto (Distributed by Buro vision)
Pedrali (Distributed by Cab Deco)

Cabinetmaker: Expo rénovation
Metal (columns and suspended structures): Carritec
Flooring: Centura
Vegetation: Vertuose
Project sourced from v2com