Perched on the shores of Lake Ouareau in Saint-Donat, Canada lies the contemporary family shelter, La Barque designed by award-winning architecture firm, ACDF Architecture.
Inspired by the client's love for northern landscapes and showcasing a unique, curved ceiling reminiscent of a boat hull, this clean-lined, modern design captures a peaceful, serene atmosphere – reflective of its surroundings – where the family can rest between ski and waterski activities.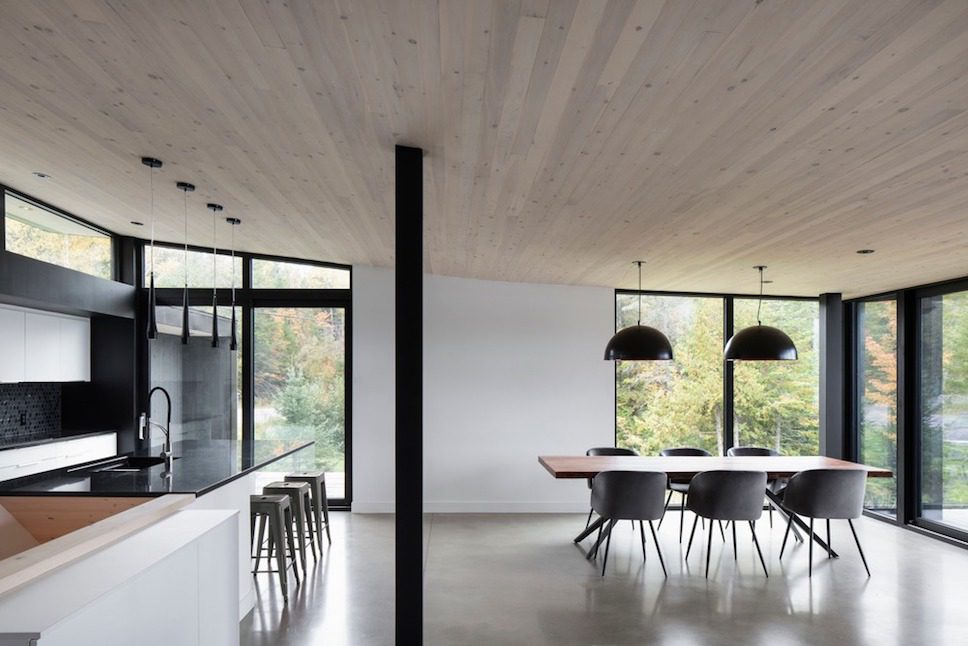 ACDF Architecture created a structure that is strongly influenced by its surroundings and the site's characteristics. The house is effortlessly protected from any unwanted attention on the street side of the project, not just by being nestled between the road and lake, but because of the build's carefully thought through dislocated façade that runs an exterior wall behind the house which also plays host to – and hides – a barbecue and pizza oven. The project takes full advantage of the lake side, completely opening itself up to the nature of the plot with carefully orchestrated openings and the extensive use of glass.
The dark prominence of the structure hides a unique, hand-carved secret within: a beautifully crafted curved wood ceiling unfolds inside, creating a reassuring, supporting presence to the owners. The wood ceiling also aids the distribution of light throughout the property, particularly along the top level of the build where the entrance, kitchen, dining room and two main bedrooms are located. The elevated terrace sits under the rise of the curved roof, allowing for the owners to indulge completely in the beauty of the landscape that lies before them, and in the summer built-in mosquito nets shield the residents so they can enjoy the outside space all-year round.
ACDF Architecture have created a haven with a palette of simple materials that indulges in slowing down, relaxing and refuelling. The project becomes one with the landscape, bringing the outside in and allowing for its inhabitants to really indulge in the beauty of nature and its calming qualities.

PROJECT NOTES:
Client: withheld
Location: St-Donat-de-Montcalm, QC
Project end date: 2018
Area: 2800 sq ft (260 m2)
Budget: withheld
Architects: ACDF Architecture
Architectural team: Maxime-Alexis Frappier, Patrick Morand, Kassandra Bonneville, Yoanna Anastassova, Mireille Létourneau, Romilda Reda
Structural engineers: Latéral, Ingénieurs en structure Entrepreneur: Marion & Gauthier, Entrepreneurs général
Photographer: Adrien Williams
Project sourced from: v2com newswire