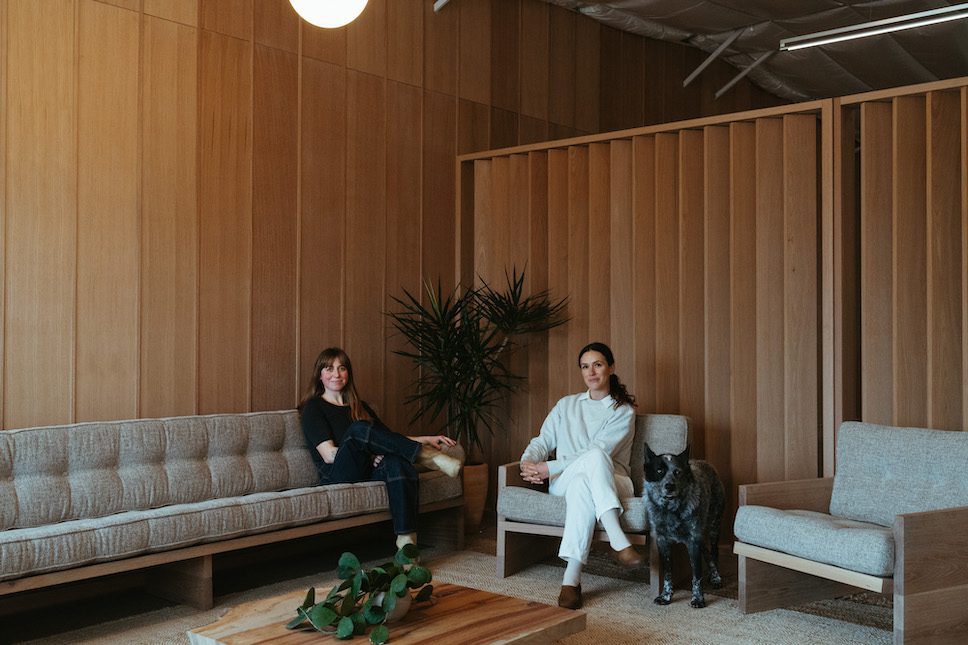 Using a modular system, Austin-based KKDW Studios has designed the mood-boosting interiors for the offices of Yoga With Adriene founder, Adriene Mishler.
In close collaboration with famed yoga teacher Adriene, KKDW Studios founder Kelly DeWitt has created the flagship headquarters for the yoga subscription app Find What Feels Good (FWFG) in East Austin, Texas.
The 5,000-square-foot (465-square-metre) barebones office space, an empty metal shell punctuated by a high-gloss, yellow-tinged concrete finish, offered the opportunity to turn this blank canvas into a flexible and modular working environment embodying warmth.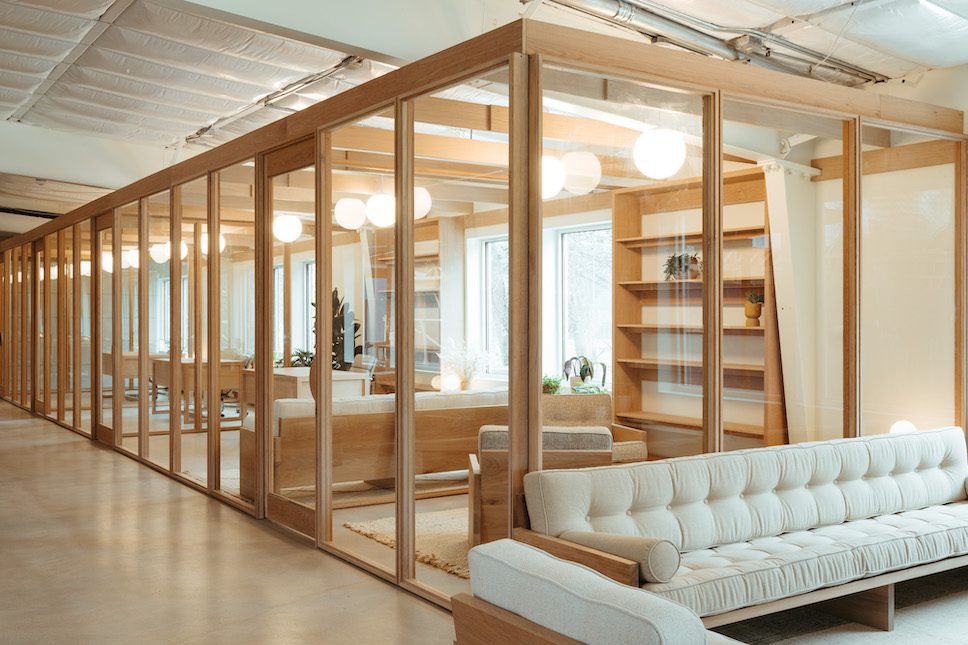 With a goal to design moveable and otherwise non-permanent pieces that can be delivered and installed in the space to allow for immediate use, team focused on making a space that would function as an office and as a studio for the team to film videos.
"The idea behind the entire build was to give the FWFG team a place to feel inspired, to play around and experiment, and most importantly to feel good in," explains Kelly DeWitt.
"It was really important to me that the entire space have a welcoming, homey ambiance. I wanted anyone entering to feel warm and inspired. Walking into the space should feel like a deep exhale."
To inject a welcoming sense of warmth into the space, careful thought went into the material choices and ways to layer texture whilst keeping a calming, pared-back aesthetic. Wood plays a key role, featuring in the panelling, partitioning, and furniture, creating a contemporary look for the office and complementing the matte grey concrete floors.
In the Welcome Lounge, KKDW Studios designed a wall with pivoting slats so Adriene and her team can adjust the light as needed, particularly when filming. These touches of detail and flexibility are also seen throughout the linear offices, with multifunctional storage spaces and open but private meeting areas.
One end of the floor plan creates a comfy lounge area with a sofa surrounded by lush greenery, and at the other there's an open-plan kitchen. These distinct areas accommodate visitors and offer welcoming co-working space, alongside glass-walled break-out rooms.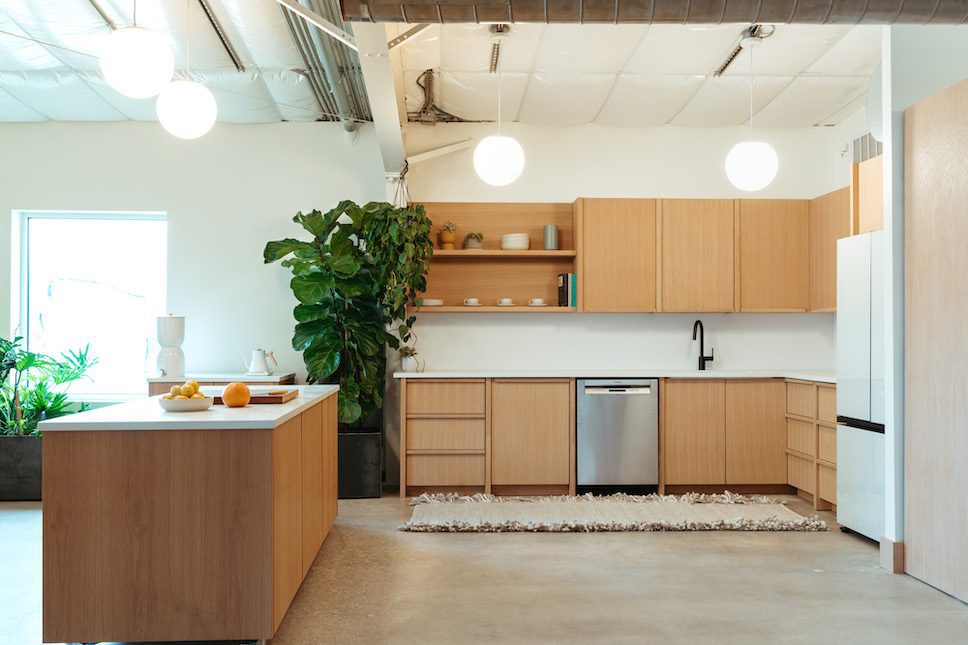 DeWitt's team has considered the future-proofing of the headquarters and how it can evolve with the growing team with the incorporation of this modular system. For instance, the kitchen island, bar cart, and workstations are all mobile, the timber-framed offices are bolted together, and the planters have hidden casters so they can be moved to other places if desired.
"Everything is our original design, inspired by Adriene and her team," KKDW Studios explains. "It's all bolted together or on wheels so that the FWFG team can move planters or tables around to make the space (or the shot, if they're filming) work for them."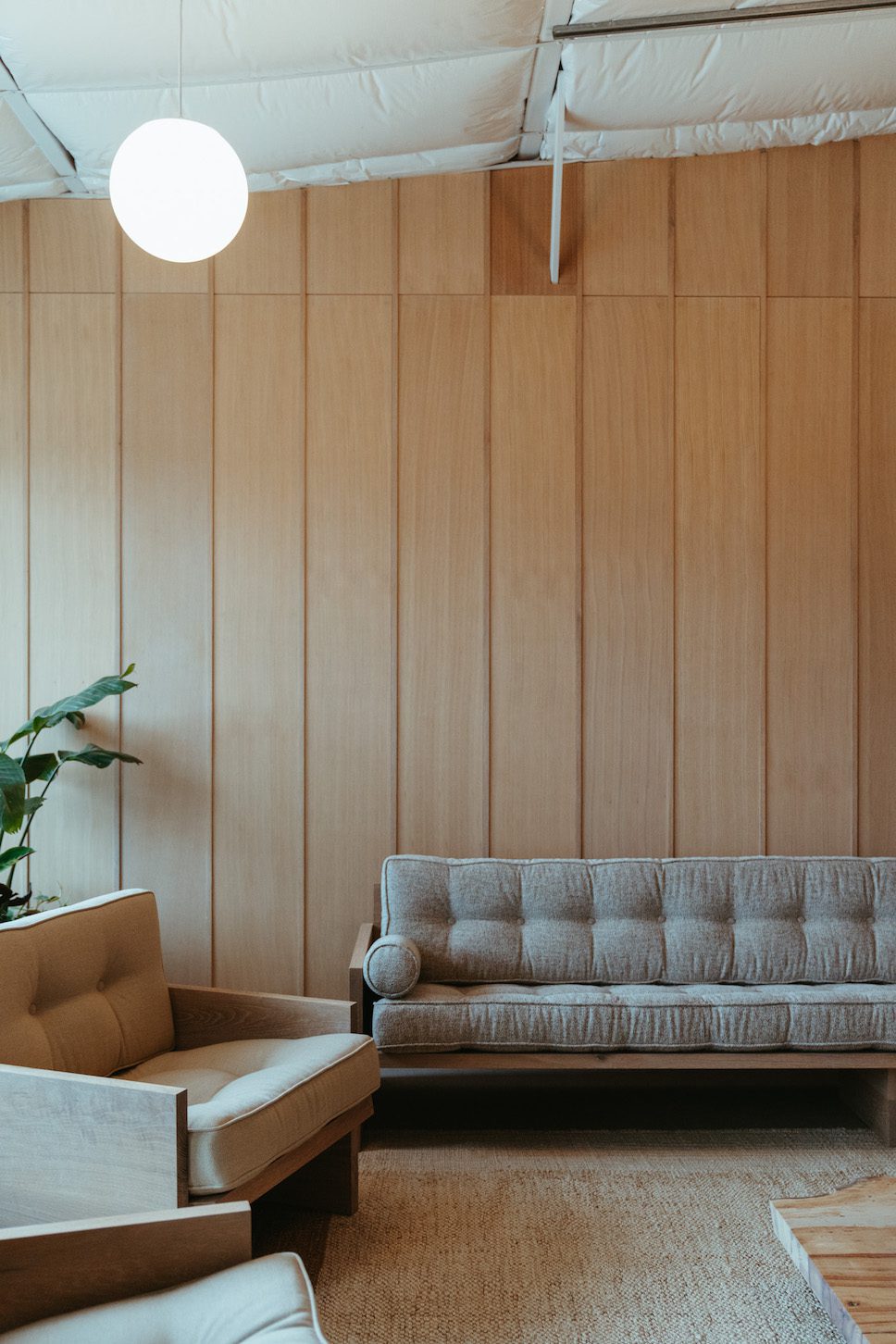 Facing the windows is an uninterrupted 80-foot (24-metre) wall which is used by Adriene and her team as a backdrop for filming yoga videos that are available through their app and YouTube channel.
In total there are three core office spaces, a flex space library, a sound booth, three co-working lounges, and three large communal workstations. All of these areas are furnished with completely custom designs that meet the needs of the team.
"Working with Adriene has made this one of the easiest and most fulfilling projects," says Kelly DeWitt. "There was a level of trust and love that allowed us to create exactly what we set out to do–build a warm, welcoming space that embraced the growth and innovation of Adriene and her team. I am very proud of what that collaboration achieved."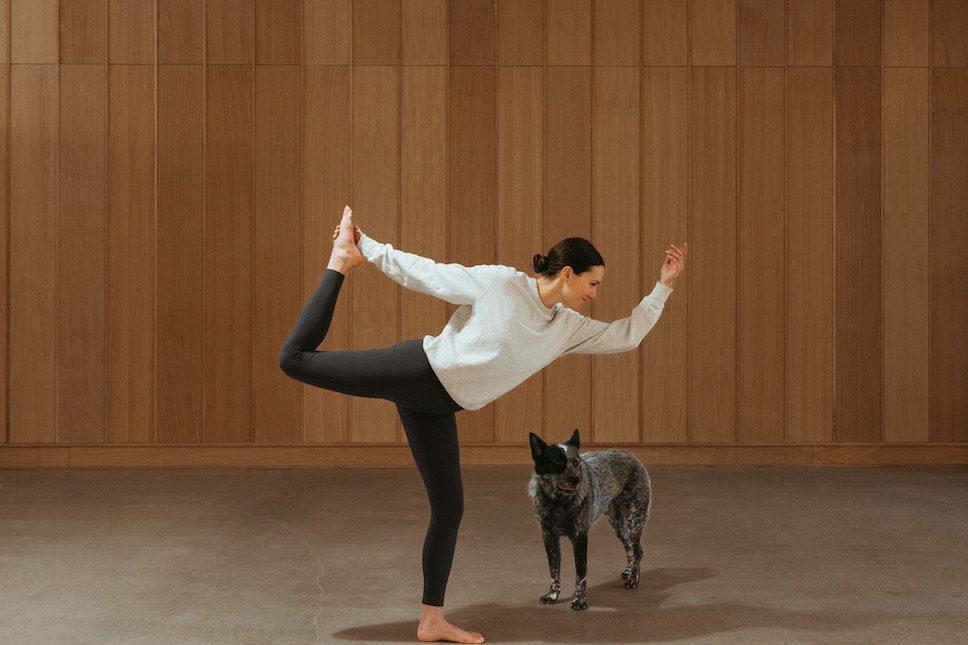 Photography is by Kelly DeWitt and Andrea Calo.
Learn more about the creative spaces and immersive environments designed by KKDW Studios.
Read lots more design news on enki, including the opening of the beautiful new Noma Kyoto pop-up restaurant in Japan.