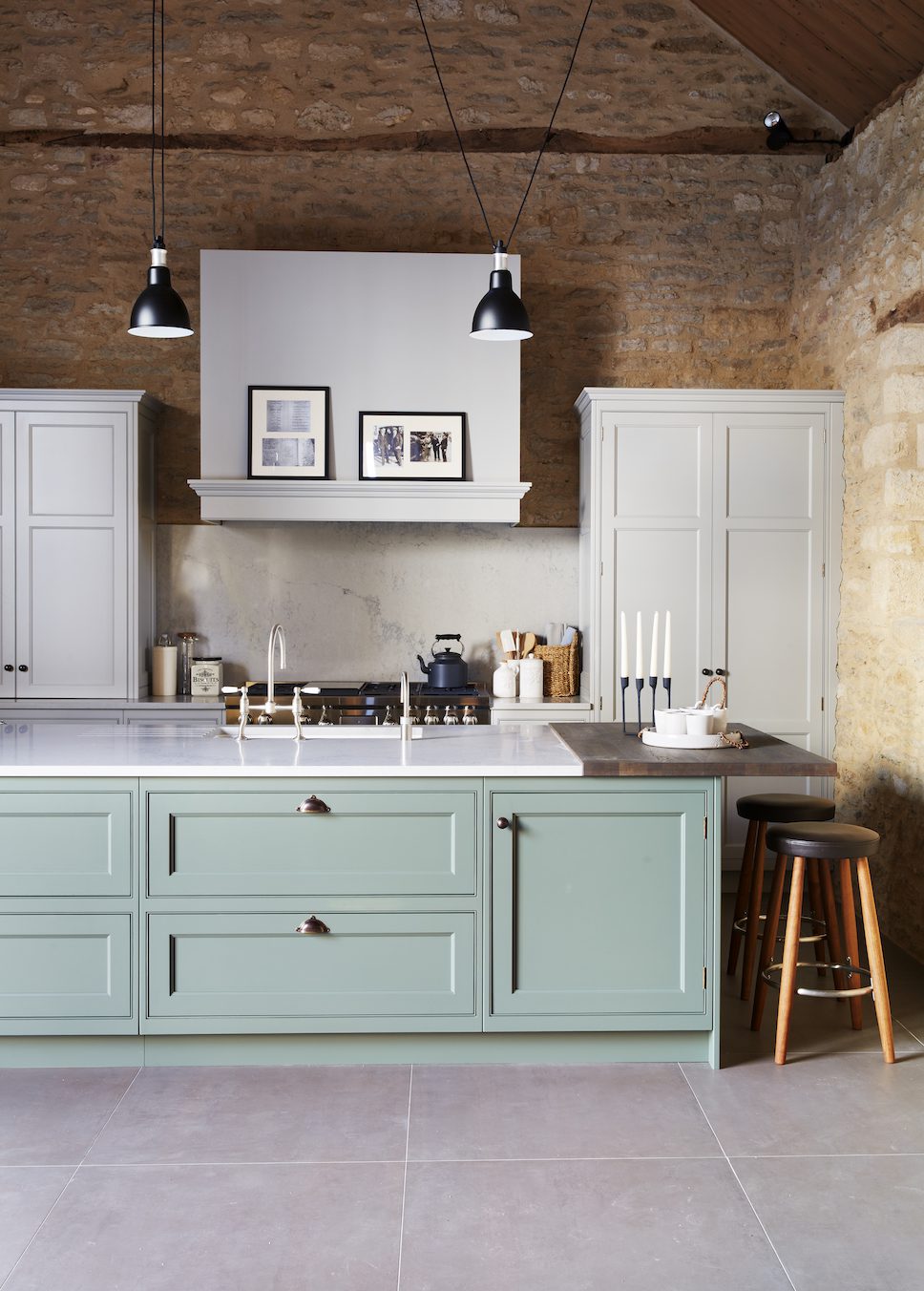 Family-run business, Kitchen Architecture is known throughout the industry not just for their exceptional client service and ability to create beautiful living spaces, but for being one of bulthaup's largest global retailers. The brand have kick-started the year in style, with the unveiling of their carefully curated – and sensitively restored – new destination centre, Brasenose Farm, a 17th century Oxfordshire farmstead that was previously a working farm.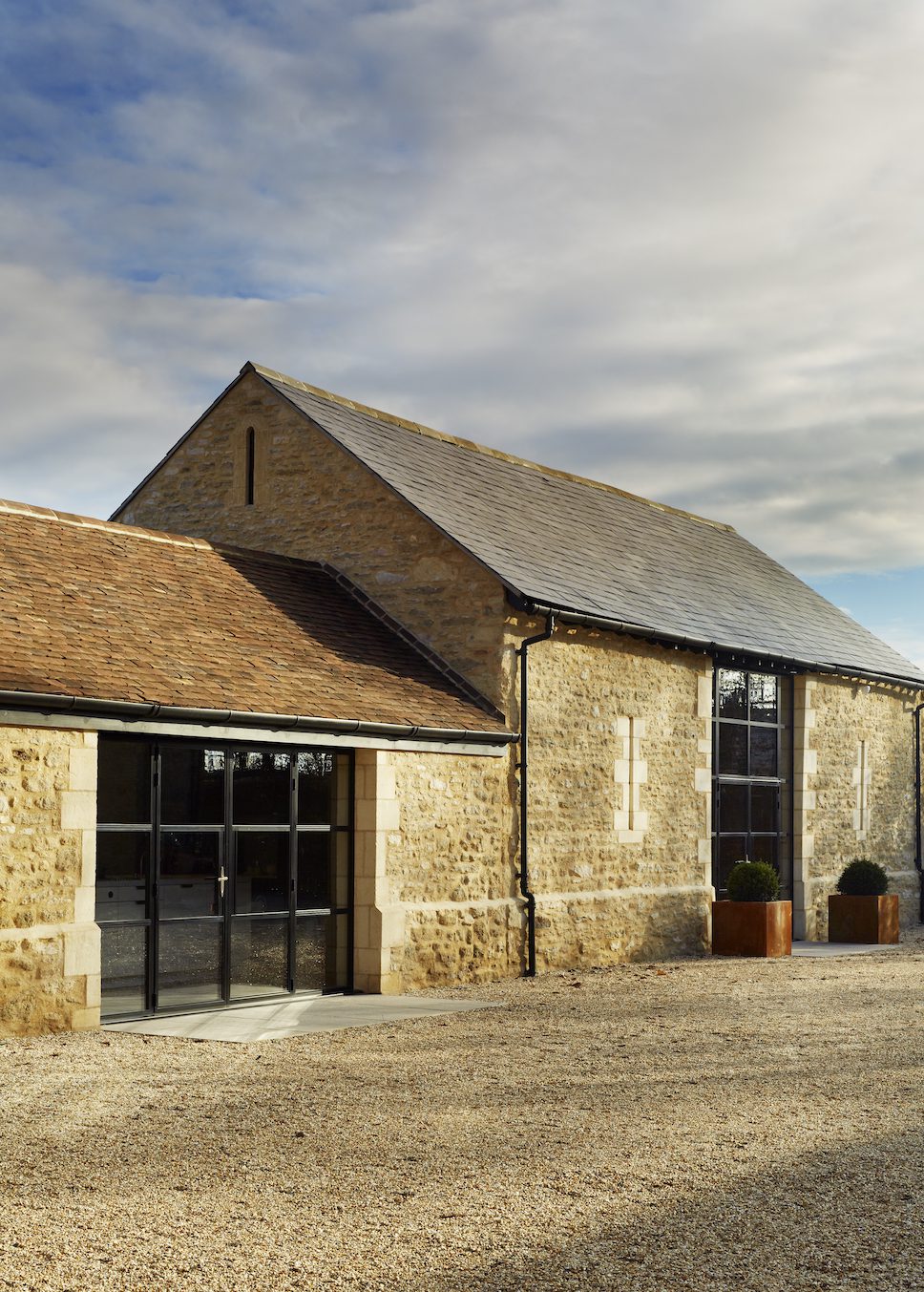 The new destination centre not only promises customers a truly indulgent brand experience, but has been specifically chosen, as you'll discover from our interview below with Rob Gelling, owner and managing director of Kitchen Architecture, because of it's charming heritage and key location on the Oxford ring road. Kitchen Architecture's considered restoration of the property not only breathes new life into the farm, but pays homage to the building's legacy by working and restoring the build with locally reclaimed materials.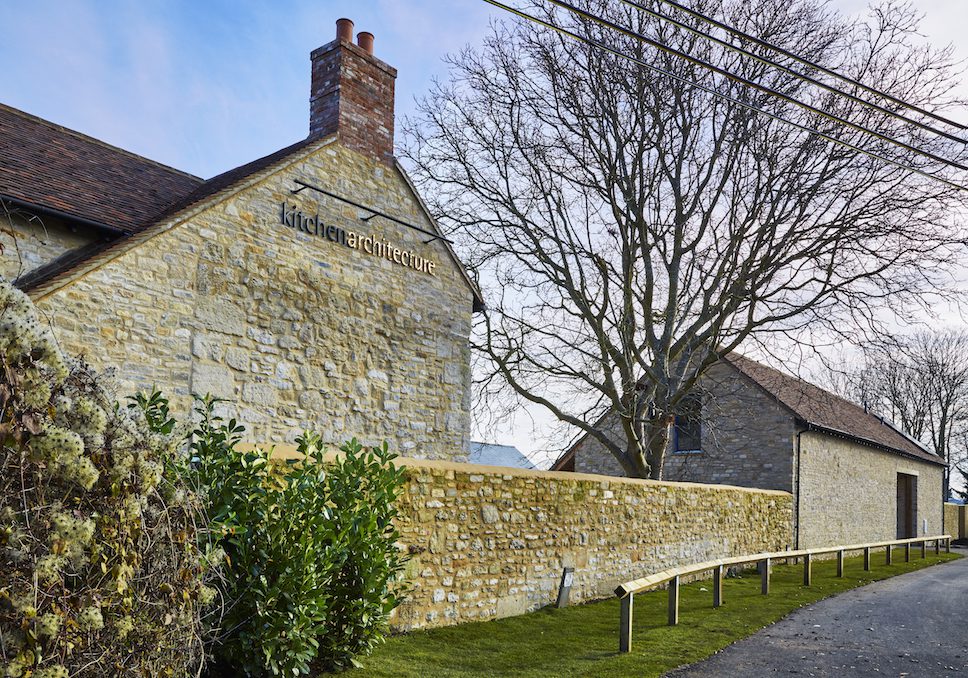 #1 What was your initial reaction when you first laid eyes on Brasenose Farm? What drew you to the farm and made you realise its potential as a design showroom? What state was the farm in before the restoration began?
"I have always wanted Kitchen Architecture to be in a Landmark building on the Oxford ring road. When I visited Brasenose Farm, I knew this had the potential to be the answer I had been looking for. It was derelict but had a unique history, it was once the childhood home of William Morris (Lord Nuffield) and had great heritage, and I just thought we could make it really special – this could be the Daylesford of the Kitchen Industry. The farm was council owned, unloved for decades and completely derelict. It was completely unfit for human habitation. The Threshing barn was open to the elements and used as storage by the local allotment society."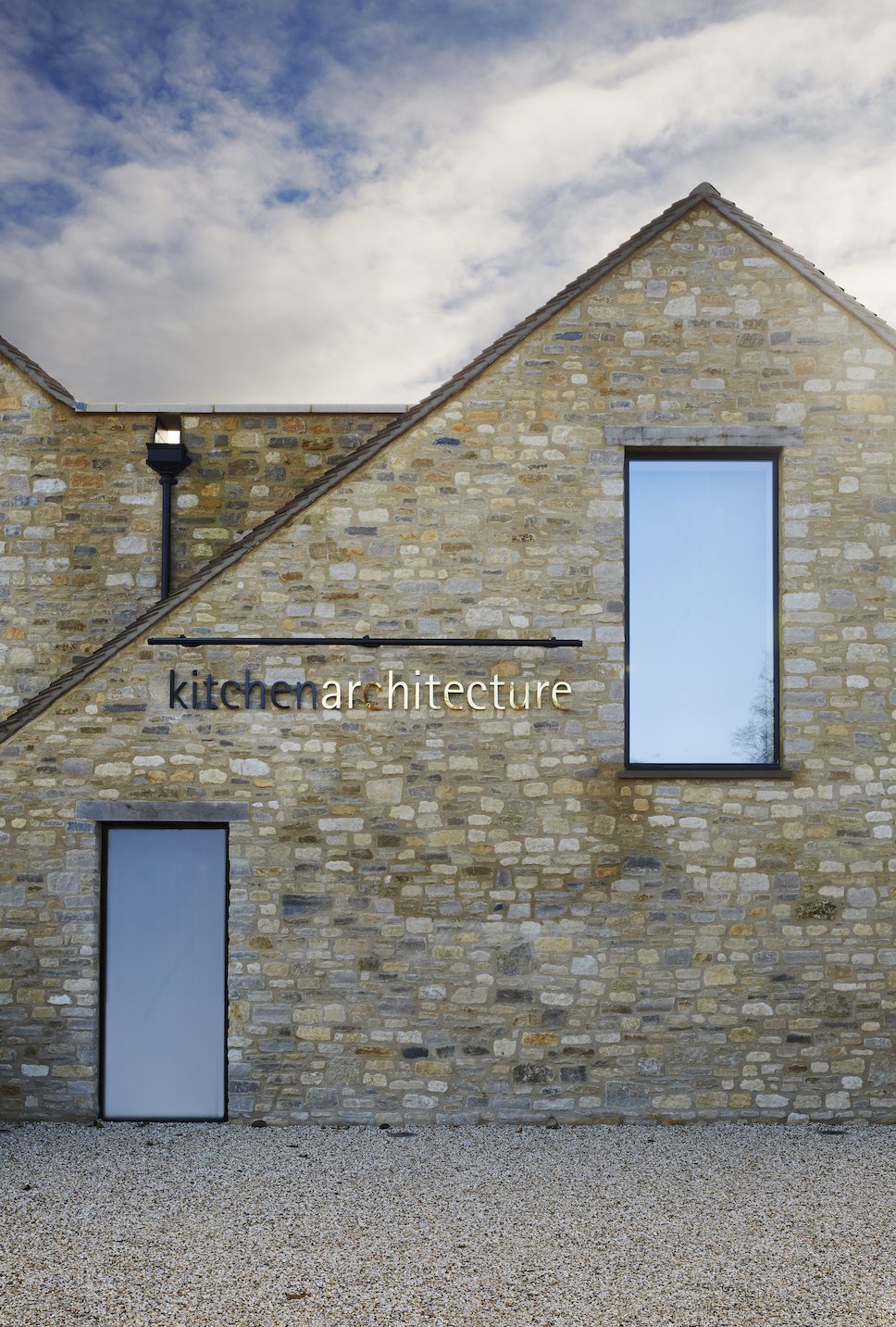 #2 We love how the 17th century folk art (carved into the restored Cotswold stone) contrasts so strongly with the clean lines of the bulthaup kitchen by Kitchen Architecture. How did you ensure this balance between contrasting materials hit the mark?
"The folk art in the threshing barn is wonderful, when I walk into that space it feels like a Cathedral, it's so inviting and friendly. I have worked in high end contemporary living spaces for 30 years, the vast amount of the 4000 + projects we have done have been period properties. The juxtaposition of the old and the new gives you the best of both worlds and just feels complete. Personally, I love the humanity of a stone building, knowing every rock has been touched, worked, turned and laid. Both my grandfathers were brick layers and I have been involved in development from a young age. I live in a grade 2 listed brick works (opposite an old limestone quarry) which we completely refurbished, and have developed a derelict stone farm previously in France, so I knew what to expect with Brasenose. We set Kitchen Architecture up in Oxfordshire 20 years ago with the full knowledge that we needed to educate people that just because you have an old house you don't have to lead an out-dated lifestyle and we have worked tirelessly since making period homes more conducive to modern living and in turn adding value to their sociable living space and the property."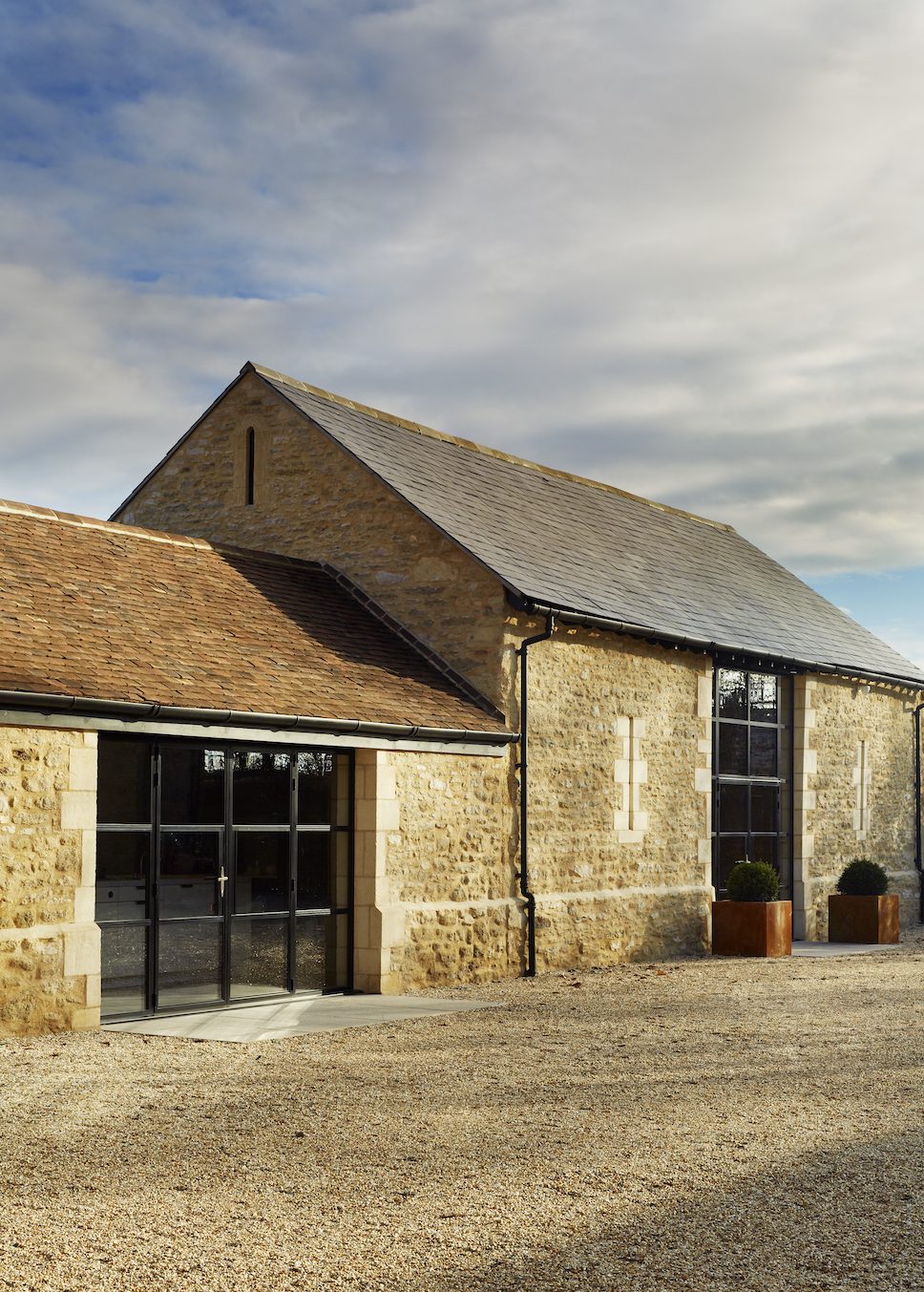 #3 Talk us through the material palette for the project. What was your goal in terms of this?
"We used the traditional elements of stone, wood and metal (mild/black and corten). We didn't really deviate from these materials in any part of the project. The Oxford preservation trust were involved in the property at the start and we wanted to do a sympathetic restoration that put a sad, disused, forgotten building back on the map. I truly believe that it is now a landmark building that could be in use for another 300 years."
#4 With 22 displays running throughout the new design centre, how did you approach the layout of the project? Did certain spaces speak to a specific design by Kitchen Architecture? How did you curate a flow between the spaces and ensure that each zone resembled a real-life living space?
"Our purpose is to provide sociable living spaces that adds value to a client's lifestyle and home. Clients have become absorbed with 1000's images of interiors from digital media, their expectations when taking the effort to actually visit a specialist are bigger than ever before. The small high street showrooms that we used to have just can't facilitate their needs any longer. With the 8,500 sq feet that we now have at Brasenose Farm we have moved from just one main product to six and have established three main design centres in Wilmslow in the north, Putney in London and now Oxford in the South. The journey through these design centres is key, as is the obsession with detail. The main Farmhouse and reception houses our core bulthaup brand which we are one of the largest retailers in the world for and have worked hard over 30 years to demonstrate that its clean understated lines and materials can work fabulously in any building, old or new. The stables and threshing barn houses our Teddy Edwards and systemKA ranges together with our fabulous range of Outdoor kitchens by Roshults – seriously you need to come to one of our bbq parties! The large barn plays host to our Italian ranges of Rimadesio living and bedroom furniture and the uber cool Agape bathroom ranges which you arrive at via detailed bespoke dressing areas. All of the displays have the classic Kitchen Architecture style developed for sociable living, but all the buildings and the individual spaces in them are different and unique and hopefully clients will feel that there is a little bit of inspiration around every corner."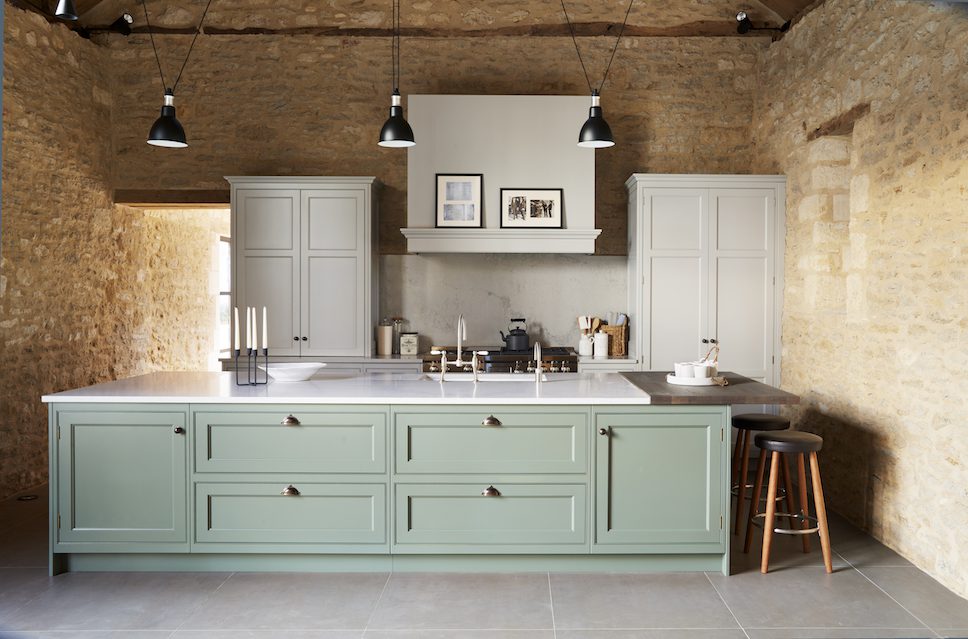 #5 As well as the restoration of the old farmhouse, the stable block and the barn at Brasenose Farm, was anything built from scratch? If so, how did you ensure that the new build would fit seamlessly in with the original structure?
"We found old maps of the Farm from the 1800's showing that it was originally the classic 'horseshoe' shape farm yard and also an old photograph. The left hand leg (the long barn) had disappeared and we managed to convince the planners that it should be re-instated. We built the new barn in limestone and used traditional tiles and materials externally. We then sand blasted all the stone work on all the buildings to make the new build fit seamlessly and complete and compliment the old farm yard. Everyone who visits believes that the new barn has always been there. Internally we took the opportunity on this building to make it very contemporary using concrete and glass which helps to provide variety when moving from one space to another. What we did want to ensure was that all the buildings and all the spaces have soul! If they don't clients will be left feeling cold and we want clients to leave feeling that Brasenose Farm was the most exciting and inspirational place for living spaces that they have ever been to."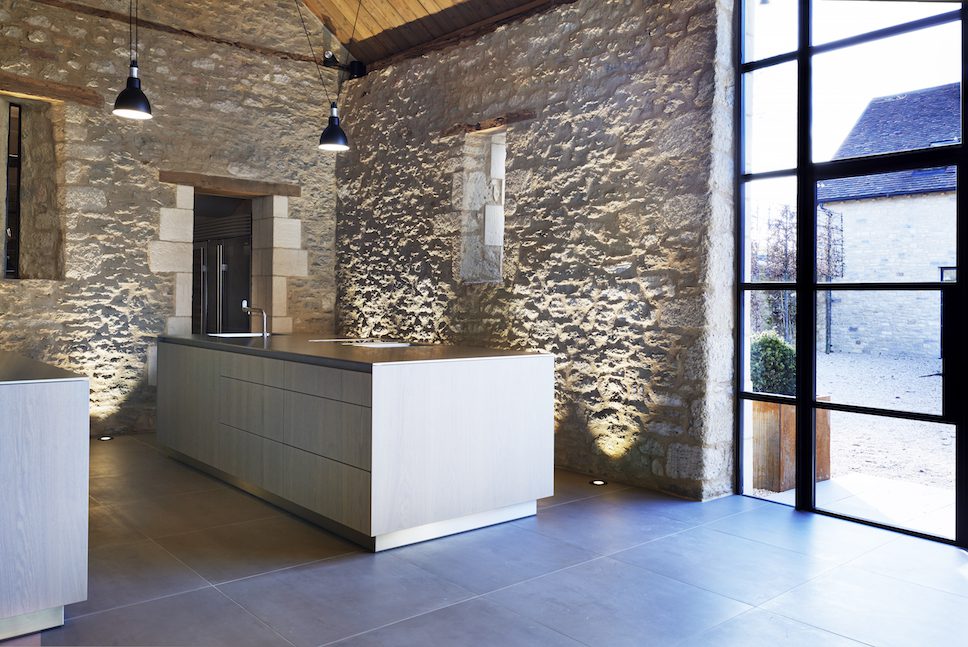 Doors to Kitchen Architecture's new destination centre are now open.
For more information about the destination centre and Kitchen Architecture, click here.
For further design stories on enki, click here.