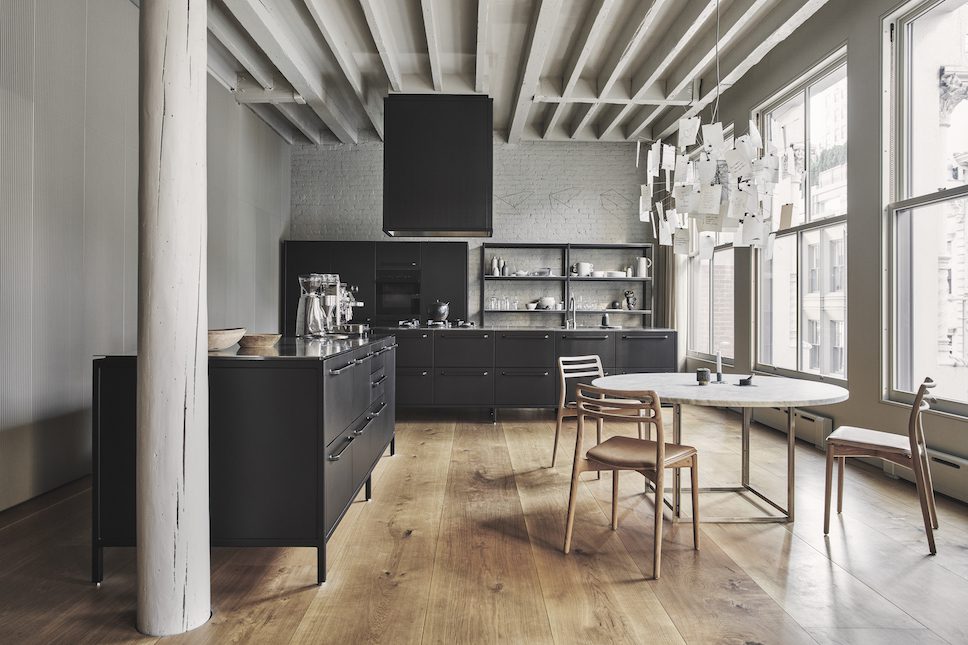 Inside a former 19th century factory in Manhattan, Vipp Studio NYC has not only become the home of the third generation owners of Vipp and a liveable showroom, but it now displays the new Vipp Studio Green capsule collection.
A one-year-long renovation has transformed a 5th floor, 350-square-metre TriBeCa apartment, with high ceilings, solid steel constructions and raw brick walls, to become the perfect backdrop to Danish brand Vipp's iconic designs. Husband and wife, Sofie and Frank Christensen Egelund, live here along with their two children, and personally designed the interiors. The idea is for the show home to be a "living laboratory" in which they hope to test new ideas and it will be regularly updated with new products and prototypes.
Vipp Studio Green is the first limited edition launched as a capsule collection and showcased in the Studio apartment. "I remember my grandfather made Vipp bins in a dark green colour. We made one for the Vipp Studio NYC and matched it with an office chair upholstered in a dark green leather. We loved the green colour and decided to make a little collection out of it," says Sofie Egelund, the granddaughter of Vipp founder, Holger Nielsen.
It has been seven years since Sofie and Frank crossed the Atlantic and made the move from Copenhagen to New York. They brought with them the Vipp kitchen, and first set up in an outpost in Murray Street but later fell in love with this 5th floor apartment on Lispenard Steet and put their minds to moving in. The purpose of resettling in the United States was to share Vipp's refined design portfolio and now iconic modular kitchen system," the Danish brand retells.
It's not hard to see where the appeal of this classic cast-iron building comes from, with its character, 4-metre tall ceilings, and 17 large windows that overlook SoHO on one side and TriBeCa on the other. The open and spacious rooms are filled with swathes of light and its industrial style only serves to bring out the quality and personality of the Vipp designs. A tour through the apartment feels very much like a wander around a beautifully curated home, the desired effect that the couple wanted to achieve through their input in the interior design of their humble abode.
"When you see a product in its natural setting, it comes alive," says Frank Christensen Egelund, speaking of the expansive array of Vipp pieces on display in the homely setting. Intermixed with the contemporary products is a handpicked selection of the couple's favourite Scandivanian art pieces, along with vintage furniture, all of which gives a nod to the family company's Danish heritage dating back to the 1930s.
Vipp Studio NYC is available to visit by appointment only and all products are available to buy at vipp.com.
Vipp Studio NYC isn't the only location where you can experience Vipp products in a natural home-like setting… take a look at the Vipp Farmhouse in Denmark and don't miss The Bolder Sky Lodge in Norway.