Drawing on industrial forms and atmospheres, interior architects Holloway Li have created an experience-led showroom and co-working space for bathroom brand Coalbrook.
Set within a former early 20th century-built pipe factory, now known as the Market Building, the showroom's design embraces the rich materiality of the Industrial era with cast iron, brass, and limestone elements.
The curious retail space is situated in London's Clerkenwell design district and not only showcases Coalbrook's bathroom products across the basement and ground floor, but it also houses co-working rooms where designers and architects can hold client meetings.
The interiors give a nod to the history of the Coalbrook brand, named after Shropshire village Coalbrookdale, incorporating various utilitarian-style features such as the red internal columns. "The space is designed around a series of industrial 'casts', used to display working products," explain co-founders and interior architects Alex Hollloway and Na Li.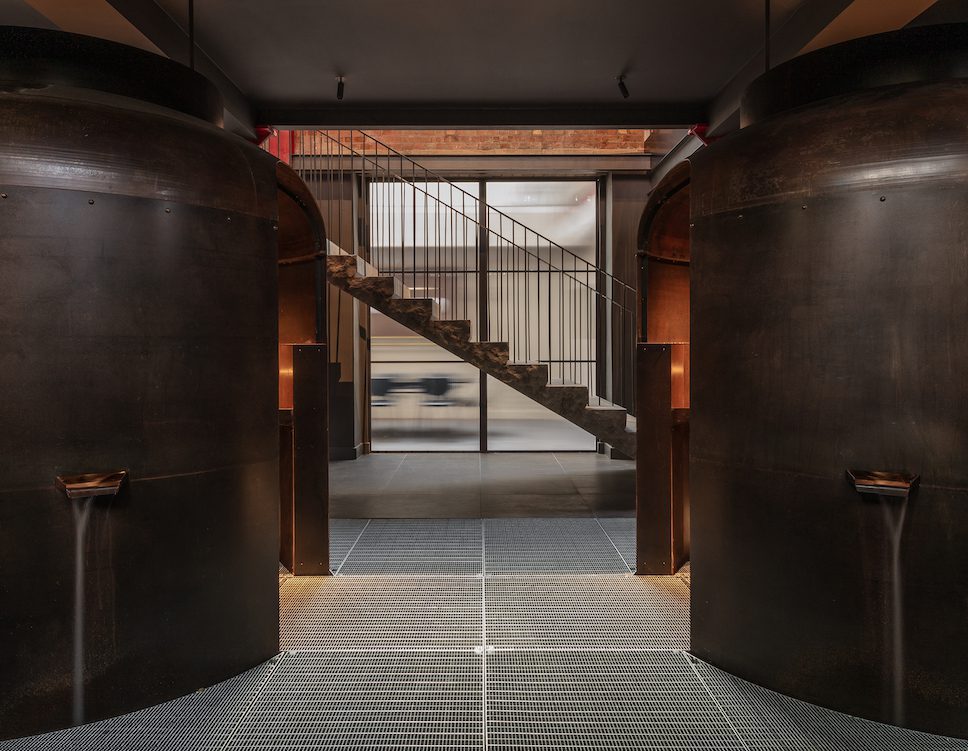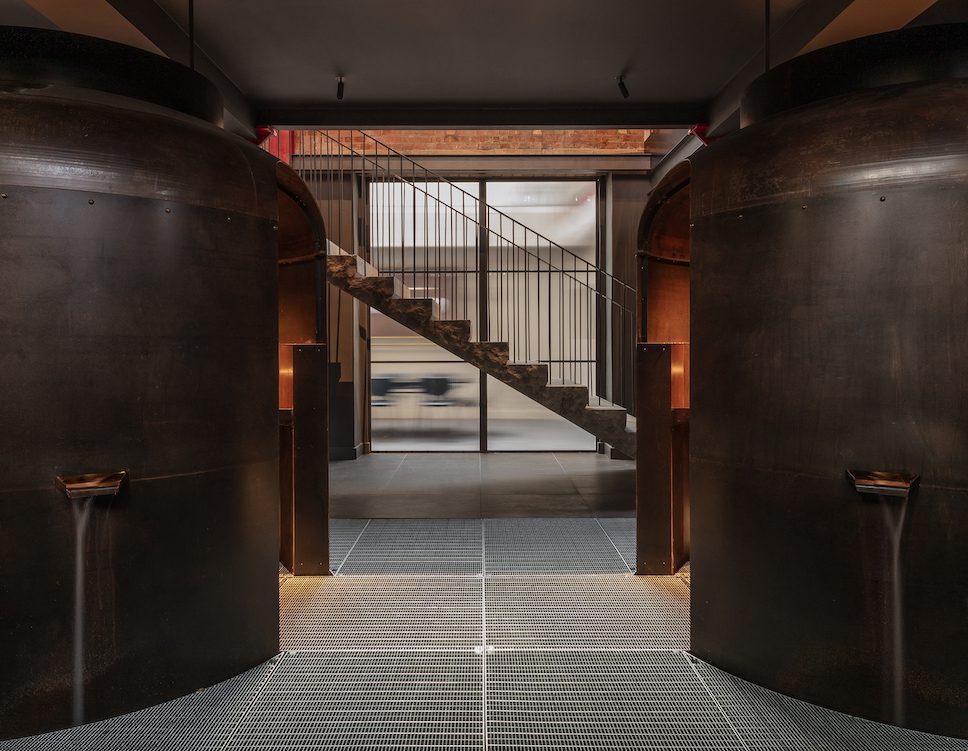 "The ground floor is designed to appear like a landscape of industrial chimneys, with ghostly casts of Victorian bathroom wall panels in piercing orange and amber resin." The basement resembles a furnace, and they describe it as "a dark, watery space with the atmosphere of a subterranean engine room, occupied by two oversized industrial 'boilers' and wall panels moulded from cast iron."
Traditional expectations of a showroom are challenged here, as Holloway Li worked closely with master craftspeople to create playful displays and areas where visitors are immersed into a whole new experience. At ground floor level, brass tubing by Bard & Brazier and bespoke joinery by Bard and Blackwood provide a setting within which industrial casts display the luxury bathroom products.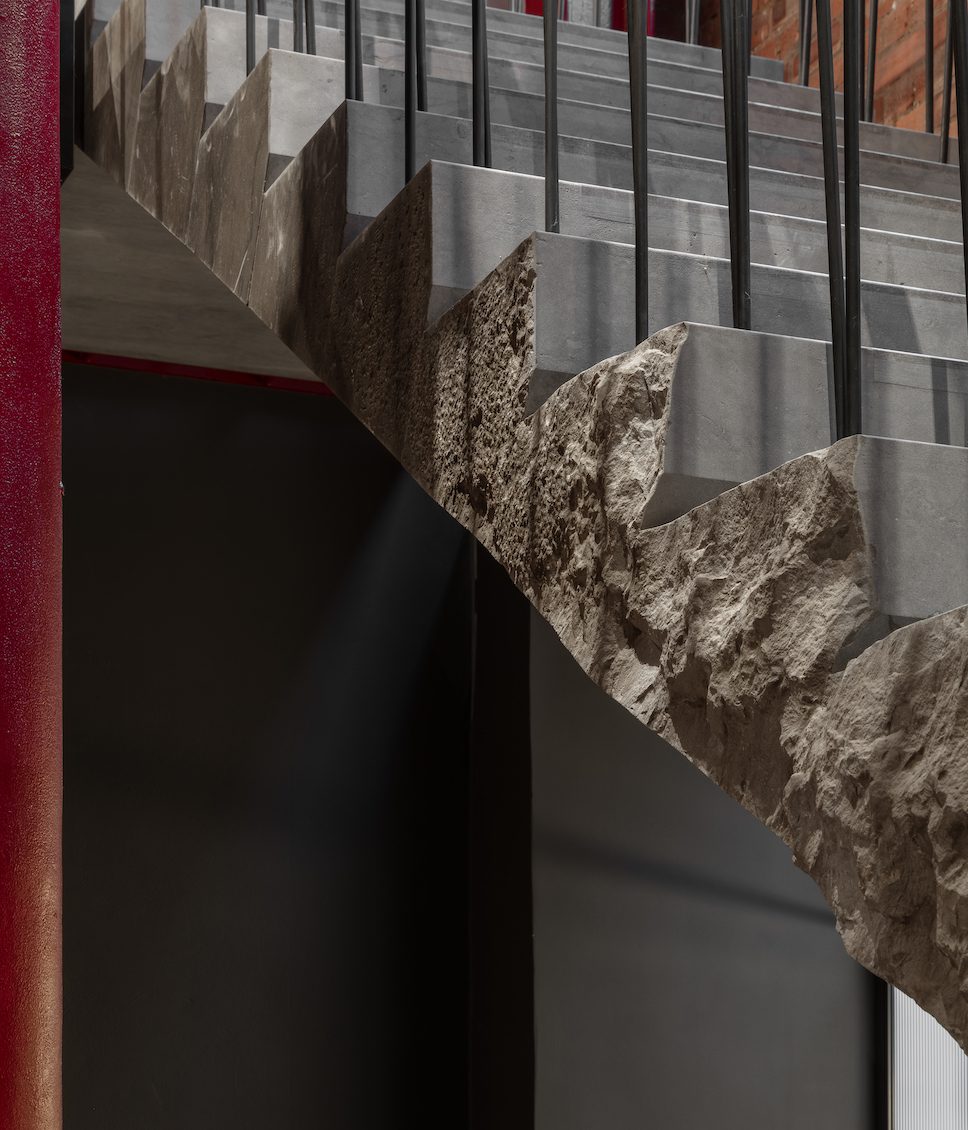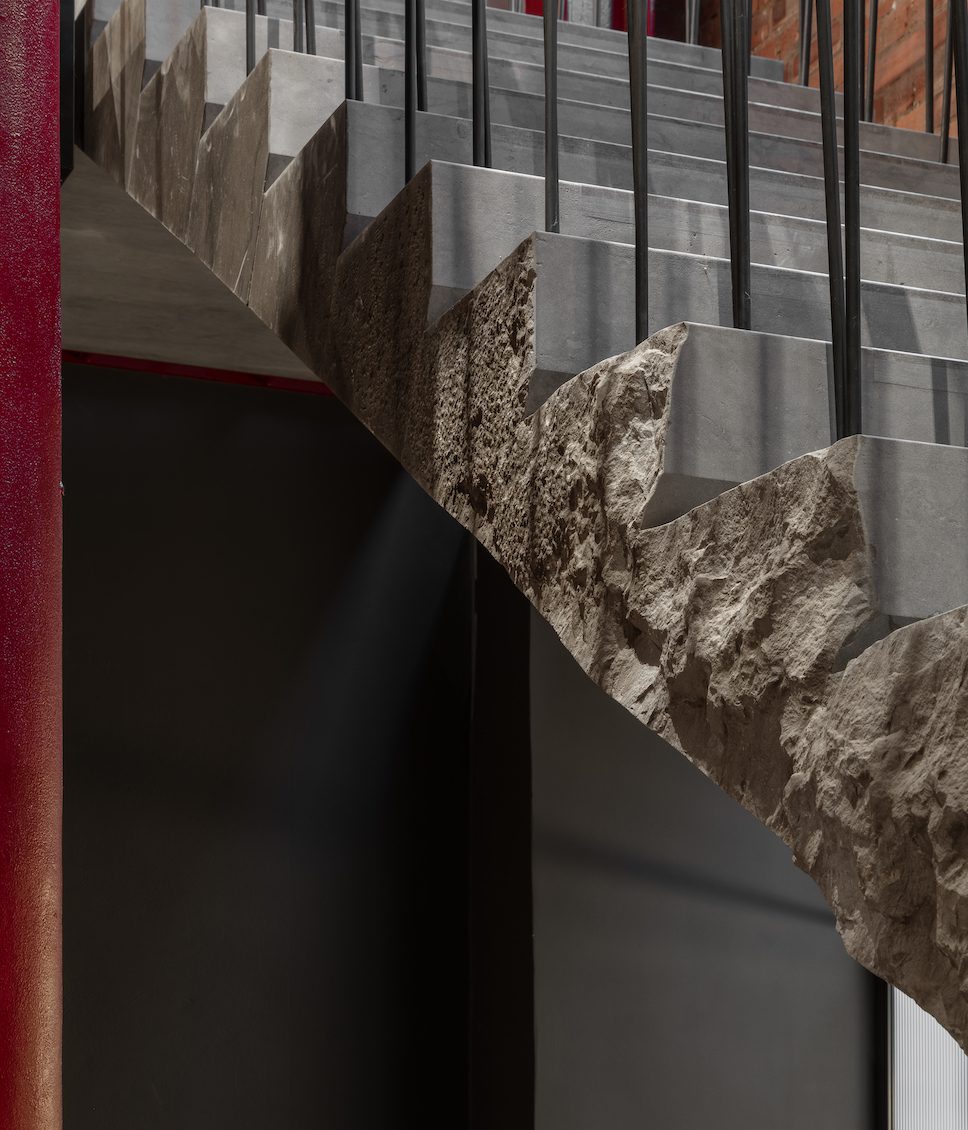 Crafted from digital models of Victorian bathrooms, resin casts in amber and orange resin form eye-catching wall panels. These were created in collaboration with a company who typically make moulded interiors for London buses.
"The traditional form of the cast (with decorative cornice and moulding detailing, cast tiles and a sash window) is subverted by the materiality of the resin, which appears almost liquid," says Holloway Li's creative director, Alex Holloway. "The resin 'dematerialises' the form of the cast, at points appearing crystalline, ethereal or fluid depending on the viewer's position and angle of light."
Project details:
Client: Coalbrook
Interior design: Holloway Li
Consultants: Constructive Management (project manager); SLD Build West Limited (contractor); Menu Space (FF&E); Lucking and Clark (structural engineer); David Webb Associates (MEP engineer); Webb Yates (staircase structural engineer)
Collaborators: Bard & Brazier (bespoke brassware); Bard & Blackwood (bespoke joinery); FSE Foundry (bespoke cast iron); PHOS (lighting); Polkima Moulded Composites (cast resin panels); Steel and Form (bespoke metalwork); The Stonemasonry Company (stone staircase)
Photography: Nicholas Worley
Material mood boards: Sophie Percival, Studio SP
Take a look at more inspiring showroom spaces on enki, from Normann Copenhagen's HQ in a former printing house to the stylish live-in Vipp Studio NYC.