Belgian architecture studio Hé! has completed a transformative renovation of an industrial building in Brussels, using bio-based materials to create a flexible four-storey apartment with a studio and co-working space.
Situated in the Molenbeek area of Belgium, the building which was originally built in the late 1800s and used by a disinfectant company, was in need of considerable structural restoration.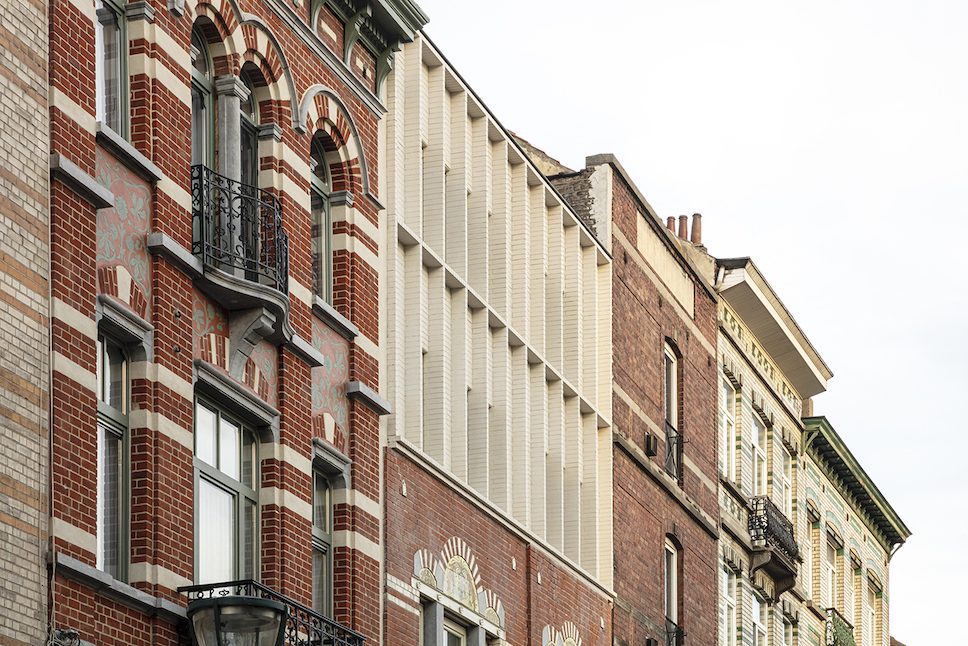 With the addition of a new timber-framed rooftop extension clad in pale brickwork, the architects have created an easily adaptable, low-tech building. The floor plan is based on a very logical grid and repeated across the four levels, and designed to maximise light and views throughout the living spaces.
"In this project we focused on densification, the circular economy and co-housing," explains architect Hanne Eckelmans, who co-founded Hé! with Renée Verhulst.
"The notions of subtlety, simplicity, repetition and flexibility were always central to our focus," they explain of the open-plan space that can either act as a single-family home or be divided into separate, rentable studio spaces.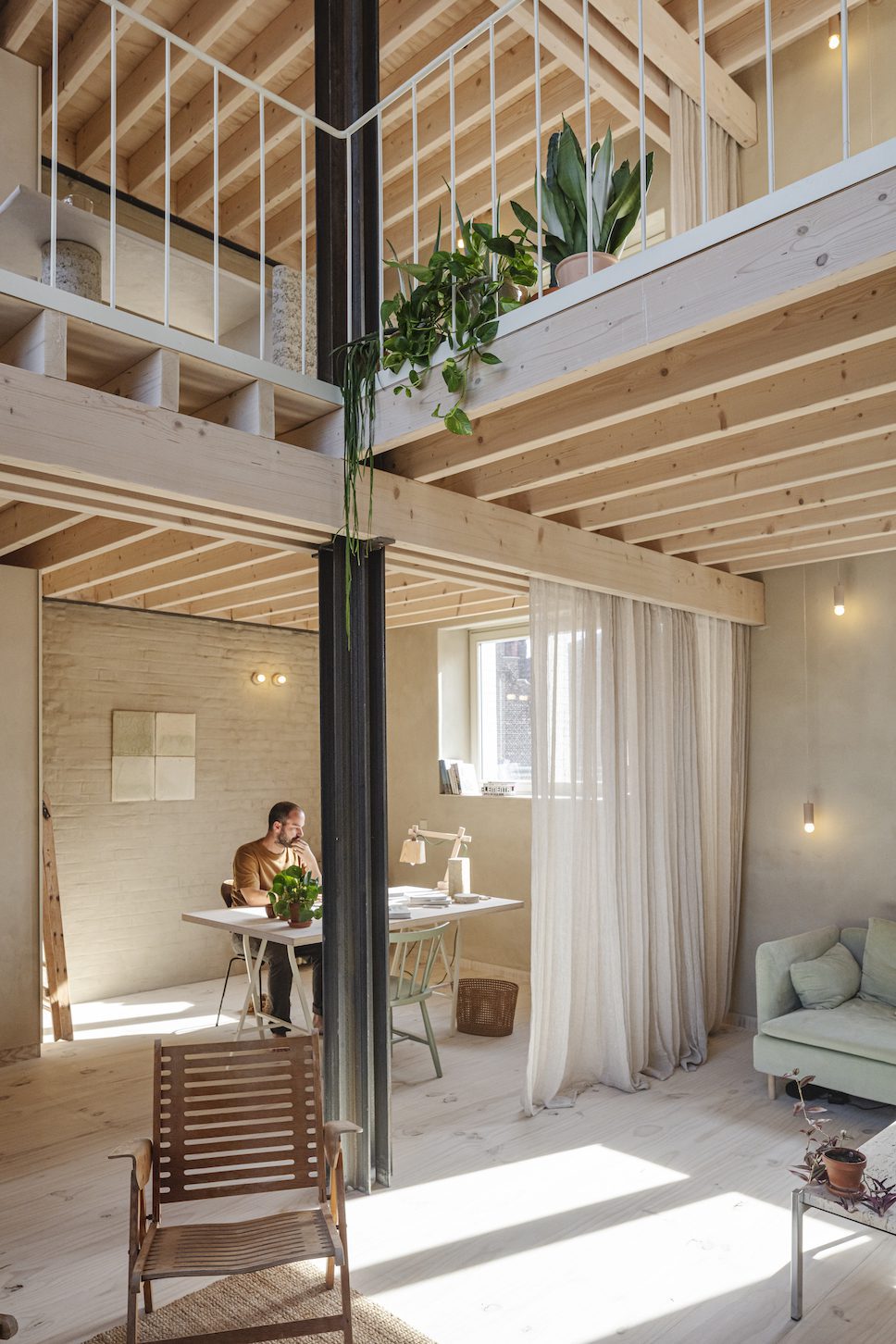 Inside the building, there's a wonderful sense of space with a light and airy atmosphere. A sense of height is creating through the timber-framed structure of the roof extension, and the exposed beams add depth as they draw the eye through the building.
The open and welcoming ground floor houses two small co-working areas which follow the length of a corridor that leads out onto a rear garden, and a wooden staircase leads up to the apartment spaces.
A private apartment is currently hosted on the first floor, with a large living, dining, and kitchen space positioned at the front and bedrooms at the rear. Above this, there's a two-storey apartment with living areas that open out into a small rooftop terrace.
Built using bio-based materials wherever possible, instead of conventional construction materials, the building has a very low ecological impact and provides a healthy and pleasant living and working environment.
"With this project we want to show that building in renewable, raw and back to basic materials are no longer just for rural living but they can also be applied to urban assignments," comments Hanne Eckelmans.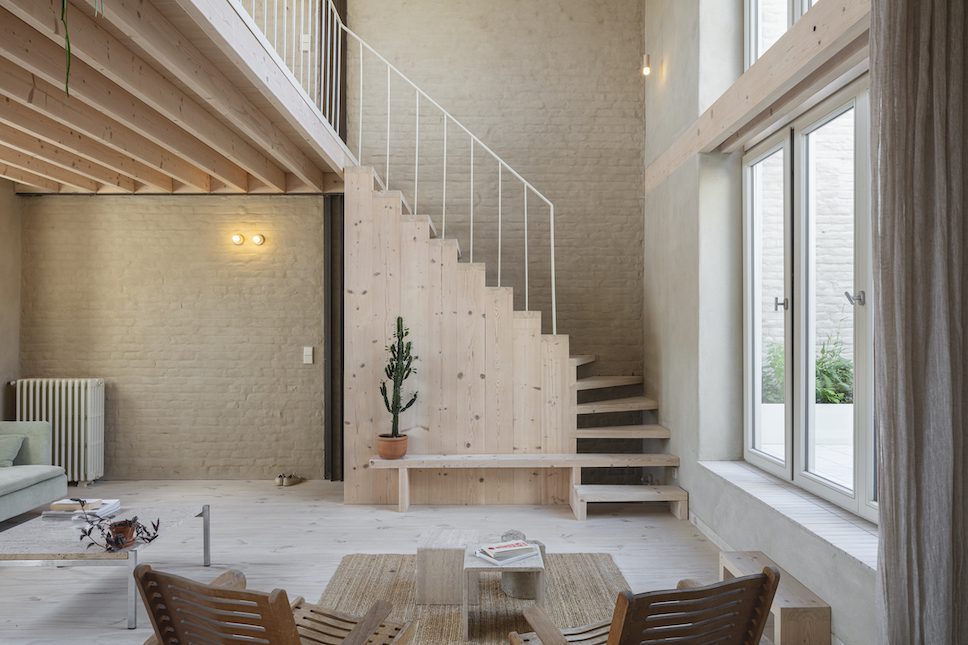 There's an ingenuity behind all the material choices, for example straw bales from a nearby farm were chosen as the insulation material. Clay plaster and rammed earth from the waste soil of Brussels building sites are used for the furniture and finishings, and more character is added in the choice of second-hand recycled products for decoration.
We asked Hanne Eckelmans, why it is so important to Hé! to build sustainably? "For us it's kind of logical. We prefer wearing cotton and wool-made clothes, which are made locally rather than synthetic clothing from China, and eating locally produced bio-food."
"In construction it's the same thing. It feels better and healthier to have natural and local materials for living in every day. We wanted to build low-tech and show that building in this 'back to the basics' method is also possible in an urban context. In Belgium, you see straw bale, earth houses in the countryside but not in the city."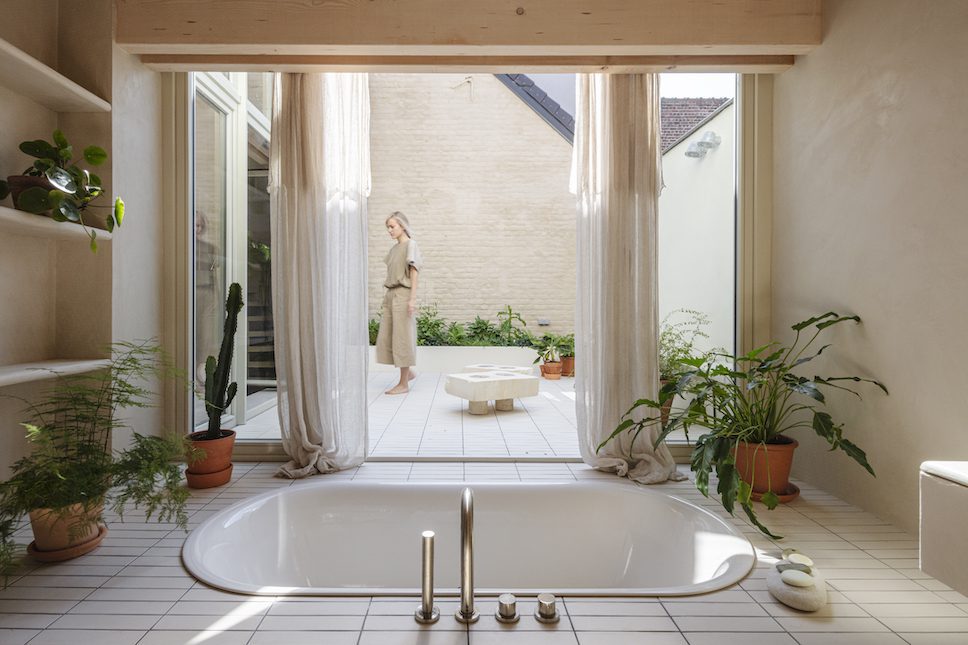 Photography by Tim Van de Velde.
Learn more about interior design and architecture projects by Hé!
Discover more residential architecture stories here on enki.