In these unusual times everyone needs to remain positive. As more time is being spent inside you can allow your imagination to wander; to get creative, to dream and plan. To create visons of the tweaks and changes you will make to your home a little later in the year; to plan projects both big and small. Earlier this year Duravit were due to unveil the stunning new additions to their Happy D.2 Plus series. As we know all trade shows and exhibitions were postponed but Duravit have provided enki readers with a preview of the products that will now available in the UK from July this year.
The highest design standards in the bathroom
Designed and created exclusively for Duravit by sieger design they offer two new versions for the washing area both include totally new patent pending c-shaped technology. This ensures that the ceramic washbasin and furniture are perfectly parallel, with now overhand or recess at all. Made entirely of DuraCeram® the c-shaped has been especially finished with all the benefits of a ceramic glaze, such as being robust and easy to clean, whilst providing an extra design dimension to the bathroom.
Washing areas in lighter or darker tones
Happy D.2 Plus offers two new versions of this elegant design for the washing area, both are available in a lighter or darker tones; a glossy white outer edge in combination with a vanity unit or metal console in chrome or with a new, rounded outer edge in the same colour as the vanity unit or to match the metal console in Black Matt.
In each case they have basins with a narrow, typically flat edge and harmoniously integrated tap platform. The basins are available in three widths (575, 775 and 975 mm). Each design has a white acrylic cover that conceals the fittings beneath the basin, guaranteeing perfect aesthetics from any angle.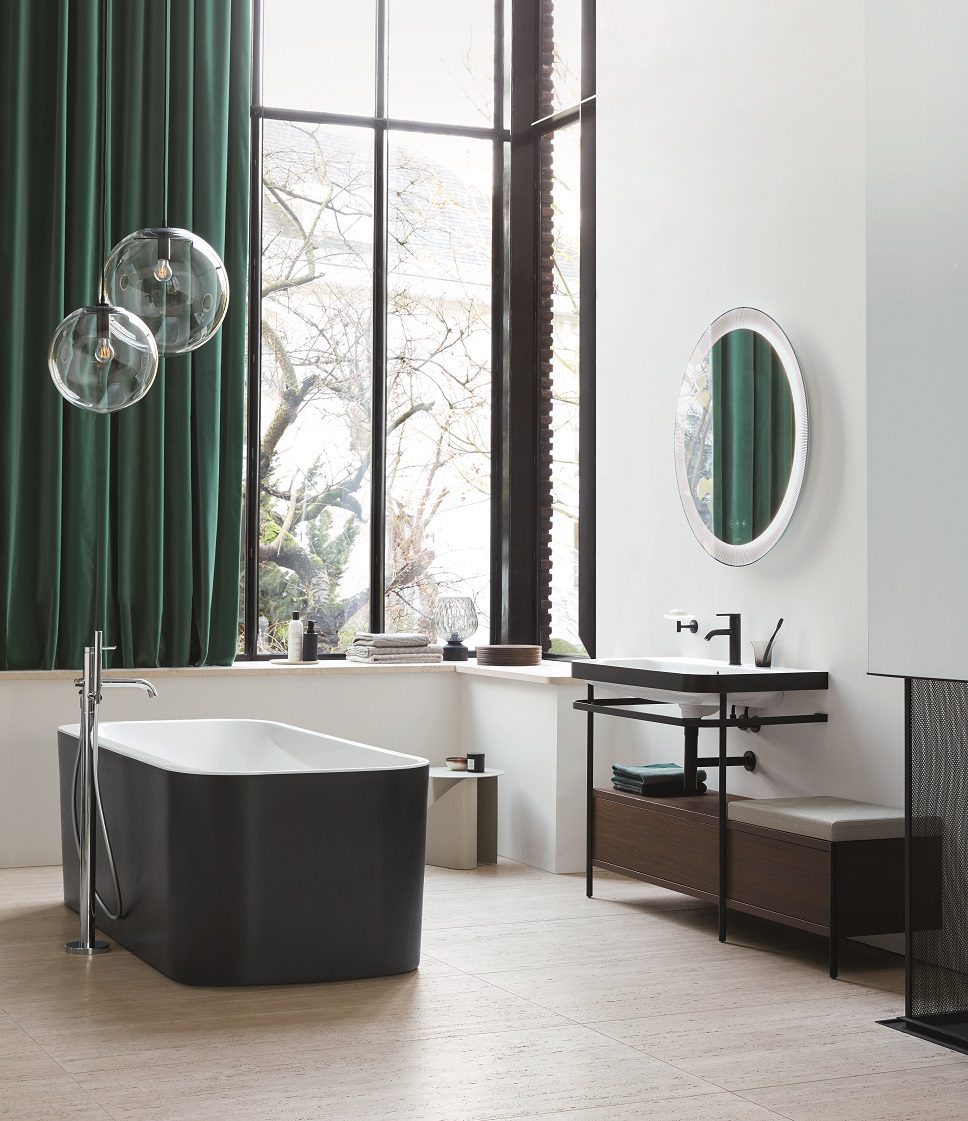 Take a seat
The floor-standing, metal consoles are height-adjustable, they have an integrated towel rail and there is the option to add a shelf or built-in drawer. There is also the option of a seat (width 625 mm) with an integrated drawer, this can be added either to the left or right of the console, the cushion on the seat is in matching greige and made from a woven fabric specifically suitable for wet rooms.
The finishing touch
For the finishing touch there are also wall-mounted vanity units with two drawers which provide additional storage space, available in eleven carcass surfaces, choose between luxury wood or matt surfaces in light or dark. The new washing area variants combine beautifully with the Happy D.2 and Happy D.2 Plus design series, ensuring a consistent design throughout the bathroom furnishings. The Happy D.2 Plus also ensures that the monochrome colour concept can be maintained throughout the bathroom with toilets and bidets available in Glossy White or Anthracite as well as bathtubs with seamless panelling in Graphite Supermatt which harmonize perfectly with the new black metal console and dark furniture surfaces.
Discover more from the Happy D.2 Plus design series here.
Learn more about Duravit here.
For more design stories on enki, click here.