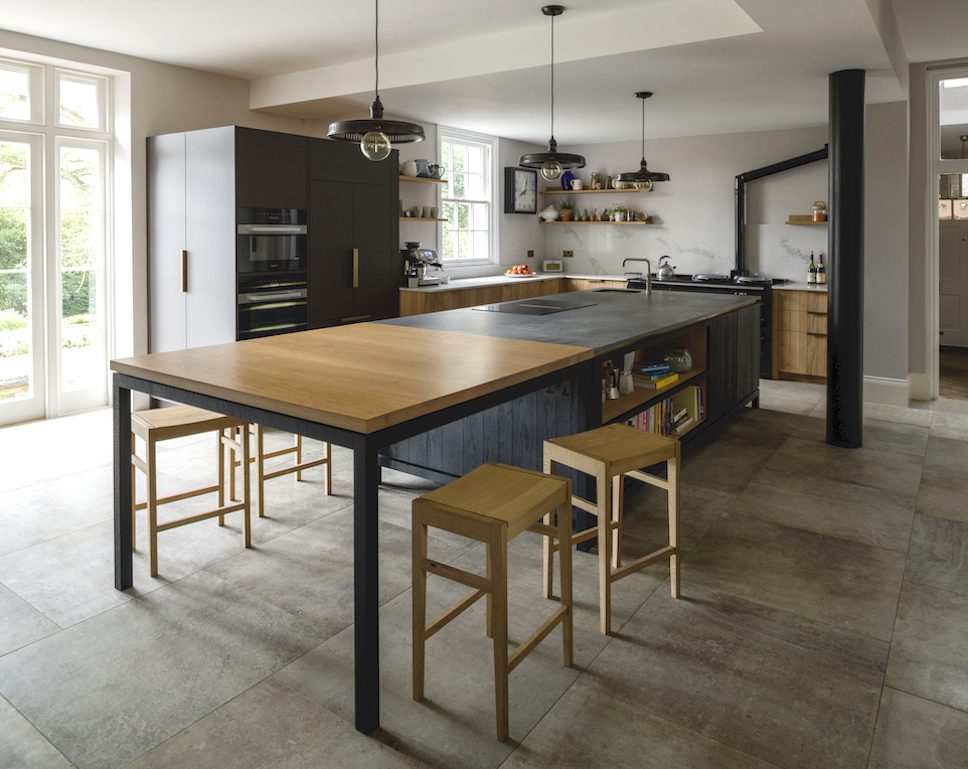 Emphasising the beauty that can be achieved when style meets function, bespoke kitchens by Inglis Hall focus on the details that make a difference.
The kitchen makers at Inglis Hall value the challenges restricted spaces, tight accesses, and awkward corners pose. In the contemporary IH.428 kitchen, the handmade cabinetry was been designed to work with the period architecture and accommodate a busy family lifestyle.
To find out more, we sat down with Jay Powell, Design Project Manager, to talk about this project as one of the many exemplary bespoke kitchens by Inglis Hall. He tells us about how this design came together, and we discuss the clever storage and hidden elements which bring added delight to the multifunctional space…
What was your brief from the owners?
Initially, there was a simple objective: to replace a very dated kitchen which had been installed by the clients when they moved into their house around 15 years ago. The process was then in place to open up the kitchen into the boot room to create a much larger space.
They wanted an informal, versatile, practical, and contemporary kitchen with a subtle sense of utility and industrial style that would harmonise with the imposing period architecture and the stunning rural landscape. As is often the case, a simple brief with a number of fascinating challenges!
Where do you begin when designing a kitchen?
An order of needs and requirements is always the starting point. Function is always the critical priority. Ensuring a kitchen works efficiently within an available space provides the fundamental shape of a project. Re-formatting and extending existing architecture almost always creates quirks and awkward points. A clear, concise and close dialogue with the client is vital. Through this, we design and refine to a point where the problem is more than solved and the awkward quirk becomes a lovely element of character.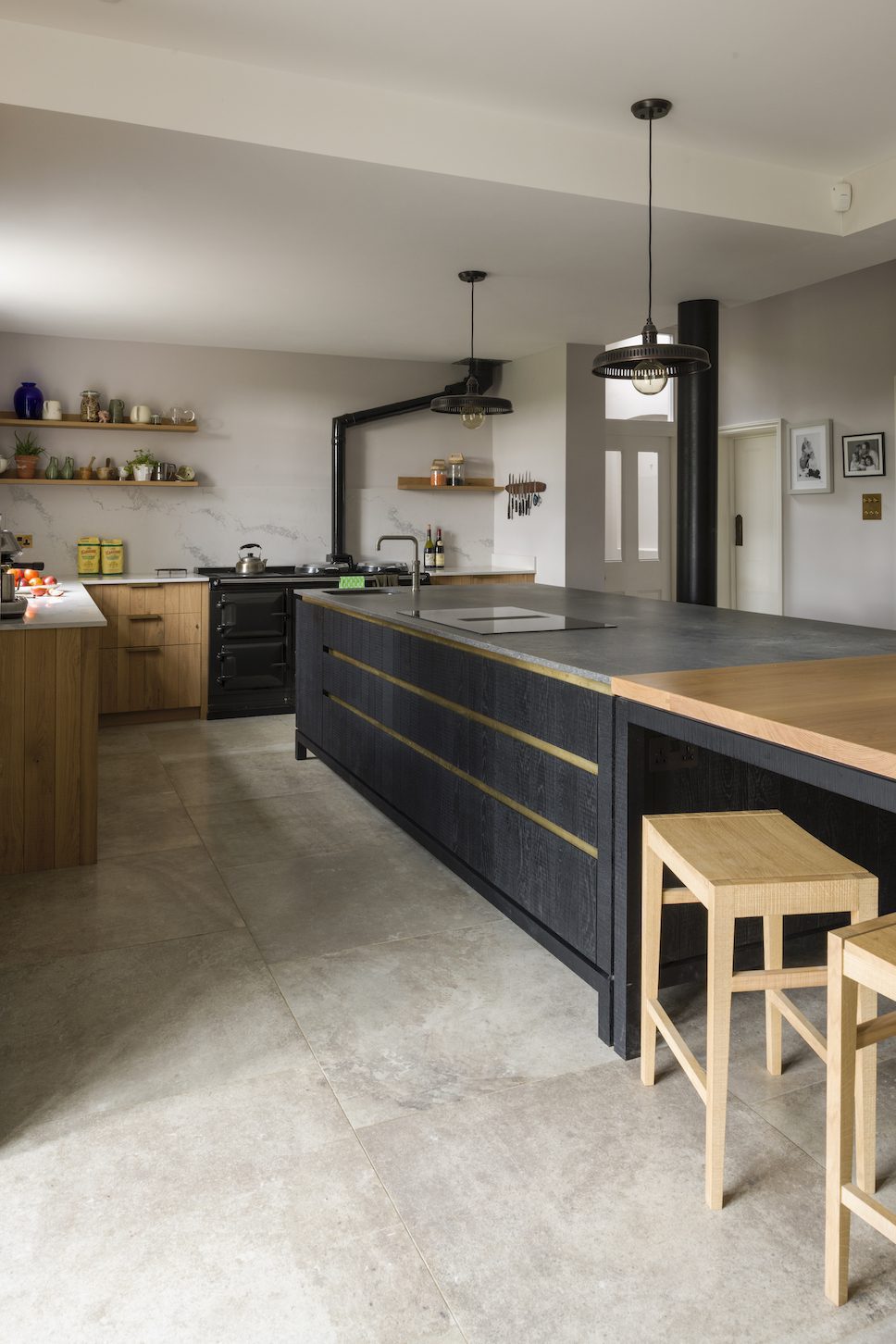 What was the biggest challenge you came across and how did you overcome it?
Designing a space that is yet to physically exist is always a challenge. The project programme and our production times dictated that the majority of the kitchen was designed and built before the building works had even been commenced.
It is not the first time we have worked in this way, of course. You learn by experience. A combination of digital visualisation, actual physical samples, and finishes being placed, with a constant and very stringent taking of measurements to make it all happen.
What inspired your choice of industrial-style materials and textures and what does this bring to the space?
The extension of the kitchen necessitated a large steel supporting column. Rather than politely boxing this in, the client decided to embrace it as a feature in its raw state. This initiated the idea to reference industrial architecture and the utilitarian aesthetic.
The warmth and comfort counterpoint came in the sawn oak and Cacao Orinoco Fenix which were selected for the cabinetry. To this, the unlacquered brass provides a quiet note of luxury which will patinate beautifully over time. As a palette it gives a gorgeous, eclectic, urbane, and timeless beauty which aligns perfectly with the original vision.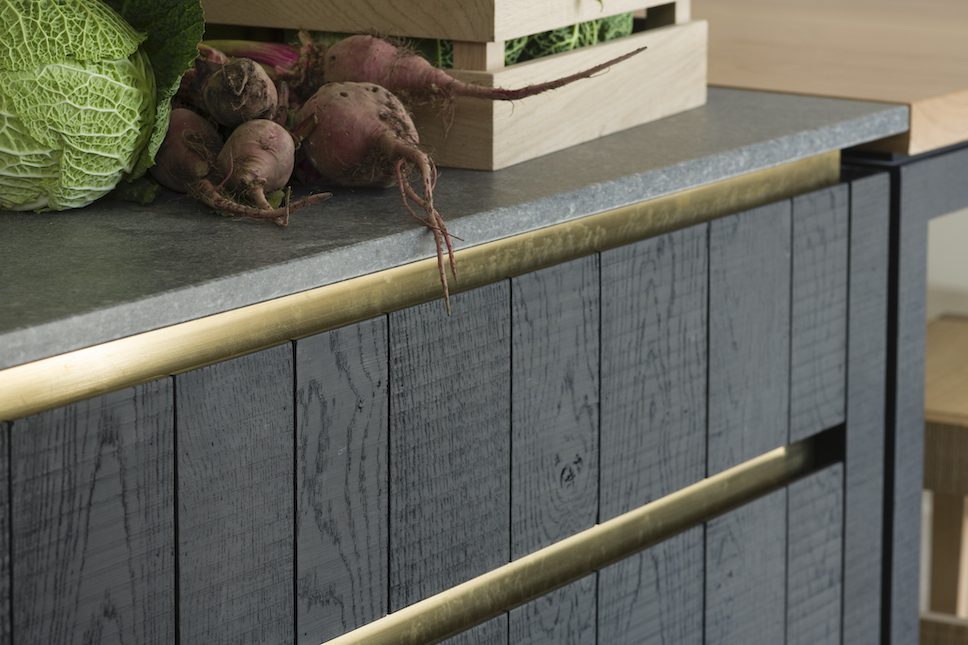 How does this kitchen make the most of its space, for example with extra storage?
The space, after the knocking through, became beautiful and vast but it also featured a lot of corners and steps in level. Rather than designing the kitchen to doggedly follow these lines it made more sense to confidently design over and beyond these spatial flaws. This not only created useful spaces to set in larger appliances and the pull-out larder, but it also enabled a softer, less defined shift from low-level form to the taller units.
The scale of the space allowed us to create a perfect flow as we were not committed to absolute optimisation of dimensions. This "flow" is definitely something the client appreciates. It is evident when you look at a picture of the kitchen, however you can only truly experience it when spending time in the kitchen. This, possibly, is what defines any designed space.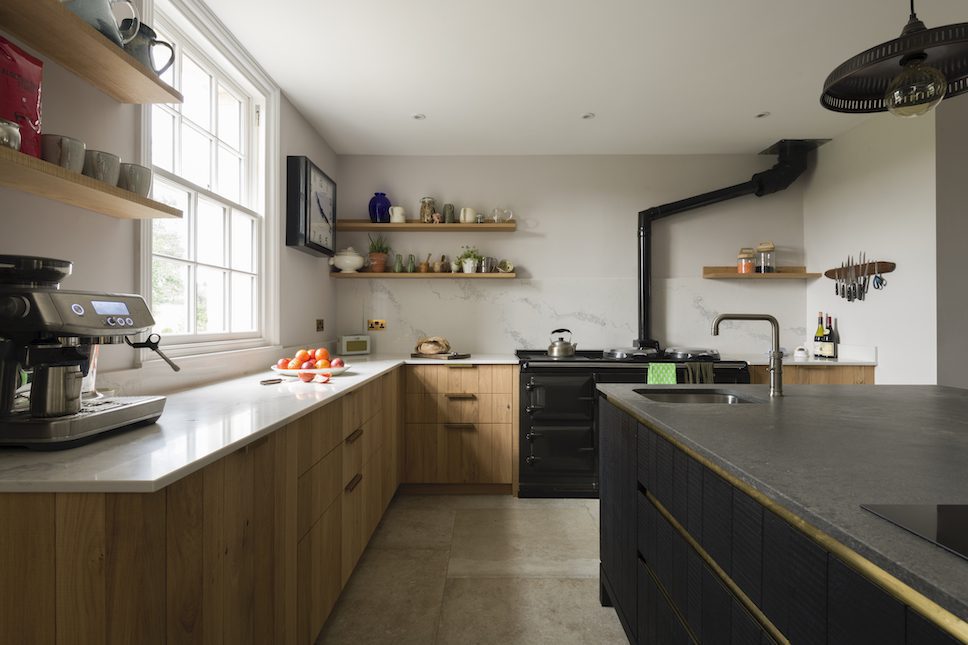 What other details have you incorporated that add extra function or finesse?
Stonework is an opportunity to make a statement. We designed a gorgeous waterfall end to the clean zone. This brings a focus to the depth and scale of the cabinetry. It also opens up the sightline through the kitchen to the stunning view of the grounds outside.
We love, as designers, to integrate details that are revealed when using the kitchen. We believe in the saying: "Never design for the sake of design but design for the sake of better." For example, meticulously dovetailed drawers and bespoke cutlery inserts are quiet details that add to the joy of a very beautiful kitchen.
Can you tell us about the idea behind the drinks station and the craftsmanship that has gone into it?
Well, work/life balance is a tricky thing to master. The cabinet is a charming and slightly irreverent means to achieve it. One half of the cabinet houses a contemporary home office with workstation and archive storage. The other half features wine racks, a drinks fridge, and a place to store glassware. The sliding door allows for one side to be open whilst the other is out of sight.
It is an imposing piece of cabinetry. The solid sawn oak posts and cladding give it a gorgeous depth and texture. As a bespoke tailor or couturier would do, we selected equally beautiful materials, technique and craft for the internal construction. Here, not immediately visible, this attention to detail becomes something even more covetable.
Kitchen details:
Materials: 19mm Oak Veneered Lacquered Birch Ply (carcasses); Raw and Blackened Band-Sawn Oak (doors); Fenix Cacao Orinoco 0749 (doors)
Integrated appliances: Fisher & Paykel dish drawers DD60DH19 (600mm); Fisher & Paykel fridge-freezer RS90A2 (900mm); Miele wine fridge KWT6321 (600mm); Miele steam oven DGC7460-CLST (600mm); Miele hob KMDA7476 (800mm); Miele microwave oven M7240 TC (600mm)
Accessories: Quooker tap; Blanco sink
Worktop: Quartz 20mm worktop in Rugged Concrete (island); Quartz 20mm in Staturio Maximus (kitchen), both by Caesarstone
Hardware: Handles in burnished brass
Additional features: Conceal reveal cabinet; cutlery insert, and utensil divide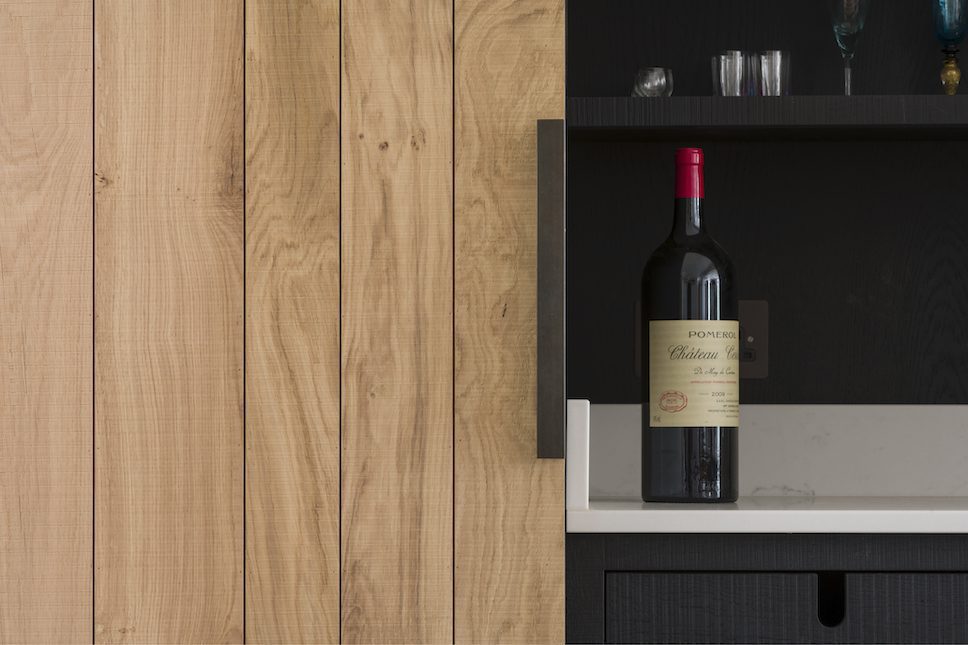 Photography by Leigh Simpson.
Take a look at more bespoke kitchens by Inglis Hall.
Discover more design news on enki, and read all about a handmade and sustainable collection of wall tiles made from eggshell fragments by Nature Squared.