With a penchant for sustainability and incredible design, we think it's high time you discovered NOVE Lighting…
*Sponsored by NOVE Lighting*
Born from the creative mind of Kirsty Saxon, an interior stylist and the designer of NOVE's beautiful marbled cork light, and her partner Craig Lowe (who, as an integral cog in the NOVE machine, wears the technical and finance hats), NOVE and its first collection, the Cork Collection bring a timeless array of contemporary, design-led lighting solutions to the table which effortlessly encapsulate nature's beauty, sustainability, incredible craftsmanship and a hand-harvested material: Portuguese cork.
"Our aim is to develop a mix of unique, timeless and hand-crafted lighting, with a strong emphasis on quality craftsmanship."
The cork itself is carefully produced via a hand-harvested process by a remarkable Portuguese family-run business, specialising within the industry for over 45 years. As one of the ultimate sustainable materials, cork (which is harvested from the Cork Oak tree, also named Quercus Suber L) is proving itself to be a truly heroic material. As well as being completely natural, lightweight, elastic, buoyant, and impermeable this fascinating material is also biodegradable, renewable and recyclable. Not only this, but it's particularly beautiful when sculpted and formed into NOVE's modern lighting range.
NOVE's first collection indulges our affinity for pendant lighting, with the arrival of the Marbled light. As the first cork light within the line, you'll delight in how each showcases – what Saxon terms as – 'it's own uniquely grained, marbled cork character'. The integration of solid brass elements create a luxurious twist to the pendant, allowing for a more contemporary ambience to emerge. The neatly engineered Seamless wall bracket and three metres of black (or khaki) woven cable pair together to allow for effortlessly installation and an instantly stylish impact.
"My design has been born from my years of outdoor photography styling trips for clients to Portugal, and subsequently falling in love with the natural beauty of cork. I am very passionate about these cork lights and proud of their origin. Each piece of cork is individual, and by using raw materials they all have slight variations in form and colour, which is part of the character of the natural hand-made elements. It has taken nearly two years from concept to design and eventually production to make sure everything was precise."
And there's more to come. Arriving soon to the Cork Collection is the label's new beautifully blackened cork light, which is set to impress.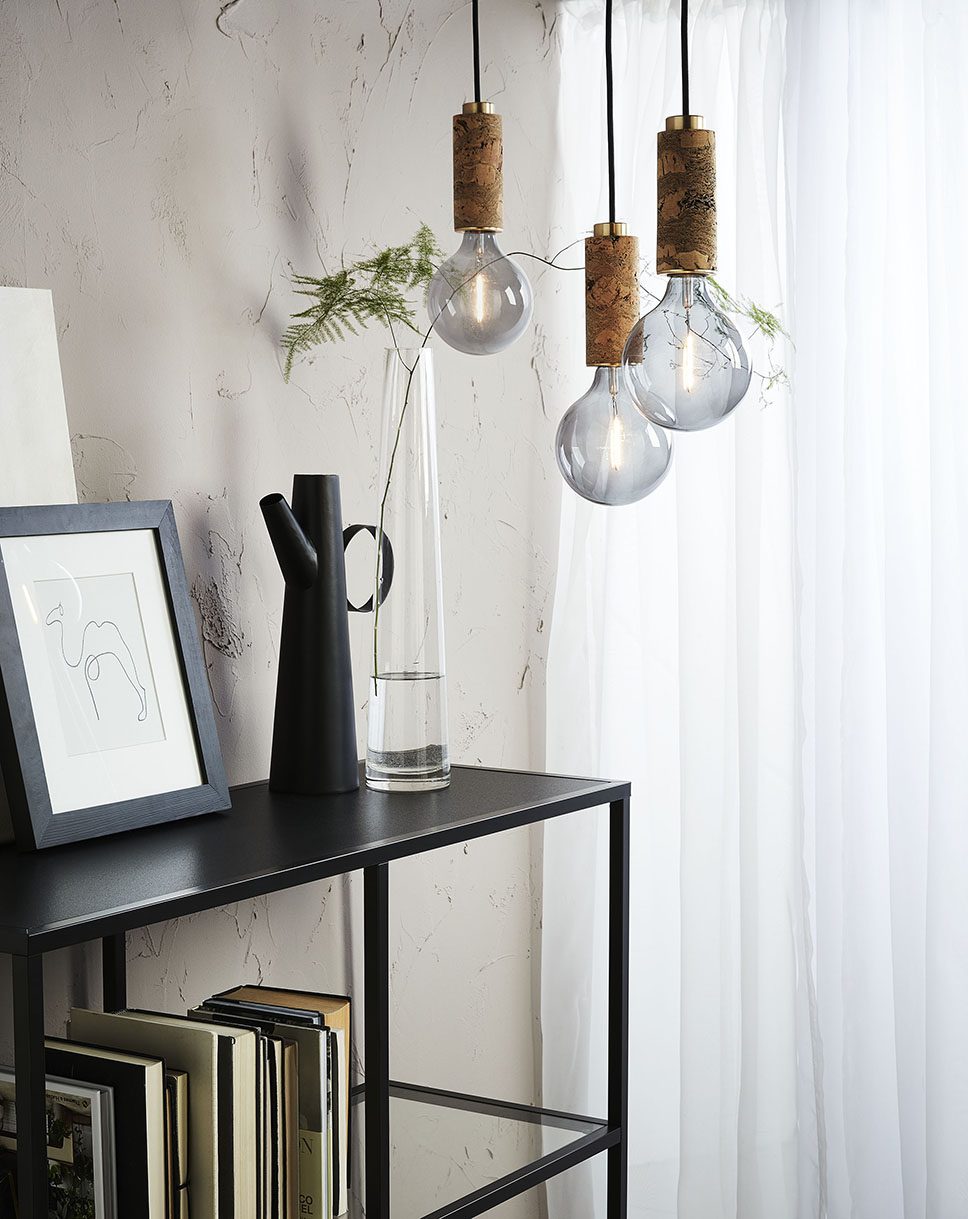 "Every light has been made with labour and love, touching the hands of many skilled artisans. We want to celebrate these people, their craft and their stories, that help create stylish and unique objects for customers to forever love and admire."
Want to discover more from NOVE? Click here. All images are sourced from NOVE.
Photography by Simon Thompson, Chris Kirkham and Natasha Morris. Styled by Kirsty Saxon