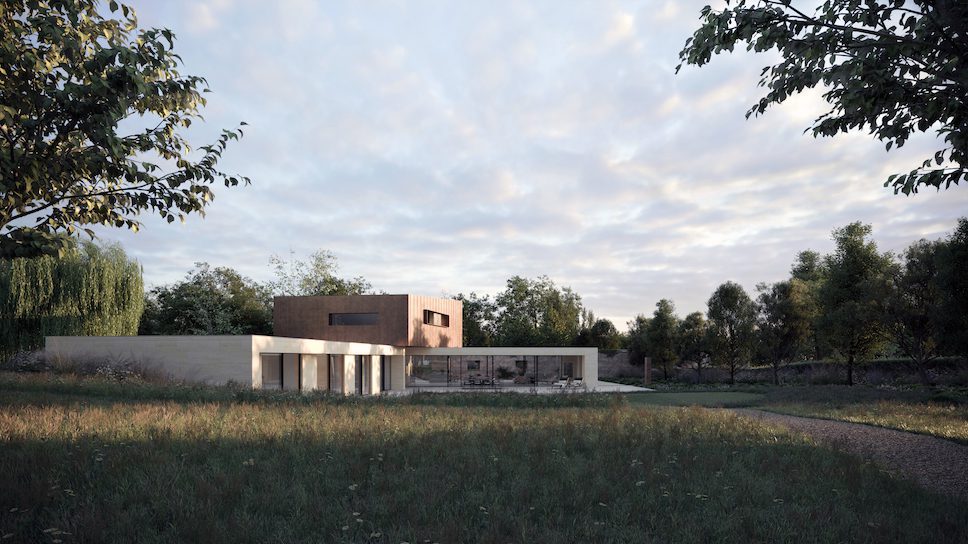 AR Design Studio has been granted planning permission for Riverside House, a bespoke replacement dwelling that will be sensitively unstitched from its historic Victorian walled garden.
The studio's plans seek to sensitively transform an existing collection of converted potting sheds on a site adjacent to the Thames into a five-bedroom house that will "address the longer views towards the river" that they say the current site fails to do. The plans reveal that the house will consist of three stone-clad volumes at ground level, and a fourth volume will be built atop these living areas to segregate a private master suite. Using this formation, and the existing apertures within the Victorian garden wall, the design will frame views from the house across its natural surroundings.
Stone and metal used in the new building's materiality honours its historical context and references the site's existing 19th Century Manor House and neighbouring Grade II listed medieval cottages. A patinated copper-clad box creates a clear definition between the first and ground floors as it sits atop the three stone-clad volumes. The first floor is orientated north and designed with a balcony and floor-to-ceiling glazing to take in the best of the views across the Thames and beyond.
The ground floor volumes are designed with distinct function and purposefully define specific garden conditions around the house. "One contains a dual aspect kitchen, living, and dining space. This opens out onto the private garden on one side, while the other reveals a more intimate courtyard formed between the new dwelling and the original wall," explains AR Design Studio.
"A second volume contains the majority of the bedrooms. These rooms face east to capture the morning sun, featuring full-height glazing set back under deep reveals, providing a sense of enclosure while retaining seamless connection into the main garden. The third contains a cinema as well as utility spaces. These are all connected via glazed links that break down the boundaries between the interior and exterior, offering glimpses out onto the historic wall and surrounding gardens."
Project details:
Architects: AR Design Studio
Existing area: 198 m²
Proposed area: 384 m²

Images: Strive CGI
The project is currently programmed to start on site in autumn 2022.
Keep up-to-date with all the latest architecture news on enki.