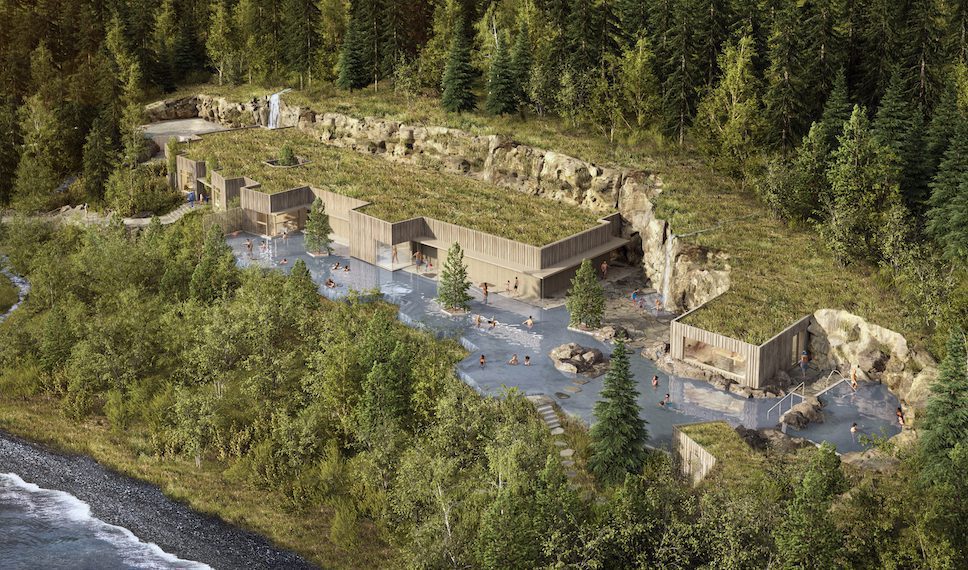 Basalt Architects complete Forest Lagoon, a sustainable geothermal spa nestled into a forest on a mountain slope in Akureyri, Iceland.
Set to open in April 2022, Forest Lagoon (also called Skógarböð Geothermal Spa) uses a nearby geothermal hot spring to supply water to its 1,300 square-metre spa with infinity edge pools. With only 3% of Iceland covered by trees, this forest location with its awe-inspiring fjord and mountain range views offers visitors a truly unique and serene experience.
The source of geothermal heated water was discovered when construction workers were drilling a new tunnel through Vaðlaheiði mountain in 2015. Seven years later and that water has been purposefully channelled into the new spa, designed by Basalt Architects within the pine and birch tree-lined forest.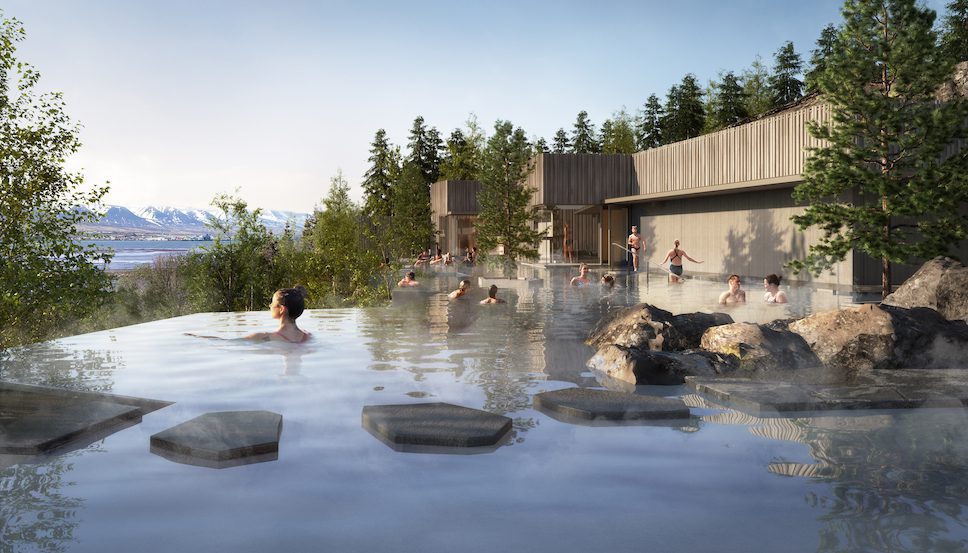 "As the building is in a forest and on a mountain slope there were some challenges to overcome," explains Hrólfur Karl Cela, architect at Basalt Architects. "Our goal was to preserve the delicate forest environment as it is crucial to the experience. This means that the building is almost entirely prefabricated off site to minimise the impact of on-site construction and waste."
Shaped into its surroundings, the Forest Lagoon features a generous 450m2 pool with a 70m infinity edge, a smaller and warmer 50m2 pool, two swim-up bars, and another pool designed for cold dips overlooking the cliff side. There's also a sauna, relaxation room, and on-site restaurant. The structure allows trees to reach into the building, allowing nature to become a feature of the built environment.
"The building itself and the pool are made out two kinds of material: one half from environmentally friendly prefabricated concrete and the other half from cross laminated wood which comes from sustainable forests in Austria," says Sigríður M. Hammer, owner of Forest Lagoon. The architects consciously designed the front part of the hotel to evoke the feeling of being in the forest, with an interior lightwell displaying a tree in the entrance, whilst the back of the structure gives way to the rocky mountainside on which it sits.
Guests will truly be spoilt for choice here, with the impressive facilities and unlimited time to spend in nature. The trees provide shelter from the wind and ever-changing Icelandic weather, and this in turn helps to maintain the pool water's core temperature. When guests wish to take some time out to explore, they will find walking paths in the surrounding woodland where they can take a stroll and spot some of the local wildlife. This all sounds like a dream weekend escape to us!
Find out more about the forest baths, expected to open in late April 2022. Prices are set to start from a modest 5,800 Icelandic króna (around £35) per guest.
Also, discover more eco retreats on enki, including these luxury marina-side cabins in South Australia and the immersive glass cabin in Iceland's remote landscape.