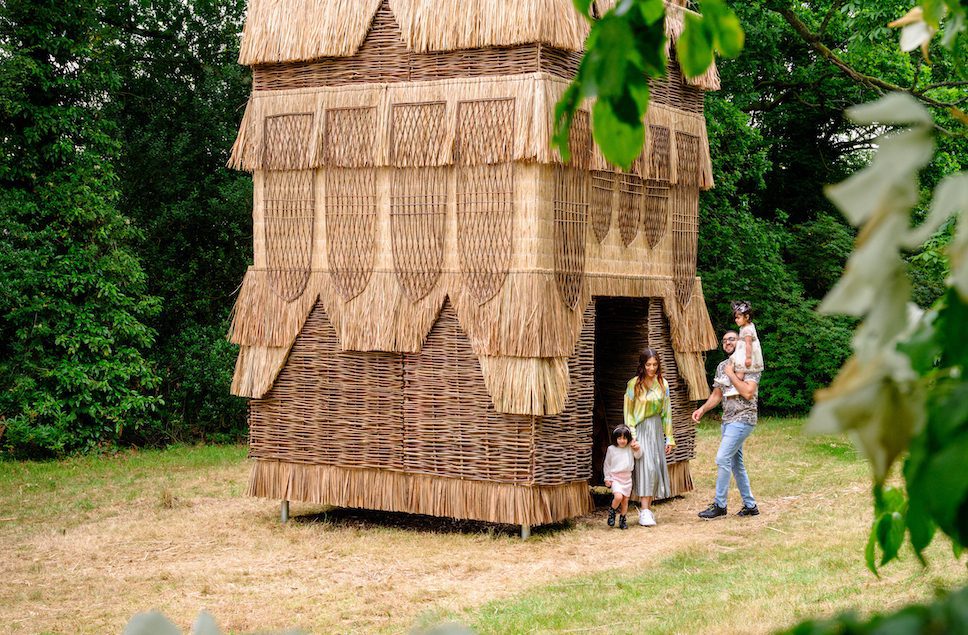 Spatial-storytellers Flea Folly Architects have designed and built the False Banana Pavilion, using Enset plant to form a traditional Ethiopian dwelling.
The tukul hut-inspired pavilion is one of five temporary installations erected at Wakehurst, Kew's wild botanic garden, as part of its summer's programme entitled 'Nourish'. Over the summer visitors have been invited to explore the immersive artworks, each inspired by Kew's groundbreaking international science projects.
The False Banana Pavilion is the result of a collaboration between Flea Folly and Kew research fellow James Borrell. Through its form and materiality, it highlights the importance of Enset, a flowering plant in the banana family that provides a food source for more than 20 million people in Ethiopia.
Sitting within the Wakehurst landscape, surrounded by birch trees in Bethlehem woods, the pavilion is a vernacular piece of architecture that is at once both familiar and unknown in its environment. Its large, rectangular wooden frame stands at 6-metres tall and 3.2-metres in footprint, and is clad in materials commonly found in the local area but its appearance acknowledges the woven huts of the Dorze people in Ethopia.
Interestingly, the timber-framed structure is wrapped in layers of hazel hurdle panels and compressed water reed sheets. These base materials are overclad in bands of long grass thatch that have been cut and crafted to create a decorative and geometric set of forms. A dried banana leaf skirt gives the False Banana Pavilion its floating quality, and it works to conceal the series of temporary screw piles upon which it sits.
"These materials aim to give the architecture a personality amongst the landscape, almost like it will lift itself up and walk around the land once the public have left for the day," Flea Folly Architects explained.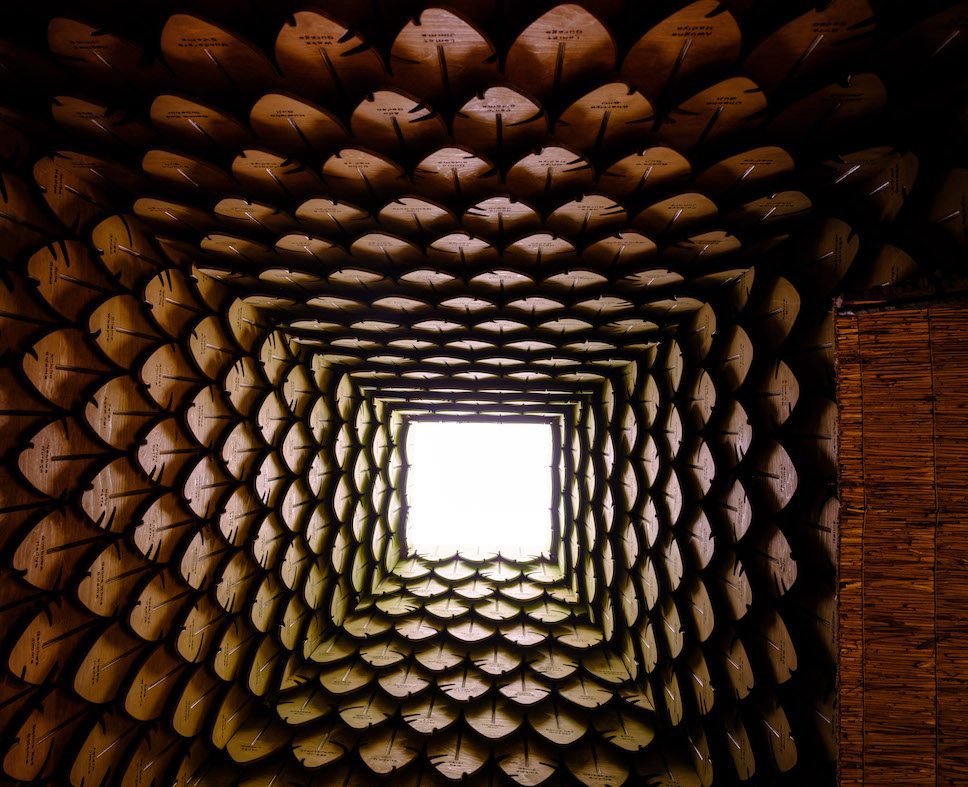 An opening in the main elevation leads visitors through into a pyramidal-shaped space clad with over 900 CNC-cut birch plywood leaves that are subtly stained in a gradient. This brings the walls to life, as the cascading paddle-shaped leaves featuring colours from red to green, revealing the story of the plant's rich biodiversity.
Founders of Flea Folly Architects, Thomas Hillier and Pascal Bronner, explained that "each leaf is engraved with a different landrace (variety of Enset species) and its corresponding location in Ethiopia as a way to help visualise the Enset's unique ability to withstand and adapt to changing and adverse geographical conditions within which it grows."
The whole structure has been designed to ensure that, once removed, it intentionally doesn't leave a trace on the designated Site of Special Interest at Wakehurst.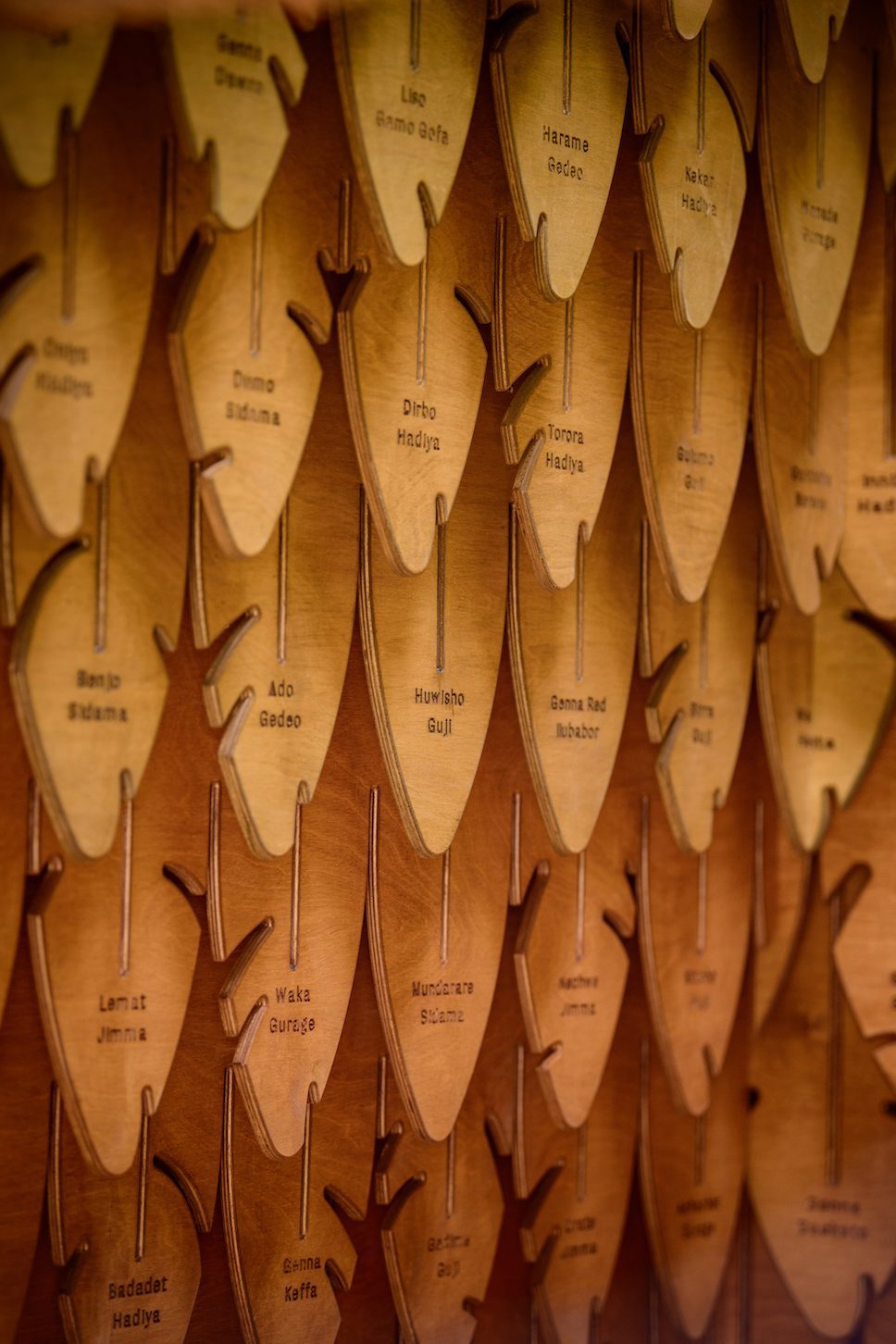 Project details:
Location: Within the grounds of Kew Wakehurst National Trust site, West Sussex, England
Design and fabrication: Flea Folly Architects
Structural engineer: Momentum
Client: Wakehurst, Kew, UK
Photography: Jim Holden for RGB Kew
The Nourish summer programme at Kew Wakehurst in Sussex runs until 18th September, and the False Banana Pavilion by Flea Folly Architects is open to the public until the end of September 2022.
For more sustainable architecture stories stay here on enki, including the rammed earth yoga studio at The Newt in Somerset hotel and the To Grow A Building project that was debuted during Jerusalem Design Week 2022.