An Australian team has won the Installation Competition for the 2022 Tallinn Architecture Biennale in Estonia with a design made of living mushrooms.
Burlasite by Simulaa with Natalie Alima comes in response to the invitation put out to architects to build an experimental outdoor installation in front of the Museum of Estonian Architecture. Opened in March 2021, the two-stage Installation Programme Competition's theme 'Slowbuilding' aligns with the main theme of Tallinn Architecture Biennale 2022 which is titled 'Edible. Or, the Architecture of Metabolism.'
The jury were impressed by the winning design Burlasite and the way it "challenges and inverts the prevailing view that a decayed building is an obsolete one." The 3D-printed structure is composed of industrial waste from the local timber industry that is harvested and combined with a biodegradable polymer. It is then inoculated with mushroom fibres (mycelium) that will in time consume and overwrite it with a hardened mycelial structure.
The Tallinn Architecture Biennale Installation Competition sought "proposals that take a long, romantic and human-centric view towards construction technology, demonstrating designs and processes that extend and expand learning and mastery, traditional craftsmanship and analogue fabrication, repurposing and reuse of local materials, human invention and improvisation, environmental adaptation and responsiveness, wonderment and delight."
Architectural practice Simulaa and Natalie Alima responded by dissecting the archetypal hut, "utilising algorithmic processes that enable biological transformations of material growth and decay to rewire its foundations." This interesting approach helps to understand the specific material process on how to work in large-scale building constructions in the future, whilst eliminating the production of waste.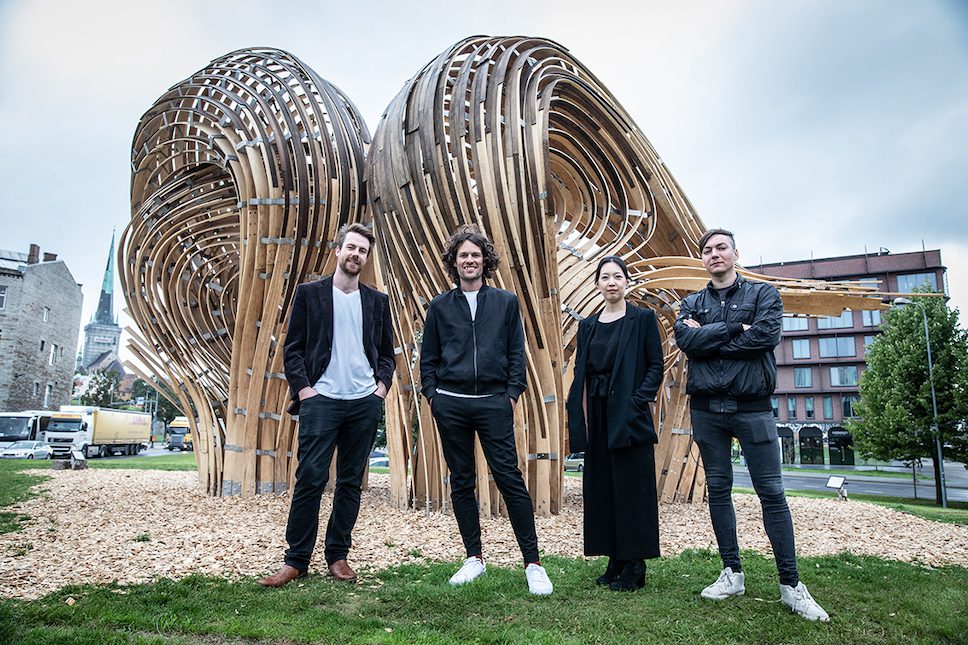 Tallinn Architecture Biennale 2022 will take place from 7th September to 31st October 2022 and the Burlasite installation will be on displayin front of the Museum of Estonian Architecture in Tallinn until 2024.
Discover more of the latest industry news on enki.