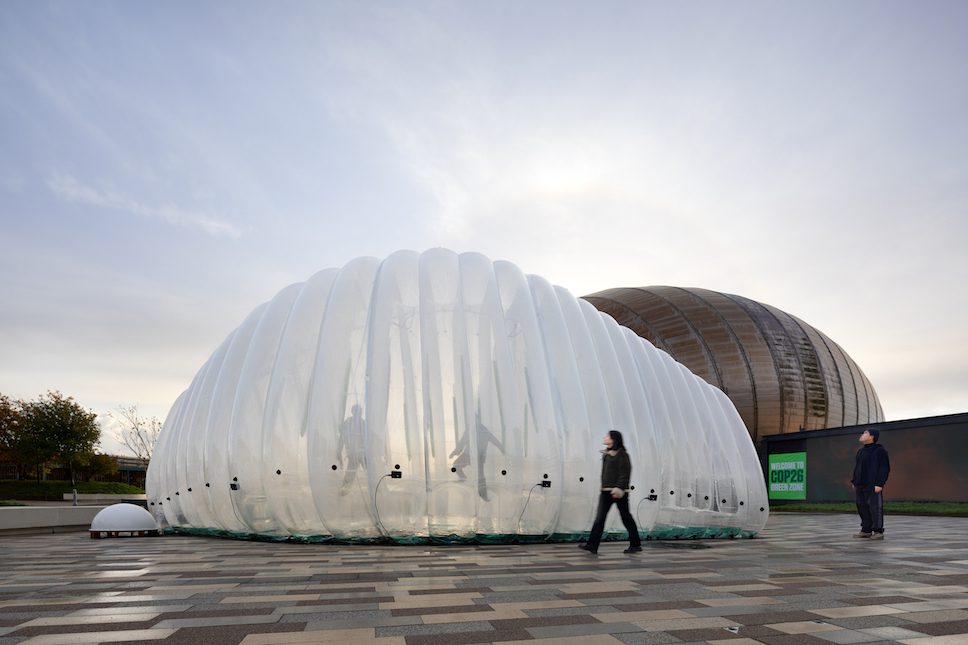 Addressing air pollution and carbon neutrality, the Air Bubble eco-machine and BioFactory architectural system are innovative projects using PhotoSynthetica technology by ecoLogicStudio.
Architecture and innovation firm ecoLogicStudio are introducing the on-going research projects in conjunction with COP26 in Glasgow, with the Air Bubble air-purifying eco-machine installed within the Green Zone for public viewing. Both projects address some of the key talking points at the Climate Conference, such as reaching net zero emissions, protecting and restoring ecosystems, and building resilient infrastructures.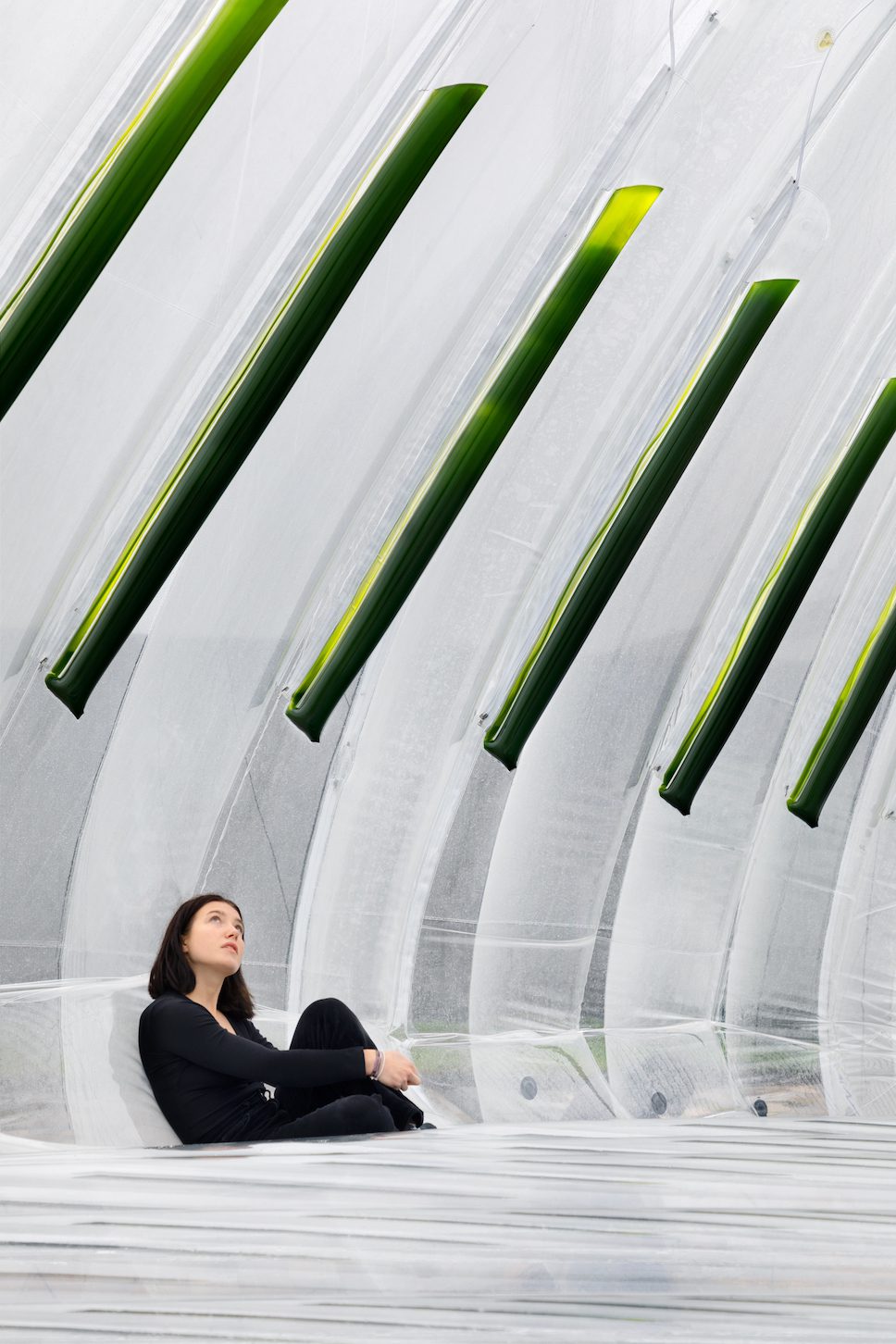 The Air Bubble is what the architecture and innovation firm call "a tangible vision of how a net zero civilisation can clean its pollution, produce its energy, grow its food and construct its buildings in the next 30 years, starting now." The intriguing installation at COP26 invites visitors to interact and experience the air-cleaning capabilities of micro algae cultures, whilst inside a bubble of freshly metabolised oxygen.
"The playful softness of the organic structure, akin to gigantic bouncy jellyfish, is a direct manifestation of the biotechnology it integrates," as ecoLogicStudio vividly describes. It combines a lightweight inflatable technology with 24 photobioreactors to create a unique microclimate inside the structure.
Furthering their research, ecoLogicStudio unveiled the BioFactory architectural system (pictured below) which is designed to transform the way we look at industrial architecture.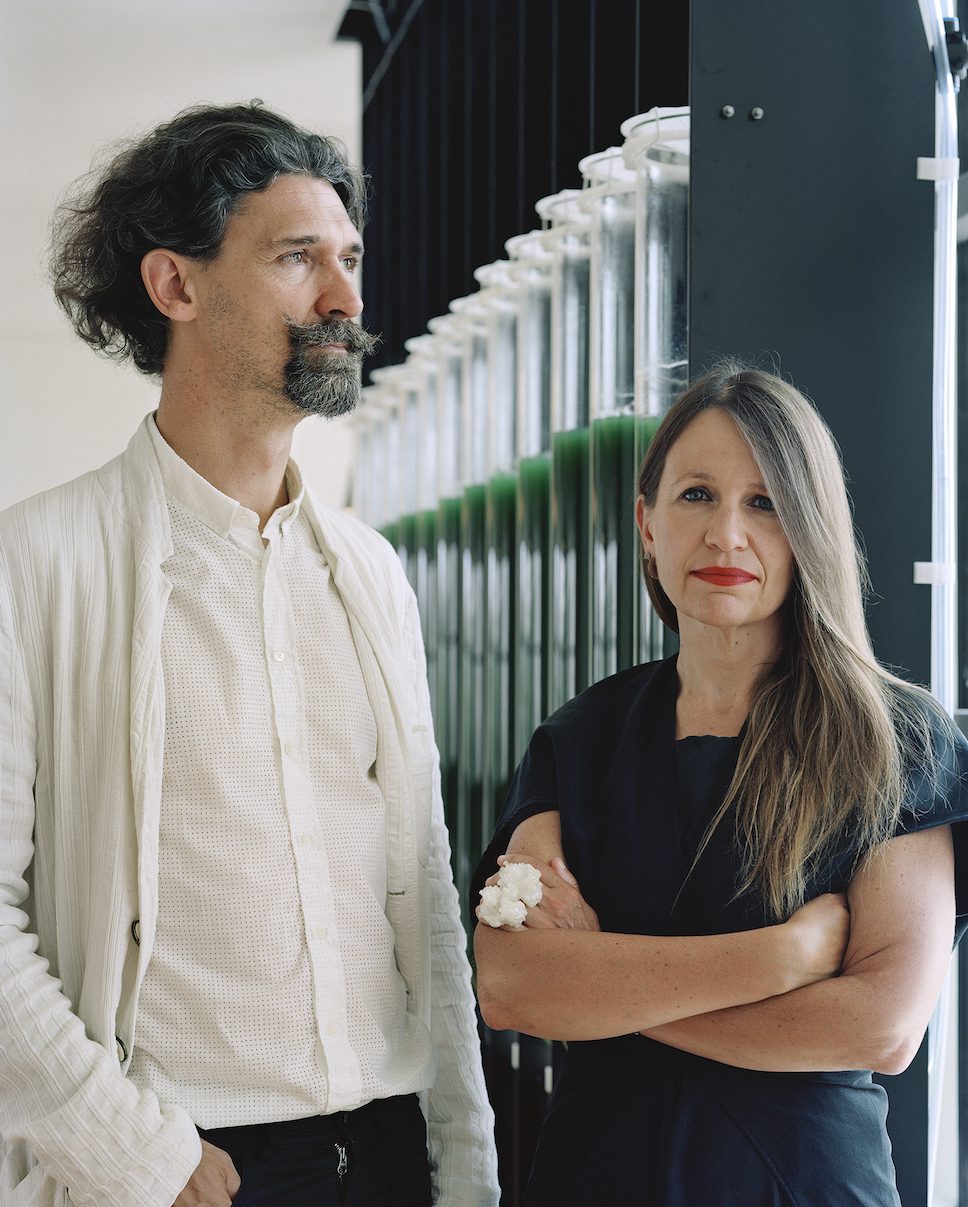 "From advanced computation to micro farming to bio-design to future culinary and gardening, BioFactory fosters a proactive attitude exemplified by the fundamental aspects of cultivating, harvesting and processing living organic material," explain ecoLogicStudio founders Claudia Pasquero and Marco Poletto.
The pilot scheme, installed in Lisbon at Nestlé Head Office, sees freshly harvested biomass enter the factory supply chain and become a renewable and sustainable raw material for carbon neutral food products and packaging. Inside Photobioreactors, vessels designed to control biomass production, food grade micro-algae is grown whilst feeding on the CO2 emissions of the factory itself. The low-carbon production process is a defining characteristic of a BioFactory, and means that the building's cladding will be made carbon negative in its lifetime.
Also to coincide with COP26, ecoLogicStudio is exhibiting its first industrial design project, BioBombola, at the Design Museum's on-going 'Waste Age: What Design Can Do' exhibition. The domestic algae garden installation will be on show until 20th February 2022. You can also read about the Aurora installation at 'Waste Age' on enki.
Discover more inspirational projects by ecoLogicStudio.
Keep up to date with the latest industry news on enki.