Organic silhouettes define White Tulip, the new bathroom range designed by Philippe Starck for Duravit, offering versatility in any contemporary bathing space.
White Tulip is the first complete bathroom range created entirely by internationally renowned designer Philippe Starck for bathroom manufacturer Duravit. His designs draw on the natural shape of a single tulip and how it unfolds in an almost sculptural way. This is reflected in the graceful details and superb workmanship of each individual piece.
There are two complementary style collections within the White Tulip range. 'Nature' sits well in serene, naturally inspired bathrooms, and 'Culture' which brings an expression of urban sophistication.
There is versatility in the monolithic design of the freestanding ceramic washbasin which can be wall or floor mounted. A delicate outward sloping edge gives the range its aesthetically pleasing style, from the round above-counter basin to the right-angled washbasin.
Matching freestanding and wall-mounted WCs and bidets complement the ceramic elements and showcase the sustainable, water-saving side of White Tulip. The WCs feature the new HygieneFlush by Duravit with a powerful flushing action. This innovative technology will clean the entire inner surface using just 4.5 litres of water.
Additionally, White Tulip also includes the first range of taps developed by Philippe Starck for Duravit. The tulip-shaped handle echoes the organic style of the washbasins and bathtubs. As with the rest of the range, you can appreciate the gentle contemporary form of each piece from all angles.
The freestanding bathtub features seamless acrylic panelling to mirror the form of the ceramics. It is available in a round or oval version with a choice of two sizes to flexibly fit different spaces.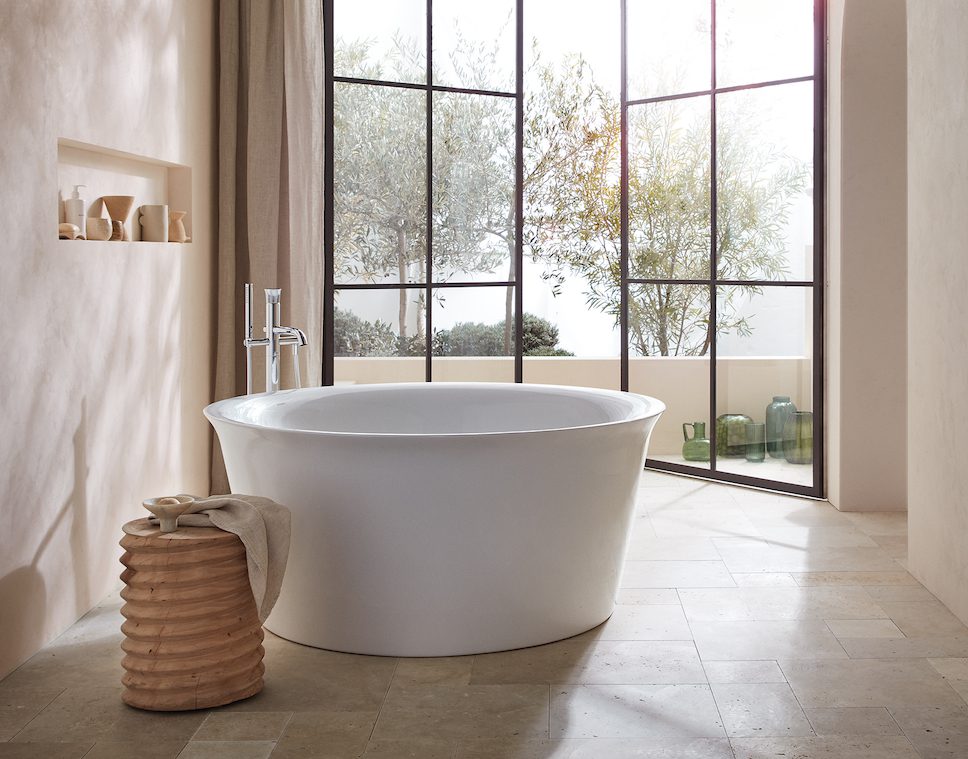 The mitre-cut, finely crafted edges reveal the precise composition of the White Tulip furniture by Duravit, available in widths of between 350 and 1300mm. The furniture and coordinating semi-tall cabinets come in five colours with high gloss or satin matt lacquer, or a solid wood finish of Natural Oak or American Walnut. Fitted ring pull handles add a nice touch to the self-closing drawers. Or, you can go handleless and keep the look totally seamless.
Mirror heating and app-controlled, customisable lighting are options available from the White Tulip collection that will add that finishing touch.The matching mirrors in the series are all controlled by sensors or via an app. It has all been designed to create a serene space with no hard work involved, so all you need to do is sit back and relax.
Coinciding with the White Tulip collection launch, Duravit UK are launching an interior design competition in partnership with FX magazine. Open to all UK-based interior designers, it will run from 1st October 2021 until the 7th January 2022. Duravit UK invite interior designers to submit a design for a bathroom space within either a residential or commercial space. The design must include the White Tulip series for the chance to win products up to £15,000 (ex VAT).
A panel of experts will judge entrants on creativity, use of space and use of product to overcome design challenges. The winner will be announced by Duravit in February 2022. Projects must be realised by 30th September 2022 to qualify for the prize. See full terms and conditions here.
Discover the White Tulip collection by Philippe Starck for Duravit in more detail.
Explore more design stories on enki.