A series of large-scale immersive installations are set to spark conversations at this year's Dubai Design Week, focusing on innovative design for a sustainable future.
Taking place from 8th-13th November 2022, Dubai Design Week is one of the Middle East's most significant cultural occasions and is a platform for sharing international and regional creative talent.
Here, we take a look at this year's installation highlights and how they fit into the design week's programme which is centred on the theme 'Design with Impact'. Read on to find out more…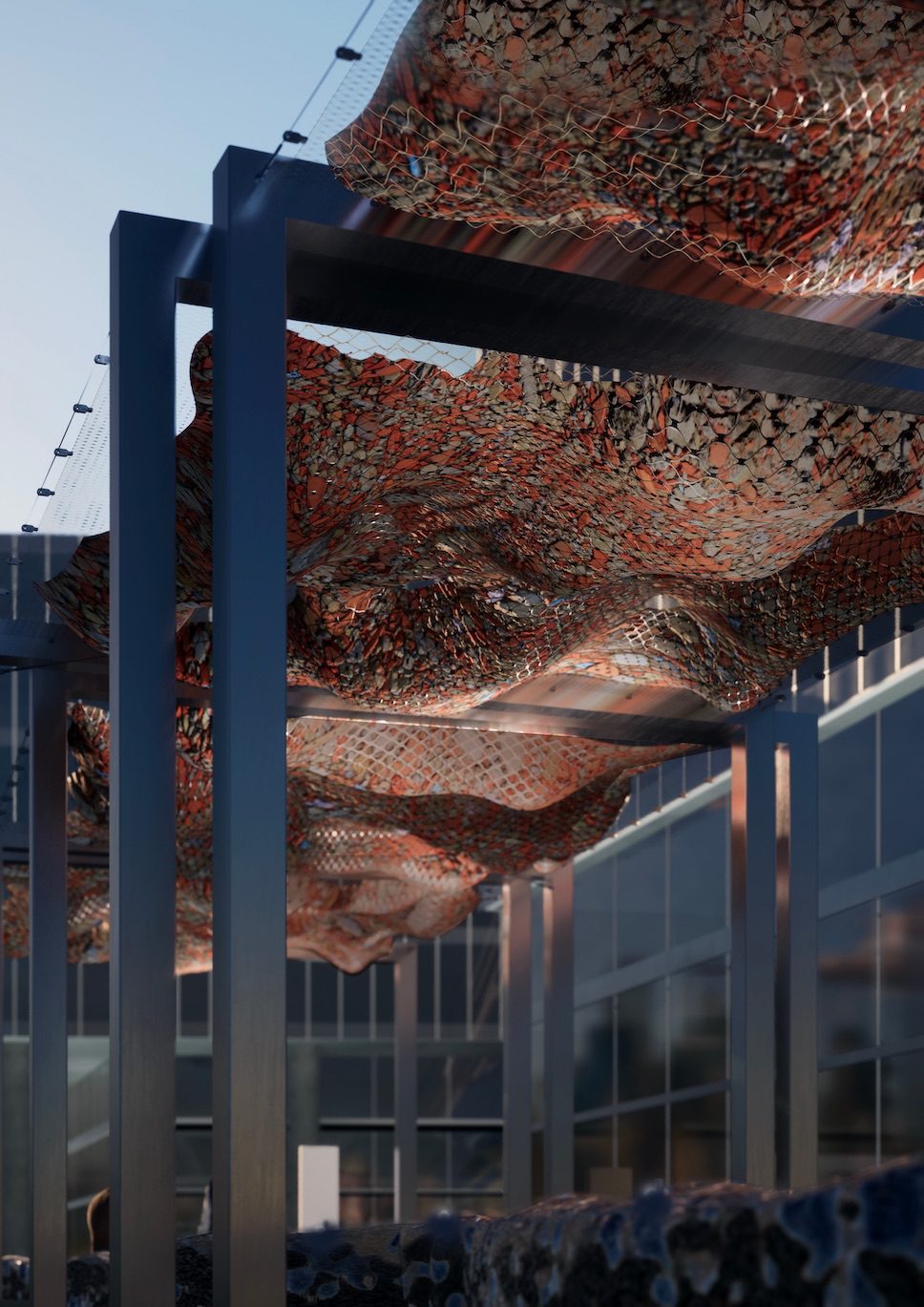 Dubai Design Week 2022 installation highlights
Looking at the possibilities of repurposing date palm waste in architectural forms, Tash Architects will showcase its Palm Renaissance installation (pictured above, top). Through the creation of date palm shelters, they are proposing a solution and relieving the agricultural sector of the challenging process of palm waste disposal.
"Avoiding the burning of palm waste and leveraging it to create low carbon footprint shelters and other construction elements such as shading screens is a truly sustainable construction method. Palm leaf screens and roofs eliminate the need for air conditioning, which is usually exasperated by concrete roofs and the hot asphalt roads," explains Shema John, Principal Architect at Tash Architects.
In a further consideration of how we reuse waste material, UAE talent Quartz Architects has designed its 'How Much Does Your Debris Weigh?' installation (pictured above, left). It displays cascading demolished materials in their raw state, creating an enclosure for an experimental space and showing a way to rethink the condition of different materials in the architectural construction process.
Putting nature at the forefront of design, US architecture firm OBMI presents 'Once Upon a Forest' (pictured above, right), which seeks to merge sustainable design with preservation of UAE natural landscape. The organic-like pavilion plays with the perspective of the country's natural heritage and resilient ecology, as visitors can walk under the floating canopy that nods to the importance of preserving the native mangrove forests.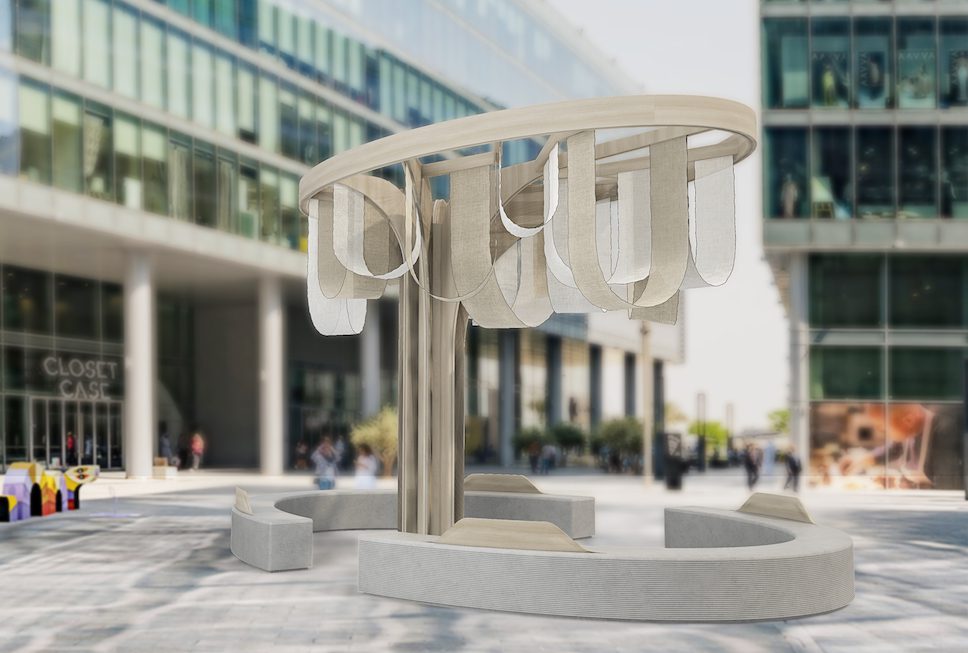 Rendering a habitat to birds and mammals that seek shade, shelter, and protection, the 'Grounded in Hope' installation (pictured above) by Dubai-based interior design studio Grounded Design aims to inspire harmony in our ecosystem. Natural colours and soft hues help to create a sense of calm, whilst also putting emphasis on the materiality and how creating environmentally friendly architecture can help minimise our carbon footprints.
Continuing the theme of how we can live symbiotically with nature, architecture an design collective Fadaa Space presents 'KIN' (pictured below). Its structure is formed from bio and oyster bricks, created using discarded shellfish from restaurants, along with natural, low-carbon lime, with the installation hosting native plants and species.
Sharing his thoughts, Bisher Tabbaa, co-founder of Fadaa Space commented: "Architecture accounts for one third of global carbon emissions. And while many view architecture as a static object, it is in fact very dynamic, constantly changing, and connecting many places; Swedish floors, German bricks, Dutch steel railings. The act of making architecture is an act of energy dissipation."
It's clear that through all these experimental mediums, and with lots more installations, talks and workshops, and pop-up events to explore, that the eight edition of Dubai Design Week will be a hive of inspiration for future sustainable design.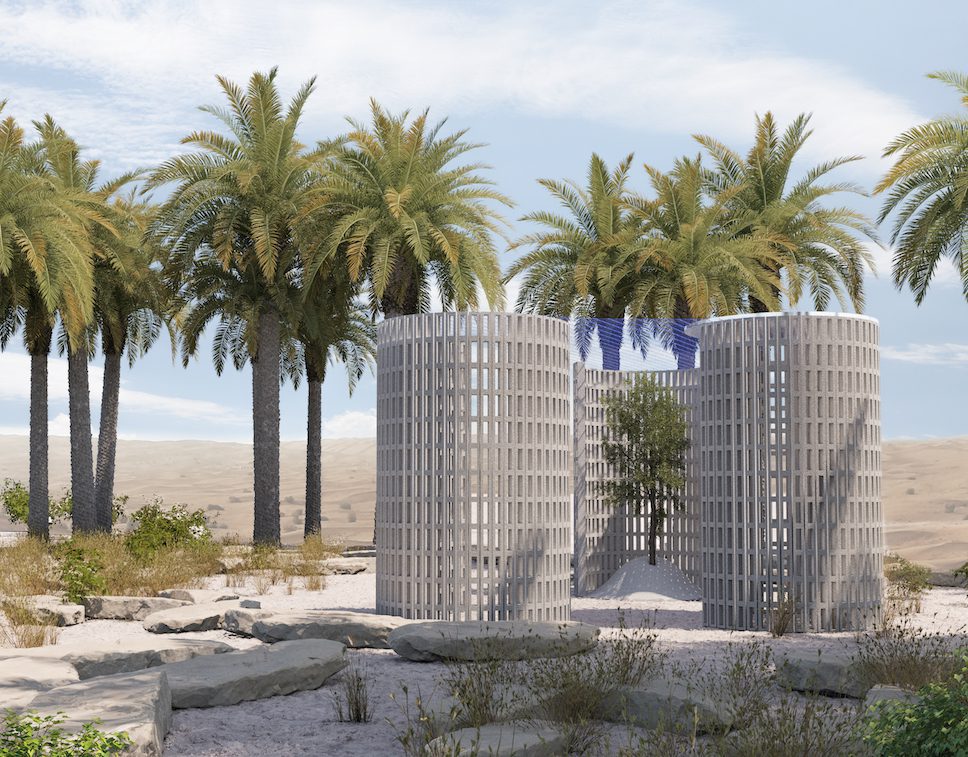 Discover more about the theme 'Design with Impact' and other installations expected at Dubai Design Week 2022 online.
Read more news on sustainable architecture here on enki, and also discover all about the latest exhibition at the V&A Dundee which examines the past and future role of plastic.