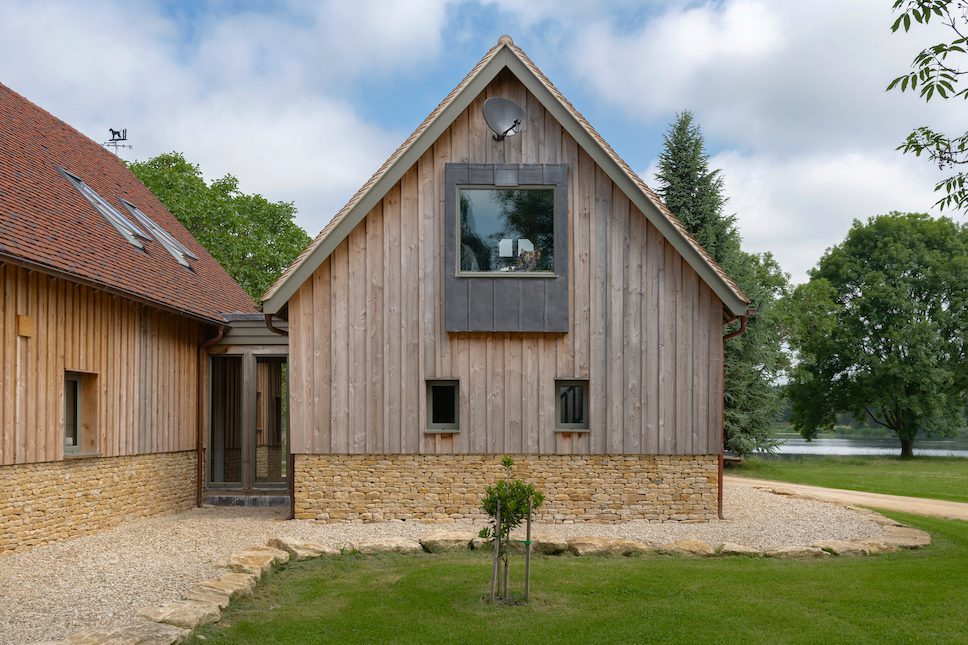 Beautifully crafted architectural details by Corston add finesse to a barn-style oak frame house with touches of antique brass.
The owners of the Lake House, situated on the edge of a private lake near the Cotwsold Water Park, sought after a spacious open-plan kitchen and entertaining area from which to enjoy the calming views. Due to their love of natural and sustainable materials, they chose locally based Hush Kitchens and complemented the natural oak and painted timber with Corston's Antique brass finish.
We spoke to David Gray, Product Director for Corston Architectural Detail, to delve deeper into the design of the luxury hand-finished products and he also tells us about the brand's passion for innovation…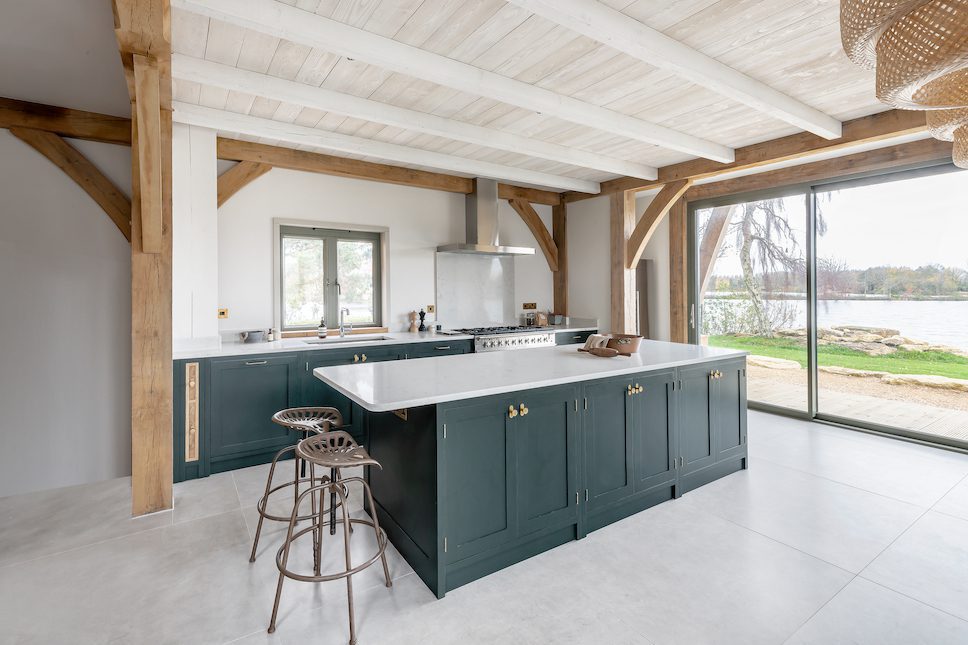 Which Corston products are used throughout the Lakehouse project?
Antique brass Kilburn knobs and Sycamore 128mm pull handles have been used on the cabinets of the shaker-style kitchen, designed by Cotswolds-based kitchen company, Hush Kitchens. For cohesion, the sockets and switches have been chosen in the same finish throughout the home. Also, to complement the kitchen, the same Sycamore pull handles have been used in the boot room area, albeit the longer 240mm version, together with matching hinges.
How does your product design background inform your work?
Corston tends to avoid trends and phases, and instead focuses on simple shapes, correct proportions, and natural materials. When we get this right our products add visual structure to any space without being a distraction. Consequently, we strongly believe that the tactile parts of the home you use every day are really important, hence they should be a pleasure to use.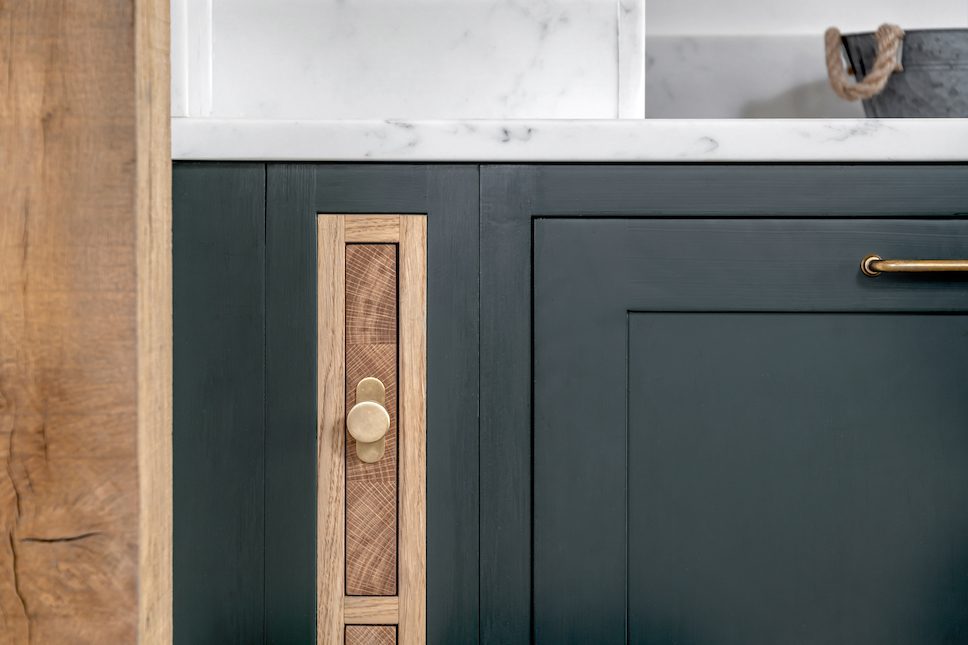 What goes into the design behind each piece of hardware and fitting that Corston makes?
Design is at the heart of what we do. Our team of designers and engineers spend around 6-24 months developing new design-led products. The process is iterative, making many versions to continually refine a concept until we are happy to release it. We are innovators in the market – for example, we recently introduced an in-line dimmer connected to a toggle switch that's small enough to fit into a mounting box so fitting and access is easy. Finished products are then tested for quality control and are hand-finished in our Wiltshire workshop.
How does the hand-finishing and artisan detail of the Corston hardware complement this property?
The homeowner's aim was to create a building that sits quietly in its setting and blends into its natural surroundings. It's an oak frame building and Corston's Antique brass finish works well with all the natural oak and painted timber. The antique brass finish complements the rich green of the cabinetry and has a time-worn charm that suits the modern rustic feel of the house. As it's hand finished there's an artisanal attention to detail and uniqueness that you just don't get from machine finishing.
Can you tell us about the finishes that Corston offers and how these give a timeless look?
All of our hardware, switches and sockets are made from solid brass and available in four timeless finishes: Antique Brass, Unlacquered Brass, Dark Bronze and Polished Nickel. Antique Brass is brass that has been aged by hand in our Wiltshire workshop to give it a time-worn appearance.
Unlacquered brass is becoming increasingly popular – it's brass that has no protective coating so over time will darken and patina and show wear. Dark Bronze is another classic finish that works equally in a period or modern setting. Polished Nickel is our latest finish, combining the durability of chrome with a warmer feel. It has a more contemporary feel than the other finishes, but whichever finish you choose, our hardware is designed to look good for years to come and elevate any space.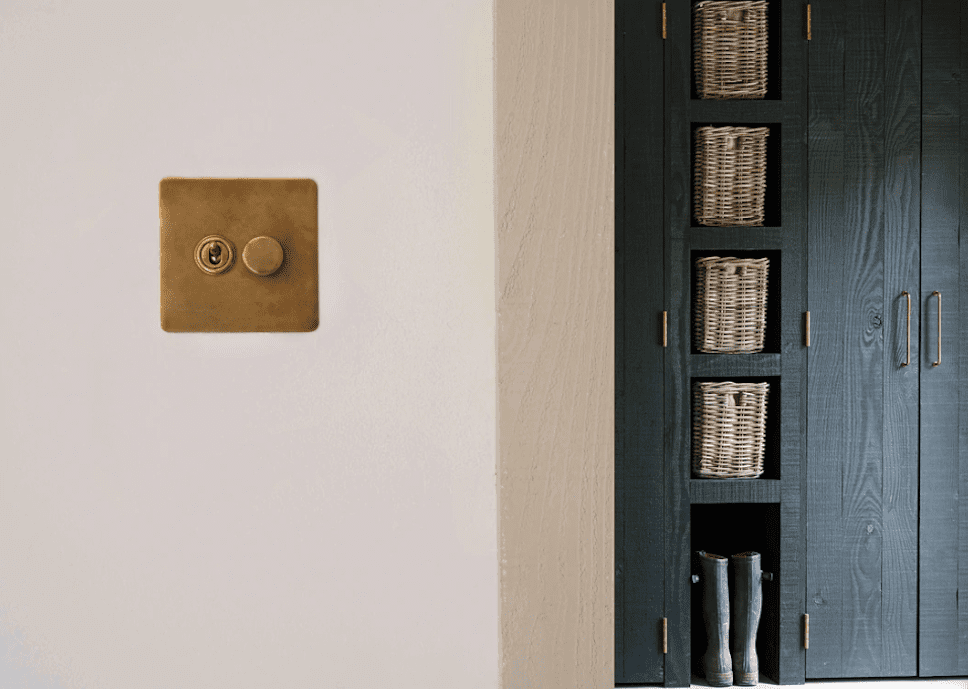 How does Corston consider the environment?
The Corston ethos is to be extremely environmentally aware and consider our carbon footprint from the design stage right through to production. The products themselves are made from solid brass, so they're built to last. The machinery we use is energy efficient and produces very little waste, all of which is recyclable.
We use cardboard packaging with minimal ink printing and any plastic is avoided wherever possible. When there's no alternative, we look to use recycled plastic rather than any single use materials. It's our goal to be completely plastic free when it comes to packaging, and we're very nearly there!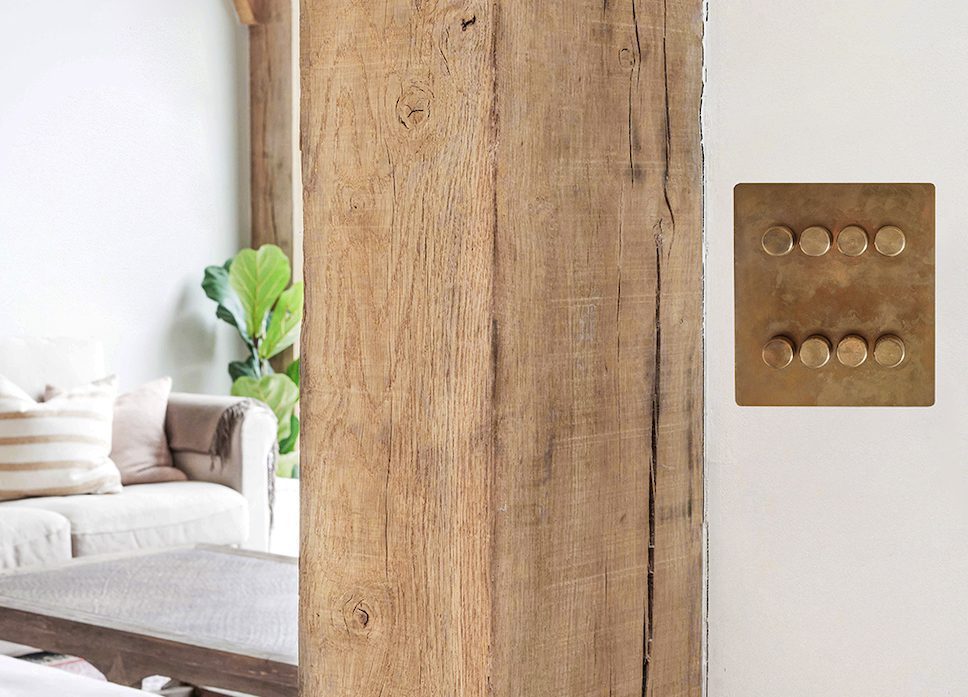 Photos by Pete Helme Photography.
See the full collection of fixtures and fittings by Corston Architectural Detail.
Discover more residential case studies on enki.