Architectural designer Caspar Schols' modular timber cabin, known as ANNA Stay, has scooped the World Hotel Building of the Year 2022 Award at the recent World Architecture Festival (WAF) in Lisbon.
During WAF, the largest global annual architecture event, ANNA Stay was praised by the judges for its environmentally friendly architecture. The versatile modular cabin features hand-movable walls and windows that enable guests to feel fully immersed in nature. At a time when we often find switching off and disconnecting from the digital world a struggle, ANNA Stay offers an appealing antidote and a comforting escape.
Dutch designer Caspar Schols was inspired to create a flat pack cabin for living and working, and to achieve this he drew on the Garden House pavilion that he completed before architecture school in 2016.
Modularly developed, the structure is equipped with two protective sliding shells; the inner shell is made of double glass, and the outer shell is made of wood. With small adjustments of the shells, ANNA Stay is capable of changing and adapting to weather, moods, and occasions.
"To ensure a low transportation footprint, ANNA has been designed in such a way to enable 80% of its unique parts to be produced locally in the future, via a digital file, on CNC machines and 3D printers (mounting material is printed in recycled plastic) anywhere in the world," explains Caspar Schols.
A truly rejuvenating stay is guaranteed whatever the time of year, as the insulated wooden shell keeps the warmth in during winter, while the glass maintains a barrier from the rain but welcomes sunshine inside to light and heat the inside space.
Holenberg in The Netherlands became the world's first location in which guests could experience ANNA and bathe in the forest sounds of the Maashorst nature reserve.
The award-winning turnkey design is now available as an on-grid version as well as a self-sufficient off-grid version, including a fire-heated boiler, a solar energy system, and a wastewater treatment system.
"ANNA Stay is a sellable, fully inhabitable house, a flat-pack that could be built and re-built anywhere in the world," Schols says. Its design caters for both short-term and long-term living, and is suitable for two adults and two children, or three adults.
"We are building a network of the most stunning places in the world to bring people closer to nature," adds Schols, confirming his ambition to bring the ANNA experience to more people around the world.
The first ANNA Stays are now available to pre-order, with a limited number of only 20 cabins set to be delivered in Europe and the US in 2023.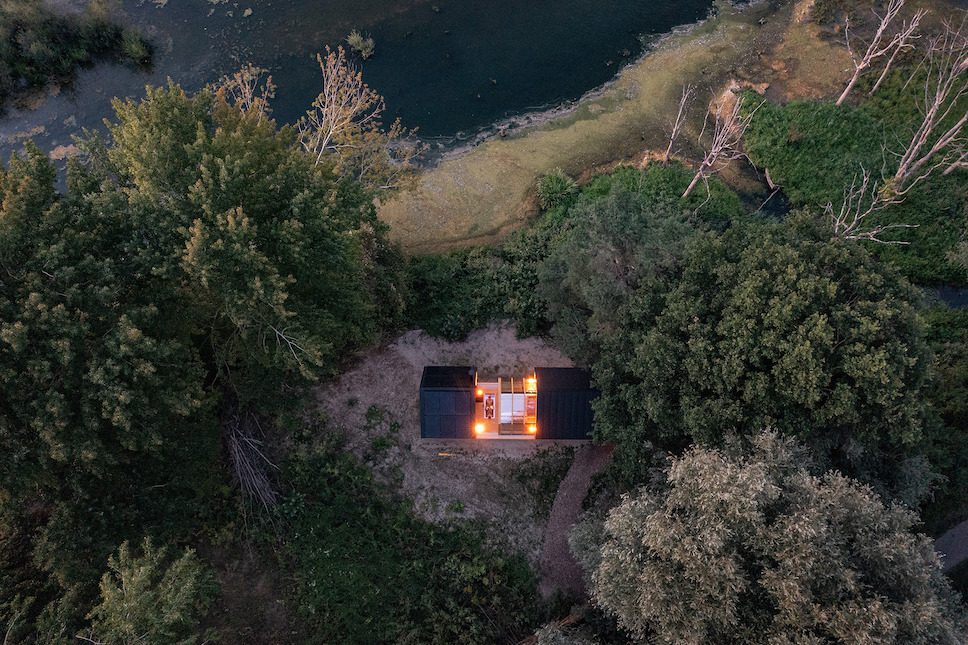 Photography by Jorrit 't Hoen, sourced from V2com.
Learn more about the Cabin ANNA experience and what it offers.
Read more architecture and sustainability news here on enki.