Spanish ceramic artist Bisila Noha is presenting her first solo exhibition in France at Galerie Revel, showcasing her largest collection of works to date.
Entitled 'Uprooting, re-rooting: Matter and Construction of the self', the exhibition encompasses a range of materials including clay, plaster, and bronze, from Noha's early body of work 'Brumas', through to her current projects. Themese of material and context are explored along with overlooked craft traditions, particularly those led by women in the Global South.
The sculpture works, which invoke "complex notions of time, artistic legacy, transmission, identity, and growth" are set against the backdrop of Galerie Revel's Bordeaux space, and will be on view until 8th January 2023.
Noha challenges ideas of separation by time and proposes a sense of belonging to a community of artists who came before her, as she explains: "Since 2017, I have been looking at different pottery traditions, led by women in the Global South. Their energy, wisdom and experience, which I represent with two robust legs, is met with my energy and approach to making."
"It is a way for me to pay homage to all those – more often than not – forgotten women who have shaped the history of pottery. Whose stories and labour, because of the dominant patriarchal, Western, colonialist views on history, have sadly been ignored or belittled. At the same time, they represent that search for my own identity and voice as a woman maker in this matriarchal lineage of artists."
Among the works on display, the sculptures in the 'Reunion' series, which is a continuation of the 'Two-legged series, become larger and display an experimental approach. This represents the first time that plaster appears in Noha's work as a material translated into artistic pieces, and not only through a process of production.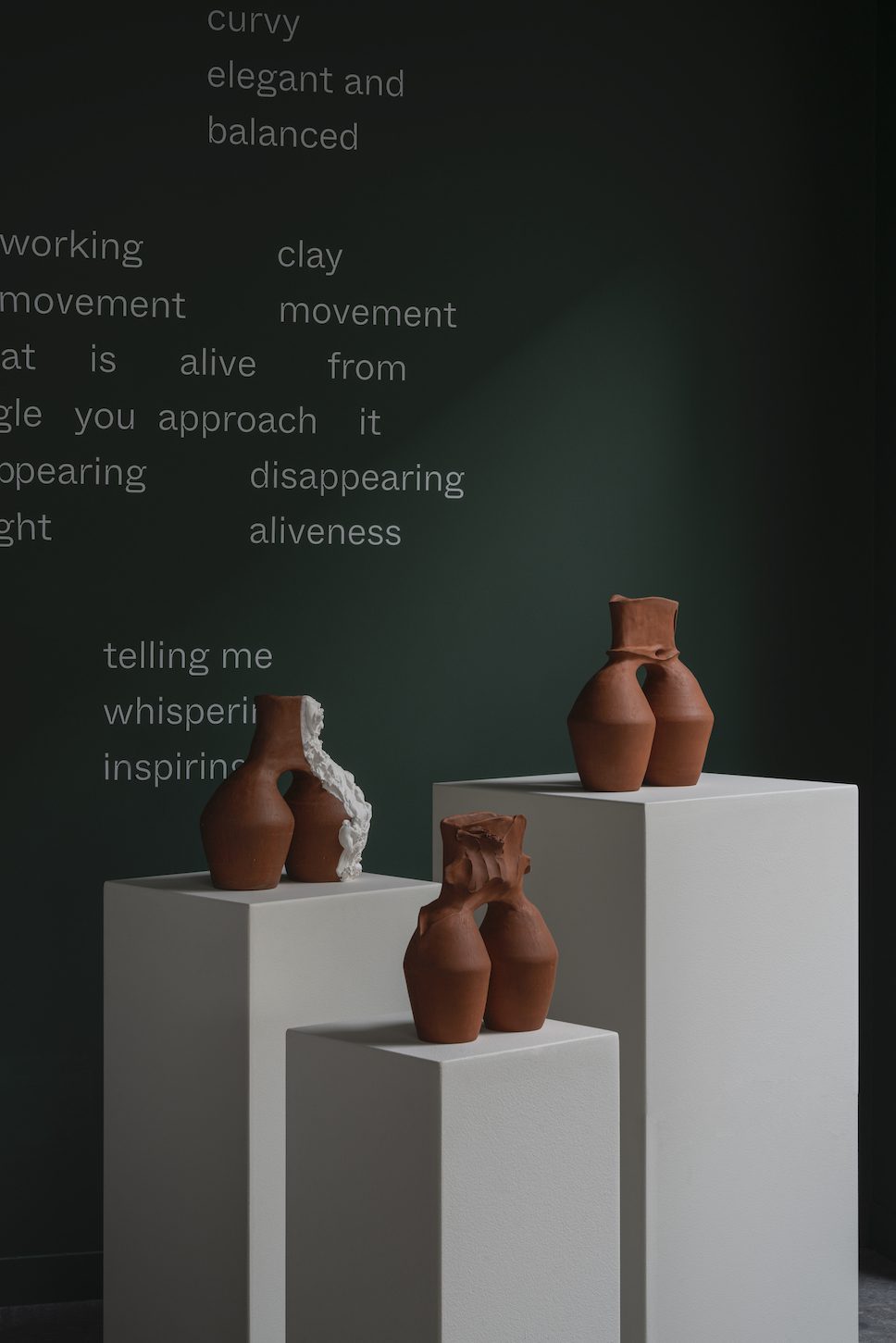 "Driven by a desire to bring my pieces a bit more alive, to make them more three-dimensional, along with that idea of making clay and plaster equals in a ceramics environment, those hybrid pieces were born. They are about that fire we all carry inside. About the different sides of ourselves we embody, which often are in conflict," illustrates Bisila Noha.
There are various stories told throughout Noha's three-dimensional work, and this solo exhibition delves into her search for movement and dynamism, looking at the inspiration she has taken from Cubist and Futurist sculpture.
In summary, Prince Malik Jewiti, Co-founder and Director of Galerie Revel, said: "As an artist, a ceramicist, a woman of African and European origin, the affirmation of her multiple identities is felt in the essence of her work, as well as in the aesthetics and constant quest."
The solo exhibition 'Uprooting, re-rooting: Matter and Construction of the self' by Bisila Noha is open until 8th January 2023 at Galerie Revel in Bordeaux, France. Discover more about the Spanish ceramic artist's experimental work online.
Earlier in 2022, Galerie Revel hosted the Collectible international fair in Brussels featuring a wide range of design collectibles made by artists and craftsmen from around the world.
Read more design news on enki, and don't miss our series of Meet the Maker interviews to discover lots of other designers, makers, and creatives.