Over the last few months at enki we've been exploring new, beautifully designed innovative work spaces (missed our post on co-working spaces? Click here)…
Therefore, we were intrigued to learn about award-winning London-based design studio, Run For The Hills' transformation of a neglected Georgian bank into an innovative, loft style office space in Birmingham's urban centre.
The design studio not only transformed the heritage building but restored it to its former glory, creating two large work spaces to each of the five floors (which altogether comprise of close to 20,000 square feet). Situated less than five minutes walk from Birmingham's New Street Station, not only is this building usefully located, but its new design has caused a stir when it comes to inspiring workspace design within the city.
Breathing premium design, the revamp draws inspiration from Georgian facades and private members club entrances, and Run For The Hills' holistic approach – led by Creative Directors Anna Burles and Chris Trotman – means that everything, from the interior design to the 'to let' board and branding, has been well-thought out and contributes effortlessly to Bennetts Hill House's new identity.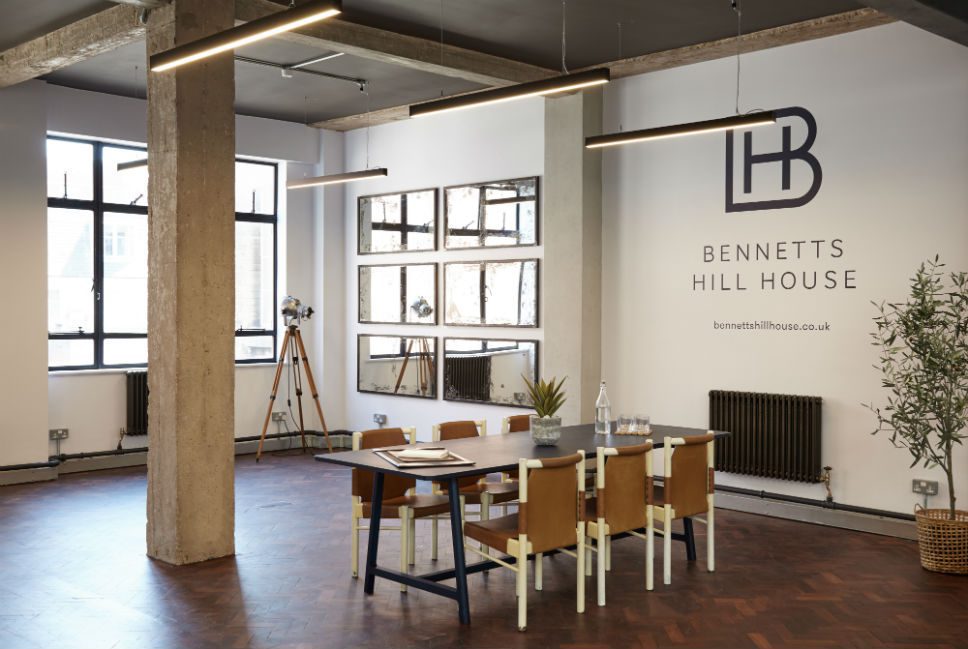 "The brief from our client, Dunmoore, was to create a taste of Soho/Shoreditch in the heart of Birmingham. We wanted to create a space that felt urban and cool but also sophisticated and appropriate for the heritage Georgian building. Our monochromatic scheme of deep midnight blues, urban greys, off whites, coal and clay is dramatic but with an elegant, utterly timeless feel which would appeal to men and women." Anna Burles, Head of the interior design team
We love the industrial feel of the open-plan offices with their high ceilings and exposed concrete pillars and steel beams. A dark colour palette and carefully selected antique details continue the urban feel of the space. Mixing the new with the old, you'll find the original reclaimed parquet from the Georgian bank's original design in the building too, as the client and design studio chose to keep and restore as much of the original structure and its details as possible.
Designed to host the entrepreneurial spirit in Birmingham (the UK's second largest city), Bennetts Hill House will open this summer 2018.
Want to discover more about design studio, Run For The Hills? Click here.