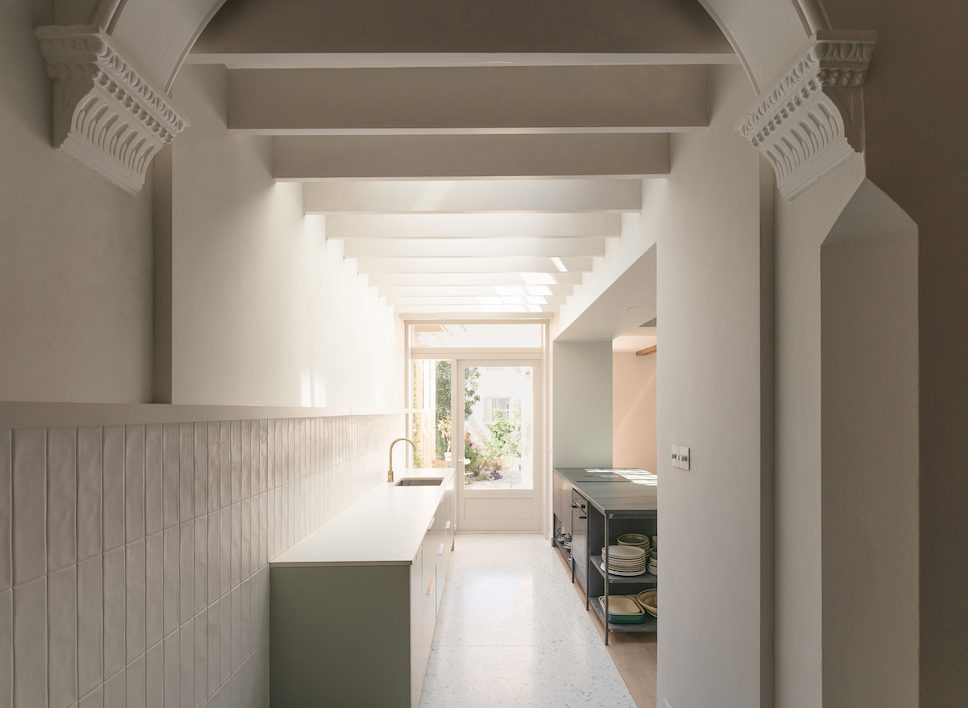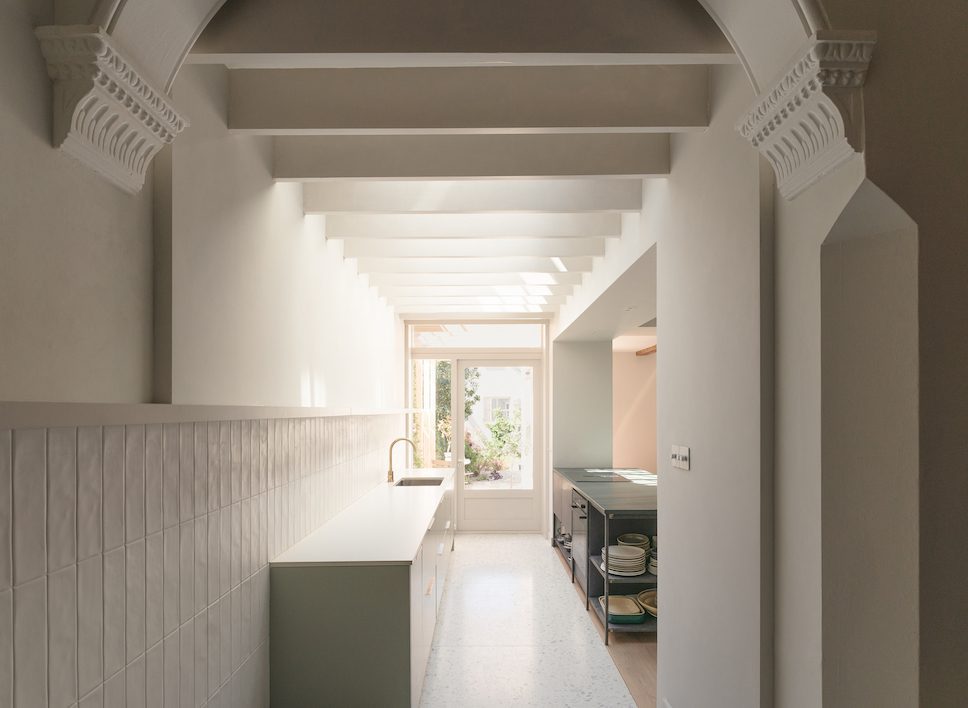 With an attentiveness to material, light, and proportion, Benjamin Hale Architects have introduced a side return and a series of 'garden rooms' to unlock the ground floor of a Victorian property.
The rear extension has solved a problematic configuration of rooms, with an opening cut into the entire length of an existing wall to connect the kitchen to a new larger dining area. Where the existing plan suffered from an oversized kitchen lacking any meaningful link to the garden, the architects sought to reconnect the internal spaces with the outdoors adding a picture window and a set of bespoke timber folding doors.
We spoke to principal architect Benjamin Hale about his careful consideration of materiality, and he tells us about the design process behind sensitively adapting and modernising this almost-150-year-old property…
What changes did you make to the existing floor plan and to what effect?
By removing an entire length of wall along the return and constructing an extension we created a secondary or 'slow' link between the dining, kitchen and living spaces. This allowed what were previously disconnected spaces to flow together. Within this new extension we placed the kitchen in what would become the most sociable part of the home. The existing utility was converted in to a garden room with a series of folding doors allowing the room to spill out in to the refurbished garden.
Architecturally, what was your biggest challenge and how did you overcome it?
We tried hard to avoid the standard, large open-plan experience of a rear extension and instead suggested to our client that a series of 'garden rooms' would offer them the chance to gather together as a family, entertain, or take a quiet moment in solitude. Working with the existing building, rather than against it, we created a number of openings and cuts to form new spaces and visual connections from the street to the new extension and garden beyond.
How have you carefully considered material, light, and proportion?
Whilst many extensions to the traditional Victorian terrace aim to create an aesthetic division between old and new we wanted to blur these conditions. Material, light, and the proportion of space have all been carefully considered in order to form a distinct hierarchy of rooms.
The use of warm, textured finishes throughout link old and new whilst large Italian terrazzo slabs delineate the kitchen in a material sense from the rest of the space. As you move from the front of the house through to the existing dining room, the view of the garden is concealed. Light enters this room via a roof light and as you turn the corner, beneath the cornice arch, the view is revealed.
White painted timber fins sitting beneath the three-metre roof light diffuse daylight, washing the walls with a soft, dappled light that offers a constantly changing atmosphere within which to cook and socialise. We worked hard to achieve these moments throughout the space, moments of material and light coming together to a create a feeling of serenity.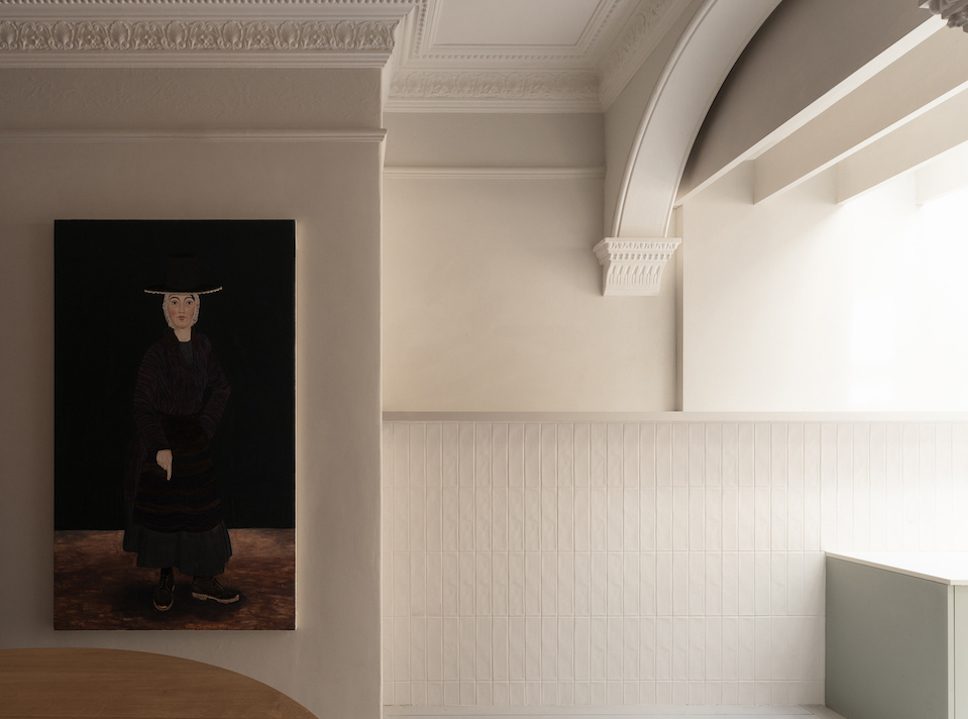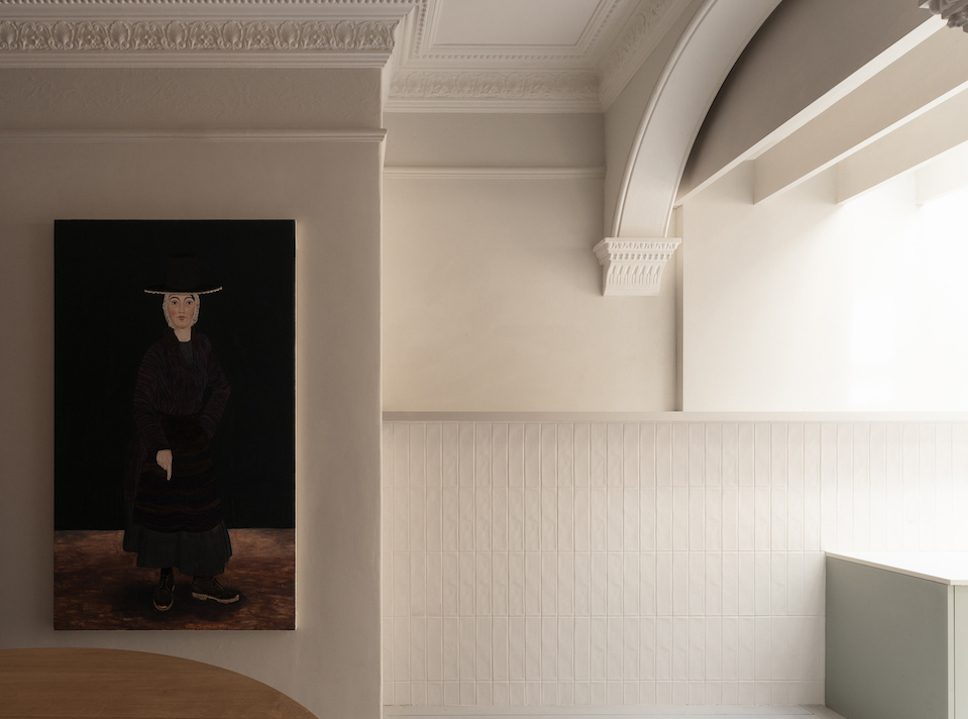 What inspired your choice of materials and how do these work with the overall design?
The large Victorian terraces along the street are embellished with red brick and bath stone frontages. This embellishment is replicated internally in the plaster cornices and sash windows of the house; the level of detail traditionally diminishes as you move to the rear of the house and this was replicated in our use of materials. Humble brick, timber, gravel, galvanised steel lighting fixtures, and lime plaster walls combine to create a calming and unadorned space for enjoying the home and the garden.
How have you incorporated sustainability into this project?
With an existing building constructed almost 150 years ago the embodied carbon has already been repaid multiple times over. As a practice, when approaching a project like this, our goal is to not demolish but to reconfigure and reuse whilst upgrading the existing built fabric.
We carefully considered the embodied energy of the materials we have used and their suitability for reuse in the future whilst taking time to consider all interventions through a lens of sustainability. These principles of conservation and construction are now widely adopted by architects and we see this approach as offering wonderful opportunities.
Can you describe the detail in the craftsmanship?
All of the windows and doors that you see in the project were designed by myself, Benjamin Hale, and Ray Williams, a Welsh joiner that we have had the pleasure of working with on a number of projects. There are three different door types across the project and the design and detail of each were carefully considered with discussion onsite and in the workshop. We even included a concealed cat flap as we didn't just have to think about humans!
The kitchen island, crafted out of welded steel, Valchromat panels, and a Cumbrian slate worktop, was very much designed to be a piece of furniture around which the family could gather. Hardwearing enough to take the strains of cooking and family life, yet also act as a beautiful centrepiece to the room. We also particularly enjoyed designing the green garden room. In this light-filled space, timber-lined panelling creates a datum and a concealed door offers access to a hidden WC and washroom beyond.
Project details:
Architecture and joinery design: Benjamin Hale Architects
Contractor: James White Construction
Structural engineering: Western Building Consultants
Landscape design: Benjamin Hale Architects
Kitchen joinery: Designed by Benjamin Hale Architects (including kitchen island) and fabricated by James White Construction
Timber windows and doors: Ray Williams
Dining table: Ethnicraft Mikado round dining table, supplied by Clippings
Flooring: Inopera (terrazzo floor) and Havwoods (oak floor)
Photography: Pierce Scourfield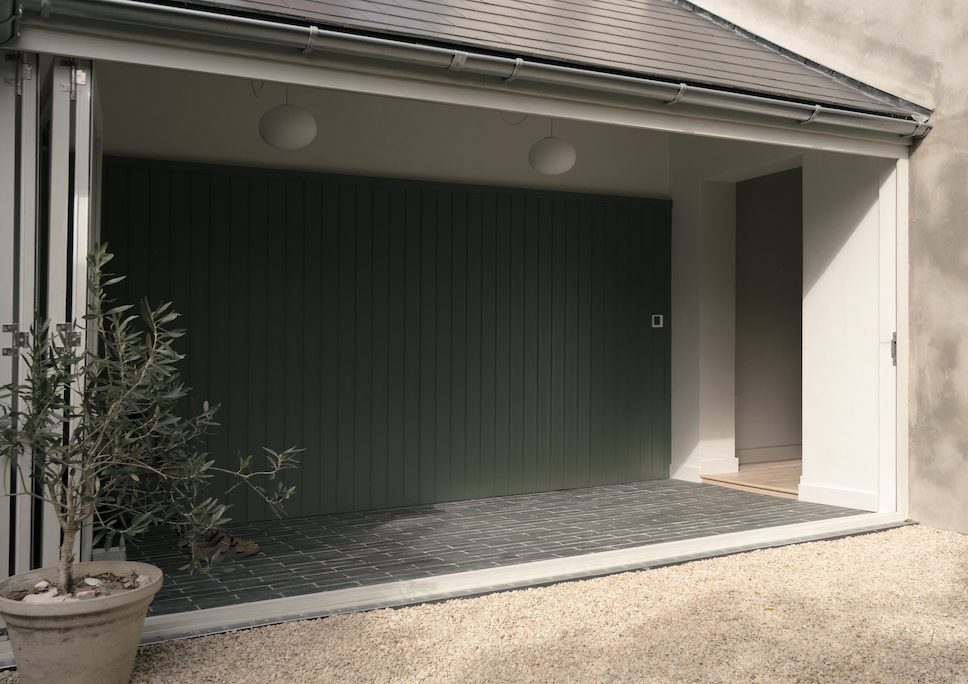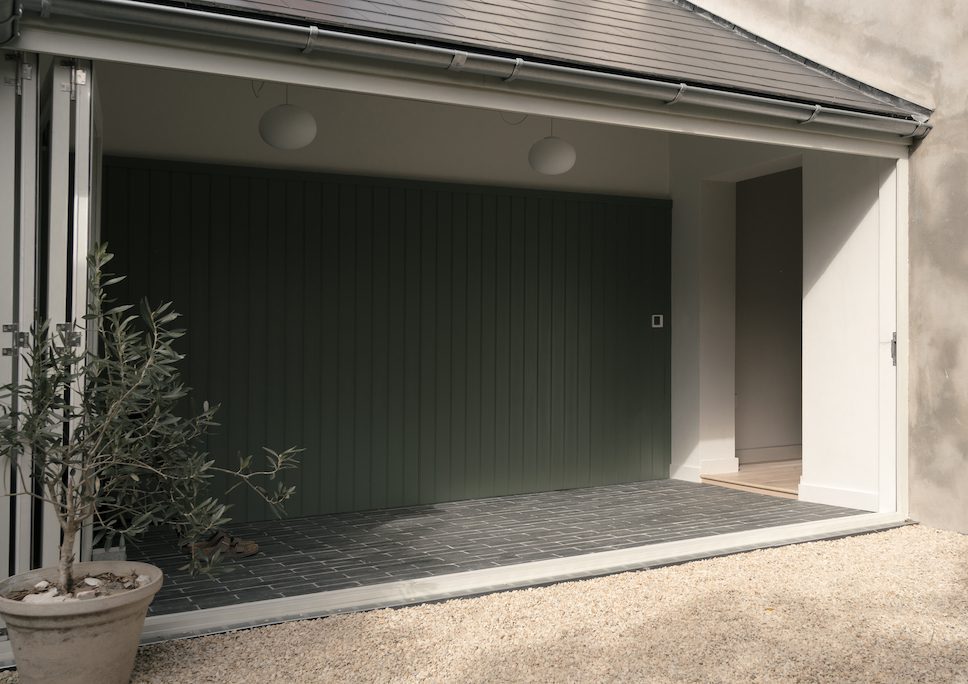 Discover more creative architecture and interior design projects by Benjamin Hale Architects.
Take a look at more residential architecture stories on enki.