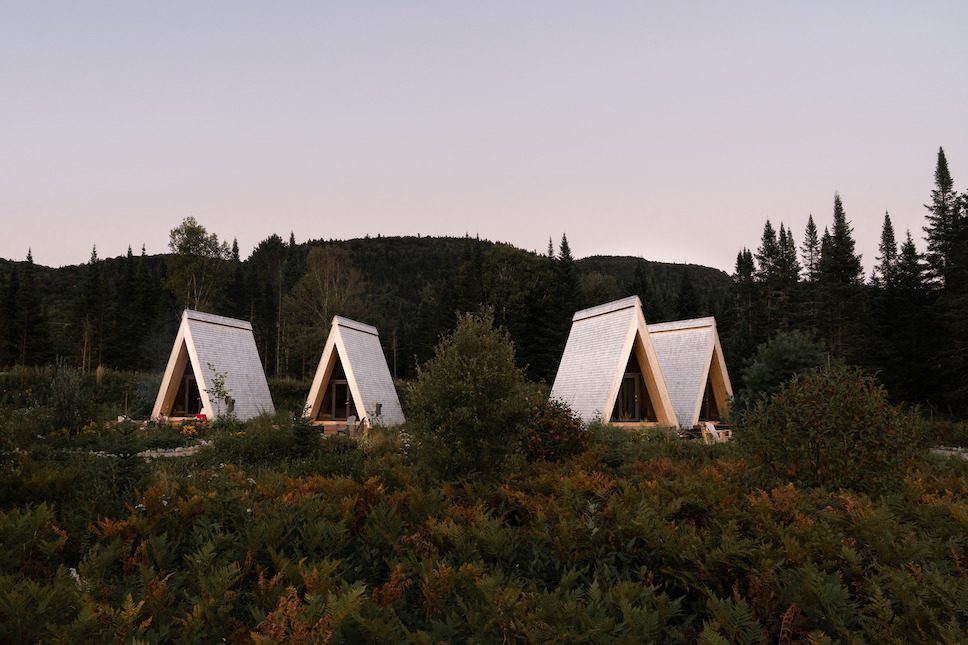 Atelier L'Abri has completed the design and build of a new agrotourism complex set against the Mont-Tremblant National Park in Canada, comprising a Nordic farm, a café-bar, four-season micro-cabins, and an outdoor base camp.
Set on a plot of almost 100 acres and nestled within the Devil's River valley, the Farouche agrotourism site offers a concept unlike no other for the Laurentians region of Québec. Montreal-based architectural firm Atelier L'Abri have created a base from which visitors can rest and retreat, and set out from for a day to explore the surrounding wild mountainous landscape.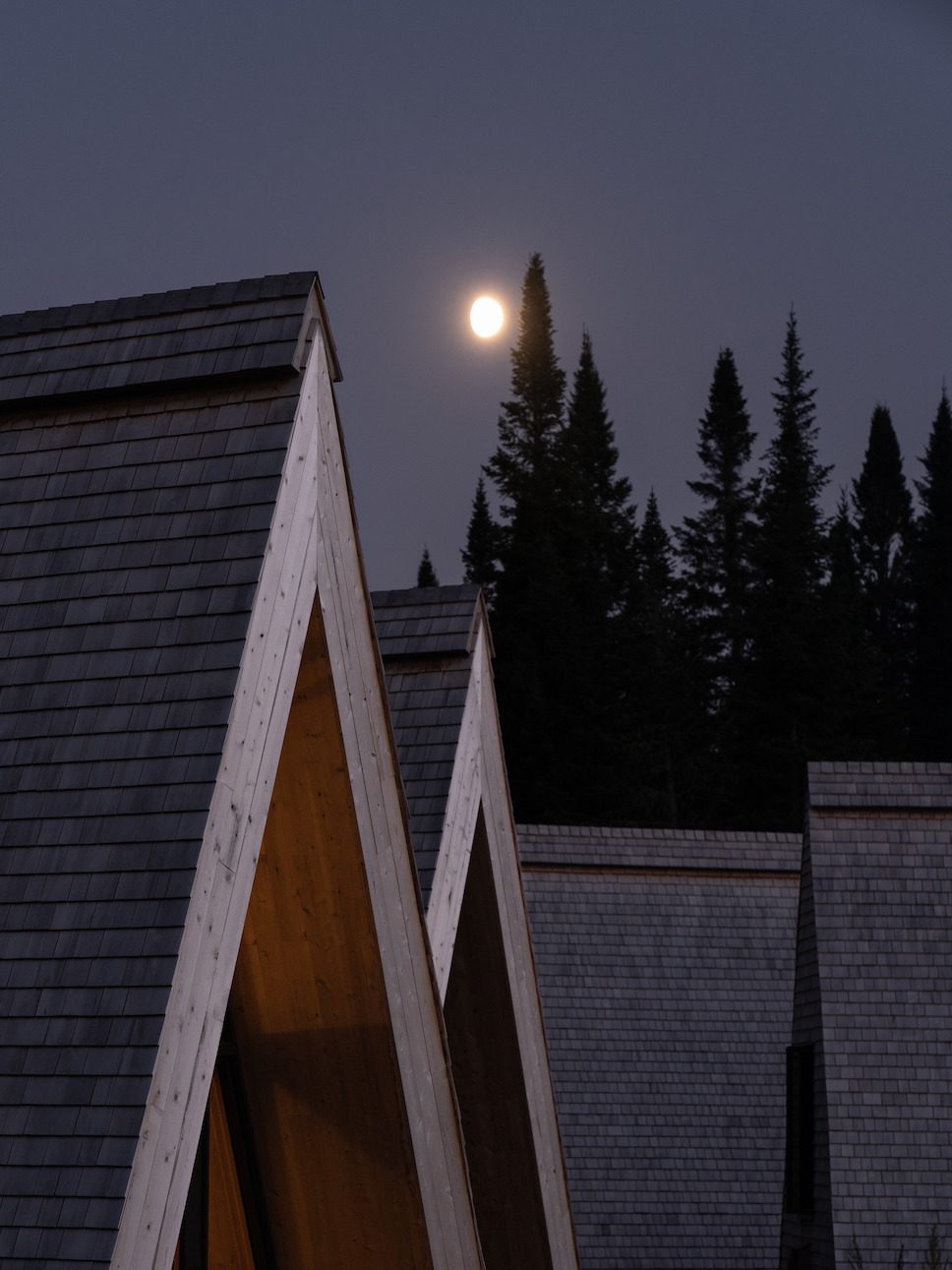 Four A-frame micro-cabins emerge from the dense and flourishing woodland, and these cedar shingle-clad structures are organised organically and connected by a winding path. Each shelter creates a cosy retreat, containing a king-sized bed, a sofa, and gas stove for cooking, all set within a compact floor plan.
"The cedar shingles micro-cabin camp stands south of the café. Minimalist in essence, the buildings recede in the landscape and allow guests to fully immerse in the wild beauty of the Devil's River," explain the architects from Atelier L'Abri.
The café is where the hive of activity happens on site, and it's a welcoming gathering space for visitors. Entrance to the building is through the small market, which offers seasonal products from the Farouche vegetable farm, as well as other local goods.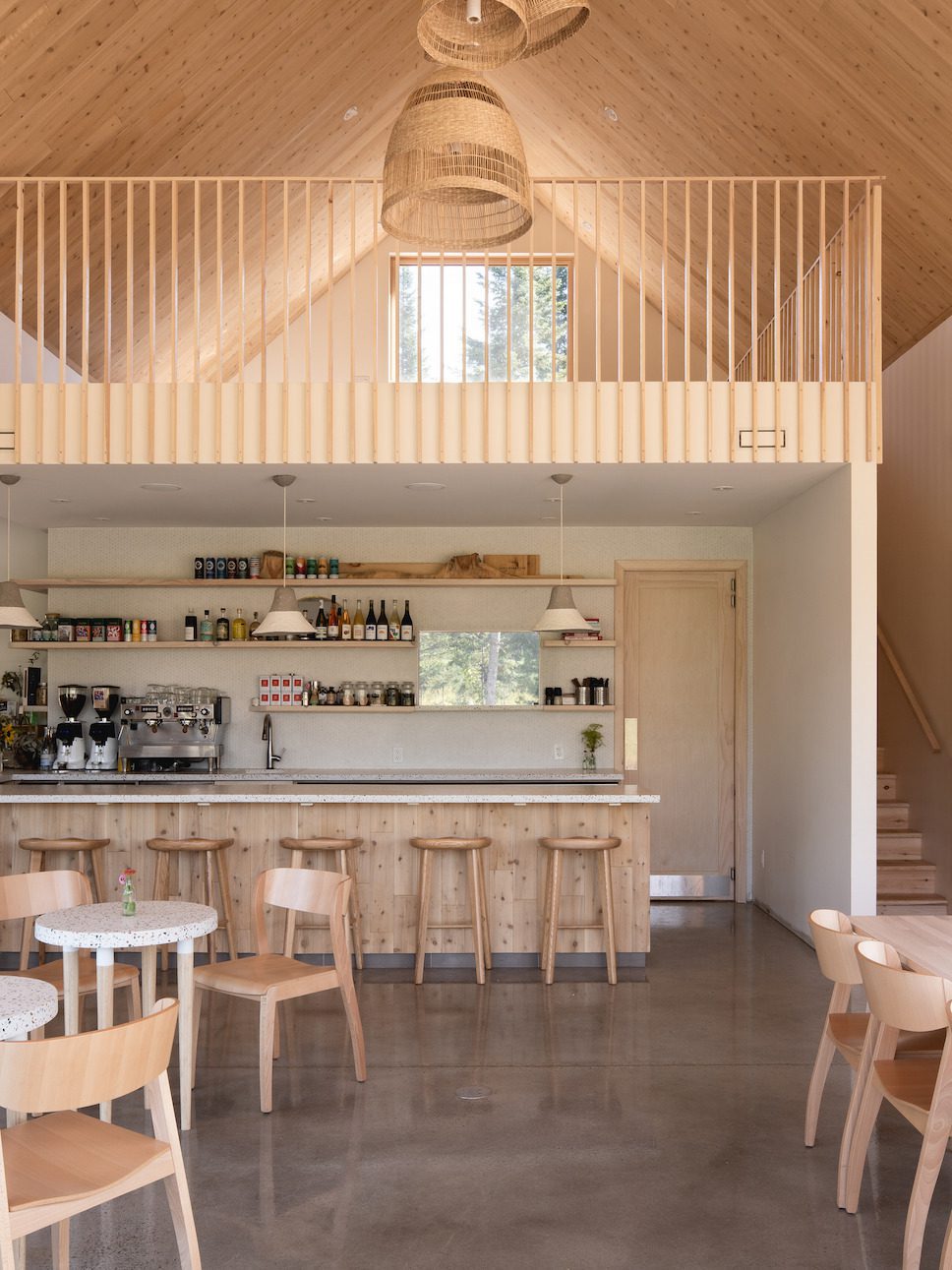 After a long day of walking and exploring the area, cabin guests and passing visitors can retreat to the café's dining area and enjoy the opportunity of tasting meals cooked with the delicious and fresh local ingredients.
"The café lounge opens towards the river," add the architects, "its large west-facing windows offering unique views of Mont-Tremblant and sunsets behind the Laurentian mountaintops." With this impressive aperture, it's hard to imagine that you wouldn't leave here without a view to remember firmly nestled in your memory.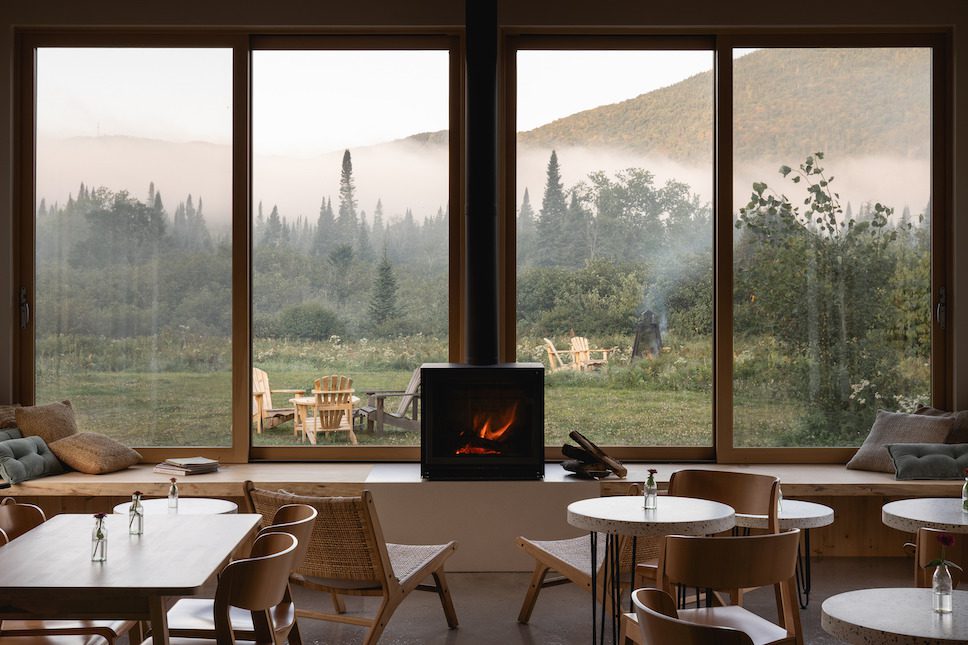 Whilst the cedar-clad cabin retreats are organically set in a collective, the café building stands alone, taller in stature.
"The building's materiality is sober; the charcoal-coloured steel roofs and the natural hemlock siding are reminiscent of vernacular farm buildings," describe Atelier L'Abri.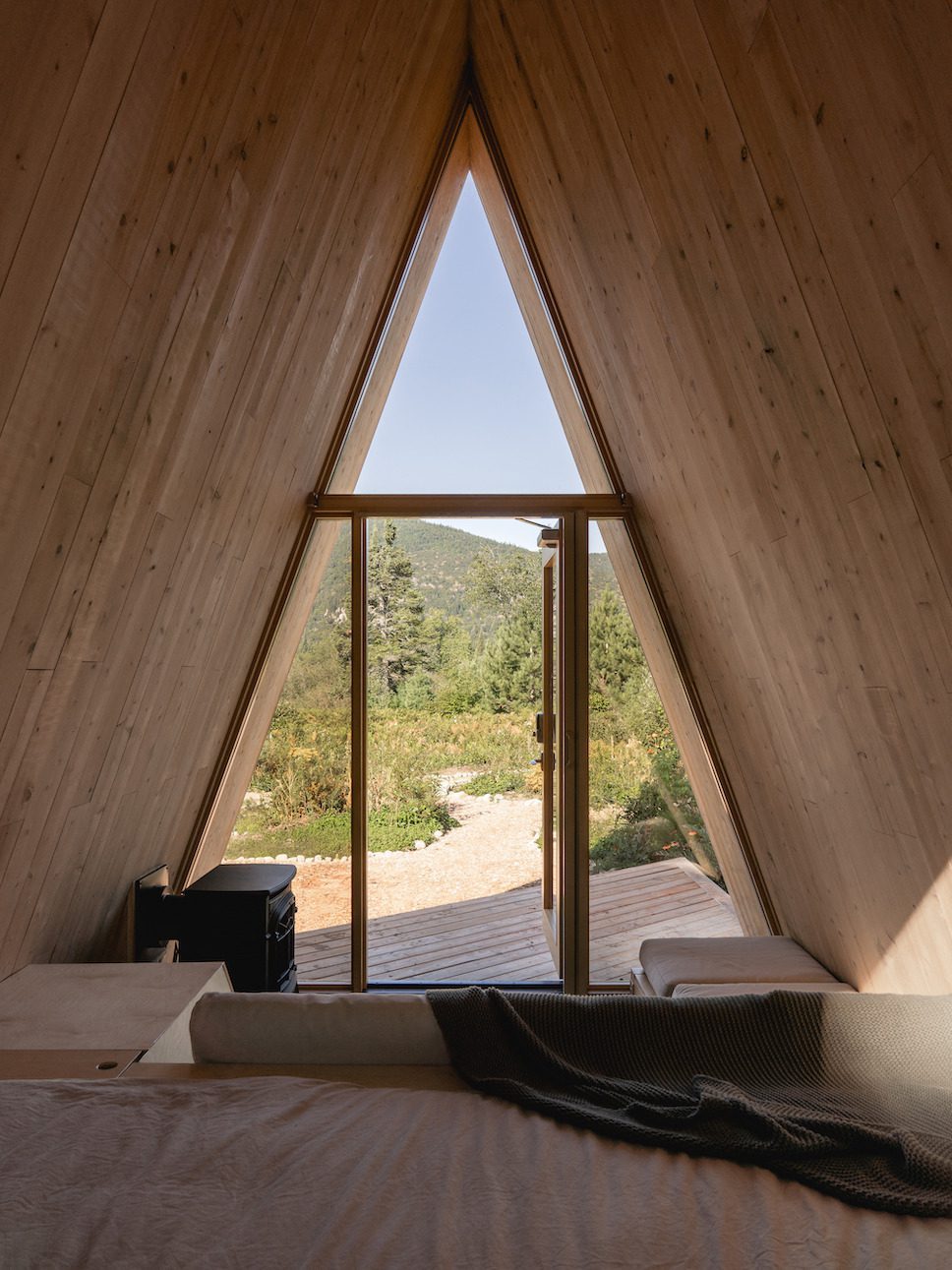 A barn, situated on the north side of Chemin du Lac-Supérieur, serves as the farm's headquarters. For anyone with a curiosity in this part of the complex, there's a path that leads to a small organic vegetable farm and meanders past tunnel greenhouses, flower fields, and barren terrain.
For adventure seekers, hiking paths begin behind the agricultural building and allow Farouche tourists to explore the mountains of Devil's Valley.
Project details:
Project name: Farouche Tremblant
Site: Lac-Supérieur, Québec, Canada
Area: 5000 sq.ft (464 sq.m)
Client: Farouche Tremblant
Architecture: Atelier L'Abri
Construction: Construction Pascal Rondeau
Engineering: Alte Coop
Photography: Raphaël Thibodeau
Project sourced from: V2com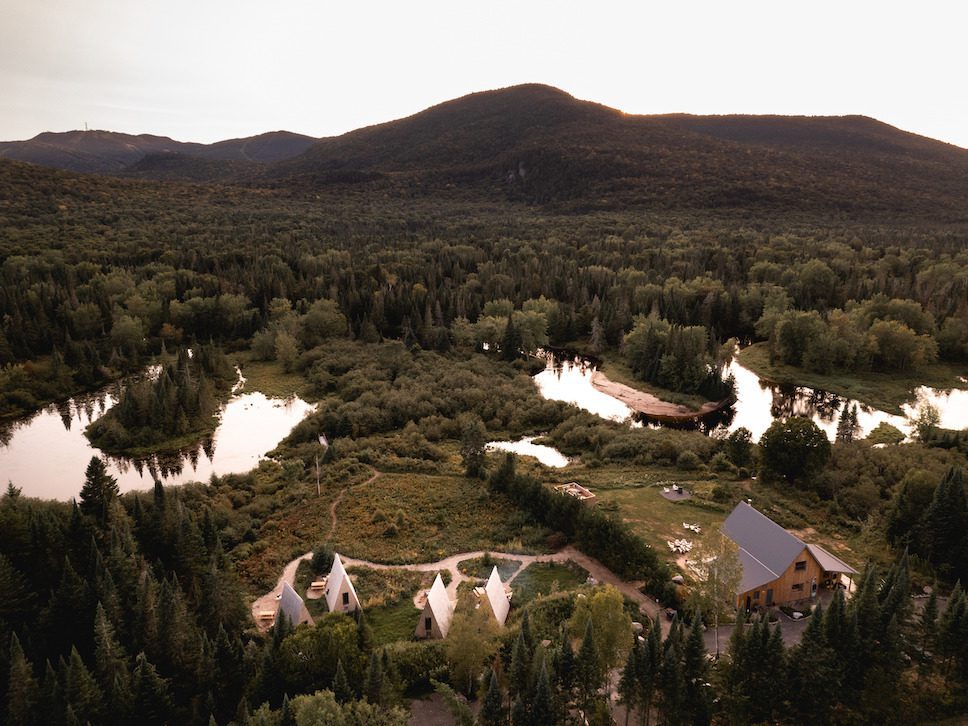 Discover more sustainable construction and design-build projects by Montréal-based firm Atelier L'Abri.
Keep up to date with all the latest architecture news on enki online, and subscribe to enki magazine to get every issue delivered straight to your door.